Head of Household Winner – Memphis
Have nots – Cody, Christmas
Nominations – Kevin & DaVonne
Power of Veto Players are – Kevin, Tyler, Dani, Da'Vonne, Memphis, Nicole
POV Host: – Cody
Power of Veto holder – Tyler
Power of Veto Ceremony –
Powers – Christmas, Dani, David
Live feeds —-> Grab your Live feeds here. Try it free.
Rank the houseguests —-> Big Brother 22 Ranking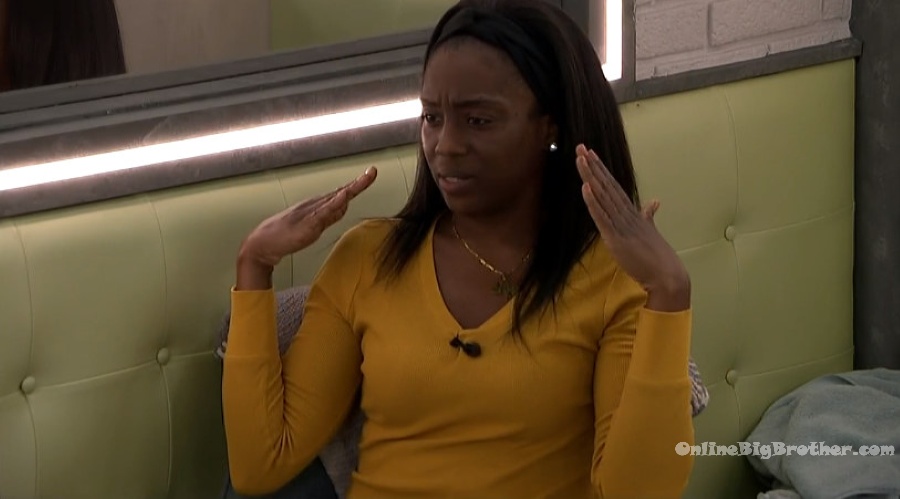 9:22pm Bedroom. Kevin and Day.
Day – what is missing? Kevin – why is my intuition.. Like something is wrong. Memphis's angle I can understand. I feel like I can go to Memphis and be like I understand what is happening.. I would love for the veto to be used. But I just want to let you know that David kind of said that he heard the plan was to target me and Day. And that everyone was in fact instructed not to throw it and he felt safe the whole time because.. Day – this is perfect! Kevin – and then I'll be like .. so you were saying that you.. Big Brother blocks the feeds. Day – you need to make sure you let him know that you feel a certain way about it because he told you that he wouldn't put you up. And that Day is sad about it.. not upset .. sad about it because she trusted you. And now she is finding out that you were a part of this big plan to get one of us out. Kevin – David will 100% fight and he will 100% lose my vote. Guaranteed. It will give him a public reason to disobey his alliance. Day – he won't vote for you anyways. Kevin – he is a slave to his masters. Day – don't say that ..that isn't nice. Big Brother blocks the feeds. Day – because of the way he (David) has sabotaged my game .. he will never vote me out of this house. Kevin – because that is how he saves face. Then I go out and he betrays his alliance and you stay. Day – the goal is not to send you out .. the goal is to get him to use the veto. Kevin – if we give him a reason to vote me out then I am literally Kamikazeing. Day – okay. Kevin – because he can be like Kevin exposed my game.. Big Brother blocks the feeds. Kevin – we need to convince him to use the veto in a different way. Right off the top of my dome .. we would need an ally. Day – no one would. Kevin – you don't think Dani.. Day – do what? Kevin – I don't know .. Have Dani deliver it. Because if it comes from Dani .. David was the .. and then she delivers the message. That way it comes from Dani. Day – I'm confused .. I feel like there is something that you're leaving out.. why do you assume you have David's vote. Kevin – I don't. The problem is with who delivers it. If I deliver it.. it is a red flag. If you deliver it .. its a red flag. You don't think Dani be the deliverer? Day – no, Tyler doesn't trust her. It would have to be you but I don't want to put you in jeopardy. There has to be something else. Kevin – why couldn't it be Nicole. Day – she would never ..they don't talk in that capacity. Day – I am .. can I be honest with you.. I am a little upset about the comment you just made. Kevin – what comment? Big Brother blocks the feeds.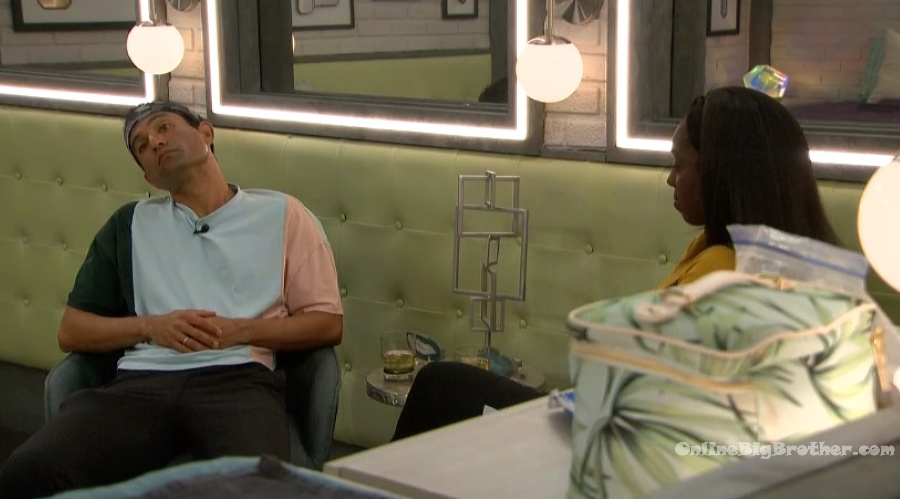 9:40pm – 9:55pm Backyard. Nicole, Cody, Dani, David, Memphis, Tyler and Enzo are all chatting and drinking. Enzo – Just one more beer?! Nicole gets called into the diary room. Nicole then chugs the rest of her beer.

9:56pm Backyard. The house guests are trying to get Enzo rap. Enzo – no .. I'm not drunk enough yet.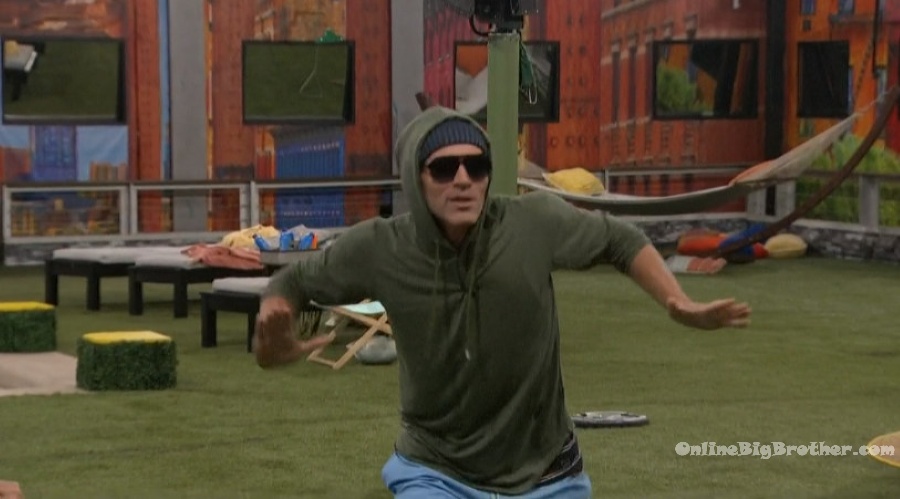 9:57pm Big Brother blocks the feeds..
10:18pm The feeds switch to the puppy pound..
12:10am The live feeds return.
HOH room. Memphis and Christmas.
Memphis tells Christmas about his plan about how he told Dani and Nicole to throw the veto competition. Christmas – so that is why Day wasn't upset when she didn't win. Memphis – Day knows she is going home. Christmas – she is going to blame Dani and Nicole. Memphis – yeah. Christmas – now I understand.
1:30am – 2:05am Bathroom. Cody and Dani.
Dani – I talked to Memphis today and he really made me mad. Like he is such a cocky little f**king jerk off! This is the second time that he has told me without saying it that he is the best player in the house and that he knows that him and Tyler are going to end up next to each other and at some point it will just be who wins the veto. And like they're the biggest threats and that everyone else sucks type of thing. Its just annoying when I have to sit there and listen to people that are saying that you suck and you're trash! Cody -he's won two HOHs. Dani – that's what I'm saying you've done nothing! Like you're a shoe in to sit next to. He won two HOHs and a veto. Dani – it is just so annoying. Cody – like what would you have bragged about winning. Dani – and like ohhh you came up with the committee when half of the committee already existed. And then he is telling me that everyone is stupid if they go against the committee before final 6 because .. I know numbers and 1 in 6 .. and he is just going on and on about it .. when two days ago he was telling me that he doesn't want the committee in the final 6. That he wouldn't be afraid to take a shot at somebody and now all of a sudden when he doesn't win something he is fine. Cody – what the f**k is going on. He is like so predictable. Cody comments on how weird it was to not have Ian in the house. Dani and Cody head to bed.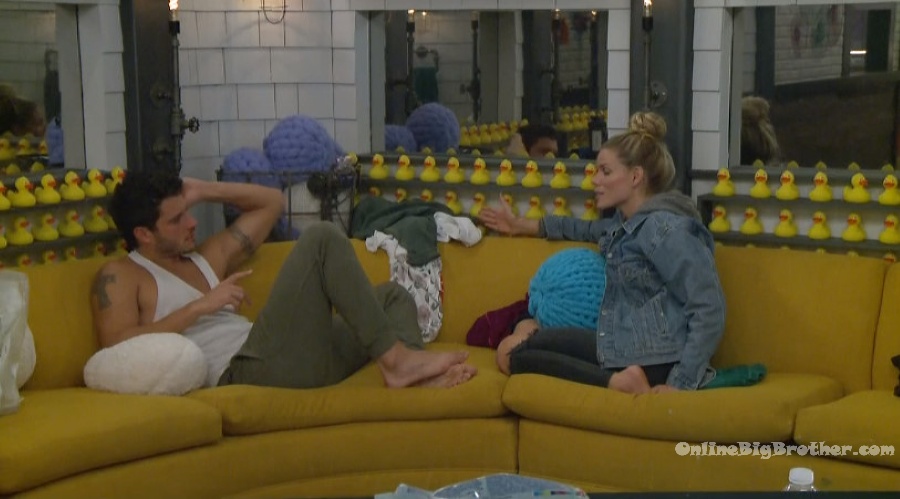 2:13am Bedroom. David, Tyler and Enzo continue to chat about random things. Dani joins them and says that it smells so bad. It smells like beef jerky. David and Enzo – I don't smell anything. Dani goes to get febreze to clear the room. They all tell BB to turn the lights off so they can go to sleep.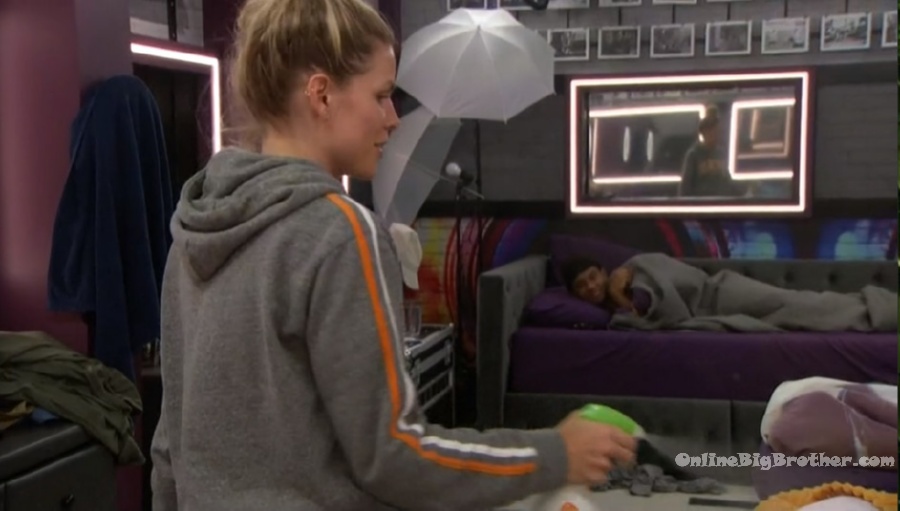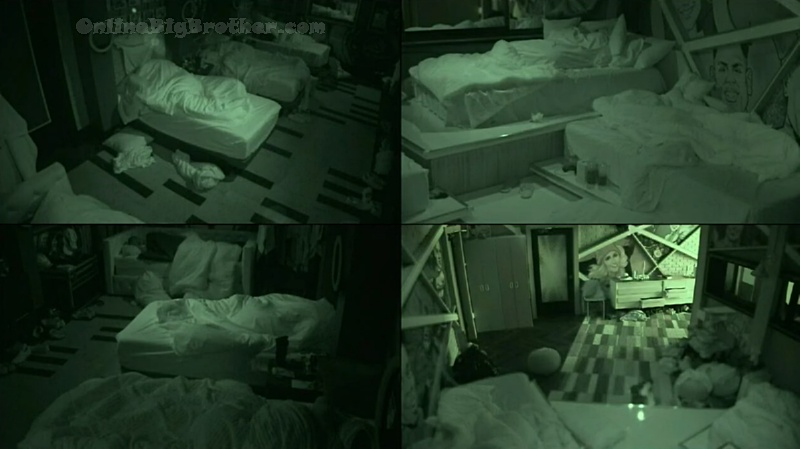 8:20 am Sleeping yo
9:44 am the house is waking up YO. Expect the veto to not be used.
Show your support by making a donation.
If you're enjoying our live feed updates this season, please consider donating.
Any amount is greatly appreciated! Your donations go directly to paying the fees required to run this site.