Head of Household Winner – Memphis
Have nots – Cody, Christmas
Nominations – Kevin & DaVonne
Power of Veto Players are – Kevin, Tyler, Dani, Da'Vonne, Memphis, Nicole
POV Host: – Cody
Power of Veto holder – Tyler
Power of Veto Ceremony – Tyler did not use the Veto Nominations hold.
Powers – Christmas, Dani, David
Live feeds —-> Grab your Live feeds here. Try it free.
Rank the houseguests —-> Big Brother 22 Ranking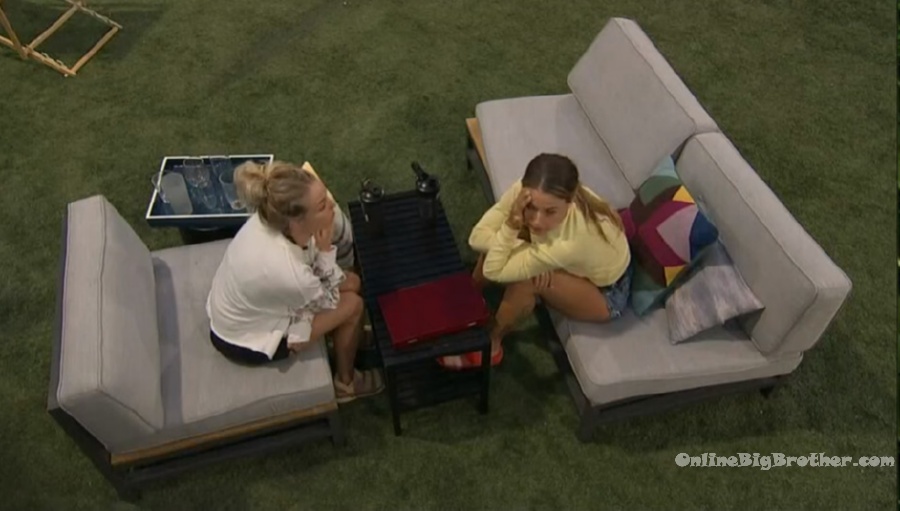 Backyard. Nicole and Christmas.
Nicole – I feel bad but it was a game move and it worked. Christmas – it worked. it did what we needed it to do. Nicole – but he is telling everyone that it was me. I guess.. that is what Dani said. Dani and DaVonne are telling me that he is telling everyone that I flipped. Christmas – well he knows it wasn't him. Nicole – exactly, but how does he know it wasn't Kevin or Day .. you know what I mean. IF he puts me up I will be so mad. Christmas – I don't know if I would pin point you. Nicole – because I am the only other one. Christmas – I mean we have such a great group. We have so much protection and honestly his odds of winning are next to none. Nicole – I know. Christmas – do you have your plan for the double? Nicole – yeah put the two up that is left (David/Kevin/Day). Christmas – and if you or I get the second one (HOH in the double) then it will just be that one. I hope they don't win .. the problem is that it will be the last two pawns that we have. Nicole – I know. Christmas – which is good because if one of them is a really good competitor that wins so that works in our favor to make sure we send home… Nicole – MMmmhhmmm. Christmas – we would just have to make sure he stays off .. like not even as a pawn .. until its absolutely forced because we don't have any other options. Christmas – I haven't played for jury management. Nicole – I didn't play for jury management last time either .. because if you do that sometimes you out play yourself and overplay. They're either going to respect the move or they're not. I mean she will NEVER EVER vote for me after she finds out I lied to her face about this. I can't throw six of you under the bus. I never thought covering a vote would cause this much turmoil. All's I did was change the way she thought I was voting. I did nothing more.. nothing less.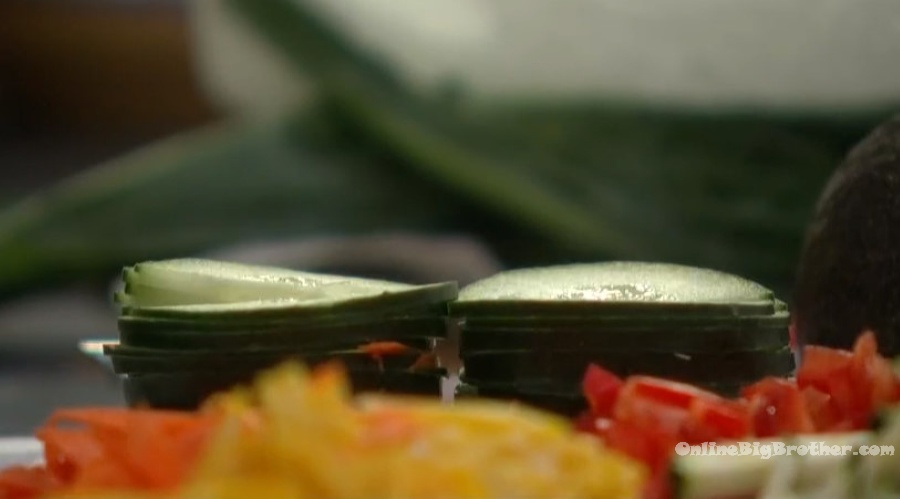 7:25pm Backyard.
Enzo – I am just going to be like .. you'll find out Thursday if you're here or not. Memphis – so that whole thing.. Like when you do sh*t like that then you look back on the game .. you regret doing sh*t like that. Enzo – and you know that Julie Chen is going to call her out on that. You played this game three times .. what happened. Tyler – this is the same place that she got out last time. Ezno – no one week more and she is done. This is it! She got to see Zingbot. at least.
8:48pm Bedroom. Day and Nicole.
Day – I would love to stay and keep playing. But I think I'm in the head space of if I stay .. great! But if I don't.. I am okay.
`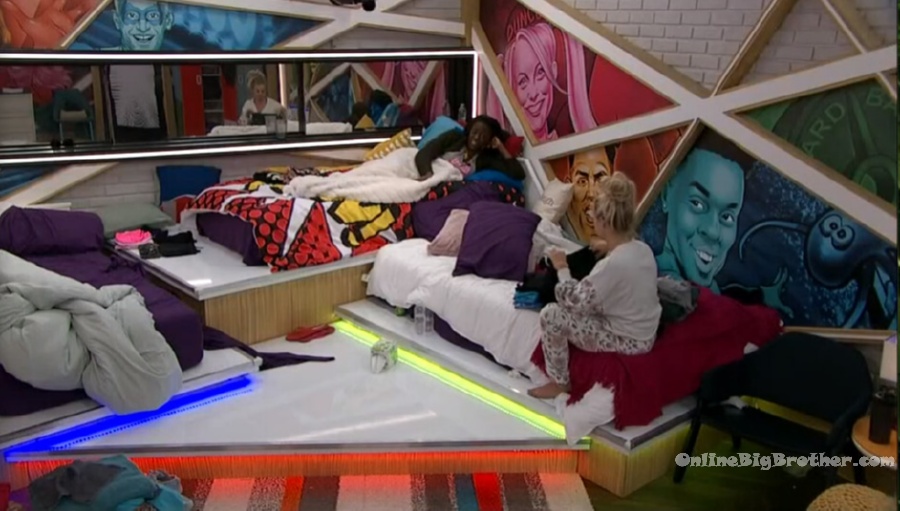 David starts a fire in the kitchen..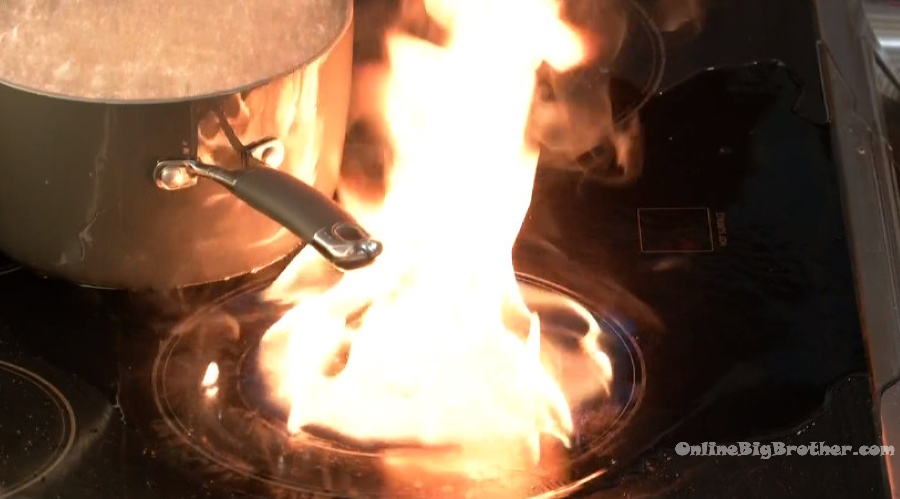 #BB22AllStar feeds are on FIRE! @bigbspoilers #BB22 pic.twitter.com/8nTTSFAPnX

— Dawg (@DawgsBigBrother) September 22, 2020
9:15pm Bedroom. Day and Kevin.
Day – I asked Nicole if she felt like this would be a doubel and she said yup! Kevin – oh yeah.. if you stay what is your strategy. Day – to win. In a double? Cody and Tyler! Immediately! One of you will be leaving the big brother house.. 100%! Kevin – I feel like I would probably do Cody & Memphis because one of them will probably win veto. Day – and then throw up Tyler? Kevin – yeah. Day – that is smart. But what if Tyler is picked to play in the veto, wins then saves Cody. That's why you have to put them up together so that they're fighting for themselves. Kevin – then Memphis goes.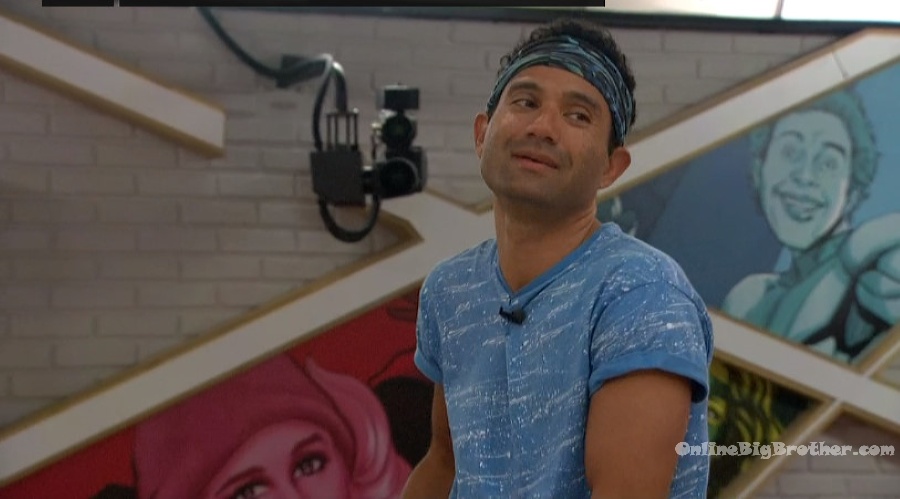 9:43pm Bathroom. Dani, Christmas and Nicole.
Dani neotocites that David is using the same oil that was from the fire pot that got sprayed with the fire extinguisher. He is using the same oil ..he just poured it from a bigger pot. Nicole tells production – he is using the same oil. Everyone is going to get sick. Dani – help him! He just put it in a clean pot. Big Brother blocks the feeds.

10:50pm – 11:20pm Bedroom. Cody, Enzo and Tyler.
Cody – I want us to f**king reel him (David) in. Reel David in! Tyler – once Day goes we can. Cody – but if you wanted to reel him in .. the right play would be to send Kevin.. because they are tight .. DaVonne is not tight with him. Tyler – but I think that he is so distracted my trying to be tight with Day. Cody – yeah right.. I agree with that as well. Like he is always trying to prove himself to David. He is super tight with Kevin. So we almost have to play both sides of that because if you say something to David he will tell Kevin. If you say something to Kevin .. I don't think he will reciprocate it. But like we're going to need f**king pawns.. to have up on the block to f**king smack somebody. Tyler shakes his head. Cody – you'll just throw two people straight up? Like you'll throw Dani and somebody else up? Tyler – not next week. Cody – not next week but the week after. Well yeah .. what the f**k else.. right. Tyler – I want to win the one after the next one. Cody – for the double and you win the one after .. oh sh*t! Tyler – I need to or I am getting popped up there. Cody – 100% I am going to up there next to you. And then I think you'll (Enzo) be the third one. Enzo – against who!? Whos the HOH!? Cody – I don't know if Christmas would actually. Tyler – no. Enzo – no. Tyler – do you think he (David) would? Enzo – I think David is going after Memphis!? Cody – I don't know if he would go after Memphis or Dani. Tyler – I think we could reel Christmas in. Enzo – there are definitely phases.. after this phase we are definitely targets for people. Tyler – after this week three people tie it. Cody – I have no problem going after Dani. Enzo – Me neither. I love her. She is funny as f**k and would chill with her after but in this game she is messy! Tyler – the gardener (Dani planting seeds). Enzo – the good thing is .. Christmas is not feeling her (Dani).
1:30am All the house guests are sleeping.
7:30 am Sleeping YO
Show your support by making a donation.
If you're enjoying our live feed updates this season, please consider donating.
Any amount is greatly appreciated! Your donations go directly to paying the fees required to run this site.