POV Holder:
Zach
Next POV
Aug 16th
POV Used
?
POV Ceremony
Aug 11th
HOH Winner 1:
Nicole
HOH Winner 2:
Christine
Battle of the Block Winner
 Frankie/Ca;eb
Next HOH
Aug 15th
Original Nominations:
Nicole's Noms (Caleb & Frankie) Christine's Noms (Zach & Donny)
Final Nominations:
?
Have Nots
Donny and Zach
POV Players
Christine, Zach, Donny, Nicole, Caleb, Derrick
Take Advantage of the FREE 2 day Trial to watch all the drama!
6:20am – 9:45am Victoria is awake and in the bathroom getting ready for the day. She heads outside to tweeze her face and then goes inside and continues to pluck. She then heads back to bed. Big Brother wakes up the house guests at 9am. When the live feeds return from being blocked only Donny and Frankie are awake. Frankie changes his batteries and goes back to bed. Donny heads up to the HOH room and tells Frankie that they called him to the diary room and asks us to decide if we are going to do it or not. Donny says well that aint going to happen how could I get someone to volunteer to go up against me. We had the opportunity to get someone to volunteer before the nomination ceremony but since that didn't happen we have another opportunity today before the veto ceremony. They need to at least get us together talking about it. Should I get Derrick and bring him up here? I can't do it but maybe you and Derrick can just do it? How can I ask someone to volunteer to sit beside me and then send me home. Frankie repeats the mission get someone to volunteer to go up on the block. Donny says you could try getting Victoria to volunteer saying everyone likes her and she wouldn't go home but that wouldn't work. Frankie says I feel like this is just an extension of the last one that was impossible. Donny says if Christine were to see me talking to you and Derrick this early in the morning that would really sabotage me. Should I get Derrick so we can discuss how its impossible to do it? Christine joins them. Frankie covers for Donny and says thank you Donny for waking me up!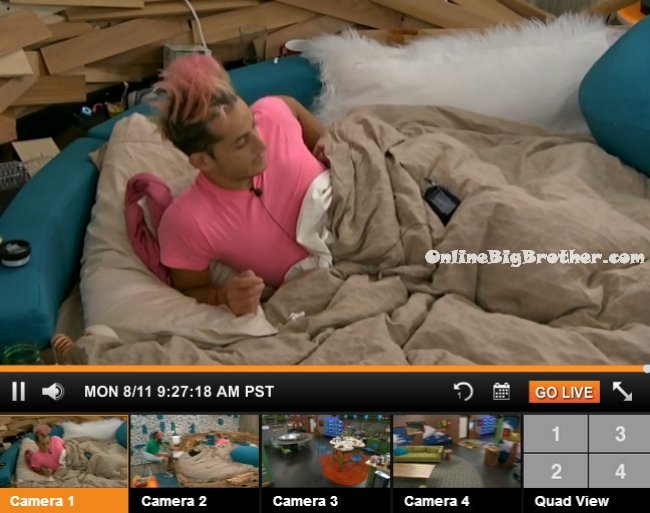 10am – 10:15am Christine heads back up to the HOH room and says I can't think about what to say. Frankie asks are you happy? Christine says once this is over I will be. Frankie says everything that I did put you in a better position with the boys. Christine says I don't know. Frankie says even with Zach I feel like he loves you more than ever. Frankie says you could say you've (Nicole) said many times you're alone in this game and so I guess this includes me. Christine says that before and after the BOB she just kept questioning me. Christine says I didn't want to say her name until then end. Christine says what I was thinking of saying was a little more dirty. You know apparently I was going to get back-stabbed this week so I am going to take the first stab. I wanted to say something out of character for me. Frankie says that's good too. Christine says I am just so nervous. I want to think of something clever. Frankie says this person has said they're alone in this game and after feeling the knife protruding out of back, I realized that must include me too. Christine says and so I decided to take the last stab! That is awesome! This is so scary. Frankie says Donny sat alone for 5 hours yesterday when we left. Christine says that is so sad. Christine says I think after I will come up here. Frankie says yeah and leave all the fall out downstairs. Frankie says she will probably try and come after me but I will take her on guns a blazing!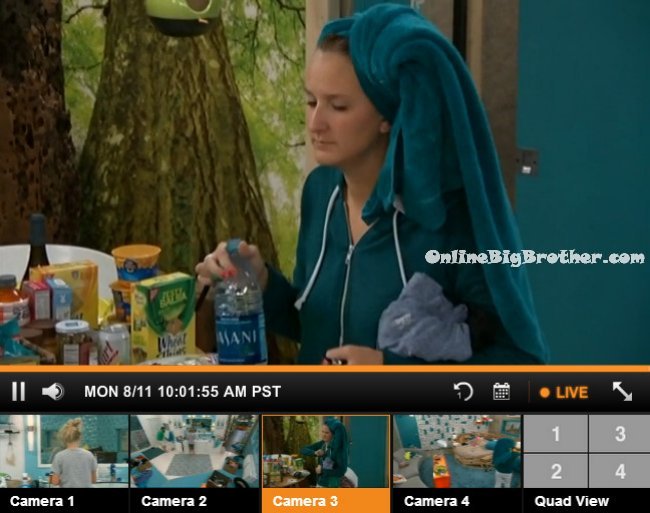 10:20am – 10:30am In the fire room – Christine talks to Derrick and he tells her that Nicole doesn't know how many people you really have. She will probably talk sh*t about you. You will need to talk to Victoria after to pull her in. Christine leaves. Victoria enters and Derrick tells her that Nicole is definitely going up. You are 100% safe this week! Victoria smiles. Derrick says it worked. We will celebrate after. Just keep acting nervous. Victoria heads to the bathroom where Nicole is and continues smiling from ear to ear.
10:30am – 10:35am Out in the backyard – Derrick and Donny are talking about the team america mission. Derrick says the mission involved all three of us to get someone to volunteer to go on the block. Its doesn't make sense for you to volunteer to go up next to you. Unfortunately we can't complete this mission this week. I am pretty sure Christine is putting up Nicole. Derrick tells Donny I would not vote to evict you over Victoria. But if everyone comes to me and tells me they're voting you out then I couldn't be the only vote to keep you. But if Nicole does go up then Christine wouldn't put her up unless she didn't want her to go home. So it won't take much convincing for you to stay. We can't be seen all talking and give Christine any reason to put someone else up. If team america stays intact that is huge that's almost 50% of the house. If one of us did go up then its huge to have two people that would be guaranteed votes for us.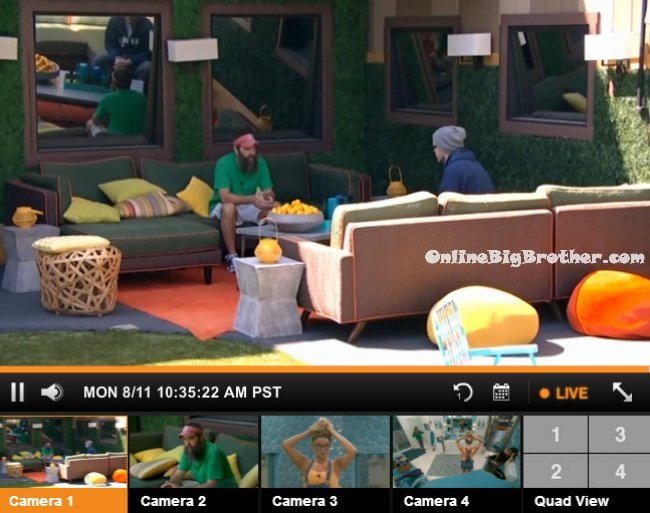 Up in the HOH room – Frankie tells Christine that yesterday was so awesome! It was nice to know that everyone likes us. They love us! Christine says well everyone especially liked you and Caleb. Christine says I could say In the big brother house you can't attempt and fail, you can only attempt and follow through… So I am going to go ahead and take this knife out of my back and pass it along so Nicole go ahead and take a seat. Frankie says that's awesome. I wouldn't say pass it though. Frankie says I would take this knife and return it in the hopes that you can't use it again. Christine says that's awesome! That is going to be the best speech of the season. Zach is going to be pissed.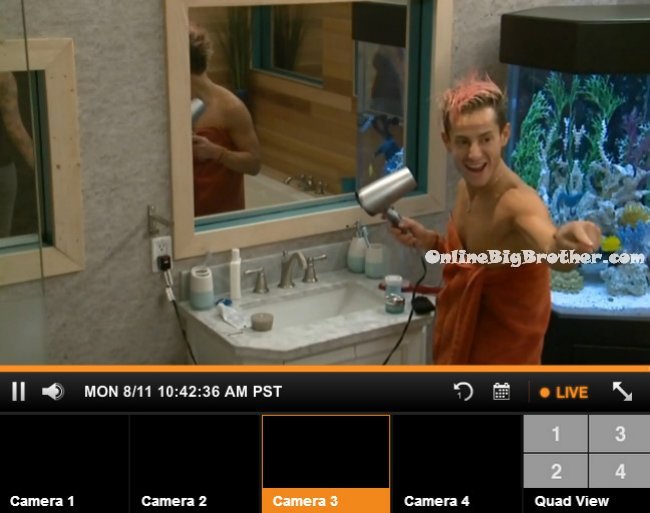 Out in the backyard Nicole talks to Derrick and asks if she is going up. He says he hasn't heard anything. Nicole says I don't think she would put my up unless she had the votes so she would need you. Derrick says she wouldn't need to. Derrick heads inside. Donny joins Nicole and she asks him if he knows if she is going up. Donny says hasn't heard. (Derrick told Donny that she is likely going up.
10:45am – 11am Up in the HOH room – Derrick and Frankie talk again about how this team america mission is impossible to do this week with Donny on the block. They house guests are waiting around for the veto ceremony to begin.
Out in the backyard – Cody tells Donny that he has no idea who Christine is going to put up next to you. Donny says Nicole would probably win HOH over me, she's won 3 and I've only won 1. Cody says even you sitting next to Victoria she is so lost in the game. I wouldn't vote to keep her because she does nothing for me in this game. Donny says I will just need to see who I am sitting next to.
11:10am In the kitchen – The conversation is about whether or not or@l is considered s*x or not. Christine says her husband Tim is the only guy she's gone to second base with. Derrick and Frankie are surprised. Christine says I did it just for myself. Victoria says for morals. Christine says yeah.

Alliances
The new bomb squad – Caleb, Zach, Derrick, Frankie, Cody, Christine
"The HITMEN" – Cody & Derrick
Team America = Donny, Derrick, Frankie
More polls here https://www.onlinebigbrother.com/big-brother-compendium/big-brother-16-polls/
[polldaddy poll=8233586]