If you plan on buying anything from Amazon. Use this link Amazon home
Doesn't cost you anything and we get a small cut.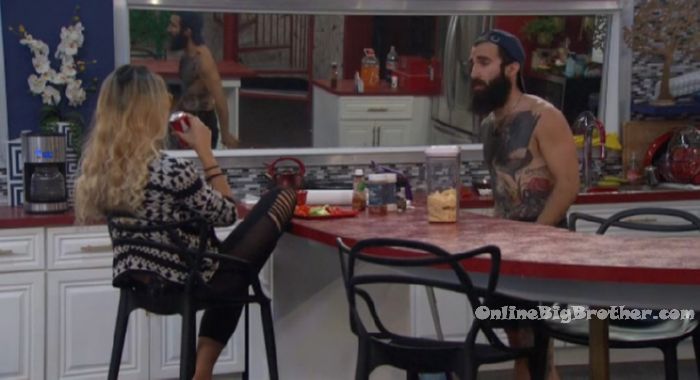 7:10pm Kitchen. Paul and Alex.
Paul – if I win everything from here on out, that's 10 comp wins and having never been on the block. Biggest target from the beginning coming into the game. What more can I do?! If I can control it to the end. I don't know homie?! I'll do my best. Alex – I'm not going to hug any of you when I leave, just be prepared. Paul – okay. Alex – I'm not doing anything with Josh after this… he's been a cry baby this whole game and I'm over it. Cry baby bullsh*t. You can't cry when you're going to make a power move. You can't cry when you hurt someone's feeling. Why are you crying because you hurt someone's feelings. I'm mad at Christmas too because she can't compete. She couldn't compete in the last veto and she thinks she's going to win this… NO! So there are a lot of people that don't want your friendship after this .. the only person I know for sure is Jason Dent. Counterfeits! He was right, god dammit! I think you could sweep them in the comps but Josh is getting better. Paul – I'm not worried about him. Especially with mental and physical comps. Alex – I hope we have a surprise eviction tomorrow. Paul heads outside. Alex tells America that she is getting boned and hopes they vote her for America's favorite.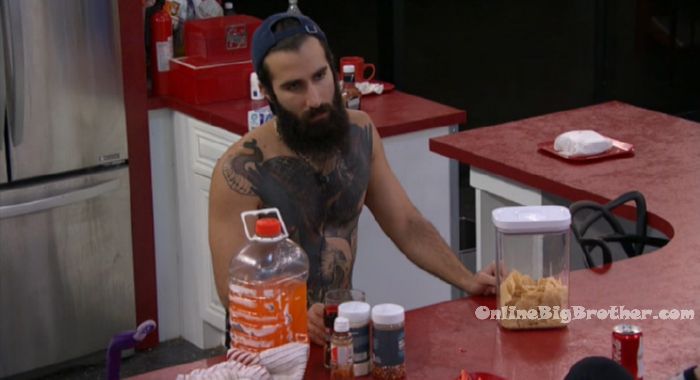 7pm Backyard. Josh and Christmas studying.
Christmas – Paul and I will be gunning for HOH. Josh – And I'll be gunning for the veto. Christmas – I'm going to be leaning on you guys to win it. We need to pull through for Paul .. he's been winning a lot of competitions. Christmas – I'm ready for us to be in the top three and to have a good time with this.. And yes, we're going to have to make some hard decisions but I'm not thinking about sh*t until we get there. We'll just let the competitions play the f**k out. One thing I know for sure is we will all three be friends after this. 100% friends. One of us is going to win, one of us is going to get second place and one of us is going to get America's f**king favorite! And if that doesn't happen, then we all get to tour the world together. Josh – I love you guys. Christmas – what do you want people to know about what you did in the game so far strategically-wise. That you have taken the most honorable route possible.
Watch the NEXT WEEK of the Live Feeds for FREE!
Click here for your: 1 Week Trial
7:36pm Living room. Alex tells "all the Paul fans" that Paul is pulling a cowardly move. Jason Dent wouldn't have done that. Such a counterfeit. Counterfeit!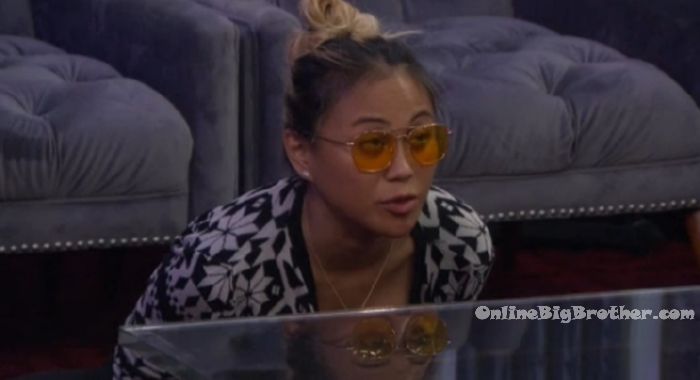 8:25pm Paul and Christmas are working out in the backyard. Meanwhile in the havenot room – Alex is reading the bible.
8:40pm Paul and Kevin playing pool.
8:50pm – 8:56Christmas and Josh.
Christmas – he talked to her and says that she has checked out. It was just a day of unnecessary emotion. Josh – I'm just going to chill and not talk to her any more. Josh heads inside. Josh talks to Paul. Josh – I don't think she will bad mouth us. Paul – I think when she gets out of here she will be over it.
9pm HOH room – Paul and Josh.
Paul – I'm drained bro! I'm drained. I've been forced to play a certain game. People hate me now. Christmas joins them. Josh – I know, I came in here and I could play any game I wanted. I knew that but that wouldn't be myself. You didn't have that option. Kevin didn't do anything and look where he's at. Literally didn't speak for 82 days, didn't fight with anyone, didn't cause anything. We've just been honest and ourselves. Everyone else tried to play these characters and their lies came to the forefront. The only way you were going to make it to this point was if you did it how you did. Paul – I had to play cut throat and people will hate me for it. Paul – and f**king potty mouth?! Josh – we're the villains. You want to see us cry in the corner?! No, we called people out. We have 9 days left. I am just grateful that I had you two. There are a lot of fake motherf**kers in this house and I'm just glad I found you two. Nobody has this, everyone was throwing their ride or dies under the bus .. except us. Christmas – the only other people were Matt and Raven. Paul – but they didn't do anything. Josh – if you guys want to do a split vote because I f**ked up, then I'll do it. Paul – no.
9:55pm
Paul and Kevin play a game of pool. Kevin – so right now I just let things go all week and don't talk? Paul – yes. Kevin – so is the reason they don't talk to me, is it because they don't want Alex to see us talking? Paul – I don't know their reasons for not talking to you. Josh comes out and tells them to come to the living room.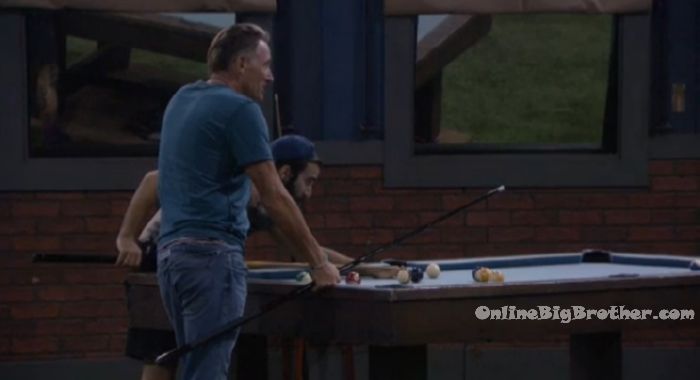 10:20pm Josh – We got a message from POP and it says "Hey house guests, you've been working your magic all season long so celebrate by making a unicorn milk shake. Tips: Blend ice cream, Strawberries and milk, divide into the classes and add the sprinkles. Decorate to you hearts content. From your friends at POP!" Alex is not having it and goes back to bed. (Poor sport) Paul – you know who played everyone? Starbucks and their unicorn milkshake.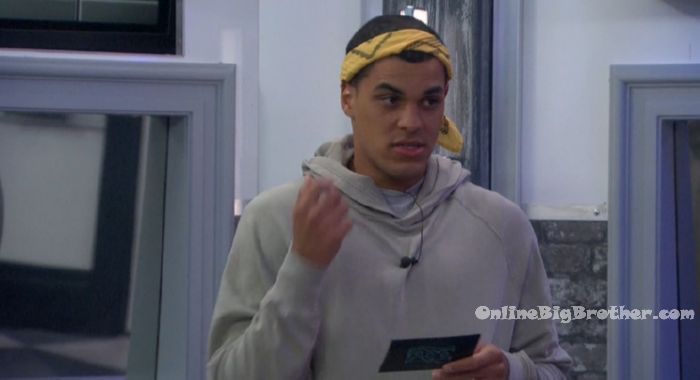 Alex – I'm not normally such a poor sport but I don't want to hang out with these people that have lied to me. Christmas who says she doesn't want to be carried to the end. Does want to win HOH on her own. Josh who says he wants to play a good game and then kicks out all the good players. And then Paul has me throw all the competitions he's won and then gets to win. Kind of salty so I don't want a milk shake. But my milk shake brings all the boys to the yard.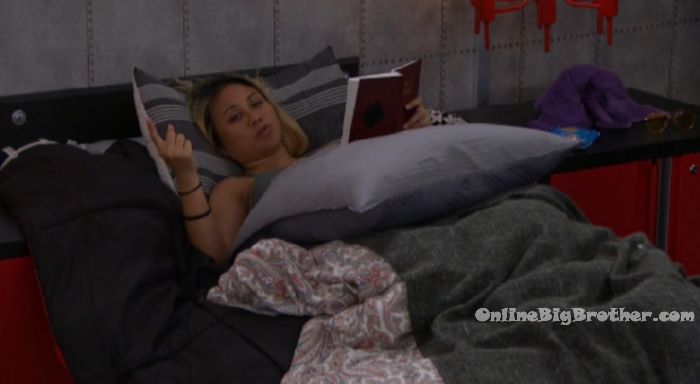 Josh – this is exactly what we needed.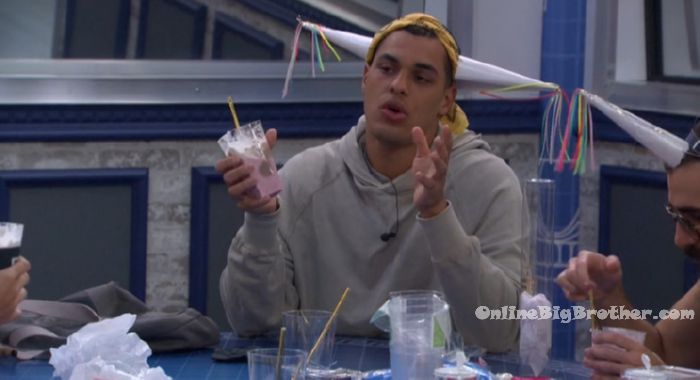 11pm Christmas and Paul start horsing around with Josh. Paul chases Josh around the backyard and throws the ball at him. Christmas rams Josh with her unicorn horn. Big Brother tells them to stop horsing around.

11:55pm Backyard. Alex – that's right, Mr. Friendship is afraid to go head to head and lose again because he doesn't want to let down all his friends again. But I think taking your friend to the end is worse. That's not friendship, that's not boys, that's playing people. If you guys had seen me praying for him to win so that both of us could advance to first and second .. god you would hate Paul. But I don't hate him, I'm actually going to give him a fair assessment. Out of Kevin, Christmas and Josh.. Paul is going to get my vote. I'm going to go to jury and I'm going to try and make sure everyone votes for him. Is he a Skeezebag? Yes! Is he a douche? Yes! Did he play me? Yes! And if you watch back you'll see me not running during the comic book ones because I wanted him to catch up because he was going to pull me off. But he played me, absolutely played me. Whatever, hopefully you guys like me enough and see that I've played a good game so that you guys vote for me for America's player. I'm going to try and get Jason to vote for you but I don't think he will. You (Paul) say its not all about the money but you're choosing the money over friendship. You greedy motherf**ker. Getting second place two seasons in a row is better than winning if its not all about the money.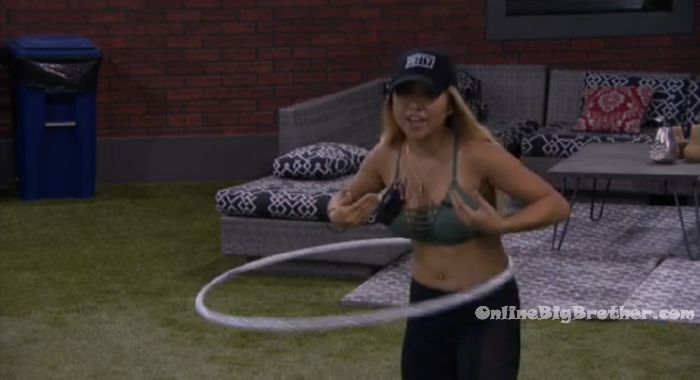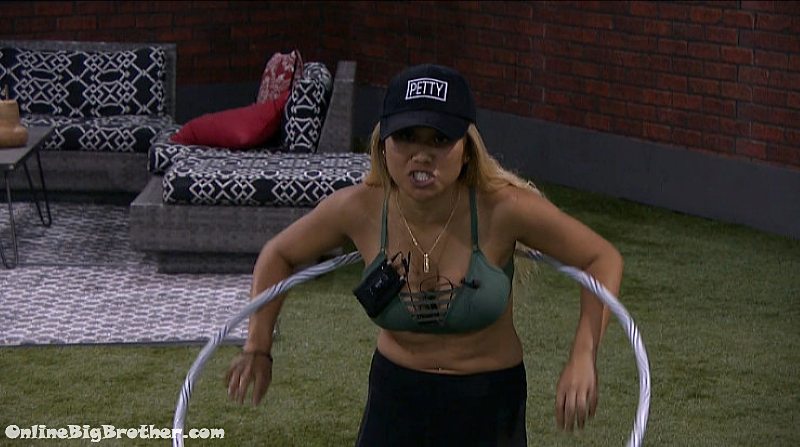 someone has finally figured out Paul played her.
Alex – then he cries about it.. (Paul)
Alex – counterfeit sons of b1tches
Alex – oh we're doing all these things when we get out.. no we're not you're probably lying about that too
The back yard get's shutdown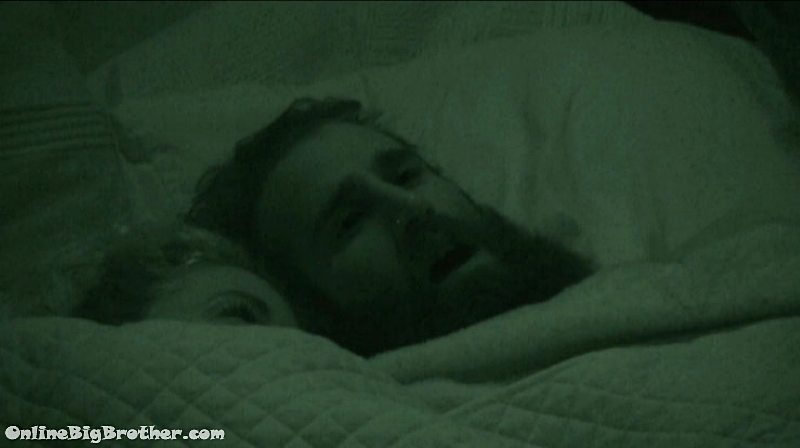 1:19am Paul and Xmas chit chat
Paul talking about his perfect "Ice cappuccino" and how he's fought with people at starbucks to order it.
Xmas goes on about her short whole milk latte that she orders she goes on about all the people at starbucks can never get her order right.
Due to life events we may not be updating from noon until 8pm today. We will be releasing an update to highlight the missed Feeds. Sounds like Josh, Xnas and Paul are going to attack Kevin to make him crumble so he doesn't win the HOH. It's the basic tactic they've done all season. Then they will justify it and tell everyone they have big hearts so stayed tuned for that
Power of Veto Ceremony results
Paul did not use the Power of Veto. Alex and Kevin remain on the block.
WE have no idea yet how these next 3 days will play out. Wednesday there is a pre taped eviction where ALex will most likely be going to Jury. Thursday is a live eviction. So in the next 2 days they have to do an eviction, HOH, POV, and POV ceremony. There will be some sort of feed blockage during this. Chances are the feeds will be down tomorrow all day and back wednesday after the episode. WE'll post once we find out ourselves.
If you've enjoyed our live feed updates this season, please consider donating.
Simon and I work 24/7 all season long to keep you updated on everything that happens inside the house. Any amount is greatly appreciated! Your donations go directly to paying the fees required to run this site.
Links to the ranking system
Rank your house guests here
For those of you that like Statistics here are some expanded reports.