Quick Big Brother Spoilers
Head of Household:  Monte
Nominees: Brittany & Alyssa
POV Players: Monte, Brittany, Alyssa, Turner, Taylor
POV Winner: Brittany
Veto Ceremony:
Havenots: 
Lock your ranks in before midnight
12:10pm – 1:03pm Backyard – Alyssa and Monte suntanning and chatting about their outside lives, Amazing Race, etc. Montes – I think this season has been awfully entertaining. And maybe we're biased because we're in it but at the same time I can't think of half of the sh*t that happened here that happened last year. Alyssa – I know. Monte – not even a quarter. Its just so much stuff. I think we're giving the people what they want. Alyssa – I think so too. Monte – plenty of drama, plenty of shock factor, twists.. there hasn't been any .. well Daniel kind of exploding on me was something but I probably didn't give America what they wanted, they probably wanted to see me slap him or something. Alyssa – Daniel .. shut your mouth! Oh my god yeah he was out of pocket. Monte – he is 35 years old and acts very much like a child. Alyssa – and he is 8 years older than you.. and you're way more mature than he would ever be and that is freaking crazy. Yeah there wasn't a lot of yelling fights but I think that everything else kind of made up for it. Monte – yeah, I think so. Alyssa – which is funny.. I wonder who they (Production) thought would be in arguments and stuff? We'll watch it back and maybe there were more arguments that we didn't see. Monte – yeah there weren't screaming matches but Daniel seemed to be at the centre of most of these. Alyssa – yeah. Monte – I'm sure there was a lot of sh*t talking of other people. I still think we gave good entertainment. Alyssa – I think this was the first time there was a showmance and not in the same alliance ever in big brother .. and also I think this is the first time a showmance voted someone out also in the showmance. Monte – really? Alyssa – yeah, they're usually up there together or if they're not the other person saves them. Monte – yeah, I mean I've only seen 6 seasons. Alyssa – But it was the circumstances.. I also want to make it clear that I am not some big brother savage like Joseph made me out to be. Monte – yeah he was definitely pumping that. Alyssa – yeah he told Turner and Kyle that I was gunning for them. I am like what?! That is so absurd! Monte – yeah he was in my ear about the same thing.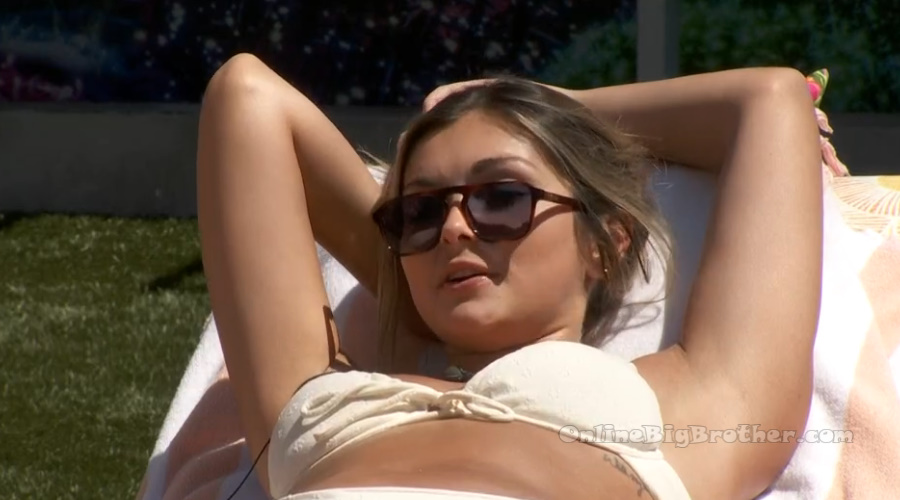 1:05pm – 1:30pm Backyard – Alyssa and Turner
Alyssa – Brittany is so annoying me. I am so over her. Turner – yeah she is buggin' me big time! Alyssa – she just went to the DR. She is just so much and so manipulative and such a liar and I just don't want her to be here anymore. Turner – neither do I. Alyssa – and she is pinning me to go home this week. Like how do I not go home this week. Turner – she wants me to go home this week. Alyssa – she is?! Turner – she wants Monte to put me up. She is begging Monte to put me up. Alyssa – OKAY… She said to me .. Alyssa, I can't promise you anything. And I was like I am not asking you to promise me anything. We just have to see what the nominations are and then I will tell you if you're safe or not basically. Basically if you were up I would be safe… and if Taylor was up I would not be safe. Turner – yeah. Alyssa – But Monte is not going to put you up. There is no way. Turner – yeah I know. That's what he said. He said you are not going up. Alyssa – yeah he told me that too. I was like okay good. Then he is super close with Taylor .. this is my pitch .. I love Taylor and I would never say anything bad about her personally but she stays and wins HOH.. more than likely she is going to go after you. You leave somehow… then Taylor, Brittany, Monte final 3. Taylor is brining Brittany. Brittany is bringing Taylor. Monte ..BYE. Taylor stays Monte get Brittany out.. Monte goes final 2 with Taylor. Taylor can write the best speech in two days.. imagine the speech she could write having the entire summer to prepare for it. Turner – that's FACTS! Alyssa – she would have survived the block 5 times! She's got an HOH .. she could win another one. She has everybody's votes. Everyone loves an underdog. Me.. I am dog sh*t. I would have to win multiple things and like Michael said I have been dragged along this entire game and Zing-bot called me dead weight and useless so I feel like I am easier for him to beat. Plus, I want Brittany out of this house. If Brittany had won this week .. she doesn't go after Taylor ..she goes after you guys. If Brittany wins next week she goes after you guys and is happy if she gets me out. Is this a good pitch?! Turner – I think its a good pitch. Alyssa – I don't want to go home. Just want Brittany to go home. Brittany joins them and the conversation ends.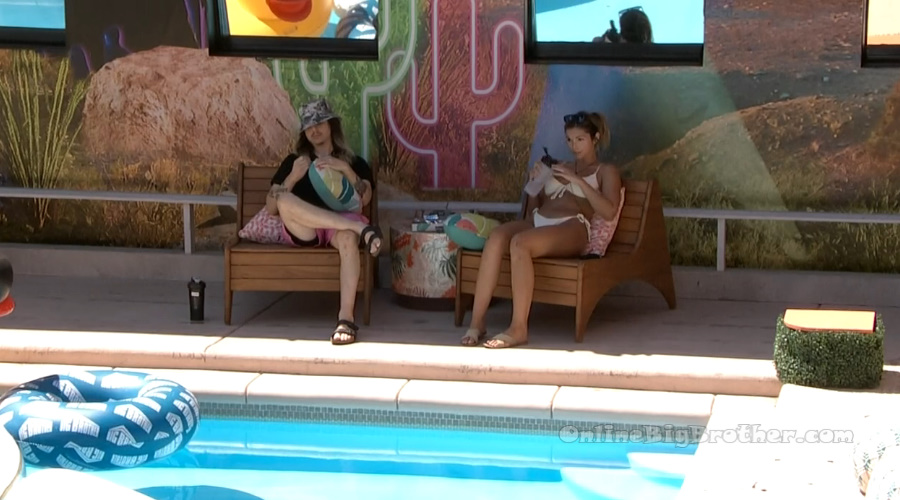 1:55pm Pool – Turner and Monte.
Turner and Monte talk about the coming weeks. Turner – more dogs in the fight make it easier. Even if Taylor wins the first one .. one of us have to win the second one. Whoever wins veto is the person voting. And whoever wins HOH is the person that is safe. We just need one of us to win either of those but if we have an extra element .. someone who is a harder competition to take away from us winning one of those because as long as we win one we're fine. But throwing in an extra element might make it difficult for us to win one. Monte – yeah. I guess my ideal was that Brittany is the main target for next week. Then whether Taylor or Alyssa is here .. reducing the likely hood that she is safe makes the most sense. I see what you're saying .. its really a matter of us winning the veto. If one of us wins the veto then we're fine. Turner – because the veto is the most important thing next week. And HOH ..even if Taylor won ..it doesn't put us in a better or worse spot. Its the same thing.. its better if one of us win HOH. If she wins HOH, we still need to win veto .. it just adds an extra competitor to needing to win veto.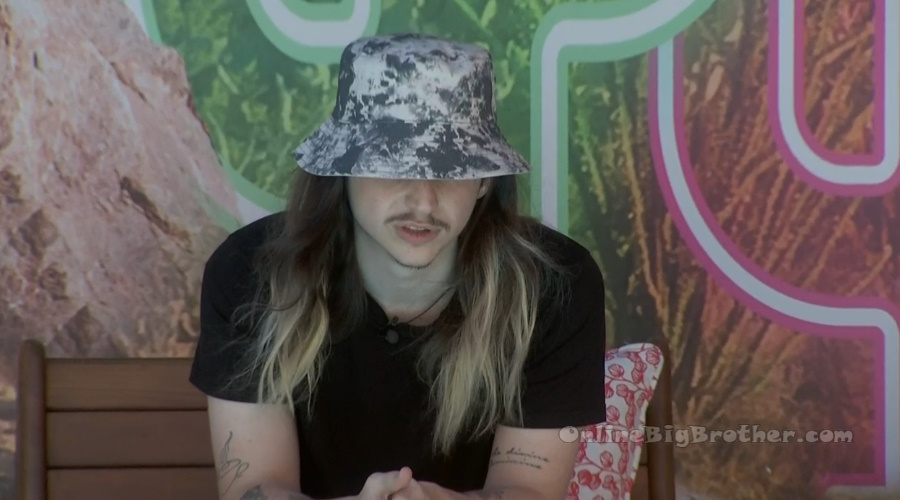 3:16pm Backyard – Monte working out. Alyssa sleeping. Brittany eating.
5pm – 6:54pm HOH room – Taylor, Monte & Brittany.
Brittany – I just wanted to touch base and I figured if it would be cool if all of us talk. I know Taylor and I had a talk about things. And I was curious where your head was at Monte since we talked yesterday morning. So yesterday morning I know I kind of hit you with a lot in terms of right after the veto and what not. I was like okay let me sit back and kind of process what I was hearing from you and throw that back at you and see if that aligns. And share some ideas that Taylor and I were thinking that I think we could share moving forward in this game. What I heard was that you're really thinking future forward what makes sense for you in this game. And taking into consideration some of those lapses in communication and trust that you and I particularly have had this past week. And recognizing that both those things need to coincide together and that there is a huge element … and a huge element of trust would be put into all three of us but namely you and I in terms of if you were to put Turner up as a replacement and what that would mean for next week. I was like what can I mess with in terms of the levers so that the risk on your goes down. Say you do put up Turner.. Taylor and I would be the two votes and he would leave. No blood on your hands in terms of that except that you did put him up so it would be that. For next week that would leave me, Taylor and Alyssa playing HOH. And what if I was like coming in next week and was like Monte you're out. That is not the game I want to play but I understand that could be a fear. What if right now we were able to establish.. like if you (Taylor) were to win HOH .. you would put me and Alyssa up. You (Monte) would be the deciding vote. And if I were to win HOH I would put Taylor and Alyssa up. You were the deciding vote. We establish that right now and we shake on it. Then it comes down to veto. If I was to win veto, yes you would go up but I would promise you that I would vote Alyssa out and you would stay. The only scenario we worry about is if Alyssa wins veto. Monte – which is highly unlikely. Brittany – highly unlikely. Turner is a strong competitor. So it it is us it would be us working together to get out instead the weakest last link (Alyssa). Its just how much easier it could be to get to the final 3. I trust you and I would much rather be on the block knowing that my game would be in your hands. As in you trusted me with this, I trusted you with that. And if you Monte were to screw me over I could leave this game with my head held high.. at least I trusted the people I was working with… and then I got played as apposed to how it could play out next week if Turner was here. Taylor reiterates what Brittany said about who would go up next week. Brittany – it would just be really nice to say that I trust you and you trust me and it checks out. Monte – I feel very confident that at this point in making a deal with Turner that he would vote to keep Taylor and that even if he didn't you would vote to keep Taylor. And I have never done anything to you guys to feel like you couldn't trust me and at this point I would do what I needed to do to make sure we're all here because I truly feel like I need all four of us here next week. I do understand what you guys are offering and I will consider it. And Brittany our conversation yesterday was not very helpful because you had mentioned like look Monte at the end of the day if you put up Turner or if you put up Taylor that is all going to be considered in the vote next week. To me that sounds very much like a threat so that does not rub me the right way. Brittany – I am sorry. Monte – and I do not feel like I need to be talked to that way when I have done nothing to create any mistrust. And these are just things that I have to consider when extending my trust. There is no reason to mistrust me. In all this is either a way to prove my trust or its something that will make me do something to expose myself and my game next week .. to someone who did not communicate very well with me last week. Its hard for me to establish trust when I am hearing two different things on two different days. Brittany – I don't remember that. All I remember is what I experienced. Monte – okay, lets erase that.. lets talk about a bigger topic.. why in the hell did you and Michael not tell me and Taylor about Kyle during the week of big brochella? Like why wait until Michael wins the power of veto? Assuming he is going to take you down for the block and knowing that a replacement nominee is in jeopardy. Why was that kept siloed with you and Michael instead of sharing it with Taylor and I? This seems along the same trend of there are certain things you share with these people and there are certain things that you don't. Brittany – a lot of this was during Taylors HOH right before Dyre Fest. After a couple days Michael and I discussed that and I now know that this was the second time Kyle has discussed it. It felt very out of character and out of left field and I wanted to gut check before I said anything out loud. Then we went straight into Big Brochella. It seemed like it would look a certain way no matter when we said it. Brittany – can I ask you one question Monte .. do you trust me or not? Or is it just too far gone? Monte – at this point it might be. There has just been irreversible damage and that conversation we had yesterday was the most frustrating conversation I have had with anyone in this house since I've been in the house. To get threatened and then blamed for not sharing information. Taylor – the fact of the matter is .. both of you are here next week. And I have done everything that I can to unit the two of you and I can super glue this triangle together. I am sad, I have done what I can but both of you are here next week. I trust both of you when you say you will keep me here. Next week is a power grab to secure safety. Its not the three of us as a unit.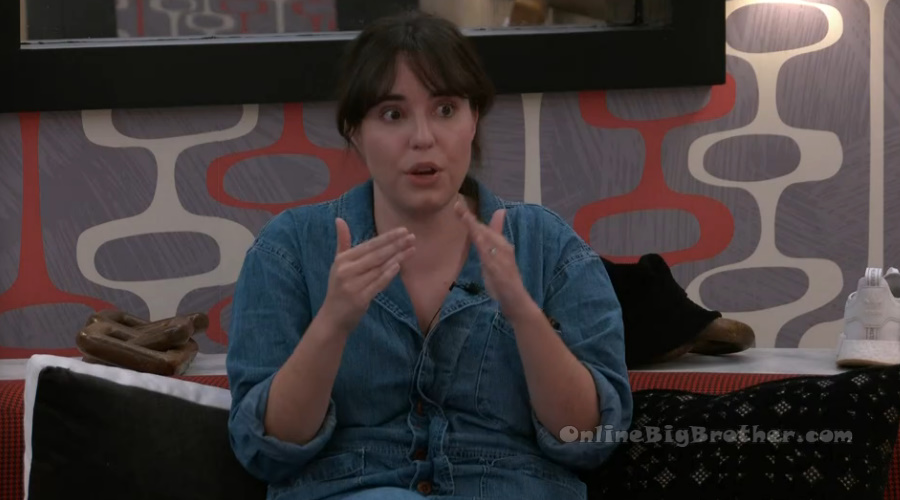 Brittany – I was not aware that we were not good to this extent. I hate that it was perceived as a threat. That was not my intention and I am so sorry. I should have thought that through and how that would sound from your perspective. I understand how that totally came off the wrong way and now that I know .. and how our trust level was here and not here. I can't even beging to apologize. I feel like such a bozo. Monte – I never questioned anything about your game but you continued to question mine when all of my actions have not lead to believe anything otherwise… all of those actions compound in my mind to a belief that you do not trust me. And there it is.. simple as that. Brittany – I feel like he was lying about me and I didn't feel like I could talk to you about that because I didn't know those lies existed. He is going to be able to go to you sooner if I don't know the lies that are being told about me. He is the common denominator. Monte – If someone is spreading falsehoods about why do you see no need to address them. Brittany – its very clear to me based on his past actions and now this that he is targeting me. There is not coming back from that. Its adding fuel to the fire. I thought that we were at a better level. I would be more than willing to have that conversation but I don't know that would help anything.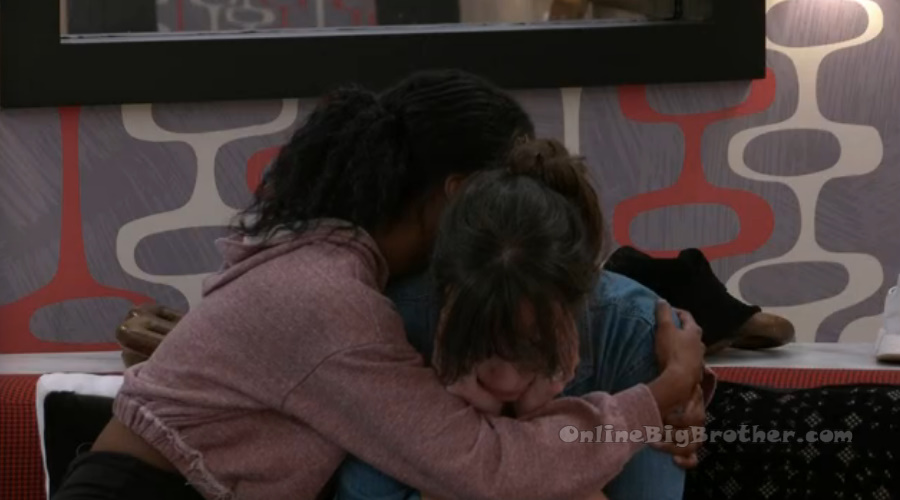 7:23pm HOH room – Monte and Alyssa.
Monte – She (Brittany) wanted me to extend my trust with her this week and next week and I just pretty much laid out why I can't do that very bluntly because I just can't BS anymore with her about where I stand with trust with her. Its just been a long history of her not telling me things. Monte goes through all the point of why he doesn't trust Brittany (see above convo with Brittany). Alyssa – After tomorrow we can have many conversations and just talk and feel things out. I will never say anything bad about Taylor but I will definitely give you reasons that I hope you hear me out on why I should stay too. Monte – 100% I respect your right to fight and to try to stay here. Alyssa – we shall chat this week. I appreciate it.
7:35pm – 7:52pm HOH room – Monte and Turner.
Monte fill Turner in on the conversation he has with Brittany above. Monte – she was trying to push for me to put you up. And I just told her from a logical perspective there is no chance I am doing that.. what the hell would I be doing then.. putting my game in your hands?! F**k no! Taylor would prefer to not be on the block and understandably so! The conversation was just long because she just kept going on and on. She tried to blame it on how she had a cider.. Turner – oh Brittany!? Monte – if anything alcohol is the truth juice. Turner – I guaranteed if Taylor wins HOH the noms will be me and Brittany so as long as Brittany doesn't win veto we should be fine. Monte – yeah and then we're solid. Veto is essential. Turner – as long as Brittany wins neither (HOH/POV) we are straight.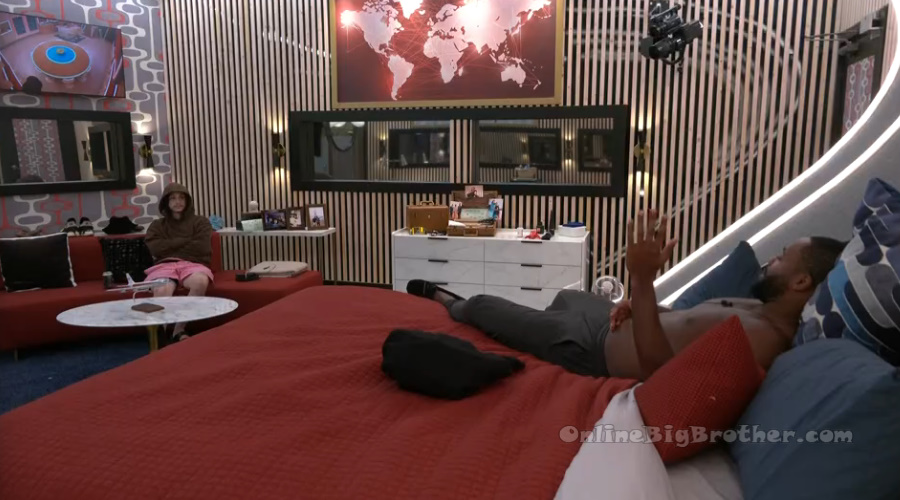 8:04pm Big Brother gives the house guests alcohol.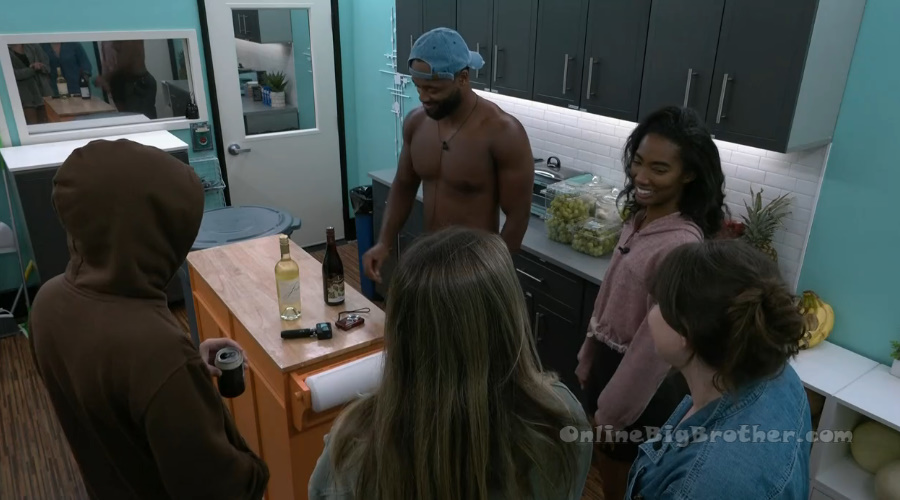 8:45pm – 9:37pm The house guests are hanging out by the hammock chatting about random things and drinking the wine. Taylor – someone gives you the look.. is it lets get out of here? Or lets find a place here? Alyssa – no, lets get out of here.. ..find a place here what kind of a girl do you think I am!? (Havenot room.. lol) I have never in my life been that horny that I need to have it right then and there. (Back bedroom, other bedroom, etc..) Maybe somewhere nice! Taylor – I agree. Somewhere nice for me was the backsteps of Lincoln Memorial. Alyssa – that is kind of fun but also… mmmmm..
10:15pm – 11:10pm Backyard – Monte, Taylor, Turner and Alyssa.
Alyssa – was it a showmance? Taylor – you tell me? Turner – you and Kyle? Alyssa – yeah. Turner – you were romantic on the show. Monte – sounds like a showmance. Taylor – mine was a fauxmance. Alyssa – romantic .. him saying he will vote me out and me saying oh my god I wrote a poem for him. Monte – you wrote a poem? Alyssa – I was in my room for like hours .. because he wanted me to share my poetry so I was like I will write a poem for him. Then I was in the DR saying I wrote this poem but it was like the same day that he was probably like .. like he hadn't talked to me in a week… Him saying he would vote me out and then it cuts to me saying I wrote this poem. Taylor – remember that day when we were talking leftovers and Kyle was like guys I know I am team leftovers but I really like Alyssa and would really like to hold onto that a little bit longer. Alyssa – A little bit longer .. BULLSH*T BYE! Taylor – Alyssa!? Alyssa – Sorry! Not Sorry! BYE! I expect like Jessica and Cody vibes like you would die for me …and he wouldn't die for me so I wouldn't die for you either than. Taylor – he was also told nearly every day that you wanted to vote him out. Alyssa – I wish he would have asked. Ask me.. big f**king deal!! I'm a nice person. Turner – but from our perspective you also had Jasmine in your corner and if something gets out about Kyle being concerned about something.. and then Jasmine makes it a big deal.. and then the whole other side of the house freaks out. Alyssa – fair enough. I understand. But big L reason why I probably won't date him .. wouldn't die for me.. doesn't matter to me. Taylor – what was your reaction when I won the wall? Alyssa – it was light hearted. I promise. I was happy for you but it did last a very long time (Kyle embracing Taylor after she won the wall).. and I was like OKAY?! Moving on! I am not a mean person. I can promise you that. I am a very jealous person.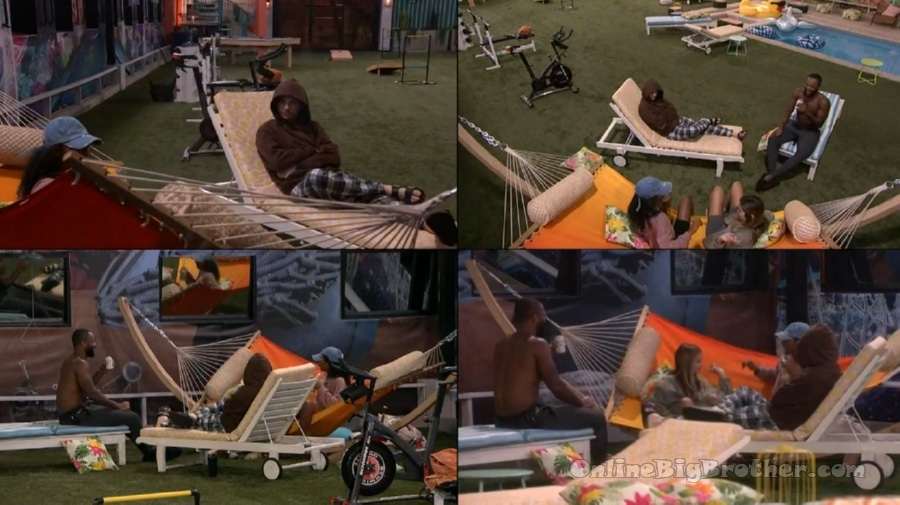 11:50 am Backyard Chilling
Topic is Pre-2000 music
"Spice Girls" "Paul McCarthy" "Nsync" "Justin Timberlake" "Brittany spears"
12:28 am
Alyssa – Brittany went to be early she said I'm safe bye bitches
Taylor – she said Peace out
They talk about the veto and Brittany screaming "This is for Michael"
Taylor – She really thought that Michael Doing what she did during the eviction was giving her a sign
Alyssa – She still thinks that today
Turner – A sign of what?
Alyssa – everyone was talking shit about you and you were the target and giving her a hint that people were talking shit to save themselves. She doesn't know what he said to me about her being liar.
Turner – they were both Dragging each other
Alyssa – she thinks it was helpful
Turner – Full on brain washed
Taylor – when you only have one person you really connect with it's very very hard to believe otherwise. I don't blame her for seeking the positive
12:46 am Taylor and Turner backyard
They are talking about how Monte, Turner and Taylor have played a Honest least manipulative game this entire season.
Taylor – the closest I've gotten to a dishonest game is making that agreement with you and MOnte last night with Brittany assuming that she and I are still as tight as we are.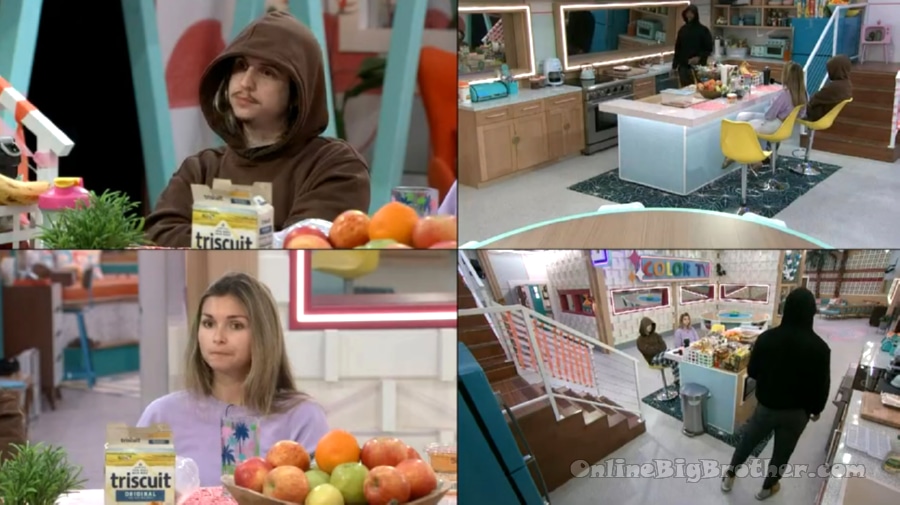 2:30 am Chit chat..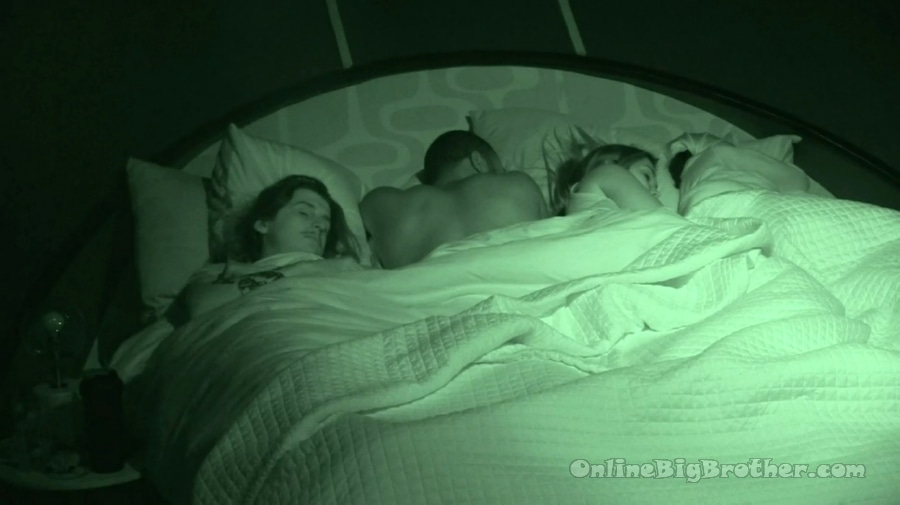 3:53 am Slumber party in the HOH. (Brittany is downstairs)
8:20 am Zzzzzz
Without reader support this site and these spoilers wouldn't be possible.
Please consider a donation to keep the madness going.
Any amount is greatly appreciated!