Watch the feeds for free from the US using a VPN. We recommend HMA https://www.hidemyass.com/vpn/r16399/
Power of Veto Ceremony Results
Sindy nominated
Conversations Before POV Ceremony
The feeds were blocked for most of the day.
Morning wake up Demetres, Ika and Dre
They believe that sindy is going up.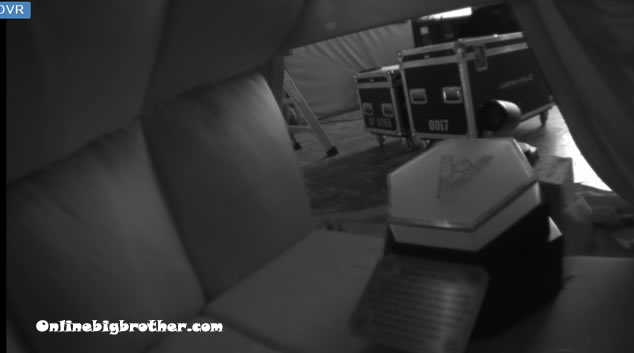 This flashed on the feeds.
12:15pm Dre and Dillon HOH
Dillon says Kevin and Bruno have been playing him the entire Season. They know the ship is sinking and they know they've lost Jackie. Dillon says he would Rather Ika in the game over Bruno, Sindy, Kevin. Dre agrees points out that Ika is a number for them.
Dre tries to get Bruno nominated.
Feeds off 5 hours for unknown reasons
6:39pm Karen, Dre and Ika
Karen going on that Kevin and Sindy never talk game to her.
Karen – do they honestly think I'm the dumbest person on earth? They must all take me for the biggest fool. Dre – I don't know why they do that though. Karen – But I don't think anybody else is as stupid as me in here. They think that I don't even realize I'm playing a game. Dre – at least they talk to you. Ask me who talks to me? No one talks to me Karen. Karen – tell me. Who talks to you? Dre – you, Ika and Dillon. Karen – Will. Dre – yeah he talks to me but not game. Karen – never talks game? But he doesn't talk game with Kevin either. Dre – he doesn't talk game. Karen – up until Thursday Bruno has had a few conversations with me but never like the amount that this last four days. Sindy .. honest to god she has not talked to me since week 1. When she talked to me in week 1 it was pretty much all about her. All about her season. Or all about her and someone else in her season. Ika – Sindy only talks about herself. Karen – Kevin has never talked game. Karen I just want them to do the ceremony.
6:44pm Sindy and Bruno
Talking about if they have the votes to evict Ika.
Sindy asks if they can get William's vote. Bruno doesn't think so, does't think William will go against Dre.
Sindy – what's the whole point of Kevin having this relationship with William if we can't use it.
Conversations After POV Ceremony
10:15pm Bruno and Jackie Hot Tub
Bruno – He just gotta win.. send them home that's it
Jackie says talking to Ika is going to awkward. Bruno tells her Sindy is the target they're voting her out.
Bruno – she's up there to go home
Bruno – 6 Vs 3 .. I've seen worst odds.. not that bad… it's bad
Jackie leaves.. Dillon is now with him.
Bruno tells him Ika doesn't like him says Ika is a good talker. Points out Sindy's decision to nominate him was Ika's doing.
Dillon – I don't like being HOH that wasn't fun at all.
Dillon tells him if he had nominate Ika Jackie would have gone home.
Bruno disagrees says 100% Ika would have gone
Dillon says Demetre, Dre, William and Karen would have voted out Karen.
Bruno – if you would have told Karen
Dillon – I did..
Bruno – if we don't have the votes now how are we going to get the votes… there just going to pick us off
Dillon says they need to put Demetres and Ika up.
Bruno – next week they're all aplaying.. you're not playing the decks against us
Bruno says if he had won the HOH he would have done it but he let Dillon win it so he could see his girl.
Dillon – I should have put Ika and Demetres right off the bat .. I don't know what I was thinking
Bruno tells him it's all good he's not upset they just have to move forward.
10:28pm Kevin and Jackie
Kevin – that is not what I was hoping for.. I pushed so hard for Ika.. I did. I don't know what they told them. Welcome to the bottom Jackie..
Jackie – Okay, no no no… welcome to the bottom Kevin. I've already been here. They laugh Jackie says she's been in the bottom for awhile. Kevin – its nice to be here. Thank you for allowing me in your club. F**k! We'll have to try some stuff but I think they're just going to get rid of Sindy to be honest.. I really do. Jackie – do you think Ika would vote her out? Kevin – yeah. Jackie – I'm sick of this pawn game.
Karen and William
Karen tells him the only way Kevin and Bruno can keep Sindy is with William's vote.
William says he won't do it.
William – Jackie thought it would be Ika on the block? Karen – yeah, they all did. William – really? Karen – yeah, they all thought he was putting her up. William – I thought it would be Sindy. Karen – its not a big surprise .. it could have only been me, Ika or Sindy. Sindy just put him up. William – yeah, its not really a surprise. Karen – I don't trust Jackie. Kevin's maybe going to say something to you. They need your vote to keep Sindy… but don't do it. You've got to vote with us. William – MMMhhmmm.. I don't want a trio in the house.
Bruno and Kevin Hot Tub
Kevin – they're going to vote out Sindy, right? I throw out a sympathy vote. I throw Sindy a sympathy vote. You vote with them. So its what 6 – 1? Then after the vote I say F**K YOU BRUNO! And I say that's bullsh*t. I run to William and I spend the next 3 days with William and I don't talk to you at all. And I say season 3 we had a plan that we were never going to vote against each other. Bruno lied to me and then flipped with you guys to make me the target… and I just don't hang out with you for 3 days. Maybe then if they win they put me and Jackie up or you and Jackie up. That's the only shot we have to not get nominated together. Bruno – f**k yeah. Kevin – its just a long shot plan that I've been thinking of. You know. Bruno – yeah we could do it… I just don't know if they would buy it. Kevin – they probably wouldn't but if they win… Bruno – I think regardless they're all in it together… and they just want to put you and me up. Realistically we just have to win it .. its do or die. Kevin – yeah .. I'm just thinking if it could give us a 5% chance or something to not go up together, you know? Like what are the cracks in that group? Ika, Demetres, William, Dre.. The strongest 4. Karen.. Bruno – Karen is just a number and they're going to carry her all the way to the end. She is never going home. Kevin – Ika and Demetres will turn on Dre and William and will take Karen. Bruno – yes. I think Dre and William will do the same. Karen is just a number. She thinks she's playing the game. She's not playing the game. She's just a number. She doesn't have to worry about anything. IS she smart or not? Bruno – I think she's smart but she doesn't have to do anything. No one is targeting her. Nobody, everyone brings her in as a number. Everyone wants her sitting beside them in the final 2. She's playing a $25,000 game right now. Kevin – I truly think that Sindy is just dead in the game right now. There is nothing we can do. Those 4 control the votes. Thank god he didn't go back on his deal with me and you… and he could have. Bruno – Jackie thinks she's a target. Kevin – no, not a chance.
[polldaddy poll=9723834]