Watch the feeds for free from the US using a VPN. We recommend HMA https://www.hidemyass.com/vpn/r16399/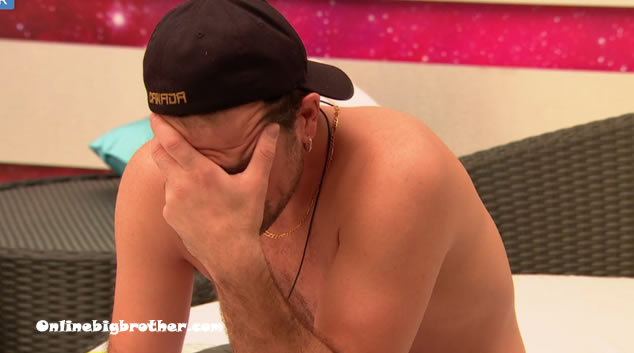 Bruno – what do you think of the veto this week
Karen – its a wild card.. us four could go up..
Karen says even though Bruno and Kevin made a deal with Dillon they still could go up. Of Course she's claiming to be a target and so is Sindy.
Bruno mentions that Ika is also an option. He doesn't think Karen will go up.
Karen – I think he's confused he's not talking to me much.
Bruno says the best bet "and I'm being real" is Ika.
Karen says Dillon might think Bruno, Kevin, Sindy, Ika and Demetres are allies.
Bruno says no they are not
Karen – then why did Neda just out it
Bruno – because sh'e was trying to safe her ass
Karen – you, Sindy and Kevin are a threesome
Bruno – look at Ika and Neda they were in the same season too and they went head to head.
Bruno points out the pairs in the house Ika/Demetres, William/Dre
Bruno – Ika and Dre are very close.. they got in that Fight and now they're friends again.
Bruno – Karen I promise you.. Ika and Dre are close, William and Dre are close, Demetres and Ika are close.. those four are tied in because of Ika
Bruno – we have a chance to put her up and get her out
Karen – do you think Dillon trust you and Kevin
Bruno – I hope so because I'm not against him
Karen says Kevin, Dillon, Bruno and Sindy are a strong group of four
Karen brings up week 1 wise guys alliance with Mark, Dillon, Bruno, Kevin and Dallas.
Bruno – Karen.. you gotta forget week 1 you gotta forget week 2 it's a total different game
Karen says she doesn't trust Kevin for 1 second, "He's got to go"
Karen – he was saying to tell me the other day he's putting me up
Bruno – I promise you he's not going after you
Karen says during the William HOH Jackie would have been the replacement and Kevin not using the veto was a bad move.
Bruno disagrees.
Bruno continues to stress that the other four is so strong. They can win competitions.
Karen says Jackie and Kevin Martin never talk game to her. Adds that Sindy really doesn't talk to her neither.
Karen – do you trust Sindy .. you're with her a lot
Bruno – honestly Karen who amd I with the most in this house real talk..
Karen – Kevin MArtin the bible boy
Bruno says it's her he spend most his time with KAren
Adds that she needs to give up on her Kevin hate.
Karen says she'll never stop.
Karen – you're right they all need to go
Karen adds that Ika is working 3 different angles.
Bruno – Ika is very manipulative
Karen – but Jackie wins Comps
Bruno – she's won that one HOH
Bruno stresses that Demetres can win competitions, "That's a dangerous couple and there's finally a chance to break them up.. you'll probably not get another chance"
Karen asks what if Kevin, Sindy and Bruno get power next week, "Who goes on the block"
Bruno – Demetres follows Ika next week.
They can all talk about who will be the pawn.
Bruno says Demetres is way stronger a player than Dillon.
Bruno has to keep reminding Karen to forget what happened week 1
Karen calls Kevin "Bible boy" says she liked him during his season.
Karen calls Bruno out for having a final 2 with Kevin and a final 3 with Sindy. She jokes that Bruno has a final 2 with Jackie and Demetres.
Karen still going on about getting Kevin out. Stressing that Kevin will cut Bruno at final 3 because he knows he won't win against him, "You got to cut that fat"
Karen says Kevin and Sindy are sneaky like cats.
Dre and Ika Chit chat
They talk about being the poorest in a rich neighborhood.
Dre – surround yourself with stupid people they bring yourself down
Ika – my neighborhood so wealthy
Dre says she's always proud when she sees a black person in a wealthy neighborhood
Ika – I feel so poor in it
2:35pm Dillon and Demetres Hot Tub
Didn't hear any game talk.
Kevin tells Bruno the pitch he is going to give to Dillon to try and get him to put up Ika. Kevin – dude, you get along really well with Dre. Like Dillon and Dre get along really well but as long as Ika is here that relationship won't be 100%. If Ika goes that frees up the mind of Dre, William.. like these are relationships you're going to benefit with. As long as Ika is here, she is the queen of the game. She is the best chance to win. So that's the pitch dude. Bruno – yo, that's good man. Kevin – hopefully I can sell it well. Bruno – that's fu*king good. Kevin – there's just a lot of things .. I think using the heart strings of Emily .. because he LOVES Emily.. just be like dude Demetres laughed at Emily's deal right after. Like dude you can't just let them get away with this. Bruno – we have to use that .. that's huge Kev. Kevin – I'm really going to sell it. And if Ika and Demetres are here I'm just going to confront them. Like you two are my targets… enough's enough. Bruno – yeah because if Ika doesn't go this week she HAS to go next week. Kevin – the last time I played I went home around now and I didn't get to play the second half. This time I just want it… and I want to turn it up! And I want to go hard! Bruno – F**k yeah, and I'm at that point dude. Kevin – there's no more passive. We're the underdogs dude, we have to pull something out. Bruno – we have to …we have so much working against us. Kevin – work on that relationship with Karen. Bruno – I am.
Karen and Ika talking about getting Sindy nominated.
Ika – a bunch of movies happening right here.. I'll tell you the scene. Karen – okay, tell me. Lets hear it. Ika – so right now in the big brother canada 5 house… we have .. things are happening. Karen – okay lets hear it. Ika – we have the head of household, the gentle giant. The gentle giant, who's loyal to a fault to the wrong people in the house. Karen – that's true. This guy right here. Is the biggest traitor. Karen – that's true. Ika – and he reels people in with his nice guy act. Karen – I told him that today. Ika – what did you say? Karen – I said Bruno, come on! He said no no Karen you've got it all wrong. I said Bruno I've got a kid just like you. Just suck people in with that charm and get whatever you want. Do you think he's listening to them? Because he only has the choices… you, me and Sindy. Ika – I think its me and Sindy. I don't think he's going to put me and you up. Karen – I haven't been able to talk to him today. There's no doubt they're working him to death. Ika – I do feel bad for him, that's why I'm not saying anything to him. Karen – Bruno and Kevin says nothing. Sindy lays low and Jackie is running around like a squirrel. I can't stand she's back in .. it drives me nuts. Ika – I know. They are more dangerous though. Karen – oh 100%. It needs to be Sindy, Kevin, Bruno, Jackie. Or any order that they need to go. He will not put up Bruno and Kevin though.. he will not do it. I've tried, trust me. I told him today .. if Kevin gets to the end with you.. he will cut you Bruno because he knows you'll win. Ika – I don't know why you're telling him sh*t like that .. he'll just tell. Karen – I don't give a sh*t! I'm a target for these idiots anyway.. I'm going to try and take them out before they take me out. I can't stand that they think I'm an idiot.

Kevin martin talking to Dillon trying to get Ika up
Dillon does say he's putting Ika up.
Kevin – are you still wrestling with tomorrow a little bit? Dillon – no, not really. I think, do you think Ika is better? Kevin – I was going to come and talk to you about that. I think its a GREAT chance to take a shot at Ika… for your game. Like I think its a great, great shot. So Ika and Demetres made you a deal? Dillon – yeah. Kevin – is it next week if you win? I think its bullsh*t. Dillon – she swore on her kids. Kevin – she swore on her kids? All I know is on the heavy rotation challenge .. it was Emily & Demetres were the last ones up there .. Emily made a deal for safety right? Dillon – yup. Kevin – because I was working with them and the six. After Demetres got his HOH .. that night we met up together and he laughed about it. He was like I'm going to vote to evict whoever but with these nominations I'm going to put Emily up. Like he laughed about the deal after. Dillon – huh! Huh.. Kevin – yeah it was right there by the hot tub. Kevin – I don't know man… whoever you put up is going to go home. Like you have the votes on your side. I just think Ika is in such a great spot in this game right now. And if her and Demetres win … it might be you up there and me beside you so that I can't use the veto on you. Or Bruno up there. … Like they said Jackie right? Dillon – yup. Kevin – can you see them going after Jackie next? Dillon – only because her and Ika have a feud. Kevin – but Jackie is a little bit by herself right now. Like if they win the HOH next week.. I don't think they're going to go after Jackie. Like they'll say whatever they want right now. Dillon – I know. That's why I figured it would be me and somebody until she said that. Kevin – they will not go after Jackie. They're all talk right now. An hour after Demetres won HOH.. he laughed about it. Like the deal meant nothing to him. Like I worked with these people for the first half of the game.. they're poison dude. After you got your HOH room .. I watched who left first.. Ika & Demetres. When we did the boxing challenge who was the first one to sit down. She does not like you. I'm just terrified of her. I've played the first few weeks with her and Demetres and from what I've seen the deals they make are poison. But if you put up Ika this week.. we send her home. I win next week and put up Demetre and send him home right after her. They just have so many connects on that side of the house. Dillon – yup, that's what I've been thinking myself. Kevin – either way .. if you go with Sindy I totally support you. You have my vote. You have the balls right now .. like who ever you put up, will go home. Sindy next week will go after Demetres. If we ask her. Right now if you rank everyone from 1 – 10 .. she is number 1. Dillon – I want to do what is best for my game .. like I'm leaning more towards Ika. Dilon – I'm thinking more and more I will put her up. Kevin – you have my support.
Feeds have been down for most of Monday I have some conversations from the morning. I don't know when feeds come back.
Conversations Before POV Ceremony Monday
Morning wake up Demetres, Ika and Dre
They believe that sindy is going up.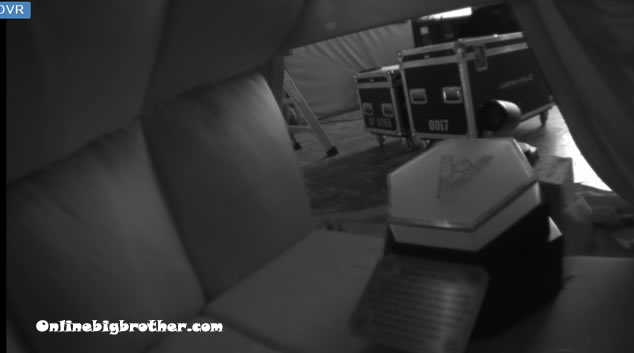 This flashed on the feeds.
12:15pm Dre and Dillon HOH
Dillon says Kevin and Bruno have been playing him the entire Season. They know the ship is sinking and they know they've lost Jackie. Dillon says he would Rather Ika in the game over Bruno, Sindy, Kevin. Dre agrees points out that Ika is a number for them.
Dre tries to get Bruno nominated.
Feeds still down 9:51pm
[polldaddy poll=9723834]