Watch the feeds for free from the US using a VPN. We recommend HMA https://www.hidemyass.com/vpn/r16399/
Ika and Dre in the morning
Ika talking about Bruno and Kevin trying to get Dillon to put her up. Ika says she saw Sindy bawling late last night. Ika adds Dillon was with her. Sindy left for the Diary room and told Ika he felt bad. Saying that Kevin, Sindy and Bruno are saying that Ika is playing him.
Dre points out it doesn't matter they didn't have the votes.
Ika – I said to him.. listen I want to win HOH so bad just to prove to you
Ika – I'm so sure of him it bothers me he's not so sure
Sindy and Kevin
Sindy says she talked to Dillon last night. He told her she's nominated becuase she put him up during the double. Sindy didn't buy it tol him there's more to it.
Sindy explained to him that she put him up because she knew him and Ika would have the votes to stay. Is she put Ika up she would really gun for her. Sindy thought Dillon would forgive her.
Sindy – I'm like she's going to gun for you no matter what..
Sindy adds that Dillon is telling her Jackie is the target.
Sindy's birthday is on Thursday.
Dillon told her he knows Kevin and Bruno are trying to play him. Sindy said to him Kevin and Bruno were the ones fighting for him to stay when Emily and Dillon were on the block.
Sindy says she hasn't talked to Ika, Dre, Demetres or William yet.
Kevin – say whatever you have to stay Sindy.. throw us under the bus
Sindy – I don't want to throw you under the bus
Kevin – you're going to have to, we're the enemy … me and Bruno are enemy number 1
Kevin says if the other side thinks she'll come after kevin and Bruno they might keep her.
Kevin – you have my full permission .. at this point in the game I trust you so much
Sindy – you know I'll come back to you
Sindy – I need you guys to hang out with Jackie all the time.
Kevin agrees says he'll spend all the time with Jackie.
Sindy adds that she was trying to explain to Dillon the only reason Ika and Co. is so close to him now is because he's HOH. If he wasn't HOH they wouldn't spend any time with him.
Kevin – say whatever you have to to stay.
Kevin leaves..
Sindy is asking Big brother for a secret veto or twist to save her.. "Please BB Gods.. I don't know what to do I'm scared"
Kevin having a coffee by himself
Kevin – I can build my game from the rock bottom now
Kevin says his senses were right last week it wasn't him they wanted to backdoor it was Bruno
Kevin says Bruno's the target over him, "I want to fight theses people so bad"
12:55pm Dre and IKA backyard couch (Lots of chit chat in the video some sass towards Jackie)
Ika says the goal with Jackie is to "spill some tea"
Ika says if she had won during the double she would have put up Bruno and Neda.
Dre – I'm wondering if the tea she is spilling is the real tea.. (Jackie)
Ika tells Dre if she goes William will go right to Kevin.
Dre disagrees says he'll trust them even less.
Ika points out that William only spends time with Kevin and Dre.
Dre says the Duo, Kevin/Bruno stresses William out. If Bruno is gone William will attached to Kevin if Bruno stays William will stay close to Ika.
Ika calls the remaining Vets "Slimy" says she hates them all.
12:57pm Bruno and William Hot Tub Couch (First 17 minutes isn't heavy in game talk just talk about the show in general)
Talk about what happened to Neda and how it wasn't justified. William says he would be in a depression if that happened to him.
(17 minutes in)
Bruno – who were they telling you our targets were
William – Ika and Demetres was saying to you to get rid of us.. Dre and I
Bruno nodes, "From the start"
Bruno lays it out that that Neda, Bruno, Kevin, Ika, Demetres. Kevin wasn't going to do it though.
Bruno – that was the whole thing that's what Neda was trying to tell you guys.. that's why I'm surprised you guys are friends after that.
William says they were saying they were playing both side.
Bruno – that's not the truth
William – I'm surprised to be honest.
Bruno – Ika swore on her kids life .. I'll be honest with you.. I'll be straight, why not. If I don't win HOH next week I'm going home.
Bruno – I would rather see you or Dre win than Ika/Demetres I'll tell you right now
Bruno – If I win you're not my target .. or Dre.
Ika – She swore on her kids life than me, Sindy, Demetres and her.. she was like I want 1 of us 4 to win this game. She swore on her kids life.. to me right to my face.
Bruno – we never said final 4 and she swore on her kids life yet she turned her back on us.
William – really
Bruno – dead serious man..
Bruno again points out Ika/Demetres wanted him to get Dre/William out and they wanted Dre/William to get Bruno/Kevin out.
William agrees.
Bruno – I'll tell you everything you need to know.. I'm done.. I'll save the rest for next week.. If I don't win HOH i'm done.
William says Ika doesn't talk to him, she really only talks to Dre/Demetres.
William says Dre is in the middle between Ika and him, the connector.
William and Dre Blue Room (Lots in french)
William reporting back to Dre about the conversation with Bruno. Says Ika swore on her kids' life for a final four between Bruno, Demetres, Ika, Sindy.


Sindy and Kevin bathroom
Sindy crying…
Kevin asks if she's talked to Ika/Demetres.
Sindy says no "I don't even know how to start the conversation.. I don't know if I want to"
Kevin – Of Course you want to
Sindy – I don't know where their head is at.. I don't know what to do.
Kevin – you have to start with Ika
Sindy – and say what.. she barely spent time with me this week, she did it on purpose.
Sindy is unsure that Dre/William will even make their own decisions or if they have to convene with Ika/Demetres first.
Kevin – they'll vote together as a block
Kevin adds if Bruno and Him start to campaign for Sindy it'll make it worse, "we're the enemies.. if we want you to stay they'll take you out"
Bruno comes in they have a season 3 hug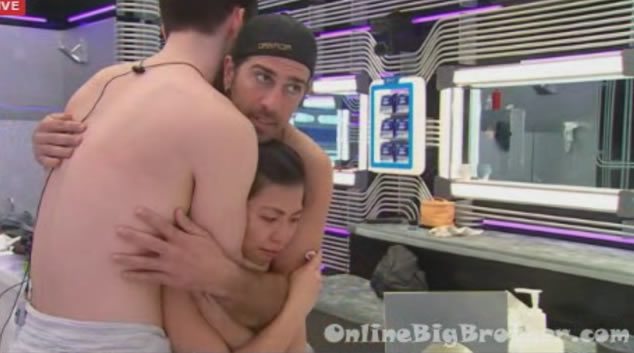 Bruno gives Sindy a kiss on the forehead, "I love you guys.. You guys are my rocks"
Sindy starts to cry..
Kevin – it's a tough week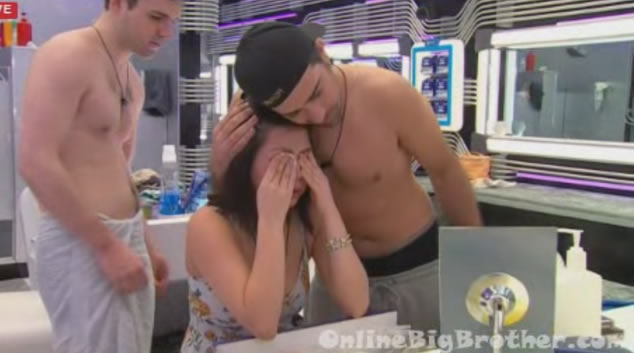 Kevin gives her a kiss on the cheek..
Bruno – you're our girl you know that..
Bruno – we're a team
Bruno says he's talked to William today.. gives a summary about how Ika swore on her kids about the final 4 between Ika, Demetres, Bruno and Sindy.
Sindy nodes.
Bruno tells Sindy to sell Ika out, "She's selling you out"
Sindy – I know I have to
Bruno – Ika/Demetres are the reason you're up there
Sindy – I know
Sindy mentions that Ika swears on her kids a lot.
Bruno gives them a pep talk saying he fought so hard for Dillon not to put her up, he's in a bad position but will keep fighting for their alliance.
Kevin – I fought really hard too
Bruno – it's do or die.. Sindy we got to make a play..
Bruno – this is the tightest bond in this house
Kevin – by far
Bruno – by far
Kevin says he can't see Dre and William flipping on Ika and Demetres this week.
Jackie Bruno and Kevin Have nots
Studying..

Bruno and Karen Hot Tub Couch
Chit chat..

William and Sindy Bathroom
Sindy going over the "Big Meeting" between Bruno, Neda, Sindy, Ika, Demetres, Kevin before the Dillon/Emily vote
Sindy says during that meeting Ika made it clear if they voted out Dillon that was going against William and Dre and she was concerned it would draw a line.
Ika wanted them to try and convince William and Dre they didn't have the votes to evict Dillon.
Sindy says the fight between NEda and Ika was when should they draw the line between the two groups. Ika wanted to keep playing the middle saying that she would be able to "report Back"
Sindy says the battle between Ika and Neda was who was the leader of the group.
Sindy – I trusted Ika more than Neda
Sindy presents more evidence of Ika playing both sides, says she would even go as far as saying she would put Dre and William up. Adds it was right after the double eviction when they were all in the room together. Ika was going on about putting Dre/William up. After the HOH Ika started to talk to Dre/William again, saying I'm sorry.
William – Really she said that
Sindy – yes then the next day when you guys didn't win (HOH) She's like OK.. that's when she started being nice back to you and Dre..
Sindy says Ika would go up to her and say Dre like her but doesn't like Kevin and Bruo. When Sindy asked if she should talk to Dre Ika would say no don't talk to Dre otherwise they'll know I talk to you.
Sindy – I thought I was working with Ika/Demetres and you guys..
Sindy adds that Ika pushed for her to go on the block, "I had her back this entire time and she knew that.. "
Sindy – She was like Sindy I swear on my kids i'll never backstab you, I'll never put you on the block.. I will always fight for you .
William – ok
Sindy points out that Ika gets close to everyone that is alone and she's convinced if Sindy leaves Ika will convince Jackie to put Dre/Will up. Adds this is the same thing she did with Karen after Gary left.
Bruno Kevin and Sindy
Sindy going over her conversation with William.
Kevin – keep throwing her under the bus (Ika)
William and Dre Blue Room All french

Dre and William Bathroom All French
Kevin and Dillon HOH
Kevin says he's always cared about Dillon in this game. Kevin says "they" Ika/Demetres/Dre/William were high fiving when they though Dillon was going home last week.
Dillon says they wouldn't have the votes to take out Ika.
Kevin – they are truly going to use you for 1 or 2 weeks..
adds they'll use Dillon to help take out Kevin/Bruno then they'll cut him loose.
Kevin – when people are with you in your high moments.. it's bullshit
Kevin says when people are at their lowest and people come to them then you know it's true. Points out that is what Kevin did for Dillon last week.
Dillon – honestly Kev.. you should have used the veto
Kevin – I really wanted to put it around your neck but I thin there was a bigger plan to take out Bruno
Dillon – Sindy going home isn't the worst thing ever..
Dillon says he knows Ika/Demetres/Dre/William are only talking to him because he won HOH.
Kevin says the other side's plan is to take Karen right to the end. They'll cut Dillon after Bruno/Kevin leave.
Karen and Ika Red Room

Ika Dre and Karen
Karen – what they're going to try and do is they're going to get in Dillon's ear more. William, Dre, Bruno, Kevin. They think they're going to go William, Dre, Bruno Kevin. Dre – they won't come to me. Dre – I don't see why they would think I would save Sindy. Karen – it would have been better for us had Emily come down, Jackie gone up.. and she gone home. She is going to keep being a problem for us. Bruno, Kevin and Jackie are not the
10:00pm Ika and Demetres

Ika – I just think if she (Jackie) stays she might go back to them. Demetres – who would you rather back with them .. her or Sindy? Ika – that's true. Sindy kind of showed her true colours. Demetres – I would rather have Sindy gone anyways …even if she does go with them. Ika – yeah. Demetres – because I know that Bruno, Sindy and Kevin are tight. Now if it's Bruno, Kevin and Jackie floating around.. whatever. Sindy is just as smart as Jackie and she is way more physical. And it's F**KING Sindy. Demetres – it sucks that we're dragging her (Jackie) along. That gets me every year. Demetres – this week could have been rough .. we just got out of it. Ika – next week if we don't win we're not getting out of it.
Karen – its nice to be scared isn't it? Demetres – he would be in big f**king trouble if we win HOH. Karen – when we win HOH. When we win HOH. Not if, when. We just got to do what we do and dig in. I just hope the advantage is an advantage for me because we only need to beat Jackie, Bruno, Kevin. Ika – they're strong competitors. Karen – I know but they're also all coming off slop. Demetres – that's true, that helps. Demetres leaves. Karen asks Ika – do you get any funny feelings from Dre? Ika – she hung out in the room all day to day with Sindy, Bruno and Will. I'm not quite sure if Kevin was there as well. Karen – they're working on her. I'm watching. I'm watching everything. Ika – they have not said a word to me. Karen – not one word to me. Ika – I think they're saying lets not campaign ..whoever stays can join us and we'll take them out. Karen – so they literally don't care? Karen – we have to believe that Dre will stay with us. I said to her today – you're voting Sindy out. She said something that made me think a little suspect… she said I don't see an advantage in keeping Sindy over Jackie at this point. I thought so if they make a point, then you could see. And Jackie has been trying to talk to her … but you know what happens to the people that Jackie gets close to (they get evicted)… always. Ika – what does Dillon think? Karen – he thinks Dre will stay with us. And he thinks the same as we do .. that we get it to the 6 and then it's fair game.
[polldaddy poll=9723834]