| | | | |
| --- | --- | --- | --- |
| POV: | Brett | Next POV: | Aug 18th |
| POV Used | ? | POV Ceremony | Aug 20th |
| HOH: | FES | Next HOH: | Aug 23th |
| Noms: | Brett & Scottie | Have Nots | |
A real easy way to support the site if you are an amazon shopper is to make your purchases through our link. You pay the exact same thing but we get a small % commission. It doesn't cost you anything and helps us out.
Amazon Canada
Amazon USA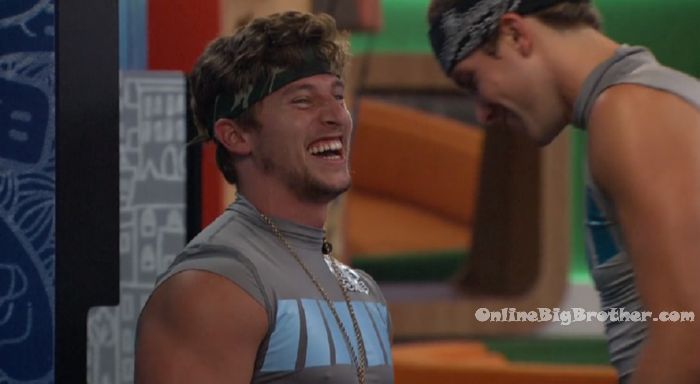 Power of Veto Players: Fes, Brett, Scottie, Haleigh, Tyler, Angela
POV WINNER: BRETT
It was the Hide & Seek Veto Competition – The house is destroyed!
Before the competition Zingbot came into the house and zing'd them all. (I can't wait to hear their zings)

5:50pm Bedroom. Tyler asks Brett if he was the one that took all the mattresses? Brett – yeah and all the cushions. Kaycee – so Brett you took all the mattresses and put it in there? Brett – I made a barricade. I literally didn't even look for any. I just kept barricading mine. Let those idiots look go look for them. I just going to protect what's mine. (Smart strategy) Haleigh – I am so mad Brett. I literally went to your spot 4 times! That's such a good idea Brett. You suck! Brett – I literally talked to myself the entire time .. I'm the greatest detective! A is for Alfred!

FLASHBACK and watch everything you missed: Live Feed 7 day FREE Trial!
Lounge room. Sam is sitting alone. (Not helping clean up at all) She isn't happy about her stuff being tossed around.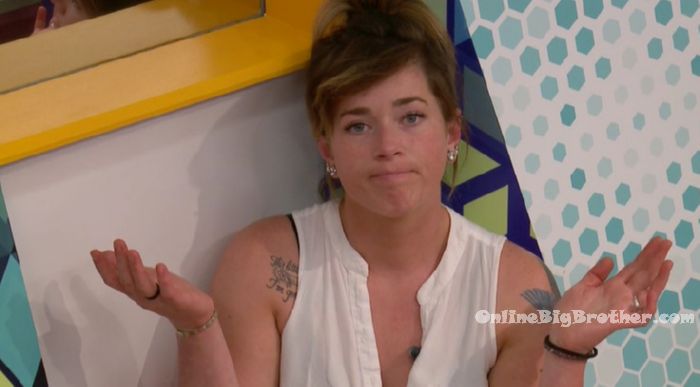 6:15pm Storage room. Angela hugs and congratulates Brett. Brett – I can't wait to give my veto speech and tell Fes to suck my c**k on national television. You know how many times you've looked me in the eyes and told me you wouldn't nominate me… because I know. Remember that time I was on the block and I won the veto and took myself off… remember who isn't eligible to play HOH next week!? Guess who is!?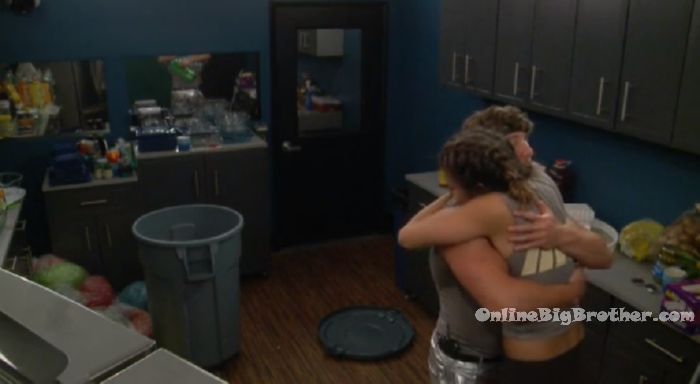 6:23pm – 6:30pm HOH room. Fes and JC. (Fes is laying in his HOH bed not helping clean up) Fes – the only thing we have to be careful of is that the replacement nom doesn't go home. JC – who are you thinking? Don't do anything crazy with the replacement nom. Fes – what are you thinking? JC – whoever you pick Scottie is going to go home. I will vote whoever you want. If you put up Kaycee .. you have Sam, Me, Angela, Tyler, Brett.. For us it would be better if you go for Scottie for sure. you have a big list to choose from and will get you the least amount of blood. Scottie is a really good competitor and this is the chance to get him out. Fes – I need to do damage control with Brett now. How do I do that? JC – thats easy. Fes – just tell him that he was never my target and that because he put up his hand it was an easy decision to put him up. You're going to have to pick either Angela or Kaycee. You're obviously not going to put me up or Sam. If you put up Tyler .. it would be the dumbest thing to do. You would have two big players against you and its only top eight. If you put up Sam .. I am not going to vote her out. I don't know how she is going to take it. She is bat sh*t crazy! Fes – you know how she gets called to the diary room every morning. JC – do you think its for meds. She has mood swings. I know my dad is bi-polar. I don't deal with that. Fes – should I go help them? JC – well you were one of the contestants.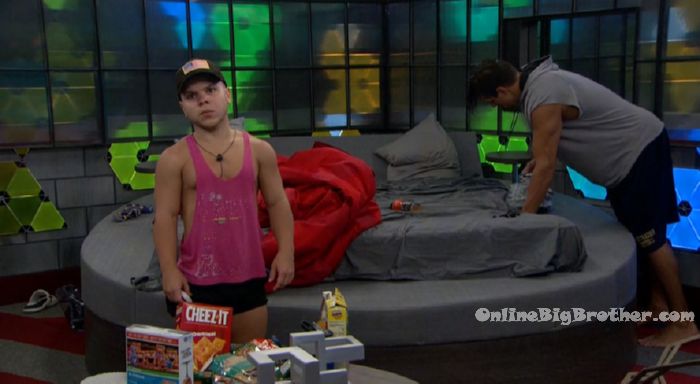 6:44pm Tyler says he put his in Sam's pants because he thought no one would have the balls to go through her stuff. Fes says he put his in one of the dressers in the blue room behind the drawer.
7pm Brett clutching his veto and letting his win sink in..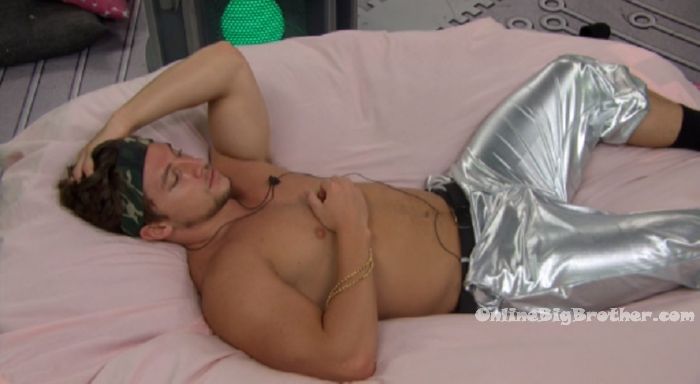 7:11pm – 7:24pm Angela – this is what it feels like when you get a new puppy. Fes – I used to hate it when my dog would sh*t in the house. Oh my god. He used to know what time it was ..I used to beat his a$$.. Angela – oh I know I would discipline my dog too.
Fes – I feel bad for doing this sugar now. I saw the chocolate milk (poured out on the floor.) and I though oh this is what we're doing now. Haleigh – you thought the point of the veto was to throw sh*t on the floor? Fes – to distract people.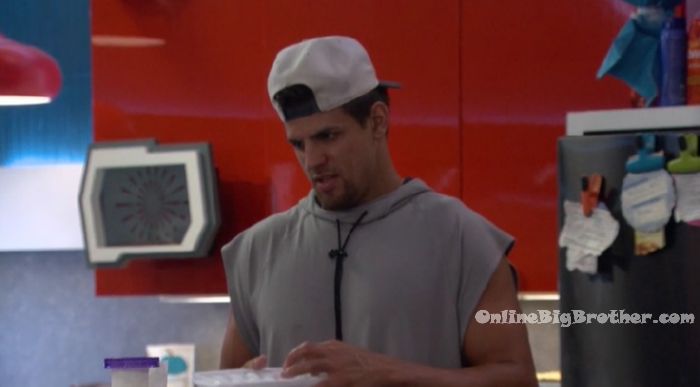 7:22pm JC – my zing was the wack. Tyler tells JC what JC's zing was: The only thing thicker than your accent is your back hair… ZINGGG! Haleigh – I don't understand why someone had to dump milk on everyone's clothes. Brett – I think it was Fes. It was second round he went first and it was their when I went in after him. Haleigh – or it was done at the end of the first round. Brett – that's true. Haleigh and Brett both bailed when they came into the house. Haleigh says she put hers in in the ottoman cushion. Brett comments on how he got called a douche (By Zingbot). Brett – Like if you though she was crazy before .. after that she is going to go nuts. (Sam's Zing) JC comments on how his Dad is bi-polar and has mood swings like Sam.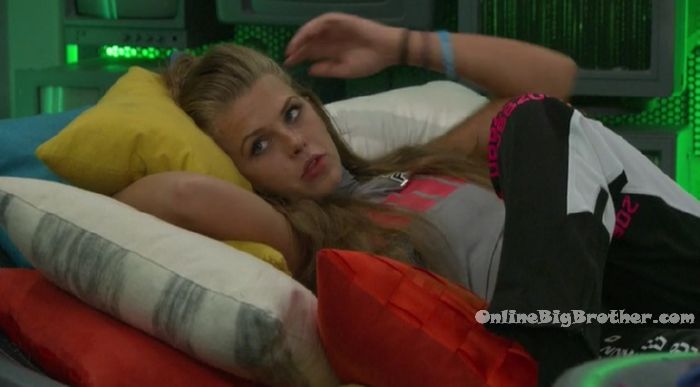 Brett's Zing: You think you are so fresh and so clean but you are a douche! ZINNNGG!
Haleigh – who's blonde, has blue eyes and is obsessed with Fes… Haleigh .. ZINGG!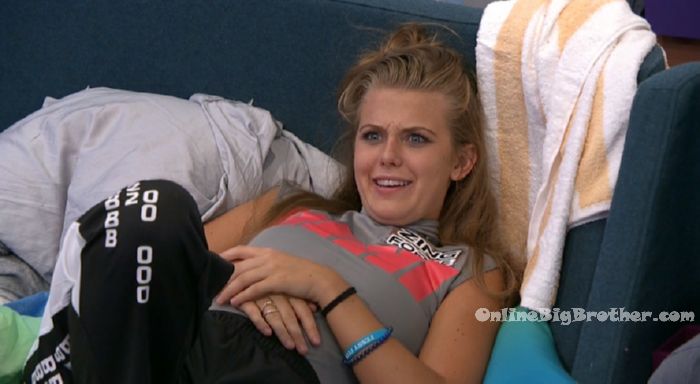 7:24pm – 7:33pm Fes heads up to the HOH room. Fes to Tyler – we will talk tomorrow .. me you and Angela. Tyler – is that not what you wanted to happen? Who are you going to put up? Fes – I don't know what I'm going to do. Tyler – who do you want to go? Fes – I don't know. Whoever stays is going to be pissed at me. I only have four options as I'm sure you know. Basically what is best for my game and who do I trust. By keeping my word with a couple people and hoping they will keep their word with me. With the replacement nom now I will have two people stay and be mad at me. I will talk with you and Angela and see where y'alls heads are at. The numbers are getting smaller and you and Anglea kind of have a trust thing going on. You used two vetos on each other. I for the most part trust Haleigh. But us four there has been some tension there. Not with me but Haleigh. Tyler – I am all about returning favors .. you saw that with Angela. Fes – with Haleigh it wasn't malicious. You just won the most comps so putting you up no one would know who did it. Haleigh is the only real person I have in this game.. so basically as numbers get smaller I need a team. If we want to all squash it and we can all get on the same page… because I have four options this week. If I put one of you up, you will probably stay. And Scottie, I have no problem with Scottie. The perfect scenario would have been if I had won it and showed you trust by not backdooring you. Tyler – I trust what you do and whoever you want me to vote out, I will vote out. Fes – its what's best for my game but also what's best for the house. Tyler – Like I said I've got you and I'm sure Angela will too. Fes – I'm not sure what's going on with Sam. Tyler – this was just her worst nightmare. We go into a double this week and all four of us would be solid.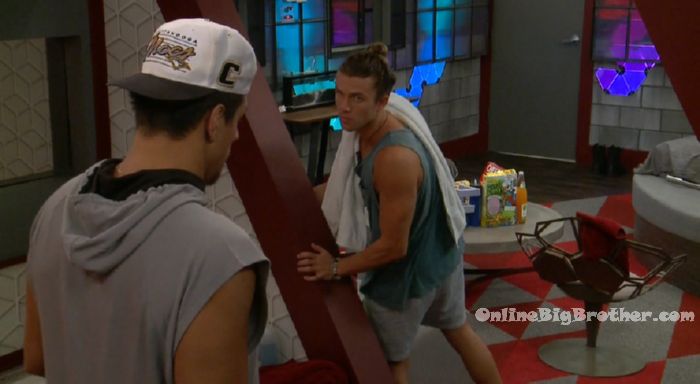 8pm HOH room. Fes face masking like a boss.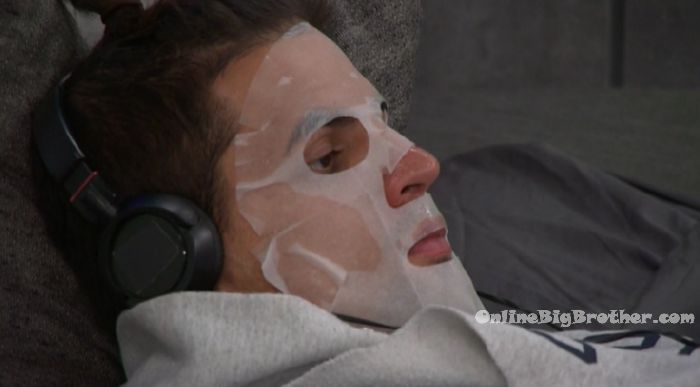 Donations Really do help keep this site keep running
Rank the houseguests!
Easiest way to Rank the house guests use link below