| | | | |
| --- | --- | --- | --- |
| POV: | ? | Next POV: | Aug 18th |
| POV Used | ? | POV Ceremony | Aug 20th |
| HOH: | FES | Next HOH: | Aug 23th |
| Noms: | Brett & Scottie | Have Nots | |
Big Brother Spoilers
Power of Veto Players are Fes, Brett, Scottie, Haleigh, Tyler, Angela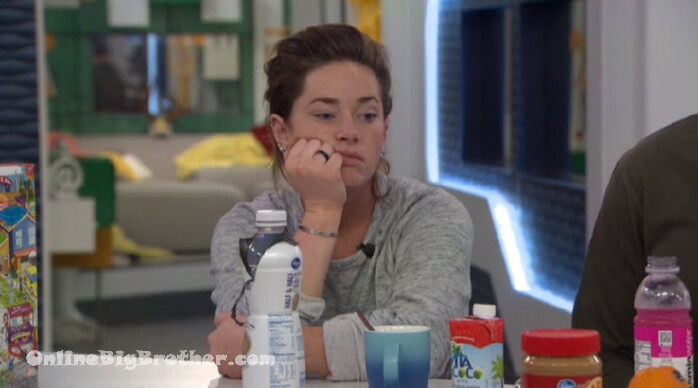 8:01am Sam, Fes and BRett are up and about
Sam – I miss work.. I get jealous when I hear them doing something out there even though it's not my thing it's still work..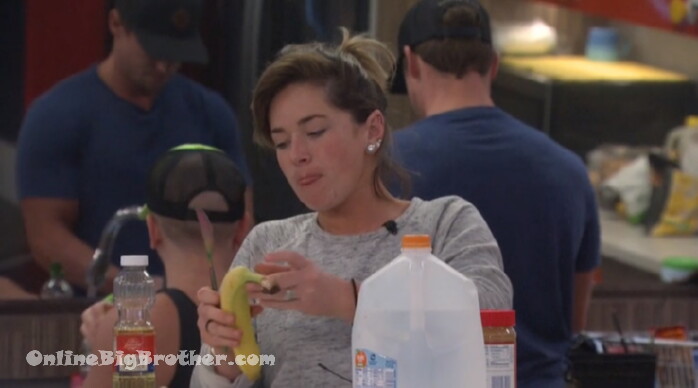 8:21am Brett and Sam
Chit chatting (in Sam's head they are having wild sex right now)
8:37am Sam and Brett
Sam – I just haste the quiet
Brett – I thought you liked the quiet.. I love the quiet that is why i'm up in the morning
Sam goes on about always having music playing in the background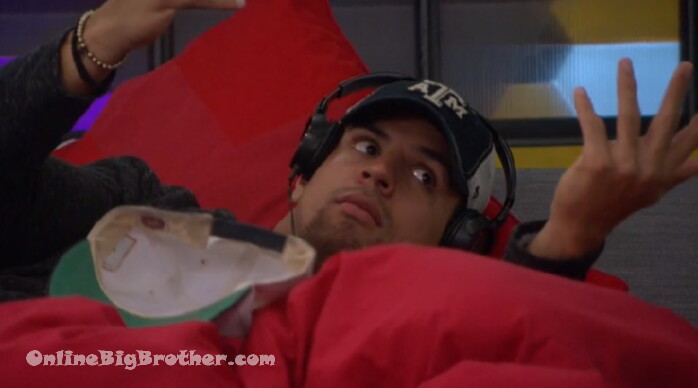 9:05am Fes and JC
Fes says Scottie picked Haleigh. Fes goes on about Scottie getting into Haleigh's head. Brings up last night when Scottie was crying to haleigh telling her he would never put FEs up and he's all alone in the game. Fes mentions Haleigh bringing up his nominations being a mistake.
JC says it's ok that haleigh talks to Scottie and listens to what he's saying but she shouldn't be so doubtful of Fes. Fes – She seemed down.. she just talked to him for 2 hours right outside my door.
JC – and he also have to understand if he likes her he's protective over her so she's going to know him and know his feelings. If he wins HOH he would never do anything bad to her he's coming for you.
Fes is convinced Scottie was coming for him, "Who would he have put up Angela and who?"  FEs adds even if he wasn't the nomination he would have been backdoored
JC says Scottie would have put up him and FES "Straight up"
JC – he's straight up playing an emotional game because he likes HAleigh..
Fes wonders who else Scottie would have picked over than Haleigh, Tyler?
Fes thinks Haleigh is going to throw the veto he doesn't want her to he wants her to win it
JC asks what happens if she uses it on Scottie
Fes – than we have a problem (I want us to have that problem)
Fes – how is Sam's relationship  with Angela and Kaycee
JC – they only talk in the kitchen
Fes – the only relationship Sam has is with Brett
JC – she talks to Brett a lot..
JC says Sam mixes with the guys more than the girls the only reason Rockstar and her were friends was because rockstar would follow her around and smoke with her.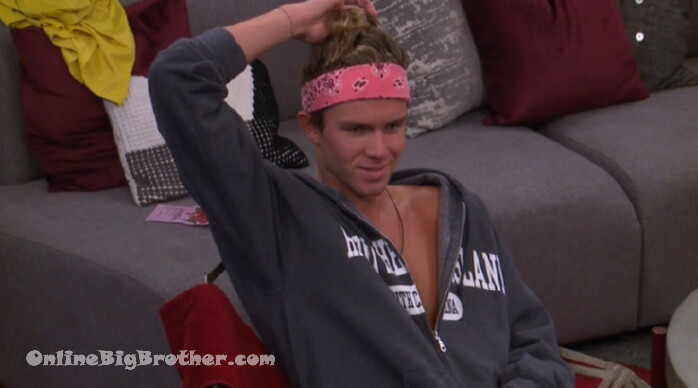 Tyler comes in
Fes – win the f*ing thing..
FEs says if the veto is played he's going to have to look at everyone and find out what is best for his game
Tyle r- I know that
Fes – I know you know that
(hint hint you Tyler) JC leaves..
Fes asks him who the vote was (last week LOL they've never been able to figure out the vote)
Tyler doesn't know both Brett and Scottie told him it was them.
Fes goes on about people hiding their votes and it's pissing him off so he put the 2 people on the block and hopefully he finds the trueth
T – Scottie's my boy but if you gotta do what you gotta do
Fes says everyone beats around the bush with him
Fes says he's got no game relationship with Brett at all
Tyler tells him after Kailtyn left he didn't have anyone that is why he did that with Angela. He could have taken the Veto for himself but he let Angela win it so he could build trust with her. (Tyler does a good job of playing up that he's a lone wolf in the game)
Fes asks him about Sam, Fes felt that the first 4 weeks they were close but it doesn't look like that now. Tyler says he was close to Sam but now she doesn't even look at him. Tyler doesn't know what happened thinks that maybe someone got in her head. Fes says it's scary that they are nearing final 6 and nobody has even brought up putting Sam up.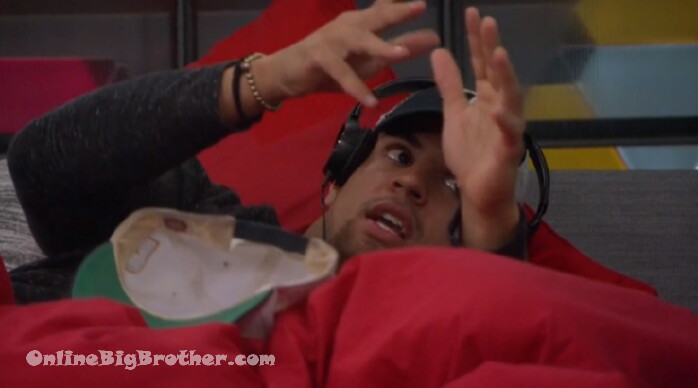 Fes – I'm making a move so I want it to pay back next week
Tyler – oh for sure
Fes – if noms stay the same another question mark is going to have to go next week that's all i'm saying popel can't keep.. this is the big thing I have with you Peple just can't skating by and not doing anything and make it to top four and all of a sudden they win one comp and they are sitting on final 2 getting a chance
T – and they are knocking out the people that have been doing sh1t the whole time
Fes – yeah that's what I'm saying.. even though .. same thing with Angela when she was HOH she could have put me up because we don't talk game and we're on the opposite sides of the house
Fess told her his comp is coming and when he wins it if she doesn't put him up he'll return the favour. "I always return the favour.. I don't know how to be shady like that"
Tyler says Angela never brought it up to him that Fes was a target.
Tyler mentions that he told JC if Fes gets nominated there's not a chance he would vote Fes out "Rockstar needs to go"
Fes wants to build something 'Move going forward"
Fes doesn't want to get into a conversation like this until after the veto but he dances around the idea of himself, Haleigh, Angela and Tyler working together. He feels they are the only ones that have made moves in the house. Fes thinks everyone else in the house is a floater. FEs goes on about how every year the people that don't do sh1t make it to the end. "There's no need to go after each other"
T – I'll talk to Angela I think her heads in it
Fes – Most people make moves with a pawn do this so that guys a target and you only piss off one person and hopefully that person goes and you're good
FEs – I was just like you know what I'm not letting this HOH be another Monkey F* like nobody knows what the f* is going on. Put two people up that I think at least this week one of them is telling the truth but both of them have been involved in..
T – some way somehow
Fes – I was telling JC, Scottie, I have no problem with Scottie but like.. he flipped the sawaggy vote even though that wasn't a big deal just like I said in the speech that's why people thought…
FEs brings up Scottie flipping on the swaggy vote and how that is why they are suspicious of him with the rockstar vote.
FEs – if I should be cool with SCottie after 60 days I should feel comfortable with him .. talking game with him but I don't but he sits up for hours and hours with haleigh talking game
FEs – it's weird when I try and talk game too him it's not like I don't have a good relationship with him I joke around all the time we hang out all the time we go to the hot tub all the time
Fes – if Scottie would have won this week I don't think he would have put me up … but then I'm thinking who the hell would he have put up
T – I don't know
Fes – maybe Angela and JC.. if someone pulls themselves off the block.. ME.. he's not touching you, Sam, Haleigh.. I don't know what his relationship is with Kaycee.,.. the numbers are small
Tyler – you have to think of all angles. even who you think is close to you
Fes says Scottie is playing both sides, "it's not a good look Scottie you are claiming to be in this group but you are only in this group for safety"
FEs says if Angela or Jaycee goes home it's just another number he wants to get out someone that is shady
FEs doesn't care about comp beasts he's here to play the game he just doesn't like "The shady sh1t"
Fes – if Haleigh uses the veto on Scottie than Haleigh me and you have a problem..
Tyler – he can come for you now that you put him up
Fes doesn't want veto to be used it will me "too many moving parts.. stay simple this week.."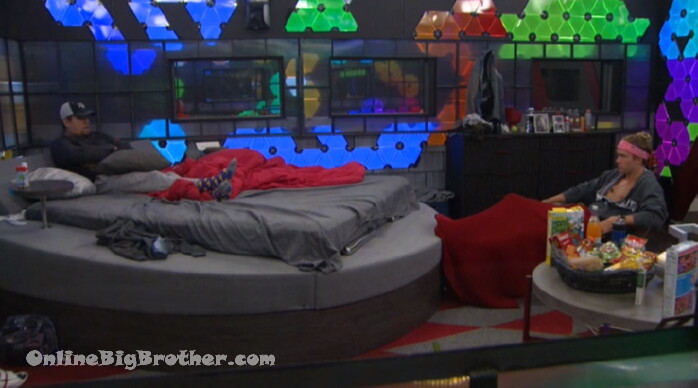 Fes says during Haleigh HOH SCottie and Brett were in the HOH alot a$$ kissing and she was very comfortable she had their votes.
Fes asks him who flipped the vote on the "Rachel thing"
T – was it brett
Fes – brett was on the block.. there was 5 people in the room that said they voted to evict Brett..
T – I don't know
Fes – you do know f*er
T – I don't
Fes says there was only 4 votes to evict Brett so someone flipped if this thing between Brett and Rockstar is true than it was Rockstar. (LOL)
Fes – People playing both sides that sh1t pisses me off
Tyelr tells him he'll gun for the Veto and if he wins it he'll do what Fes wants.
Fes expects Angela to do the same.
Tyler says Brett and Angela don't have anything and she wouldn't use it on Scottie.
9:52pm haleigh doing Angela's hair
Angela confirms with haleigh that Fes wants the noms to stay the same.
11:04am FEs chit chatting with KAycee and Haleigh in the HOH. Sam and Angela chit chating in the bathroom
Angela tells her that KAitlyn let bayleigh and Swaggy have sex in the bathroom shower.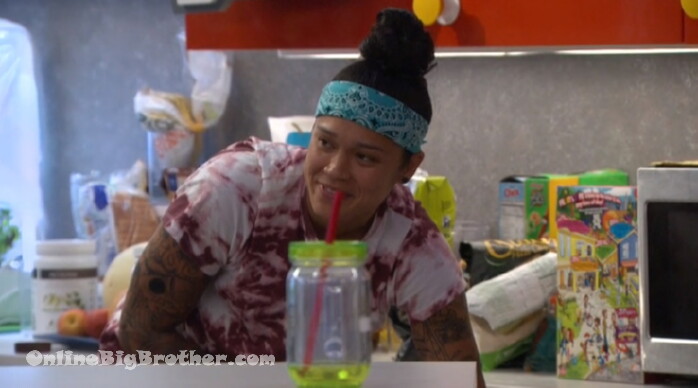 11:30am KAycee, Tyler and Angela
Kaycee – oh my gosh what if the veto is the one where you hide the sh1t in the house…
You can hear Sam in the Bathroom "I'm not cleaning up"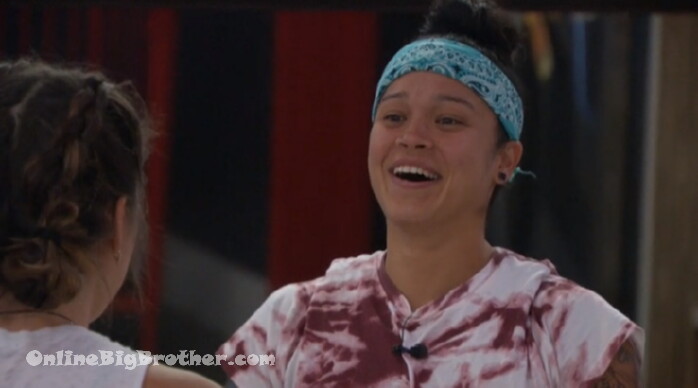 Angela – you want to hear my hiding spot.. Put the ice cream in the microwave for 30 seconds push it down in there..
Kaycee – ahhhh, Smart..
Kaycee – I wonder how much time you have
Angela – A minute I think
Tyler – I don't know any good hiding spots
Kaycee – oh my gosh it could be… don't f* up the house
T – why would the backyard be closed
Kaycee – if you know where each other hides them if you see it out just put it back in (damn next level team play)
They start brain storming places for Tyler because he doesn't have a spot (lamb bird)
Angela – behind the microwave
Kaycee brings up under the herb garden
Angela – this place is going ot be a mess..
Kaycee – I was thinking on top of the oven.. inside the oven.. but I'm not sure they would allow that or not.
Kaycee lists off some places people hid before, Comforters, pillow cases, under the coaches, couch cushions, trashcans
Kaycee – just in case you have to find some they will be inside refrigerator cereal.. in between creases..
Kaycee – people's clothes .. someone hide one in a shirt one time.. it was hanging like it it's pocket
Tyler – I'm going to tear this place up
Kaycee – behind the gummy bear
11:50am Feeds go to retro POwer of Veto competition has started
2:15pm The live feeds are still blocked.
3:03pm Still nothing.. Any guesses on what each of the house guests zings are going to be?
3:40pm Nothing yet..
4:43pm No feeds for you..
5:50pm Still not back yet.
Donations Really do help keep this site keep running
Rank the houseguests!
Easiest way to Rank the house guests use link below