POV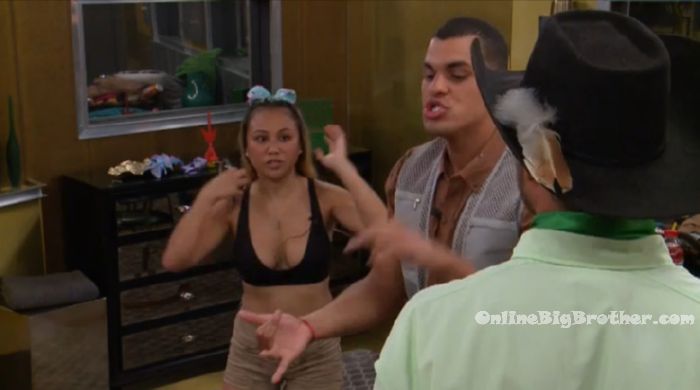 Check out our BB19 Ranking Grid. . rank your houseguests here
Power Of Veto WINNER: MATT
It was the Outback POV Comp – pass the prizes competition with punishments.
Elena got the $5,000
Some of them get an Outback Steak house dinner
Mark got a trip to Colorado for two for a week.
Alex got a week long punishment cooking hot dogs in a campsite!
Paul got a punishment that he has to do with Christmas
Jason has to wear the "Extrematard" for a week
Try the Live Feeds FREE for 1 MONTH!
Click here for your: 1 MONTH FREE Trial
4:55pm HOH room – Alex, Christmas, Josh, Jason.
Josh – This is exactly what I said! She is a greedy selfish player. She doesn't care about nobody else. Alex talks about how during the comp Elena lied. Josh – we can sit on it. Its just for everyone to see. We need to sit and think about this because Cody is lethal and Elena we could get next week because she doesn't perform well in competitions. Its clear as day what I said up here to you two. That girl only cares about herself and will throw anybody under the bus and go back on her word. You heard it, you got proof today. You don't have to act on it. Josh heads downstairs. Christmas – lets run through scenarios .. She (Elena) goes home and we still have Matt and Raven on our side. They notice Kevin coming up to the HOH room. Alex – don't talk game in front of him. Josh – the fact that I'm not getting Outback, I am PISSED!!
Jason trips "That's what I'm here for"@bigbspoilers #bb19 pic.twitter.com/9M4Zde1Obd

— Dawg (@DawgsBigBrother) August 13, 2017

Kitchen – Elena – I needed $5,000! Cody – Well in this game if you're not first you're last. Mark – or 5th! Matt laughs and says Mark gets 5th and gets a vacation to Colorado. Elena – she is definitely not taking me off the block now. The agreement was that I would be taken off the block but I know that's not the case. She will take Jason off. Elena – for anyone to say they wouldn't have done that is ridiculous. She is ruthless. She would have done that. Matt – that's as much money as the people that didn't make jury got. Elena – that's true. Josh joins them. Raven – take the f**king money. You know who's going home. Elena – I feel bad for Alex but I won $5000 and I needed it. Mark – congrats. Matt – I feel bad too. Raven – I would feel bad too but say I'm sorry I need the money. Mark and Matt talk about drinking tonight (Outback dinner?) Mark – you're going to see tipsy Mark.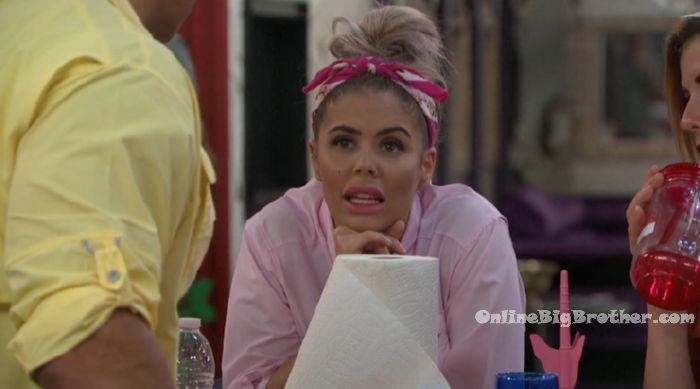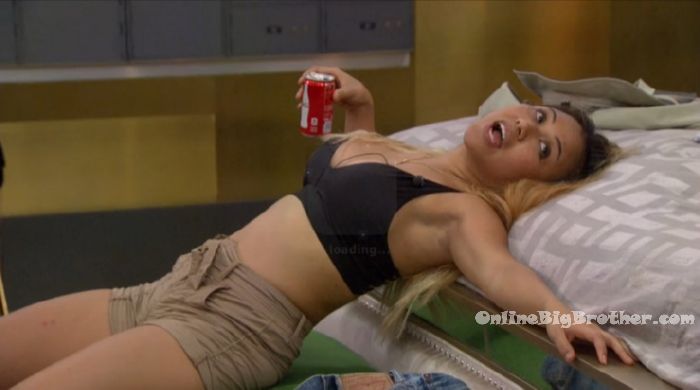 5:20pm Bedroom.
Cody and Elena.
Cody – so you're crazy! Elena – should I have not done that?! $5000 dude! Cody – so here's the thing you're the first .. you have to take what you can get. I would have done the same thing. Elena – but is taking the 5K making me a bigger target than I already am? Cody – yes. But you're already at the bottom. Elena – was that crazy? $5000! Cody – no, I loved the way they reacted when you took it. Every time they do something its always justified and every time you do something its wrong. That's just the f**king way it is. They're never going to have your back. You need to take what you can get. Let them f**king sulk after finally having a shot taken at them for once. Elena – I will be on the block next to you. Alex won't use the veto on me. Matt will use it on Jason. Cody – Matt is so f**king dumb. He's such a piece of sh*t.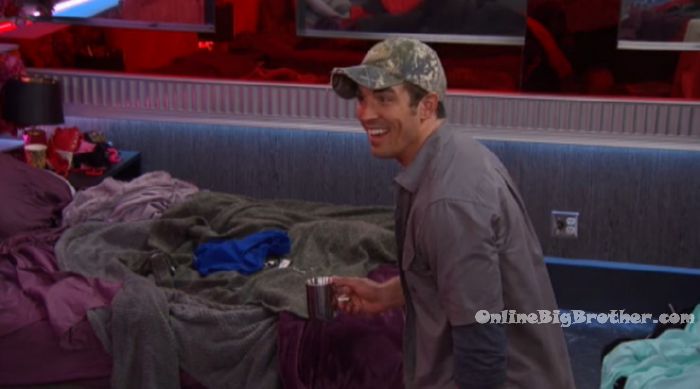 HOH room Christmas, Paul, Alex, Josh, Matt, Raven.
Paul – Matt, 100% using it on Jason? Matt – yup! As long as that's what she (Alex) wants me to do. Yup! Absolutely. Paul – Alex? Alex – oh hell yeah. Alex – Don't make promises you can't keep. If I make it to the end will you vote of me? Alex – I would have been so mad if she hadn't made me promise not to curse me. But I also didn't make that deal because I knew that the second one was probably going to be money because I've watched it before. Okay she wants to curse me that's fine. That's why I took the shot otherwise I would have aimed for the 23. I wasn't going to take the money from her. She made me promise. Paul – even if she wasn't smart… dude you just gave the HOH a punishment for a week .. while you're on the block. Alex – I was like if I make it to the end will you vote for me and she didn't say yes she didn't say that she would.. it was more like your good in my books. Josh – I would have started a riot outside.
Elena – I am on the block two weeks in a row because I am the most disposable player. Mark – if Jason wins he is going to put up Matt and Christmas. He is sick of me being used as a pawn. Kevin I am iffy about. Elena – Alex, can't compete. Jason, I feel better about but he will do whatever Alex says. Mark – no, Alex just put Jason on the block. Elena – as a pawn. Mark – it doesn't matter. They are not tied in this game and she wanted everyone to know that. You really think that Jason wanted to be used as a pawn. Kevin worries me. Paul will hopefully direct them in another way. Kevin is not touching Christmas. Elena – Kevin won't win sh*t. Mark – that's why I'm not worried about him. Mark – all we have to worry about is Josh.. And Matt and Raven. Elena – I started talking game with Christmas today. And Raven.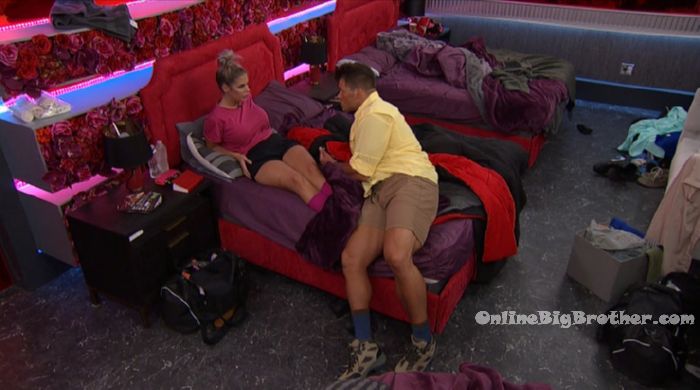 5:50pm Cody joins them in the HOH room.
Elena tells Matt that she really needs the money. She had enough money to pay for her August rent but nothing after that. Now she can pay September's, Oct, Nov, Dec, etc. The only person I wouldn't have taken the 5K from would have been Raven.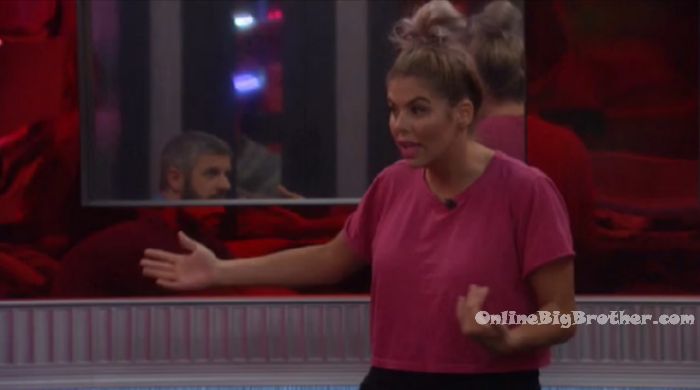 6:05pm Paul, Jason and Kevin are in the BB Campground (its outside the HOH room) Paul – I would have taken the money too. But I would not have made any promises. Daddy needs a new pair of shoes. Kevin – what does yours mean? Does she have to sleep with you? (LOL) Paul – we have to wear a costume together. Mark joins them.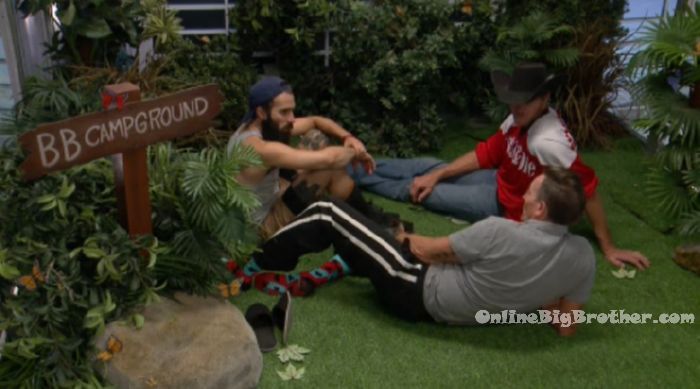 6:30pm – 7pm Kevin telling campfire stories to Mark and Jason. Kevin brings up how now that Jess is gone Cody is cleaning the kitchen and coming up to the HOH room. The conversation turns to talking about the hot dogs Alex has to cook on the campfire grill. The feeds switch to the HOH room. Paul, Cody, Christmas, Alex and Josh. They wonder about when the outback steakhouse dinner will be.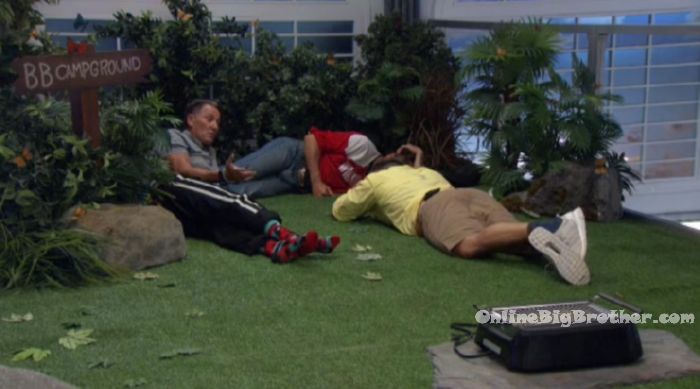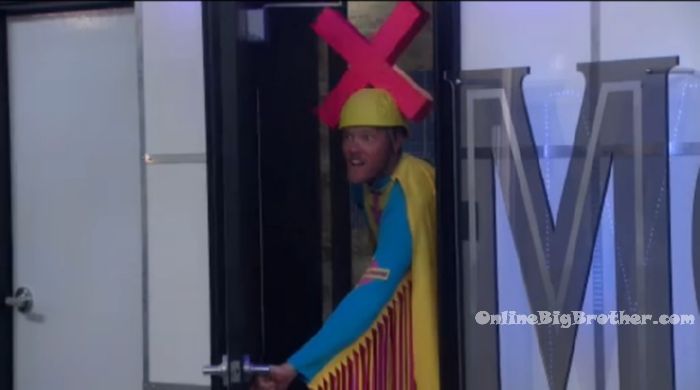 7:30pm Jason comes out of the diary room wearing the "Xtrem-atard". Every time Big Brother plays an extreme saying Jason has to yell "I'M SO EXTREME!!"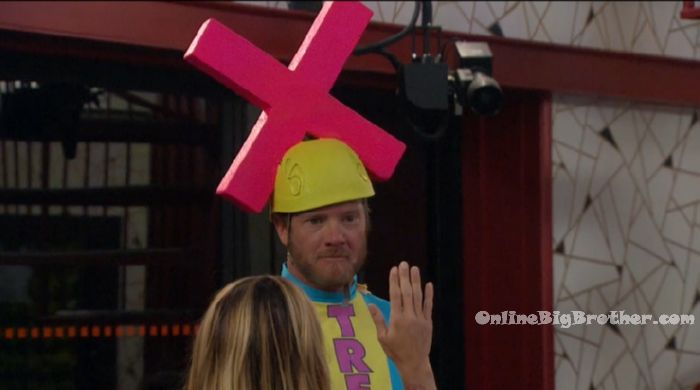 Jason comes out of the diary room wearing his – "I'm so Extreme!!"
Jason "I'M SO EXTREME!!"@bigbspoilers #bb19https://t.co/sLQeY1sIb2 pic.twitter.com/o4VXaORjVi

— Dawg (@DawgsBigBrother) August 13, 2017
The X-Treme voice says JASON IS SITTING DOWN!! Jason then gets up on top of his chair and yells "I'm so Extreme!!"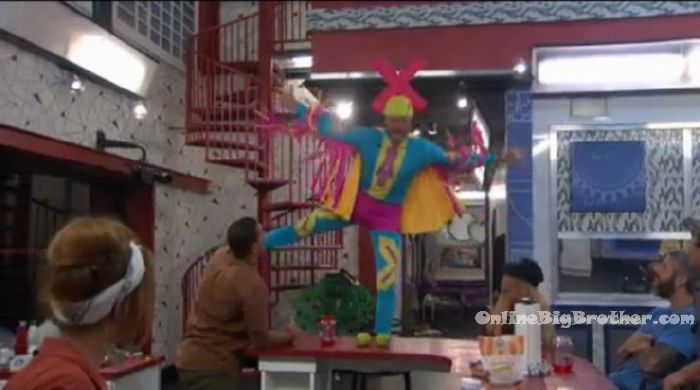 Josh taunts Jason X-TREME@bigbspoilers #BB19 pic.twitter.com/Ga7o2rvnkD

— Dawg (@DawgsBigBrother) August 13, 2017
8:20pm In the bedroom – Jason tells Kevin about how Alex and Elena made a deal to not switch what they had in the Veto comp. Kevin says that when Elena asked him if she did the right thing he said yes but says he didn't know about the deal. He says its not right that she made a deal and then went back on it. Alex joins them. Kevin says he'll say something to Elena. Alex tells him not to. Alex says she promised she wouldn't make Elena a havenot for her birthday. Kevin tell her she should. Alex says she won't go back on her word.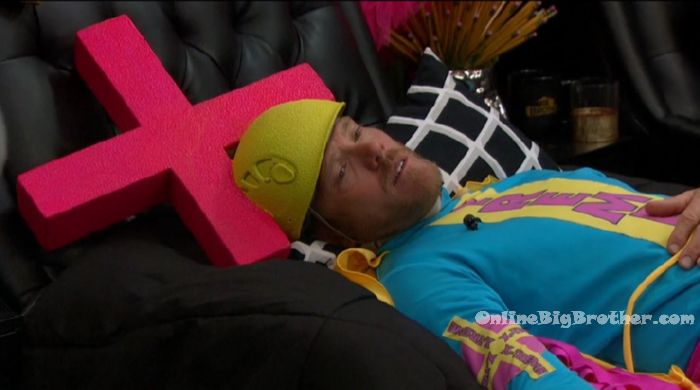 8:34pm Paul and Christmas come out of the diary room wearing tandem skydiving outfits. They have to stay joined for 48 hours. They have to sleep connected. If one has to go to the washroom the other has to sit outside the door. If one showers the other has to be outside the shower.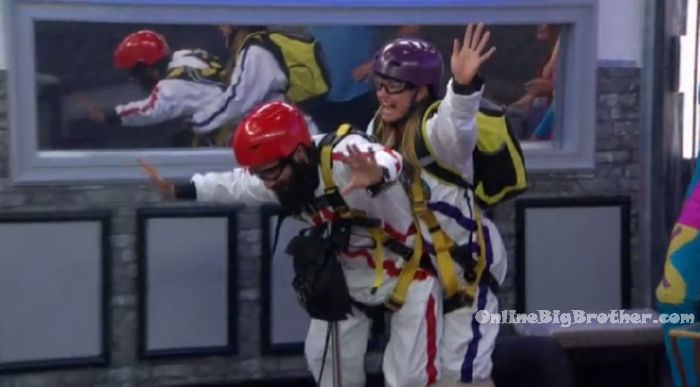 If you plan on buying anything from Amazon. Use this link Amazon home
Doesn't cost you anything and we get a small cut.
Links to the ranking system
Rank your house guests here
For those of you that like Statistics here are some expanded reports.