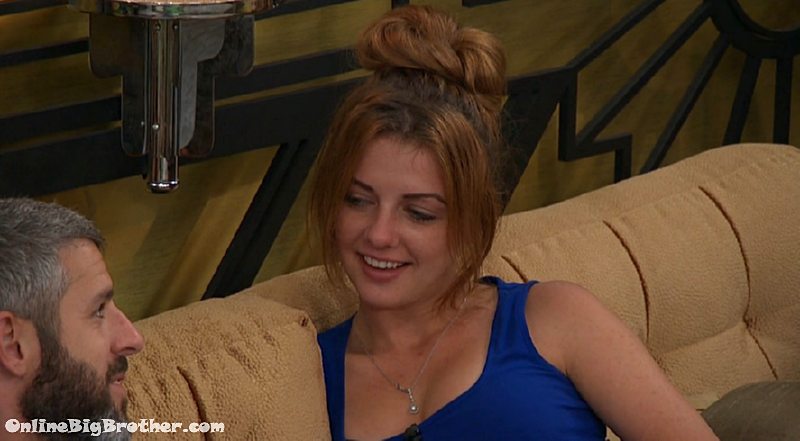 11:50am Raven and B2Men HOH
Raven – your best sword is your tongue..
B2men brings up "The pretty jacked Black dude.. that searched all of our, like bags and stuff"
B2men – he was like every single year somebody gets in a showmance and it destroys their game it better not be you
Matt – I was like Deal bud…
Raven heeheh
Raven – you get with the gypsie
Raven – you picked wise
Raven – HEY, I got you right in there with Paul (we ready to call this season Kraken?)
Matt – Big Time
Matt – Yeah, if it wasn't for you who knows he may not have trusted me after that..
Raven – no he wouldn't have..
Raven – he (Paul) said outside this house I trust you and inside this house I trust you
Raven – I was like Trust Matt and Trust me
Raven – Jessica don't trust..
Raven talks about having a lot of followers on Instagram.. and she's worried Jessica will be on it.
Raven – that picture of me and Paul are all over the internet.. I got asked during my press junket.. why is Paul on your Instagram. why does Victor Follow you, why does Paulie Follow you
Matt – who cares..
Raven – it was like the first ting out of their mouth
Raven – I was like AVOID AVOID AVOID
Matt – you didn't say because you're friends
Raven – I didn't say that.. he came to Arkansas we met kinda clicked.. and I moved on
matt – Ok..
(Jeepers this is fu&*ed)
Raven – I didn't want to elaborate on it
Matt – it's for the best..
Raven – I know Jessica will be pissed.. it's on the internet.. (The cat ladies are going to hurt you for real the least of your worries is Jessica.)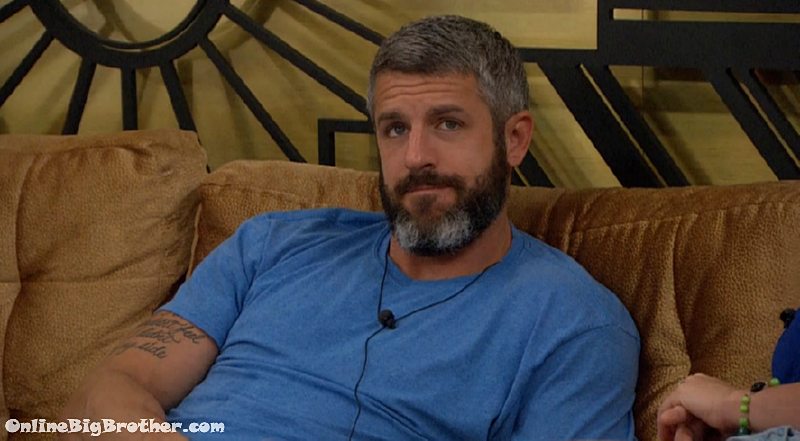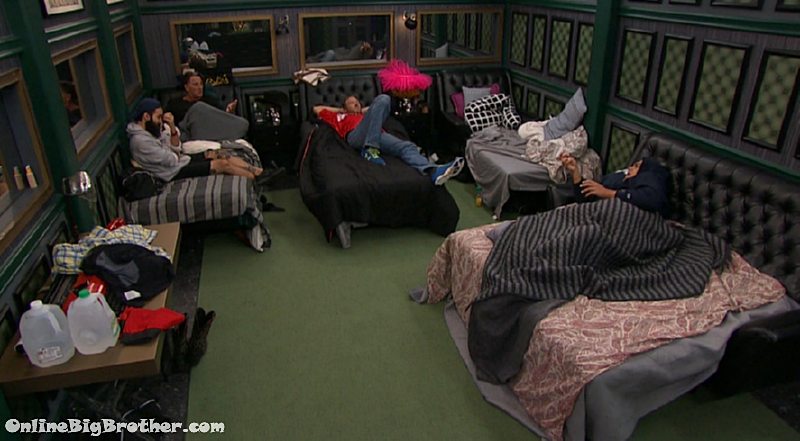 Noon Kevin, Josh, Alex, Jason, Kevin and Paul.
Kevin – instead of the wolf of wall street Josh was the pussy cat of Miami
Paul says everyone in wall street is a boner.. "are you a person"
Josh going on about how he could have made it on wall street.. "I don't like the whole cold hearted".. .(LOL)
Jason questions if Josh really thinks he could have made it on wall street..
Kevion – yeah as a street sweeper… anyone got a cigarette..
josh – man you guys..
Josh shares after he finished his degree his family would hound him about what he's going to do with his life..
Josh – I'm the f* up because I didn't go to wallstreet I went on a reality TV show..
They laugh.. lol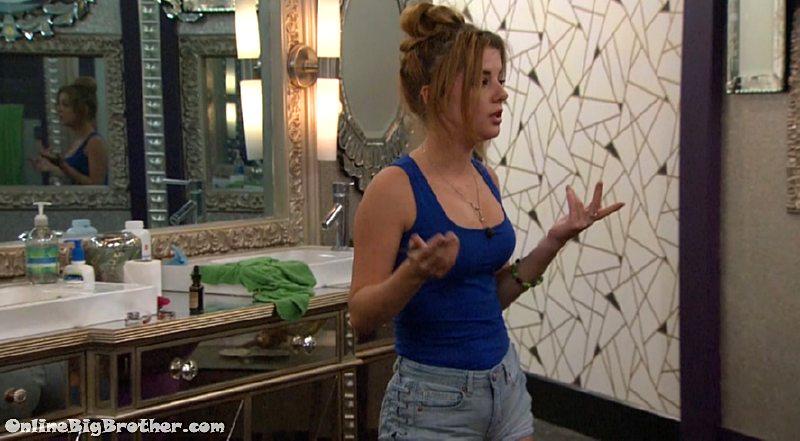 12:20pm Bathroom Raven, Christmas and Elena
Raven – my mom told me before I came on this show that she's like Look Raven you don't know how many good years you have left do you really want to spend the rest of your life running a dance studio when you don't know how much time you have left"
Raven – like go live your life
Raven – she's like do all the things you want to do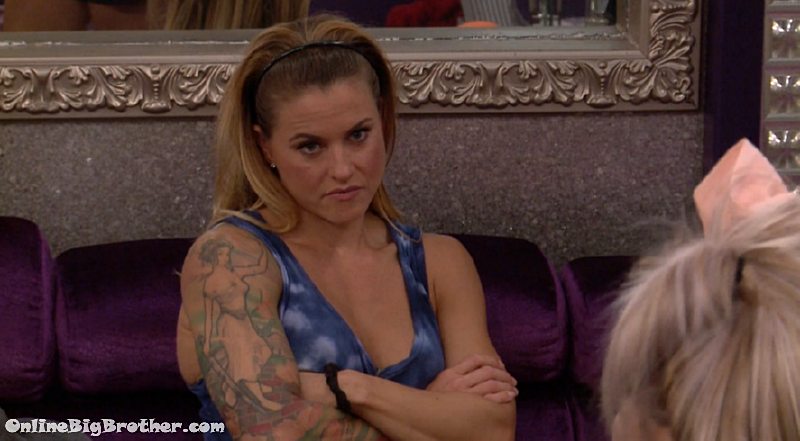 Xmas – still need to make money 🙂
Raven – I agree
Elena – you're making money here and you're living your live
Raven – I see what you are saying there's a lot of things I want to do with my life
Xmas – you'll have meet and greets and lotsa opportunities after here.. like I told you .. you'll have a fan base .. (hehe) and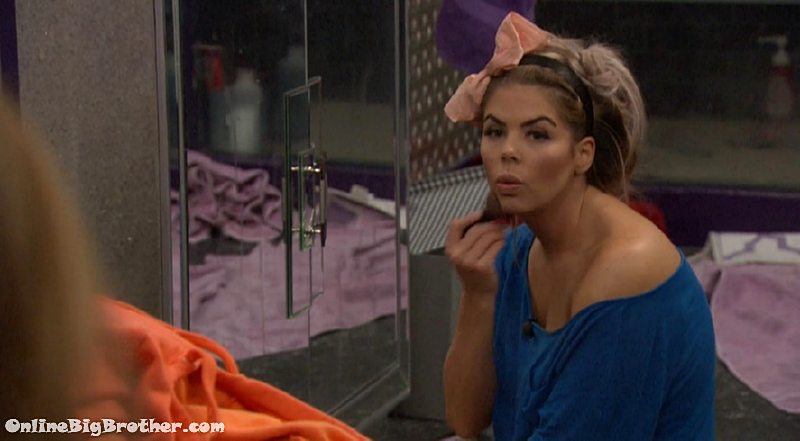 Elena – you'll have a go fund me
Raven – Oh my god
Elena – you'll make so much money. maybe more than you'll make on the show .. (OMG)
xmas – absolutely
Elena talks about promotions they do on her radio show they have 2-3 million listeners a day and they advertise sick kids go fund me pages as a charity and….
Elena – three days.. hundred thousand… 2 hundred thousand.. easy.. .. you'll be surprised
Elena – we have 1 day during Kids kids day once a year.. one day three million listeners.. millions..
Xmas – that's awesome
Raven – we'll.. I'll do the best that I can and Move my mom out here..
Xmas says she calls her foot a jack rabbit.. and it's acting up today, "Sometimes it goes slow.. sometimes it goes fast… I don't care…"
Xmas – Raven – I've seen your hands twitch..
Elena – your eyes are crazy
Raven – it's the nerves… it's not from Gastroparesis its' from my other disease.. the one that has no name.. personally I think they should name it raven.. But … hehehehe the Raven Disease… that's appropriate
12:45pm Winning at chess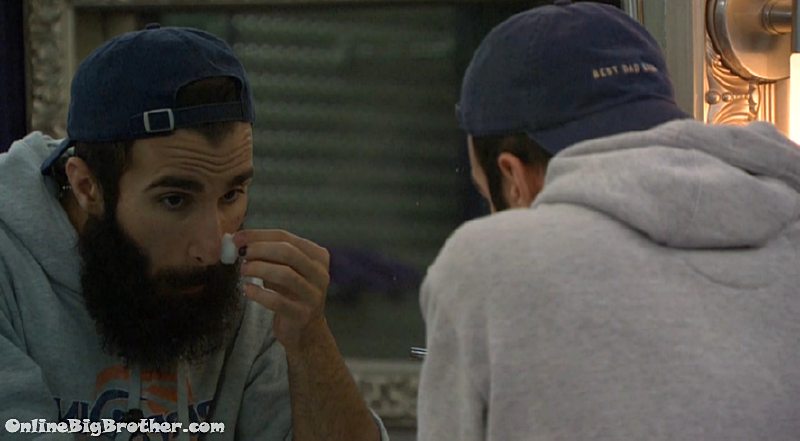 1:02pm Cleaning nose.. All the time..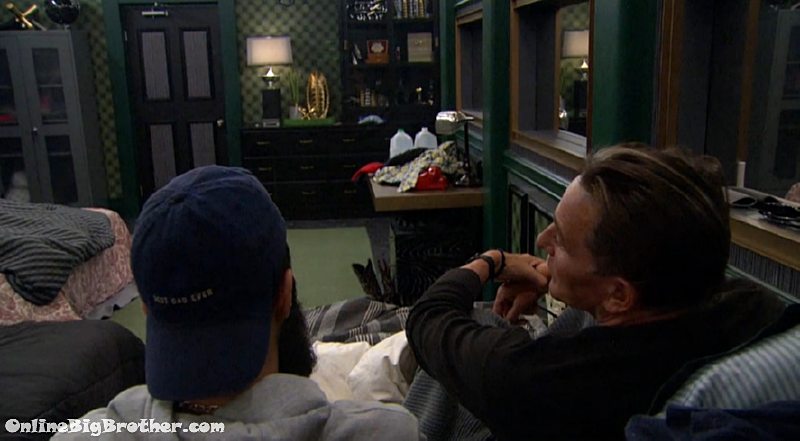 1:35pm Kevin and Paul
Kevin tells Paul that Cody has a kid
paul – Does Jessica know
Kevin – yes
Kevin – he told me his brother died in a motorcycle accident.. he's human he's got feelings..
Kevin – he says she's beautiful and smart..
Kevin says Cody told him he's been on a motorcycle since he was 2 years old. His family are motorcycle people.
Kevin – this is the first year he don't take her for the summer..
Kevin says that Cody's kid was pretty much a one night stand sorta thing.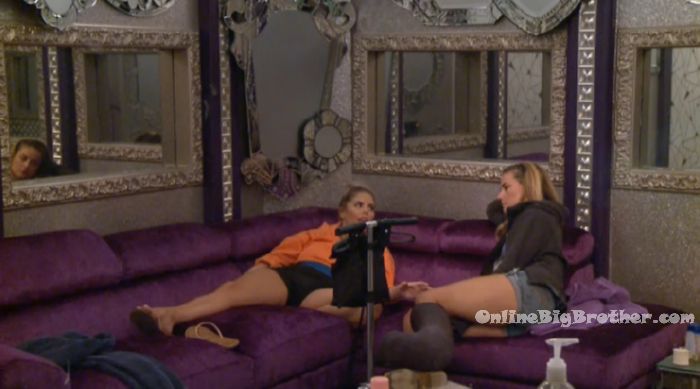 2pm Bathroom – Elena and Christmas.
Christmas – I really don't like doing stuff like that in front of people. (Her fight with Mark yesterday) They don't hear the private stuff after. Elena – the patching up. Christmas – yeah. YOu figure out that a lot of it is misconceptions. Elena – When I got up I didn't hear anything crazy being talked about. I was like maybe when I was in here, Christmas heard something that I didn't. Because he (Mark) walked in the room and he (Cody) said congrats. He was like pawn status this week. I was like I don't know. I did know though. He was like I'm getting backdoored. But yeah it wasn't anything crazy. Christmas – yeah that's why I don't understand why Mark got so upset.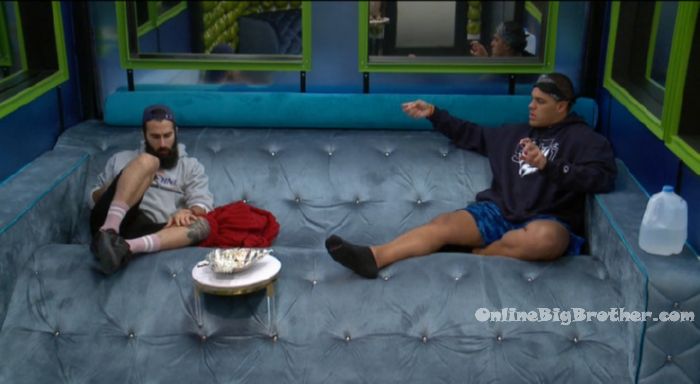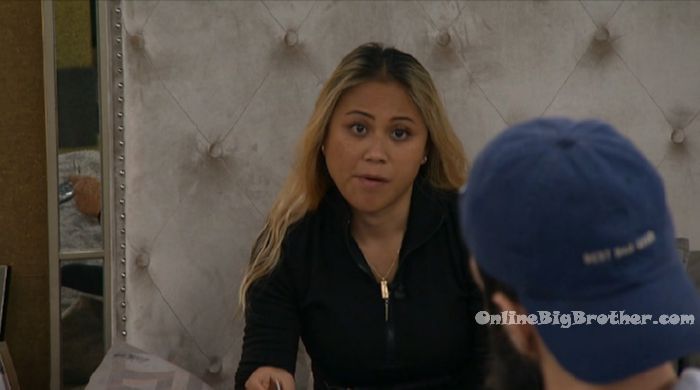 2:20pm HOH room. Paul and Alex.
Paul – don't tell Josh I told you this because he would be really butt hurt. I am going try to.. Alex – Mark is driving me nuts, dude! He is like glued to my a$$hole! Paul – he needs to go soon. Alex – between him and Elena one of them as to go. One couple at a time, knocking them off. Paul – I'm talking AMF sh*t. What is easiest for u s Jump and bite that sh*t. Alex – he (Mark) is going to be gunning for it today to win. Paul – should we just backdoor Mark then? Alex – yeah or double eviction. Paul – yes. Alex the smartest thing to do is evict both of them.

See what they can't show you on TV Try the live feeds for 1 month FREE!
2:25pm Big Brother blocks the feeds for the Power of Veto competition..
4:05pm still nothing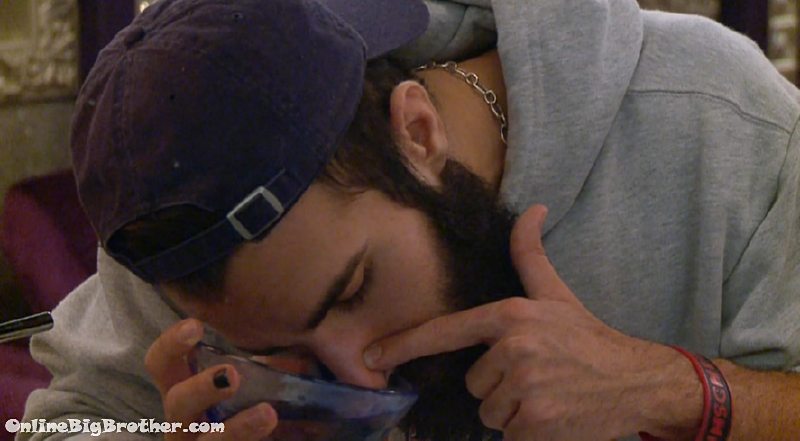 If you plan on buying anything from Amazon. Use this link Amazon home
Doesn't cost you anything and we get a small cut.
Links to the ranking system
Rank your house guests here
For those of you that like Statistics here are some expanded reports.