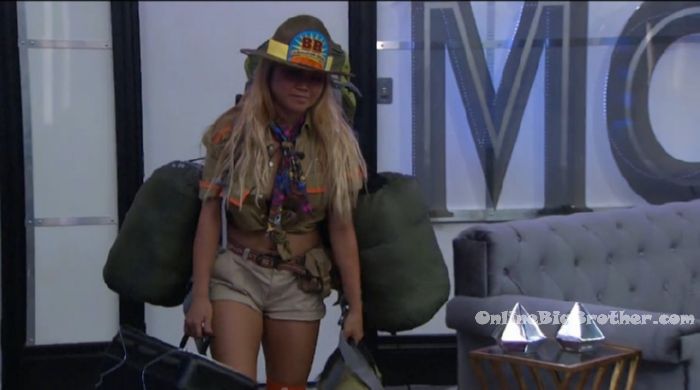 Check out our BB19 Ranking Grid. . rank your houseguests here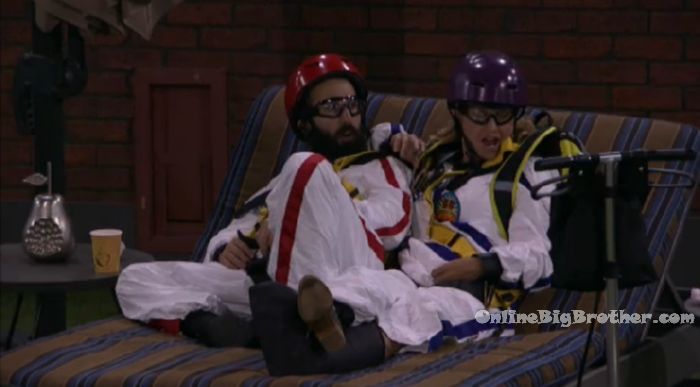 9:30pm Alex comes out of the diary room wearing a camping outfit complete with all the gear. Alex – HEY CAMPERS! WHO'S READY FOR AN ADVENTURE?! Alex heads out into the backyard to show the other house guests her punishment. Paul comments on how she looks pissed. She tells them that she has to wear the outfit, haul all the gear around and when she hears the bugle she has to pitch the tent and cook the hot dogs for the house guests for an entire week. Alex – this is me for a week so get your camping gear out we're going into the woods. I can't get help with anything. I need to pitch a tent in my pants whenever I hear a bugle. Matt – where? Alex – if the backyard is open out here and when the inside is open up in the BB camp ground. The bugle goes off and Alex starts unpacking all the gear. She says to herself – I am so angry! Jason offers to read the instructions for her.
`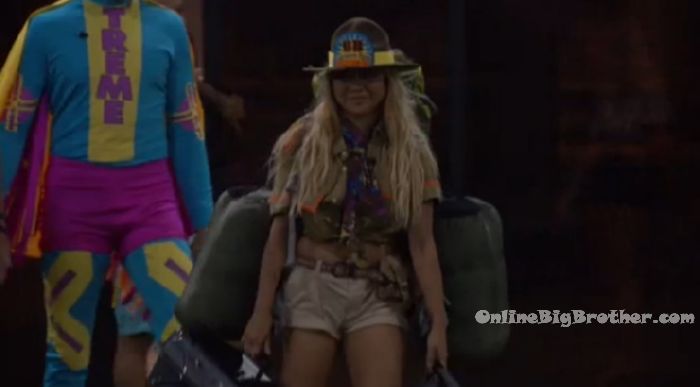 See what they can't show you on TV Try the live feeds for FREE!
9:36pm – Alex – and no one can go in my tent. Alex – she (Elena) didn't apologize at all. She promised me she wouldn't curse me. What a kind girl. Makes a promise not to curse me and then does. Christmas – and you're HOH! Alex – this is the first one of 100… and I have to do this for a week!!! This is f**King horrible! Raven – this is a little extreme! Kevin – no pun intended. (because Jason is wearing the X-treme costume) Alex goes to get the propane tank from the storage room. Alex – she is f**King insane if she is trying to talk to me without apologizing! Paul – what happened? Alex commented on how they didn't have it (propane tank). She then finds the propane tank in the bbq. Raven and Matt both say sorry to Alex. Alex – if I would have earned this, I would have loved this but the fact that people lied about it is pissing me off.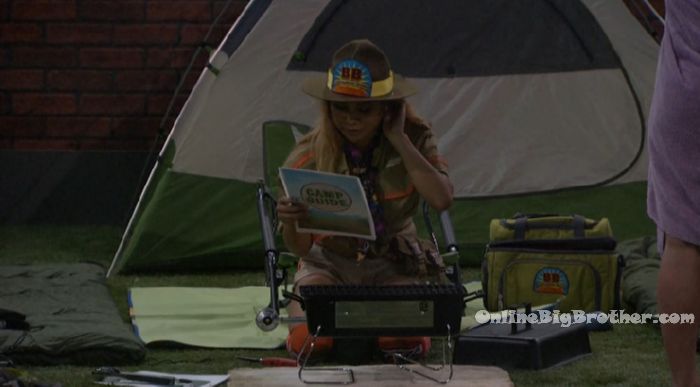 9:50pm Kitchen. Elena talking to Mark and Cody – She is so pissed and its funny. I started to feel bad about it and then she tried to guilt trip me into it. Like if you've ever watched big brother you know in the elimination veto .. she should have given. You know how it works. If you were on the block you would would take the veto. I don't know maybe I am going home this week now. Why would she keep the 5K and think that I'm not going to take it. She should have taken Mark's vacation. Given him the 5k and I would have taken it from him. That's what any person that has a fully operating brain would have done.



Like are you kidding?! I felt bad for a little bit and then she almost guilt tripped me .. and then it hit me .. even though in the heat of the moment.. why do you feel you are more entitled to 5k? When I won the f**king competition. I f**king won! At least I was nice about it. I could be a d**K! I should sit down in front of her and eat my ice cream. Actually I like mine a little more done. I like them extra crispy.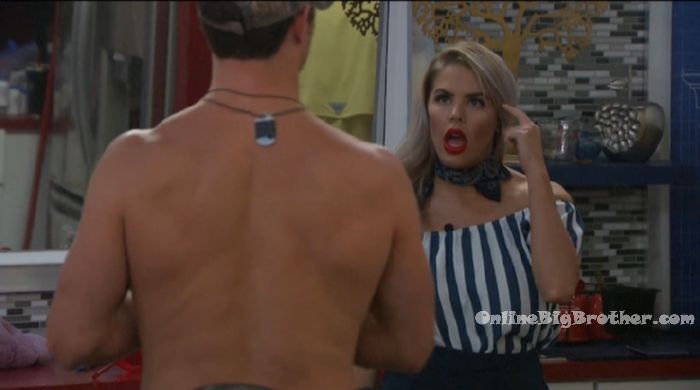 FLASHBACK and watch everything you missed: Live Feed 1 MONTH FREE Trial!
10:05pm Kevin and Jason folding laundry. Kevin – what are you thinking? Jason – I could tell you but you would think I was ridiculous. Kevin – tell me. Jason says he wants to whisper something to Kevin about Alex. Jason tries to but Kevin can't hear him. Jason tries to motion something. Kevin – you want to f**k her in the tent? Jason laughs – you damn dummy. Kevin – what were you saying? Jason – I'll tell you later.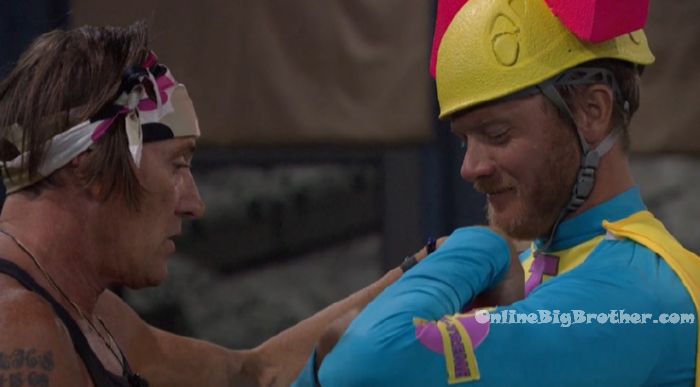 10:40pm Alex has to set up her campsite all over again and cooks hot dogs for everyone. Alex hands out the hot dogs to everyone and then goes back to break down her campsite again. Jason – f**king 7 days of this sh*t Al! I would rather be a havenot. Alex – when I bring you hot dogs.. Cody – I will happily participate. I will feel the pain for you in spirit.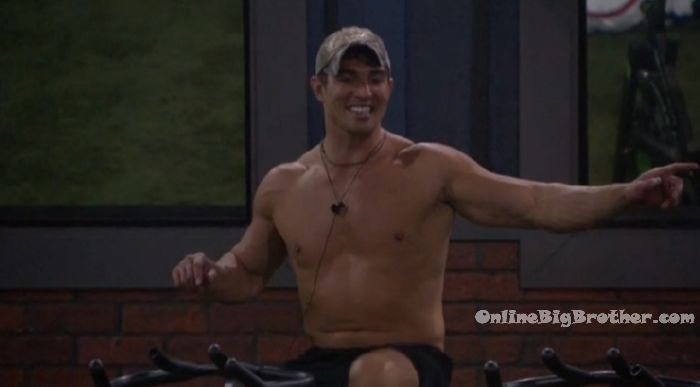 11:20pm – 12:15am Backyard – Cody is in the hot tub. Meanwhile the other house guests are in the kitchen chatting / eating.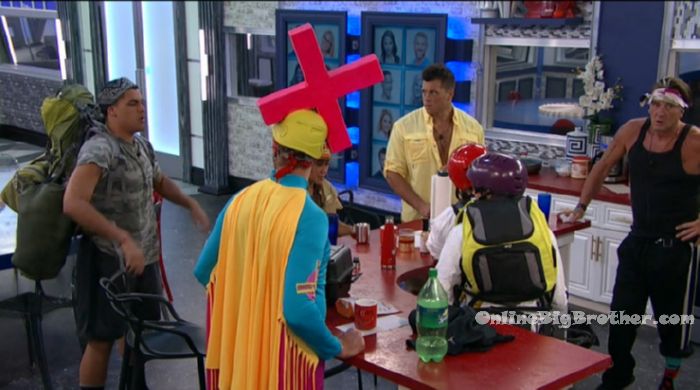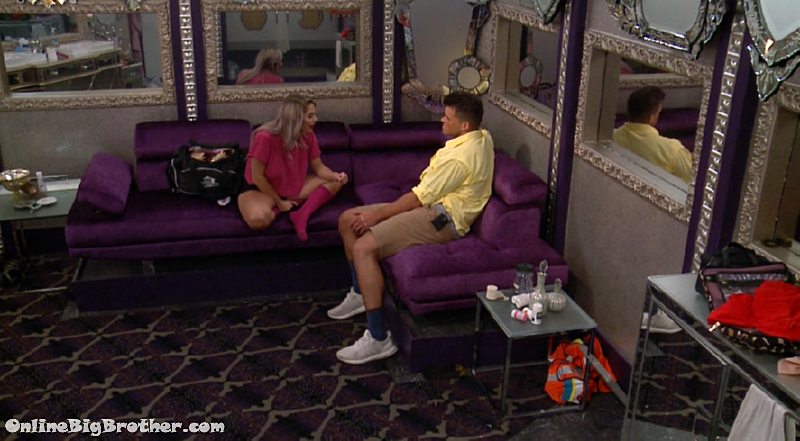 1:00am Elena and Mark
Mark says once Cody is gone he's feeling like he'll be the target. It's very important that one of them win HOH this coming Thursday. Mark also states the important that after they win the HOH they secure something with Matt/Raven or Alex/Jason/Kevin.
They are not Keen on working with Matt and Raven though. Elena doesn't want to work with Alex.
Elena – I want Alex do go home.. I will backdoor her.. Jess would be so proud of me.
Elena – I'm kinda over Paul.. Trust me Trust Me trust me.. I know Paul..
Elena talks about grabbing 5 thousand today in the POV competition.
Elena – I want call his shit out..
Mark says paul has been saying the same sh1t for days..
Elena says PAul is telling her that after Cody goes everyone has their own agenda.
Elena – that's weird because I heard you are working with so and so and I am your agenda
Mark asks her when will she able to tell him about hos she feels about him
Elena will tell him when she's ready.
Mark – I can't wait to go to Dallas.. after the show
Elena – I told you to be careful with me.. I'm horrible..
Mark – the things you've shown me in here have not been horrible
Mark – do you have any interest in me
Elena – maybe
Elena tries to explain to him that she does not like this environment she wants to wait until after the show to explore their feelings for each other.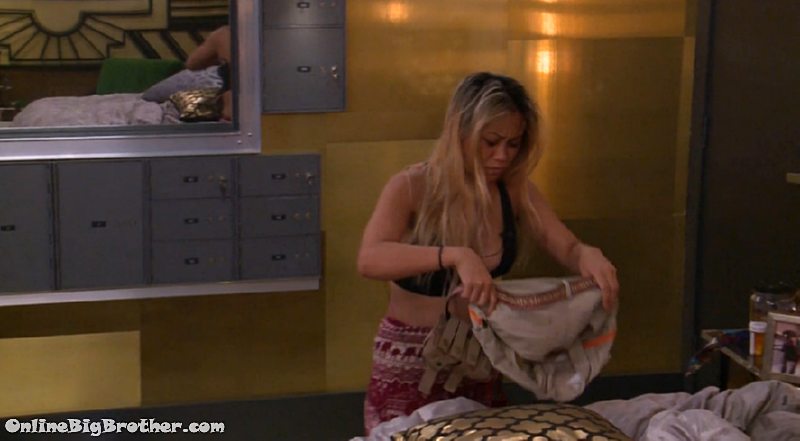 4:12am trumpet wakes Alex up
She gets all her camping gear ready..
4:30am Alex's punishment.. She has to make a hot dog for everyone in the house..
Kevin I don't want a hot dog
Alex – you have to take it..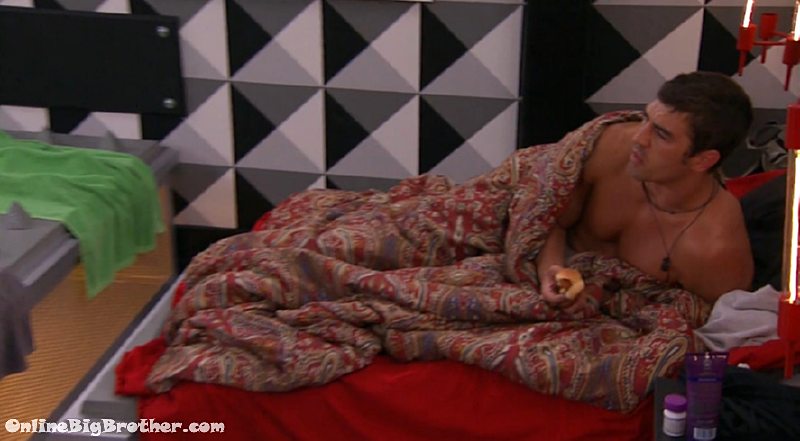 4:43am
Cody tells her he'll never come after her in this game.
Alex – it's not me..
Alex says a lot of people will be mad at her if she doesn't take Cody out.
Cody – when are you going to draw the line.
Alex – Soon .. soon .. You've never been my target you know that too
Cody – let me help you out in this game..
Cody – it's going to be physical here in the HOH, It's clear who is going to win it
Alex – I don't have the POV I just replace nominations
Cody – If I'm up there I'm out..
Alex – I don't have a vote right now.. There's like 2 people with me the rest are against me
Cody – Consider it
Alex leaves.. as she walks back outside to the camp side
Alex – "F* F* F* F* F* F* F* Elena.. you dumb b1tch Elena.. " (Alex is pissed because Elena took the 5grand during the POV comp)
After feeding the houseguests Alex begins putting away all the camping gear..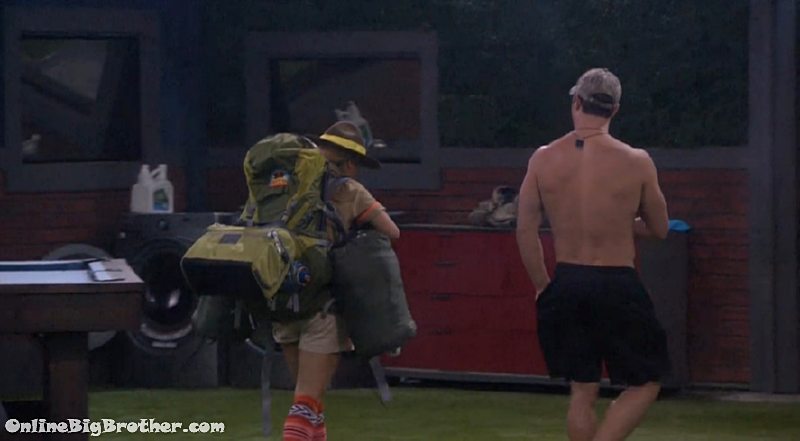 4:56am Alex and Cody
Alex – everyone sees what Elena did today.. your teammates aren't very loyal to you.. Elena isn't loyal to Mark either
Cody – they've been the most disloyal to me in this game.. 100%
Alex – they always through you under the bus.. I'm not going against you dude, trust me 100%
Alex – those people lied to my face then 10 seconds later flipped on my .. that is why I'm a camp guide..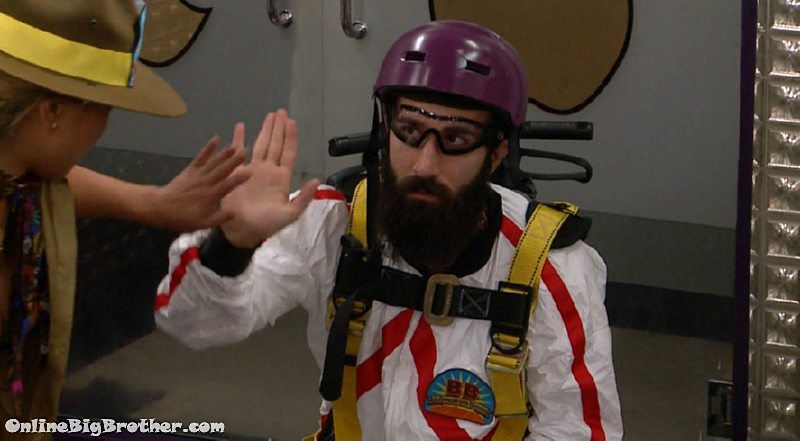 5:16am Paul and Alex, Christmas in the bathroom
Alex – Cody came to me adn followed me outside.. he was like Alex I'm on the block I'm done
Alex – he's trying to save his butt right now
Production tells Paul to put on his microphone..
Xmas moans in the stall that means they have to both have to go..
Paul tells Alex to just keep talking..
Alex – I told him it's not me..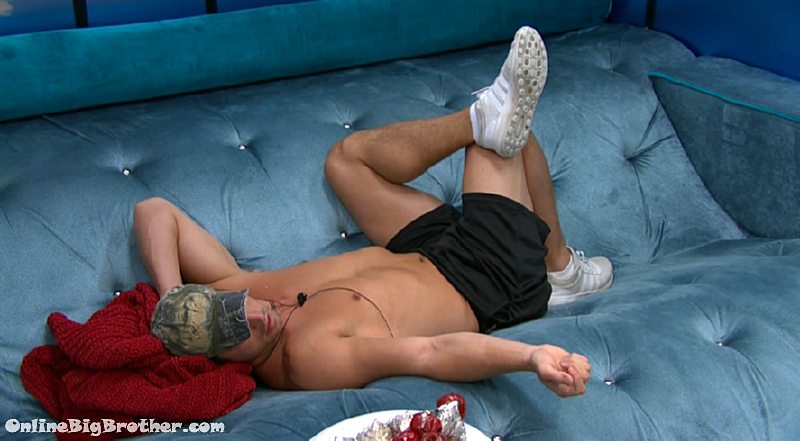 9:26am Cody is the only one up.
9:46am Feeds showing sleeping houseguests
If you plan on buying anything from Amazon. Use this link Amazon home
Doesn't cost you anything and we get a small cut.
Links to the ranking system
Rank your house guests here
For those of you that like Statistics here are some expanded reports.