POV Holder:
Paulie
POV Competition
July 1st?
POV Used
?
POV Ceremony
July 3rd?
HOH
Paulie
Next HOH
July 7th
Roadkill Competition Winner:
Victor
Original Nominations:
Paul, Bronte and Tiffany
After POV Nominations:
? and ?
Have Nots
Da'Vonne, Paul and Zakiyah
Sign up and watch the 24/7 Live Feeds: 1 Week FREE Trial!:
Big Brother 18 Alliances Help Guide
Power of Veto players: Da'Vonne, Bronte, Paul, Tiffany, PAulie, and Zakiyah
POV Host: Corey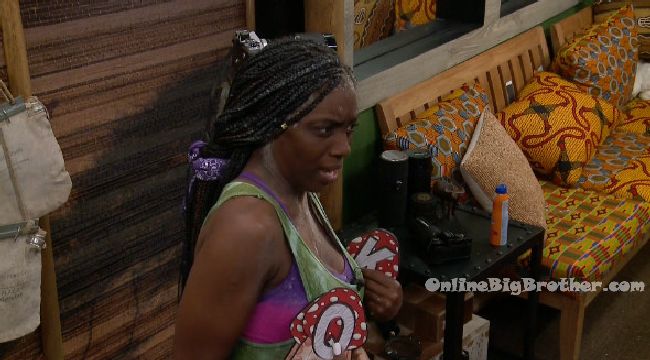 POV WINNER: PAULIE
The it was a spelling competition.
6:30pm The live feeds return – DaVonne and Nicole are in the Safari room talking. DaVonne tells Nicole that Tiffany counted her letters and then when back and made sure she had one more letter than mine. She only counted mine. How should I feel about that?! I was like I'm on your team why would you try and beat me?! She only did it to me?!!? They head out of the safari room. DaVonne then tell Frank, Paulie and Zakiyah. Frank tells DaVonne to not worry about it and just file it away.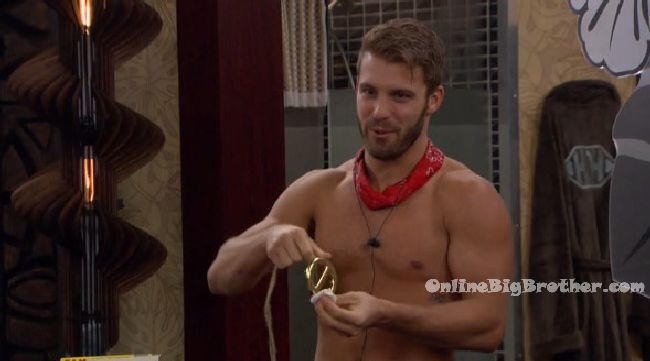 HOH room –
Pualie and Nicole go up to the HOH room. Nicole says that everybody spelled their words right. Paulie says he looked for the letters that had the highest points and used those. Nicole asks do you know who you're going to use it on? Paulie says he isn't sure yet. I just have to try and figure out how to make it pleasant for everyone. If I don't tell him and just do it then he'll just be mad at Frank and I but if I tell him that everyone wants him out then he'll make it unpleasant for everyone. Frank joins them. Nicole asks who he should take off? Frank says that's a good question. Paulie says I figure I'll take Paul off. Nicole says because he picked Zakiyah to play. Paulie says yeah. Frank says that he mooned the crew afterwards.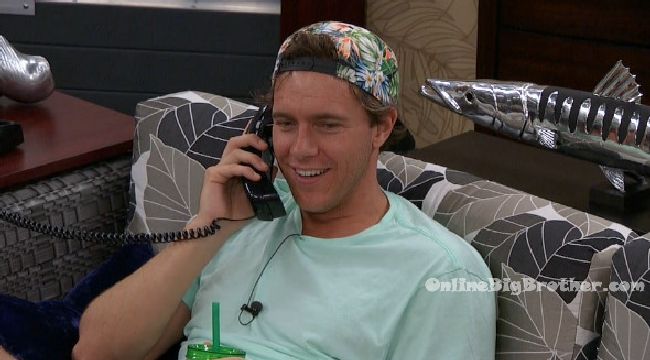 6:55pm In the kitchen. Bronte tells Natalie those boys are up there strategizing. We need to stratagize. I think after Victor, we're next on the list. Natalie says I'm going to ask Paulie if he is going to take you or Pual off. They can't take Tiff off you know. Bronte says no. I think all we have is for James to fight for us. Natalie says be upset .. don't be sad. James joins them.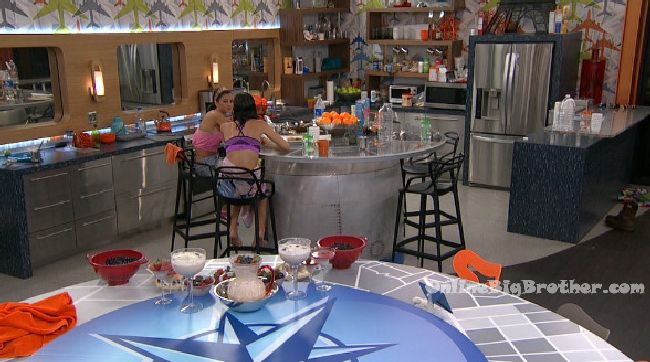 7:05pm Paulie tells Paul that he is using the veto to take him off the block. Paul says thank you. Paulie says I'm going ot put him and and says I haven't talked to anybody else about this .. I don't know how the votes are going to go. This is because you put votes against me last week. Paulie then tells Tiffany how he is going to take all the heat for putting up Victor. Tiffany says you're a good guy. Husband material!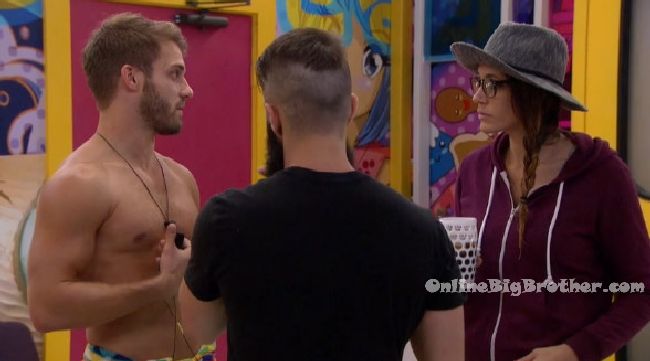 7:15pm Paul talks to Nicole and asks her if Vic asked her out? Nicole says yes it wasn't like how people were saying. He didn't straight up ask me out. Its personal and I don't like talking about it. Paul says he is mad because he was lied to about it. Paul says he didn't like how you (Nicole) were called a liar and James was called a manipulator. It just bummed me out because it could have changed the way people see me because I was caught in that.
7:25pm In the bathroom – DaVonne tells Zakiyah "I am PISSED at her (Tiffany)!
Meanwhile in the kitchen – Michelle talks about how she made a fan page for Johnny Mac that has 7k likes. She asks James why Johnny Mac never reached out to her. I'm have to sole fan page for Johnny Mac. James says Johnny Mac is a rockstar dentist, he doesn't need a fan page.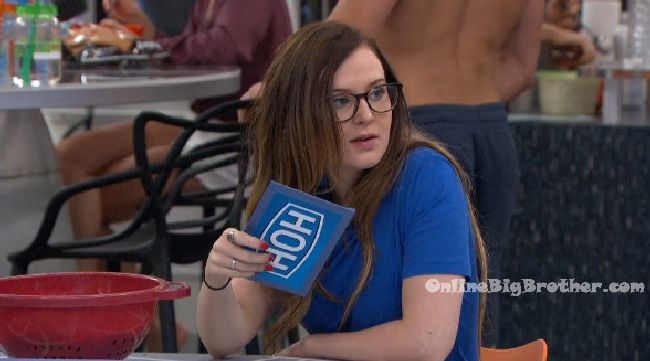 7:35pm HOH bathroom – Paulie tells Corey and Frank again how he's going to take all the heat for putting up Vic. Corey says Frank was saying just say the whole house wants you out and if I don't put you up, I'll be out next week. Paulie says if I do that he might go around acting all crazy.
DaVonne tells Tiffany that she thinks Vic is going to "Flip a wig" (when he goes up). My question is who is next? DaVonne says I was talking to Frank .. and Nicole was like we have to start getting them out of here.. meaning the boys. And Frank was like we have to get Bronte and Natalie out. And I'm like why are we going out of order, it should be Vic, Paul, Bronte then Natalie. Davonne says we can't sit next to James or Zakiyah in the end … they're loved. We're equally hated. DaVonne talks about the girls working together. Tiffany asks when? Davonne says after Frank (is gone). Tiffany asks when (When to get Frank out)? DaVonne says before jury. Tiffany says Nicole would be on board. DaVonne says she's been afraid to approach her about it. DaVonne says get them all out of here .. and it will be a house full of women. Its never happened before.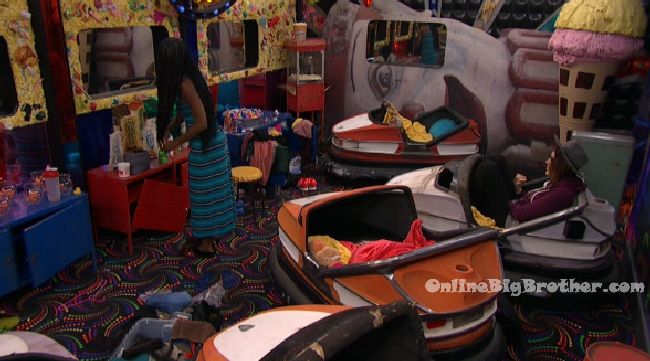 7:50pm – 8:10pm HOH room – Frank tells Paulie that DaVonne are the two strongest personalities in here and I don't think they would go against us like that. And the more we talk about it the more it might get out. Frank says I don't think they think that way. Corey joins them. Frank says as long as Bronte or Natalie don't win next week .. we could just sit back because they're going to go after Bronte & Natalie. Nicole, James and Michelle join them. Michelle says a girl needs to get out of here .. too much estrogen. Corey says I like the way you think.
8:40pm HOH room – Frank, DaVonne, Bronte, Natalie, Michelle, Paulie, Tiffany, Nicole, Corey, Zakiyah and James are hanging out. Tiffany and Paulie are playing chess. The others are chatting about random things.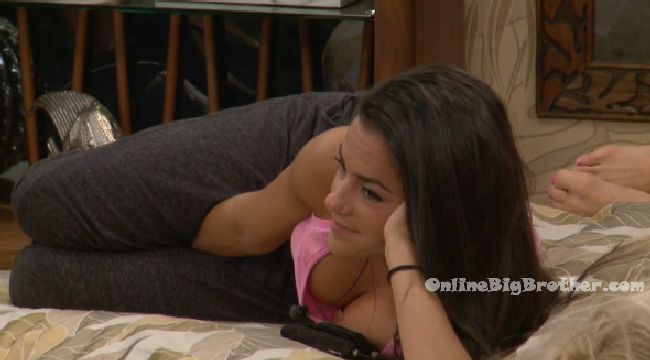 FLASHBACK and watch everything you missed: CBS All Access FREE Trial!

[polldaddy poll=9459672]