POV Holder:
Paulie
POV Competition
July 1st?
POV Used
?
POV Ceremony
July 3rd?
HOH
Paulie
Next HOH
July 7th
Roadkill Competition Winner:
Victor
Original Nominations:
Paul, Bronte and Tiffany
After POV Nominations:
? and ?
Have Nots
Da'Vonne, Paul and Zakiyah
Sign up and watch the 24/7 Live Feeds: 1 Week FREE Trial!:
Big Brother 18 Alliances Help Guide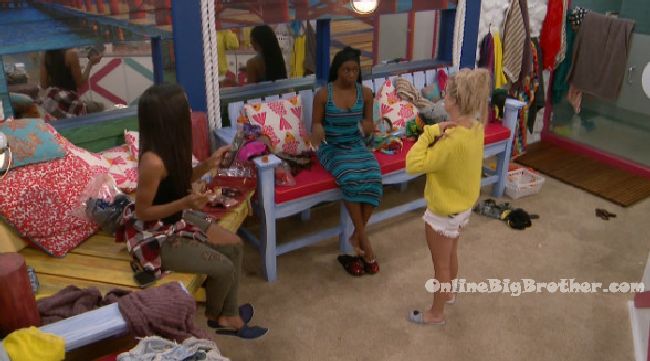 8:45pm In the bedroom – Michelle says that she wants to win HOH next week just to contribute. James says just so you know I'mg going to be gunning for it next week. I'll put up Bridgette and Paul and ya'll decide who you want out. James says next week is going to be endurance. Nicole joins them and says I don't trust you guys are you scheming?
DaVonne tells Nicole and Zakiyah that Tiffany came to her about how those girls (Bronte, Natalie & Bridgette) came to her wanting to come together to take out the boys. Nicole says it might just be their way to stay longer. Davonne says we might be able to use it to our advantage so that we're not the ones pulling the trigger. Niocle syas the only reason why I want Bronte out is because she said she was coming after me. But it might no longer be true. Davonne says I don't want to take that risk. DaVonne says that Frank only wants people in jury that will vote for him. Davonne says she thinks Tiffany and Paulie formed something because he talked to her more than anyone else. Nicole says it must be the sibling thing. James and Michelle join them. They talk about how Vic is going to have a fit.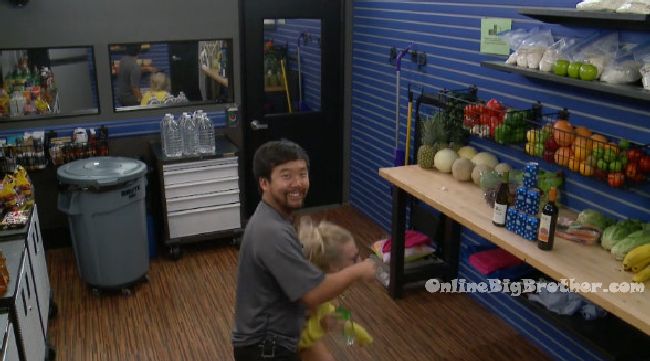 9:30pm James and Nicole find beer and wine in the storage room. James says we should hide it and drink it .. for the first time in BB history! Tiffany joins them and they talk about hiding it. They decide not to hide it and head up to the HOH room to show the others.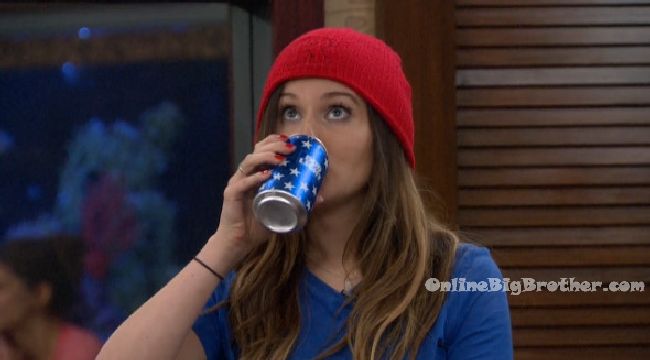 9:55pm – 10:10pm Storage room – Frank says I am getting a weird energy from him (Vic) too. He's got to realize its a possibility (of going up as the replacement nominee). Paulie was saying he was going to say something before but now I think he's going to wait until the veto ceremony. He wants to take all the heat. You don't have to take all the heat. I think he should just say its what the house wants. James says its like saying you're in a house where everyone doesn't like you. Frank says its kind true though. We get Bronte out next week right. James says right, which means I have to throw another HOH. Frank says me or you or Day or Nicole or even Corey … mainly one of us four needs to win that Roadblock (Roadkill) and we need to secretly put up Tiffany and get her out. Paulie doesn't really want her out and he thinks he can trust her and he wants to keep her around a little longer. I want to get her out. I don't trust her. I don't trust her and the fact that he trust her so much makes me trust her less. James says right, that sounds like a Derrick move. If someone trusts someone so much like get her out. She rubbed Day wrong today. She rubbed me wrong and she rubbed Nicole wrong the other day. I'd rather have Natalie and Bronte in the house longer than Tiffany. I don't want Tiffany winner HOH. She's not going to listen to us. James says if she was going to go after someone it would be you. Frank says that's what I'm saying. Frank says you could even toss an HOH to Natalie and let her put up Tiffany. James says we're just getting to the point where we need to start cutting into our group. Frank asks how far do you want Paulie to get? How far do you want Corey to get? James says yeah. We need to keep the integrity of our 4 together. Frank says if we don't get rid of Tiffany we need to get rid of Paulie. James says I'm on the same page with you. Frank says I would rather have Bridgette & Natalie in jury than Tiffany. James agrees. Frank says we're getting out the trouble makers and we'll be left with sheep in the house. Frank says I think we need to get Bronte out next week and Tiffany the week after. If we can't get Bronte out then we get out Tiffany next week.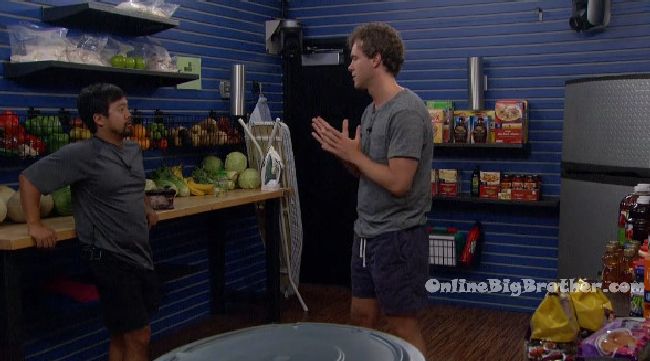 10:20pm – 10:40pm James, Frank and Nicole – Frank tells Nicole that he was thinking getting Bronte out next week and then Tiffany the week after. Nicole says okay. Frank says get out Vic, Bronte, Tiffany, Paul and then we're down to 10. Then we just figure out who the last one to get out before jury. Frank says we don't know how much longer the roadkill is going to last .. we need to utilize that. Frank says if we can get Corey or Paulie out …it would be a cake walk to the final 4.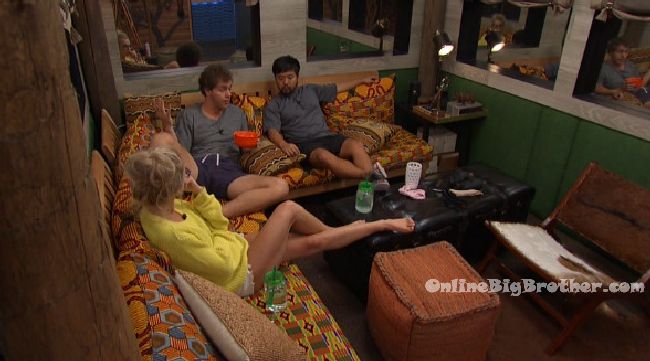 James New Look – "I'd love to stay but I've gotta go! Peace guys!" @AsianJamesBB17 @bigbspoilers #bb18 pic.twitter.com/qCtUXdwGgC

— Dawg (@DawgsBigBrother) July 3, 2016
11pm Zakiyah is still cleaning the kitchen. Meanwhile in the bathroom – Nicole, Bronte, Natalie, Paulie and Bridgette are chatting about random things.

Bridgette and Bronte are talking. Bridgette says she is trying to figure out what the f**k is going on without getting involved in conversations and getting my name attached to things. Bridgettte says I want to be with Frank because he is powerful. Natalie joins them. Natalie says they think I'm dumb. Natalie asks we have to save Victor ..possibly .. what do you think? Bridgette asks why. We need Tiffany. Natalie says we need to get the girls to come together.

11:40am – 12am HOH room – Nicole says that this is the first time I feel bad because when he (Vic) enters a room, I feel like I have to leave. Paulie says he has no clue (he's going up as the replacement nom. They comment on how it used to be Paul that was annoying and now its Victor. Paul says "Like a midget at a urinal, I've got to stay on my toes."
Paul says "Like a blind guy at an o*gy I have to feel out the situation."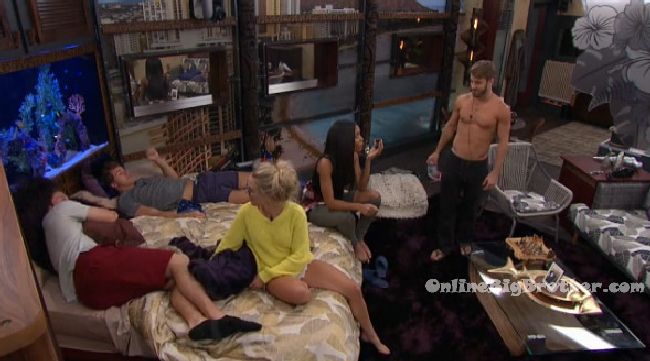 11:50pm – 12am Bronte, James and Natalie are having girl talk.
FLASHBACK and watch everything you missed: CBS All Access FREE Trial!

[polldaddy poll=9459672]