POV Holder:
JohnnyMac
Next POV
July 13th
POV Used
Yes
POV Ceremony
July 6th
HOH Winner Team 1:
Becky
HOH Winner Team 2:
Shelli
Nominations 1 :
Steve, Jason
Nominations 2:
Day, JohnnyMac
Battle of the Block Winner
Steve & Jason
Next HOH/ Next BOB
July 9th / ?
Original Nominations:
Day, JohnnyMac
Current Nominations:
DaVonne, Meg
Have Nots
Steve, Jason, James and Meg
TRY the Big Brother 17 Live Feeds FREE for 1 WEEK:
Click here to ensure your live feed subscription supports OnlineBigBrother.com at no extra cost to you.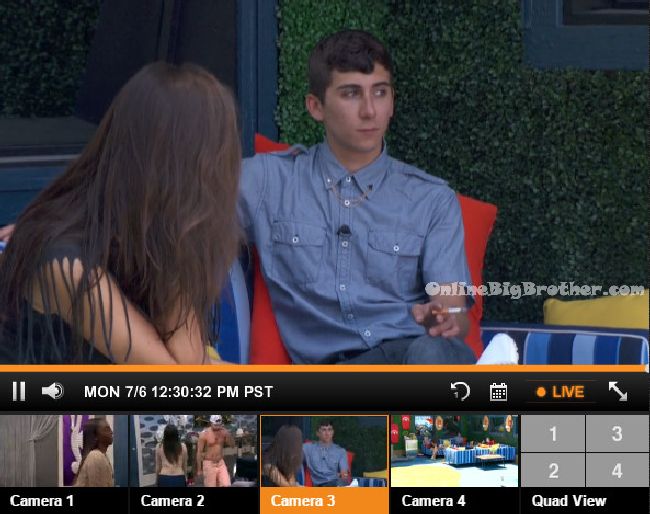 11:30am – 12:30pm
Big Brother blocks the live feeds for the Power of Veto Ceremony to take place. When the feeds return – Jason, Clay, Johnny and Audrey are out in the backyard. Clay asks John if they tell him what to say? John says you just go over it again and again line by line. Day joins them.
In the bathroom – Steven says I mean they've cancelled evictions before. A lot of things can happen with that last laugh. James says that would be crazy! James heads to the havenot room and asks Meg if she's all right? She says yeah. James asks we have two more days till we get out of the here. Meg says yeah. They both comment on how they can't wait to get out of the havenot room Meg says that everyone has been really nice though. Liz came up and asked if I was okay. Its not fun sitting up there in that seat. James says I had an idea you would go up .. because anyone else would have been questionable. Like they might have gone home. Jason joins them and hugs Meg.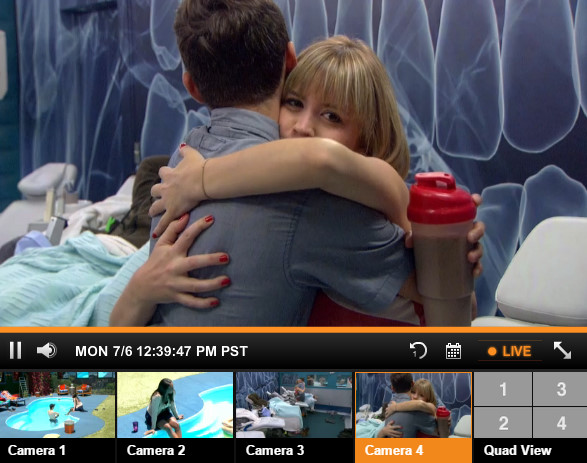 12:40pm Out by the pool – Day tells Steve to be careful. Steve says he wonders what the last laugh will be about. It has to be something that America votes on. Maybe no one get evicted. That would be nice to have no expulsion. Day tells Steve that she was told that a lot of information that I told you got back to me though Audrey. Things that I had only told you, got back to me through her. And that hurt. Steve says I don't know how that happened because I haven't said anything. Day tells Steve that she noticed he consoled her (Audrey) but not me. Steve says I thought I did. I'm sorry you felt that way. Day says I am only talking to you because I want you to do well. There are only two people that I feel comfortable with .. you and Jason. You be careful with Audrey because she is watching and she'll come over to talk to you to find out what we were talking about.

12:50pm – 1pm Day heads over to the backyard couches. She tells Jason and Johnny that she had a talk with Steve and told him not to let others run all over him. SHe comments on how no one else is out here. They're hiding. Jason says cockroaches! Day says James sat in the bathroom for a long time after the ceremony. He was very sad. Jason says they do not look happy in the havenot room. There are some souls in here .. they may not be good ones but.. Jason goes to play pool with Jeff. Day tell him – I need you to hit a ball. Jason says I need you to eat a d!ck!
Up in the HOH room – Vanessa tells Shelli that was super awkward and I'm sure hard to do. I just wanted you to know that I feel for you. Shelli says thank you.
1:15pm – 1:35pm Jeff and Clay play a game of pool. In the havenot room – Jason says that he has a feeling that there are some people are lying about what they do for a living. I questioned Clay if he was actually drafted for the NFL and he said he wasn't but I have a feeling he could easily lie about it. Day joins them. Meg says something will be in our power. At least we have two in our pocket. Jason asks Day are you getting any hints in there? Day says just possible stuff.. Big Brother blocks the feeds. Jason says if there is any possible way for you both to stay. Meg says Jason said maybe the other person goes. Meg says it was going to be Liz but they changed it because they needed someone that was close to you. Day says that's dirty, that's dirty! I almost wish I didn't know that! Jason says trash bags! Meg asks what's it called coo da ha? Jason says no coup da'etat. Meg says I can't wait till Thursday to know what it is. Day says ain't nobody come to comfort me. I see y'all.. cows! It's bitter sweet. I wasn't quite ready to leave just so soon. Jason asks why does it always happen to the strong black woman?! They wonder what type of costume someone might get. Day says a big tooth. James says or a toothbrush. Day says my momma was no joke before she became a minister.. I done saw her beat someone's a$$. Jason says I didn't think I would even get in .. I've been arrested for some stuff but it was never anything violent. James says you hear that feedsters we're not perfect if you see something ..its not our fault.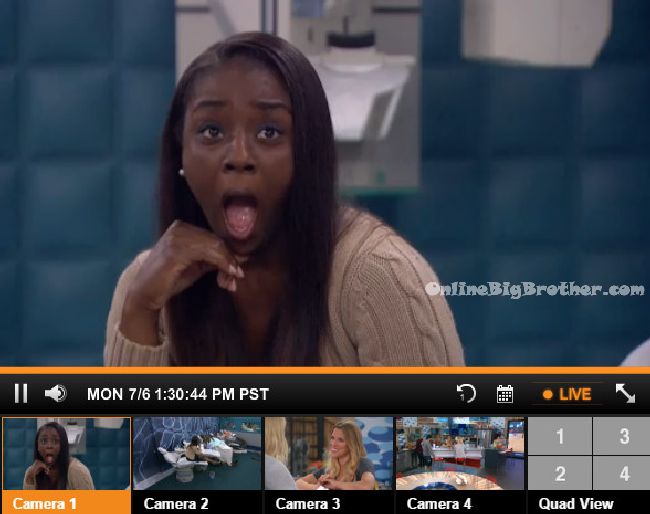 1:50pm HOH room – Audrey says got through this week, just need to worry about next week. Jeff says obviously Steve is a target for me because I never know where he stands. Audrey says I think a lot of people feel the same way with him butting into conversations. Jeff says not only that but there are going to be competitions that he'll do really well at. I want to win HOH sooner than later. Jeff says Austin is hard to read. I trust him but I feel like he doesn't trust me. Audrey says from what I've heard he doesn't trust James. Austin isn't dumb. I don't think he is going to target you. Jeff says I am just trying to get us all to jury that's when the game really starts getting played. You want to keep people around that you would want to live with. Day won't even look at me, she's pissed. Jeff says Day said if Audrey doesn't get put up next to me I know this is a personal attack. Audrey asks from who? Jeff says Shelli. Audrey says she started sh*t with me. She implied Becky was a racist. She's talked sh*t about everyone in this game. It is personal. Jeff says I am just going to lay low. Audrey says if I hear anything I will let you know but obviously no one is talking game to me.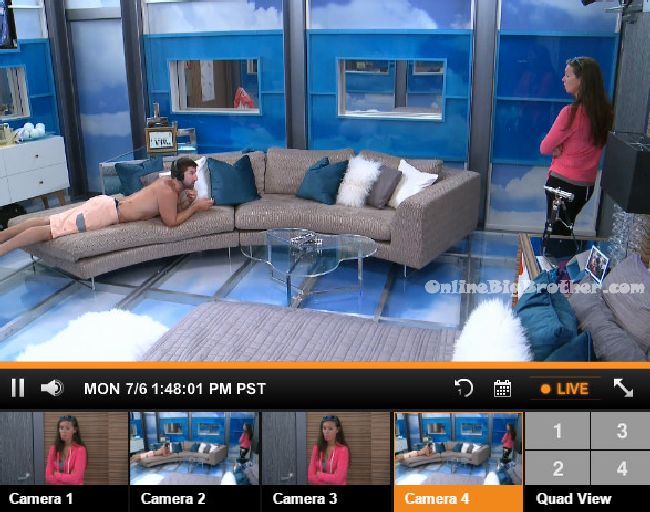 Bedroom – Steve tells Shelli that Day came up to me and started talking to me. You still have my vote. A lot of people have come up to me asking about that conversation so I just wanted you to know you still have my vote. Shelli says okay.
2:10pm Out in the backyard – Jason, Day, Meg, Liz, Austin are talking about random things. Day asks so you guys have come to the consensus that you're not eating slop any more. Jason and Meg say they just can't do it any more. Jason says we're looking like Kate Moss in here without the cocaine. Jason asks Clay if he also went to all his interviews without a shirt on. Clay says no I did my best to keep my clothes on.

2:20pm Kitchen – Clay comments to Audrey how Shelli called their relationship a flirtmance last night. We're not that. We aint a damn flirt thing. Audrey asks what are you? Clay says I don't know but not that. Audrey asks friends with benefits? Clay says no. Audrey says you wish. Clay says I'm not like that. Vanessa, Shelli and Audrey start cleaning the kitchen.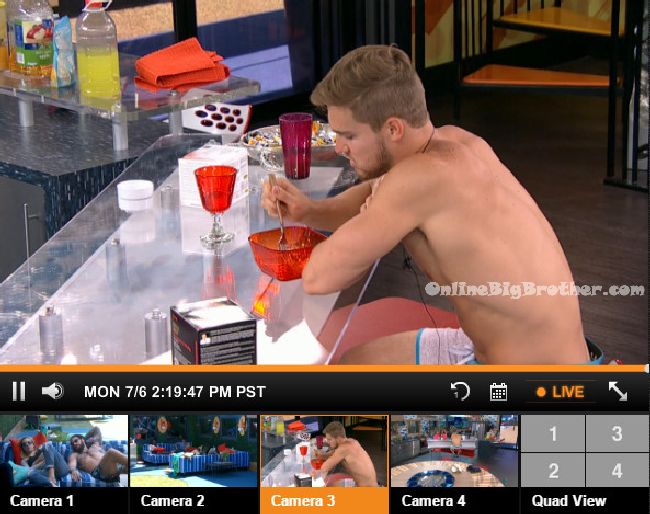 2:35pm – 2:45pm Bathroom – Liz and Jeff are in the bathroom. Liz says you like to prey on the younger ones. Jeff says eww no I don't. Liz says 5 years younger. Jeff says that's 22. Liz says I'm 23. Too old. Jeff says I like them a bit younger like right at 18. No, I look at 18 year olds and they look like kids. Liz says I can't believe you said you like blondes. I never hear that. Miami guys always go for the brunettes. F**k ya'll! Liz says I need to move to Fort Lauderdale or like a white area. Jeff says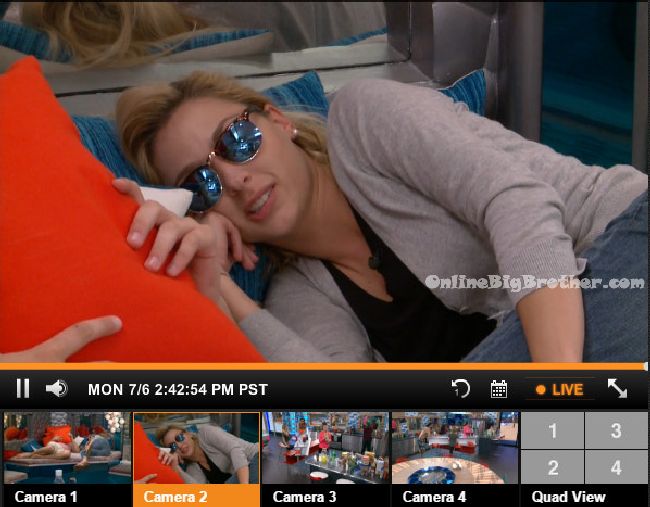 3pm Cabana room – Austin tells Vanessa he wants to get James out. He's my target.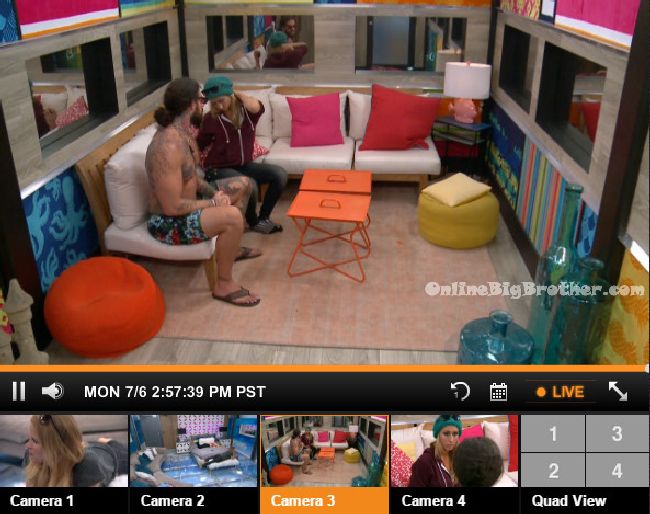 2:45pm – 3:10pm Up in the HOH room – Jeff talks to Shelli. Jeff asks are you feeling okay. Shelli says this is emotional. I definitely feel good about my week. Jeff says yeah you did good. You know we have your back. Jeff says Austin hates that I talk to Liz. Jeff says what the f**k is his problem he has a girlfriend. Shelli says I forget he has a girlfriend. Shelli asks is he annoyed you're talking game with her. Jeff says no that I'm flirting with her. Jeff says you can't trust Austin. He and Audrey are working together. I always see them talking together. Shelli says I do trust Vanessa. Jeff says I'm sketched out by her and feel if she ever won HOH. I think she would put me up. She is the ultimate floater. Her name has been brought up a lot. I think she's going to go sooner than later. Shelli asks would you rather keep floaters around or get rid of them. Jeff says I would rather have clear targets and know who is coming after me. Shelli says I'm liking Becky. Jeff says yeah Becky is cool. Becky would be someone I would want to get rid of later in the game. Austin is someone I would put up right away if I won HOH. Shelli asks why is everyone so afraid of Steve? Jeff says next HOH is going to be an A or B. Shelli says and he would be good at it. Jeff says there will be a lot of memory challenges coming up and he will be good at them. Meg joins them. Jeff says the guys are just getting really weird in here .. they are all just hitting on each other. Jeff says I feel most people will have the same target. If they don't, they're an idiot. In fact if they don't have the same target I will target them.
Click here for your 1 week FREE live feed trial!
Live Feed subscription gives you CBS All Access thousands of archived shows. Live Shows like Big Brother, all the Big Brother Seasons, and 24/7 coverage of what is happening inside the Big Brother House. Plus there's flashback that lets you go back to any second of the feeds and rewatch what happened. Simon and Dawg will index the season just watch the parts worth watching. All this for $5.99 a month try it out 1 week free. Support our efforts and get your feeds via a link on this site. Live feed subscription Sign up
[polldaddy poll=8961340]
Share it YO!!
Tweet