POV Holder:
JohnnyMac
Next POV
July 13th
POV Used
Yes
POV Ceremony
July 6th
HOH Winner Team 1:
Becky
HOH Winner Team 2:
Shelli
Nominations 1 :
Steve, Jason
Nominations 2:
Day, JohnnyMac
Battle of the Block Winner
Steve & Jason
Next HOH/ Next BOB
July 9th / ?
Original Nominations:
Day, JohnnyMac
Current Nominations:
DaVonne, Meg
Have Nots
Steve, Jason, James and Meg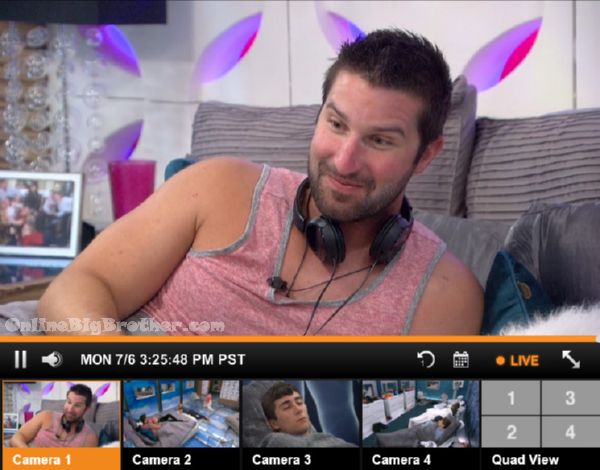 3:20PM HOH Meg, Shelli and Jeff
Jeff talking about "Old, ugly, Busted dudes" hanging with hot busty girls in Miami. Says it's obvious how shallow the girls are.
Jeff – By the time i'm 35 I want to be married
Jeff – No doubt in my mind Dude that's 8 years from now my career will take off.
Claims he's single because he's focussing on his relationship, "She was pushing me in directions I wasn't successful at"
Jeff says his strong suit is sales.. She had a million dollar lifestyle planned for them and he wasn't able to get their in his mid 20's.
Jeff says his ex was getting called by football players with million dollar contracts.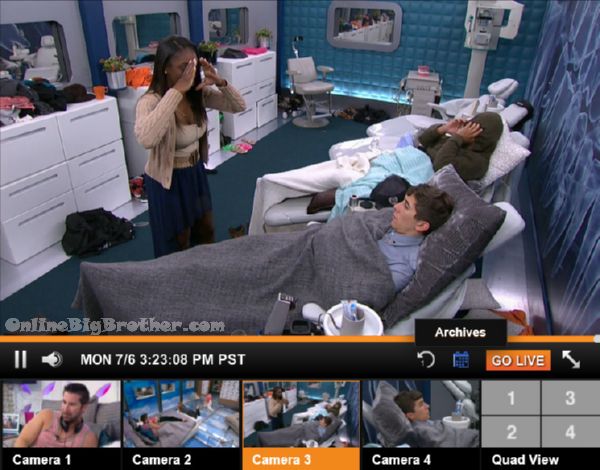 3:22pm Have nots Da, Jason and James
Da saying sometimes her face is really skinny sometimes it's fat, Pie faced. Says sometimes her nose is pulled to the front.
Jason agrees says sometimes he notices her face is really skinny
Da – Her eyes .. Watch just watch ..
Da leaves
Jason says Da is throwing around conspiracy theories and it's not JohnnyMac.
Jame's- It's not me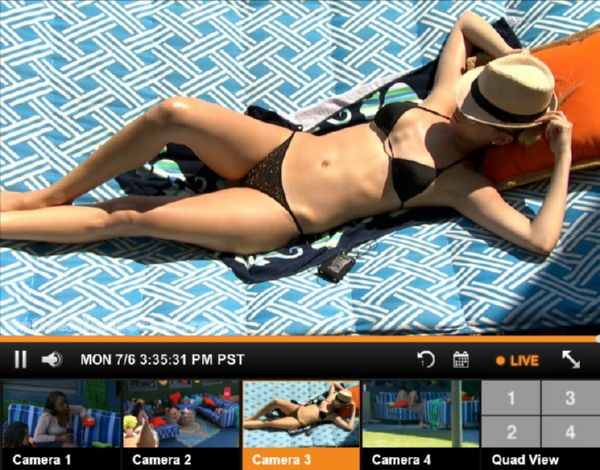 3:32pm Austin and Liz Hammock
Austin – Jeff has some kinda final 4 with James.. he's not letting us in on … F**K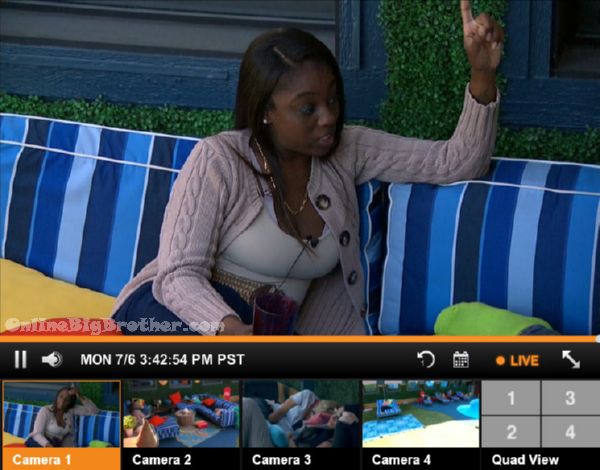 4:43pm Backyard Da and Jason (Twin switch has happened within the last two hours)
Da is certain Liz is two people. Jason has noticed on some days Liz is more friendly. Da is going to go to the Diary room as soon as lockdown is over maybe they will give her something for being the first to notice.
Da – the one last night is the friendly one this one isn't 'friendly'
Jason thinks this liz is here until Thursday then they'll switch her out again.
Jason – Could be the hat thing too.. they have a lot of hats that cover their faces.. I've never seen her wear that one before
Da – we're on to something
They agree Liz is just getting close to one person because it's easier to keep the story straight.
Jason mentions the last season they had a twin twist he doesn't think they have much time to compare notes when they switch out.
Jason thinks one of them is skinner.
Da – She's the skinny one.. they slipped up last night.. the heavier one wore her hair up
Jason – the one today in jeans had some thick thighs
Da – earlier
Jason mentions that Production kept making a big deal about Big Brother 5 being Jason's favorite season.
Jason – Who knows you'll get a secret power for figuring that out
Da – I will try (If it was BB Canada she would get a Coup coup D'etat, a gold ticket to final 3 and a bonus pizza dinner)
Jason – Big shame they didn't put her up we could have used that as leverage
Da'Vonne thinks the one she had the fight with was the skinny one the mean one. (in the Hammock) the one she had the talk with in the Have nots was the chunky nice one.
They think of ways to bait the "Skinny One" into telling a story that the "Chunky" one told them last night. The Story was about a her running our on a date. Jason like the chunky one better.
[envira-gallery id="119376″]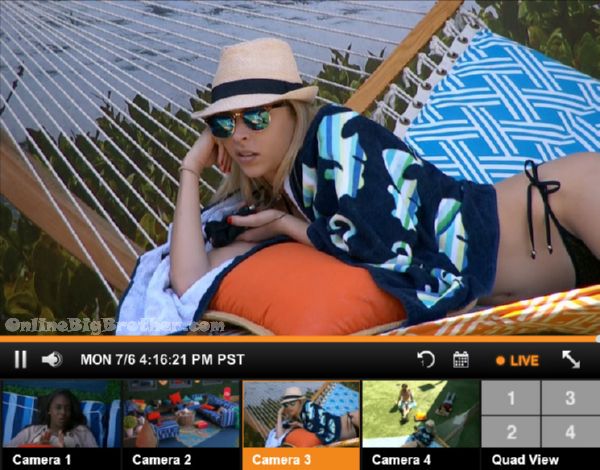 4:00pm Austin and Liz Hammock
Austin – Love is the most interesting topic..
Liz – People do crazy things in love
Austin – I hate it.. I'm done with that..
liz – You don't believe in love anymore
Austin – I don't think so
Liz – you've been in love
Austin – yes, I have
Liz – you think that was fake
Austin – yes unfortunately
Liz – I've thought I have been in the love.. i'm only 23
Austin – I thought there was an actual love that transcends.. that nothing else matters.. you move on and find new love.
JohnnyMac Joins them.
Austin goes on and on about various "Deep" topics… He goes in depth about wrestling..
Austin – "you learn about how to control the crowd.. it's a rush.. like the movie the wrestler you can't let it go"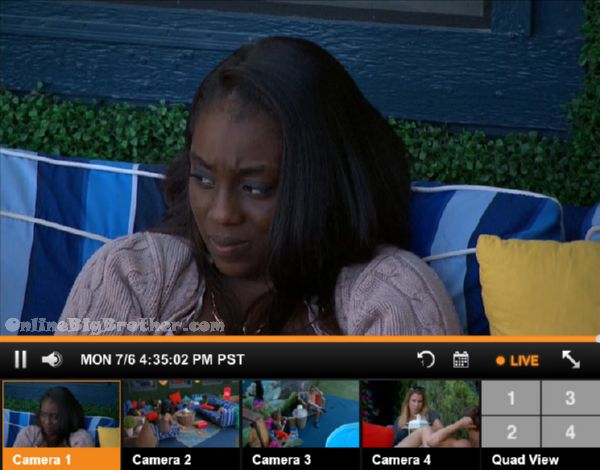 4:30pm Da and Jason (Meg and James have been sleeping on the couch beside them)
Still talking about liz having a twin. Da has noticed there is a difference in eye colour between the two liz' They also notice a difference in their voices one of them is deeper than the other.
Jackie joins them. Jason tells her she's in a good position going into next week.
They start talking about putting Audrey on Slop next week and telling her she's not allowed to shower in the HOH room anymore.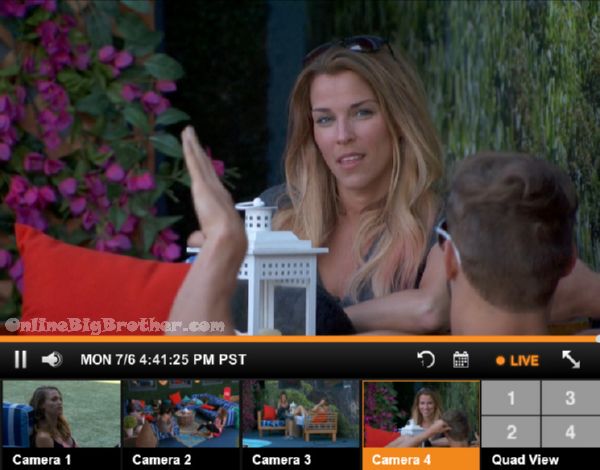 4:36pm – 4:53pm Shelli and Clay
Clay – playing college Football and being a OK looking guy you have a stigma about being arrogant..
Clay says he's a confident guy but is sometimes taken as arrogant. This is why he makes it a point to be over the top "Sweet"
Clay is trying to not be seen as a douchie a$$hole. Adds first impressions are a big deal and he feels he's still in the first impression stage in this game. He wants to be known for being a honest player.
Clay – I'm pretty good at reading people.. figuring out their motives
Clay says he knew Audrey was going to be a serious player with a lot of Sass. That is why he gravitated towards her. He knew she wasn't going to come for her so he kept her in his pocket.
Clay didn't get a gut feeling like "Derrick/Cody" when James offered the deal with him that is why he didn't take it.
They comment on Audrey following them around when they're talking to other people. Shelli mentions how she's always up in the HOH bathroom.
Clay has noticed that Audrey and Vanessa talk A LOT.
Shelli had talked to Vanessa about it she said they are not talking game. Audrey is just trying to rebuild relationships
VAnessa warned shelli not go give any information
Clay about Audrey – "She's a smart girls she's playing the game"
Clay says the only people that would want Audrey to stay is Austin and Liz everyone else will nominate Audrey.
Clay says Jason was talking to them all when Audrey walked by he said "That b1tch better not come over here I'll rip her face off"
Shelli tells him he has to really try to win the HOH. Clay says he can't not try to win.
They start talking about cooking. Shelli says he uses too much olive oil
5:46pm Feeds still cut.. might be the phone call twist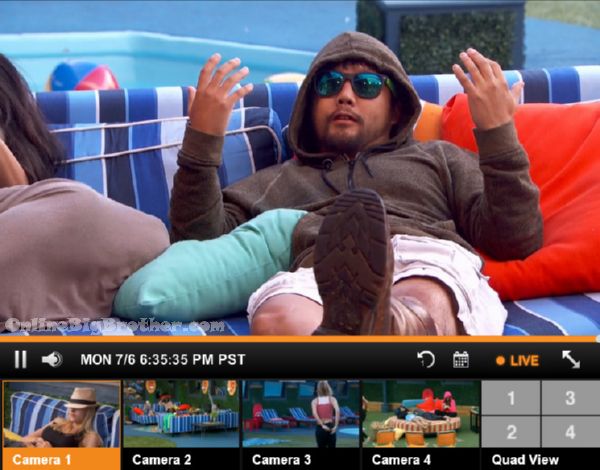 6:35pm Backyard
No Word on the feeds being down..
They are talking about the breast implants. Liz (Julia) is saying that she has them their a small 'c'. JAmes says they looked normal size.
James says he's never felt implants.
Liz (Julia) I had little mosquito bites
They talk about the implants in the house, Jackie, Becky and Liz.
Da'Vonne talking about her breasts during breastfeeding
Liz – that milk isn't like the milk you buy in the store I hear
They go back to talking about implants. Through the nipple or through the arm pit.
Live Feed subscription gives you CBS All Access thousands of archived shows. Live Shows like Big Brother, all the Big Brother Seasons, and 24/7 coverage of what is happening inside the Big Brother House. Plus there's flashback that lets you go back to any second of the feeds and rewatch what happened. Simon and Dawg will index the season just watch the parts worth watching. All this for $5.99 a month try it out 1 week free. Support our efforts and get your feeds via a link on this site. Live feed subscription Sign up
[polldaddy poll=8961340]
Share it YO!!
Tweet