POV Holder:
Kevin
Next POV
May 1st
POV Used
No
POV Ceremony
May 3rd
HOH Winner
Kevin
Next HOH
May 6th
Nominations:
Bobby and Brittnee
Have Nots
Zach, Bobby, Willow (Season slop pass)
POV Players
Kevin, Bobby, Ashleigh, Brittnee, Sarah, Pili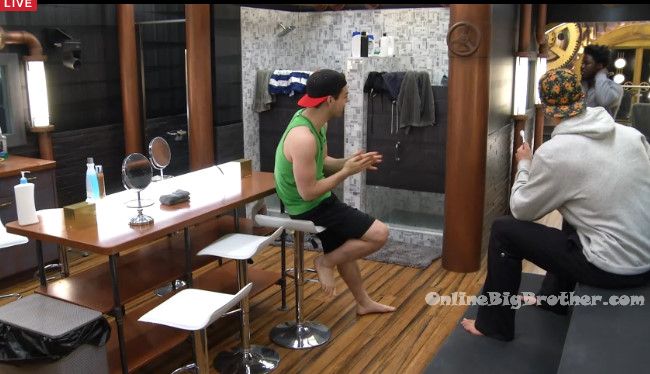 10am – 11:40am Big Brother blocks the live feeds for the Power Of Veto Ceremony to take place. As the veto holder, Kevin has the option to veto one of his nominations or choose to not use the veto on either nominee. Originally when Kevin nominated Brittnee and Bobby the plan was to use the veto to remove Brittnee and nominate Bruno as the replacement. However, Kevin's plan as of last night is to not use the veto. If Bobby doesn't have a secret veto he gets voted out "that's what happens to liars" and if he does have a secret veto (which he doesn't) and uses it then Kevin would then nominate Bruno and try to get him sent home over Brittnee. Either way Kevin will have some explaining to do as he's told everyone different things as to what he was going to do.

When the live feeds return – In the bathroom – Kevin, Zach and Godfrey are talking. Godfrey says well it got tested out! Thanks for not putting me up there man! Godfrey leaves. Zach says now Bruno's by himself. What's he going to do?! Kevin says we'll let it rest the next 24 hours.
Brittnee, Sarah, Bruno and Willow are out in the hot room. Bruno says it doesn't make sense to me why he didn't put God up there is he knows he's coming after him. God is definitely with them. He said last minute talk ..I just got to him. Bruno says in the end we're giving them all the prize. Sarah says for our own benefit I acted like we weren't all together.Godfrey joins them. He says I got through to him with a last minute conversation. I am telling you guys we still have the upper hand. They have the two goblins and Zach & Kevin.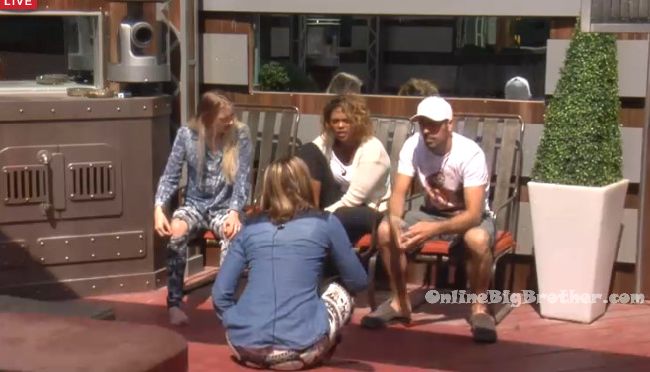 11:50am In the havenot room – Bobby says what a blast… I am going home! He pulls something out of his pocket and says I'm keeping this big brother. He heads up to the bathroom and says wild game! He heads to the bedroom and starts packing his clothes. Kevin comes in and says strictly game Bobby. Strictly game. Bobby says yup. He leaves. Willow comes in and Bobby tells her if you want me to stay you need to avoid me. Willow leaves. Bobby says to himself. They have to see me packing ..like I've given up. That's the only chance I have. Bobby says my fate lies in Sarah and WIllows hands now.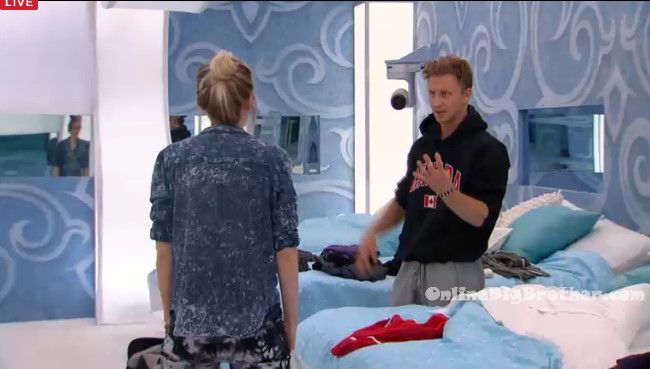 Kevin & Bruno are talking by the pool. Kevin says I got the feeling Bobby was coming after me and he is such a bigger competition beast. He said he has a veto and he's asking me to use mine. Bruno says its your move I respect it. Bruno says the girls are sitting back not having to do anything.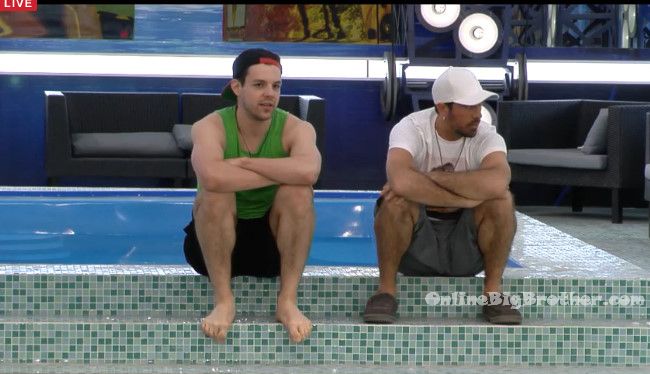 In the hallway to the hot tub – Kevin tells Godfrey dude you played it perfectly!! Godfrey says I've got your back. Kevin says he's sorry he couldn't let him in on his plan. They hug and breakup the conversation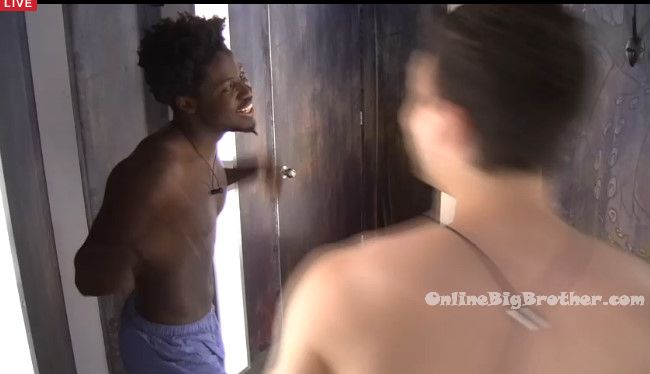 12:10pm – 12:20pm In the pool area – Bobby says "I'm sorry for fake crying. It was very insensitive. I apologize and I'm sorry" If anyone can tell her that I would appreciate it. Bobby says That means the showmances knew I was coming after them…I think…meaning I probably wont get their vote. I can't even campaign. They should see why it would be smart to keep me. That genuine reaction from Sarah during the veto ceremony means she's not working with them. I know its not the showmance side of the house that will keep me. If they don't keep me Bruno and Godfrey should be really terrified. Bobby heads out to suntan with the others.
12:40pm In the storage room – Kevin says that was a good read. Pili tell kevin that was a good read. You can read people. Pili says Oh my god crazy Kevin!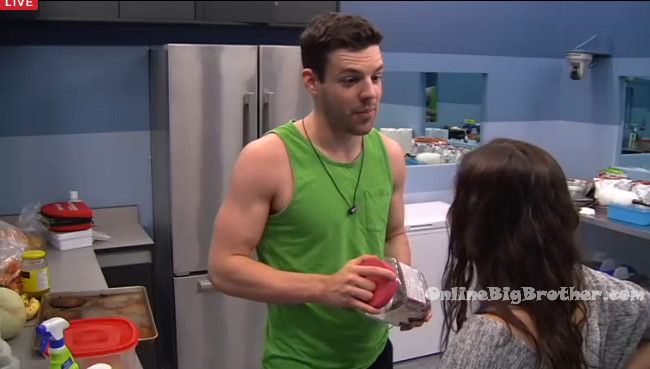 If you're enjoying the live feed updates this season, please consider donating. Simon and I work 24/7 all season long to keep you updated on everything that happens inside the house. Any amount is greatly appreciated! Your donations go directly to paying the fees required to run this site. In addition to that if you're interested in other ways to help support the free content we provide – check out our How to support OnlineBigBrother.com page.
ALLIANCES IN THE HOUSE
There are always a lot of Alliance but we've tried to make sense of it all.. Read our alliance help guide
If you are outside Canada and want to watch the FREE Big Brother Canada Live feeds sign up for a VPN service here https://www.hidemyass.com/vpn/r16399/. It's safe to use, easy to set up, and cheap. Need to know more check out this post explaining how to set it up.
[polldaddy poll=8834825]