POV Holder:
Kevin
Next POV
May 1st
POV Used
No
POV Ceremony
May 3rd
HOH Winner
Kevin
Next HOH
May 6th
Nominations:
Bobby and Brittnee
Have Nots
Zach, Bobby, Willow (Season slop pass)
POV Players
Kevin, Bobby, Ashleigh, Brittnee, Sarah, Pili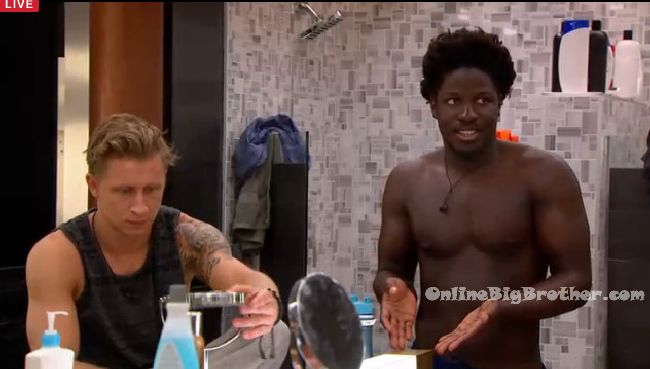 In the bathroom – Bruno & Bobby are talking. Sarah joins them. Bruno says we need this HOH! He asks Sarah you're 100% going for them? Sarah says yes. Bruno says we need to win back to back to get them out of here. Bruno says with everyone giving them bits of information .. they're able to piece it all together. Sarah leaves. Bruno says there's got to be a way out of this man. Zach's a paranoid guy. If we could just mess with his head a bit. I know he has deals with everybody. Once the girls .. the girls are not voting each other out, they want us to take each other out. Right now we're at a spot where we need to win HOH or we're broke. If Godfrey wins I think we would be okay. Bobby says maybe Sarah said something to Britt about me not having a real veto. But after I voted out JP I knew the showmances would never trust me. Bruno tells Bobby you got to fight bro! Bobby says I will. Bruno says I am telling you next week if I win I am going to go on a terror bud! Godfrey joins them. Bruno says I hope you're not working with the devil now! I hope you didn't sell us out. Godfrey says oh hell no. They wanted to flush the veto out and make you use it. Bruno says we're in a tight spot right now we need to stick together. I am telling you right now I am voting for you to stay Bobby. Godfrey says me too. Godfrey says if you stay this week .. its you and me going up next week. Bobby says I just need to get as many votes as I need to stay. Bruno tells Bobby make deals, make deals, sell me out I don't care! Make deals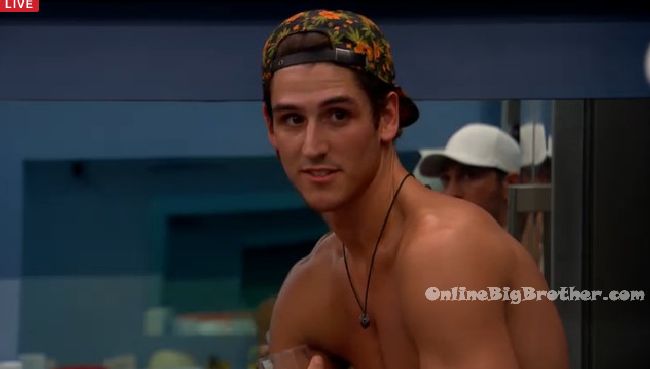 Storage room – Bobby asks the thing I don't get is if Sarah is working for them why did she vote out JP? Bruno says Sarah used to tell Zach and JP everything. Bobby asks so why would she not still be working with them? Bruno says because they got into a fight here in the pantry. They're working with us .. really they're working for themselves. Bobby says I need Sarah's vote. Bruno tells Bobby to tell Brittnee that she will always be the pawn with them. Bobby leaves. Zach joins Bruno. Bruno says those girls are laughing buddy. Zach says so. Bruno they're laughing their way to 100K. Zach says I didn't know until this morning. Bruno says Bobby wasn't coming for you. We were never coming for you. Zach says we'll see when we get out of here. Bruno says by then it will be too late ..those girls with be 100K richer. As the guys we have to go for them. Zach says I see your side. Ash and I sat down today and said we're f**ked! Bobby joins them. He asks Zach you knew I didn't have it eh!? Zach says I didn't know. Kevin was worried once you got into power you would come after them. It doesn't make any sense for you guys to go after me and Ash .. we did what we could. Zach says you still have me in this game. I will not put you up. I will not f**k with you in this game. Bruno says I've got you. But we are f**ked in this game. Zach says I don't trust anything Sarah says. Zach says if I can get Godfrey on my side I will go after Sarah & Britt. Bruno says I will get him on your side. Bobby's not coming for you. If he goes we're all next! We have to win HOH every week for the rest of the season or we're f**ked. The girls are sitting back and putting poison in everyone's ears. Godfrey joins them. Godfrey says not once have the girls ever said they're going after each other. Zach says if I win HOH I will go after Sarah and B.. I want to prove it to you thats the only way because everyone is talking out of their a$$holes right now. Zach says Sarah is a all about girl power… even if another girl wins she's happy. Bruno says enough of this b@chdoor sh*t.. if another guy goes we're done.
Sarah and Kevin talk about Bobby and the veto ceremony:
Sarah says Bobby did this during the VETO Ceremony @bigbspoilers #bbcan3 pic.twitter.com/1PJDxP71zm

— Dawg (@DawgsBigBrother) May 3, 2015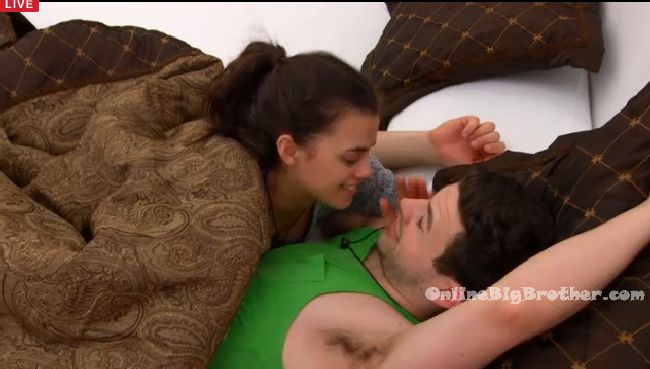 1:40pm Up in the HOH room – KEVIN "I LOVE YOU SO MUCH!!" Pili asks WHAT?! Kevin says "I care about you so much" They start kissing. Kevin tells her she is so smart. Pili says you talk about it all last night and all of a sudden it all made sense.

2pm Pili and Ash are in the bedroom. Ash says that she was in the kitchen and Bruno came up to me asked me how I was doing and kissed me on my head. Pili says I'm glad this happened because if it hadn't they would have come after us. Ash says I don't know. Pili says yeah I don't know for sure.
Hot Tub – Zack, Willow, Brittnee, Sarah, Godfrey, Bruno and Bobby are chatting about random topics like dream jobs. Sarah tells them how to beat a lie detector test saying when you tell the truth you squeeze your sphincter and then release it when you lie. Willow says I'd be scared I'd release it like take a dump. Sarah says you don't release it like that. Sarah says its like kegel exercises. Guys can do it too and if you do it a lot it can make you last longer in bed. Godfrey asks questions about it. Sarah tells him to do like ten sets. Godfrey says yo I'm going to work that into my exercises. I'll be standing in front of the mirror doing them. The conversation turns to talking about why they have a jury of 10. Sarah says I think we're going to have a final 3 instead of final 2. Sarah says it has to be a double or an instant eviction this week.. like every week from now on.

2:40pm In the backyard – Bruno show Godfrey martial arts moves. Godfrey asks Bruno if Zach was being legit when he wanted to work with them and get out Sarah / Britt. Bruno says no, he's wasn't being legit! Not Legit. He is just telling us that. If we win HOH we backdoor him. Bruno says I was just telling him that.. its just you and me bud!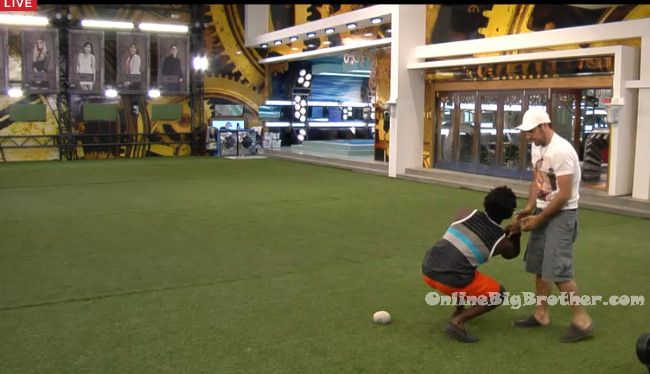 3pm Bruno and Godfrey are talking by the pool. Godfrey says the only people we can afford to win HOH is B, Sarah and Willow. Bruno agrees. Godfrey says and then when it gets down to the final 5 its down to just you and I. Godfrey says they (showmances) have 3 votes each. Bruno says they have 3 votes each if one of them is on the block. Godfrey says for the next 3 days I am just going to tell Sarah real sh*t.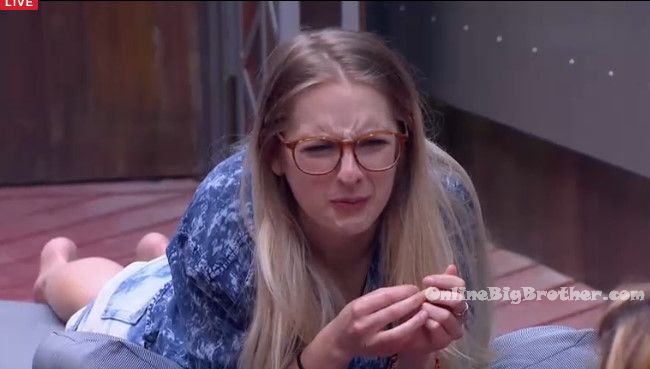 3:10pm Willow tells Kevin that Godfrey was only really going after Zach. Kevin agrees. Kevin says that as far as Bobby and Bruno whenever I would talk to them they were like shields .. they would never release any info. Willow asks are you happy how it all worked out. Kevin says oh yeah. Willow asks did you talk to Bruno? Kevin says yeah a little he was already trying to mend it. He was saying Willow, B and Sarah are going to make it to the end. Willow says I hope so. Sarah joins them. They talk about Bobby double middle fingering everyone. Willow says Sarah was like why am I getting fingered? Willow says you should have said I love a double finger but.. Sarah says I love getting fingered. Sarah & Willow are alone. Sarah tells Willow that Bruno and God seem to be over it… that's why we need to get rid of Bobby. Willow says Kevin told her that Bruno said us guys have to stick together to get out the girls. Sarah says F**K BRUNO! You just sealed your the fate for your boy! I was honestly considering it. Willow says Bruno keeps saying lets play, lets play… what has he done! Sarah says I know f**k you. Sarah tells Willow that Bruno hated JP for playing the way he did but he's doing the same thing, we all are that's the game!


Up in the HOH – Zach has a bath and talks to Ash and Pili. Zach says part of him wants to go after Britt & Sarah next week if he wins HoH because they wont put up the girls. Pili says yes we need to worry about Sarah and Britt but.. Zach says that's why this game is tough you draw a fine line between whats good for your game and what's good for everyone elses. Ash says Sarah wouldn't come after me. Zach says B would. Ash says if I were to win HOH why would I put up a girl if they're not going to put me up? Zach says you could put up God. Zach says at the end of the day we have to continue to do what's good for our group. Kevin joins them. They talk about how Bobby threw out a piece of a hanger as a fake veto.
4pm – 4:20pm Living room – Bruno says I am going to start causing some chaos! I'm going to flip this house around. Bobby says I hope so .. best of luck if I go. Bruno says I tell you .. look at how fast Willow and Sarah run up there. I tell you buddy I am going to flip this house around. Bruno says if you think there's no chance then blow up their game. Bobby says that doesn't keep me here. Bobby says if I get voted out its definitely you next. Bruno says oh I know .. I might be okay if Sarah wins. I think she might go after the couples.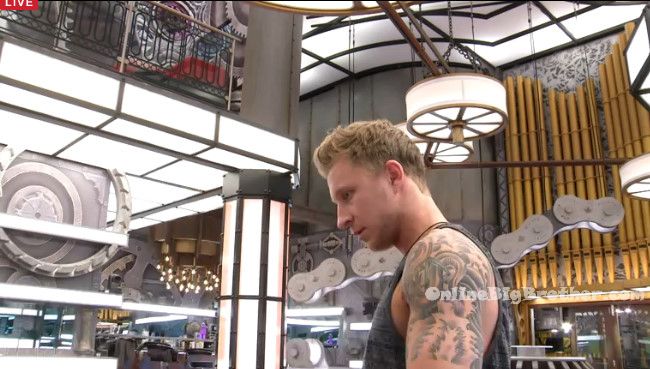 If you're enjoying the live feed updates this season, please consider donating. Simon and I work 24/7 all season long to keep you updated on everything that happens inside the house. Any amount is greatly appreciated! Your donations go directly to paying the fees required to run this site. In addition to that if you're interested in other ways to help support the free content we provide – check out our How to support OnlineBigBrother.com page.
ALLIANCES IN THE HOUSE
There are always a lot of Alliance but we've tried to make sense of it all.. Read our alliance help guide
If you are outside Canada and want to watch the FREE Big Brother Canada Live feeds sign up for a VPN service here https://www.hidemyass.com/vpn/r16399/. It's safe to use, easy to set up, and cheap. Need to know more check out this post explaining how to set it up.
[polldaddy poll=8834825]