POV Holder:
Brothers
Next POV
April 23rd
POV Used
Yes
POV Ceremony
April 25th
HOH Winner:
Cassandra's Dad
Next HOH:
April 28th
Original Nominations:
Brothers and Niki
Current Nominations:
Jared and Nikki
Last Evicted Houseguest
Paige, Sharry, Christine, Kelsey, Loveita, Dallas, Mitch, Raul, Maddy
Have Nots
Family members decided no have nots
Watch the Big Brother Canada 4 Live Feeds anywhere in the world with HideMyAss VPN.
ALLIANCES IN THE HOUSE
There will likely be a lot of alliances during the season – keep track, read our alliance help guide.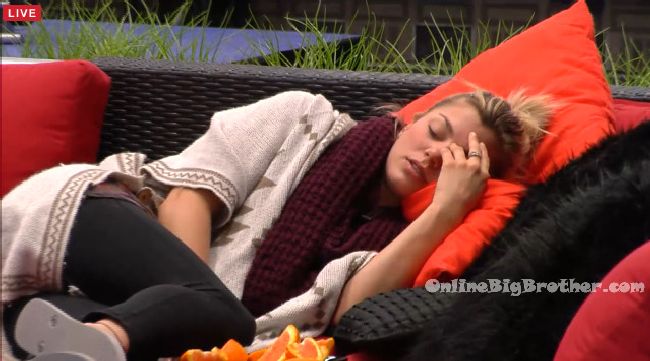 The live feeds were blocked all of last night for what sounds like a party. They got a British Flag and an Australian Flag cake. Kelsey asks do you think we're getting in trouble for being so drunk? Nick says last night was interesting. Jared says oh yeah very very interesting. Cassandra says last night was so much fun. Oh my god I love Joel. He was so funny. Tim says you know what I just thought of .. imagine if all you have is slop (Joel). He hasn't even come out yet, which is unusual. Kelsey says that she feels like she is going to puke.
9:10am Hot Tub room – Nick says after last night I wouldn't be surprised if Joel voted to keep Jared. They were up all night. Phil says Joel was such a b***h. Phil says that Jared was telling him that Nikki doesn't care about him. Phil says its a shame to see how easily he is controlled and brainwashed. Phil says that Kelsey said Tim has been saying he wants Jared and others to win and if he votes to keep Nikki that contradicts what he's been saying. Phil says no wonder Tim is friends with Nikki and Cassandra because they can work anyone. I would take Nikki and Tim to the end just to f**k those people over. I don't care if I have to lie now.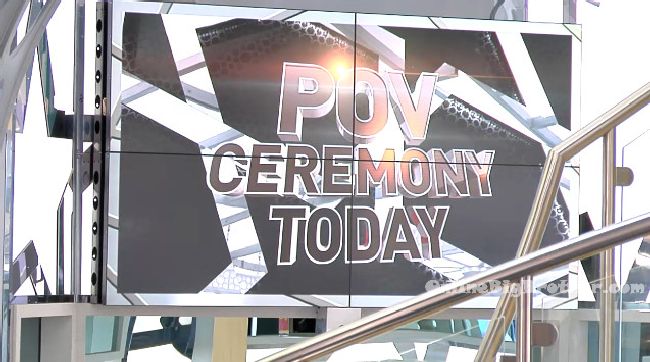 9:40am Jared heads up to the HOH room and tells her I'm your friend and there are 5 strangers outside those doors. Five strangers! If I was in this position, you know I wouldn't do this to you. Cass says its not anything personal Jared. I have no one else to put up. Big Brother blocks the feeds. When the feeds return – Cassandra is talking to Joel asking him if he wants to lie in the HOH bed. He says he just needs to be by himself. Cass asks him if he is alright? Joel says yeah .. well not really but.. I just need to clear my head and be by myself. Cass leaves and heads back to the HOH room. She calls for Tim. Big Brother blocks the feeds. Cass asks what's up with Joel. Tim says I think he's hung over. Cass says oh. And then Jared asked if it came down to a tie would I vote to keep him? I said I don't know, are you going to pull that stuff you pulled last night?!

bed/NiQ_dWeAROY" frameborder="0″ allowfullscreen>
9:50am Big Brother blocks the feeds.
Power Of Veto Ceremony Results!
The Brothers used the veto to remove themselves from the block.
Cassandra then nominated Jared as the replacement nominee.

11am HOH rom – Tim is talking to Cassandra and says he was in between the stare. I was like oh my god this is so symbolic… and in that moment I saw that you and I are killers. Like and that I am so proud of us. You are… I couldn't do that .. like.. Nikki joins them. Nikki says oh my gosh I feel really nervous now. Tim says its a weird feeling isn't it. There are a whole punch of creepy crawlies that come out. Cassandra joins them and says that he's (Joel) crying. Tim says that Joel going on slop for the rest of the season was for himself. And now its hitting him that he really is alone. I used to think that he wasn't impressionable.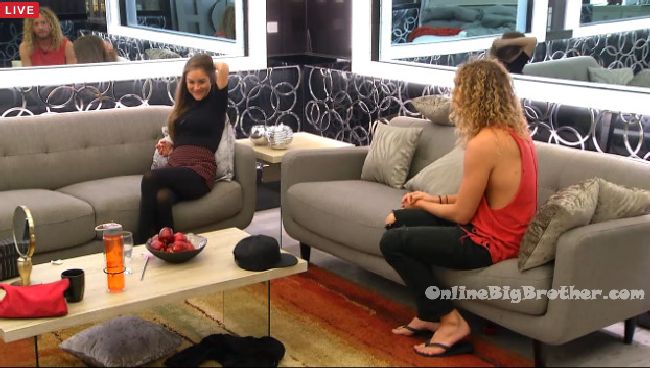 11:15am In the hot tub room – Cass tells Phil that she is thinking of asking Big Brother if she can take Joel's slop punishment for the rest of the season .. I need to go on a diet anywy.
Cassandra talking to Phil about wanting to call a house meeting to find out what Jared said to Joel last night to make him so upset today. Cass goes to the washroom and tells Kelsey she's heard there was a lot of sh*t said by Jared last night about me. I hope its a tie, I'll kick him out myself.
12:10PHil says Jared and Kelsey are telling the truth. They are truthful. Nich tells Phil that Jared is going to pretend he doesn't have our vote. Phil says okay good. That's a good idea.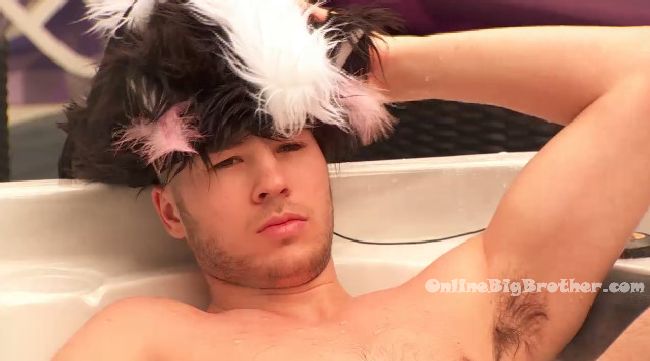 Cass asks how do you expect me not to put you up after sitting in the hot tub saying people can't trust me. Jared says you turned away from me long before yesterday. I'm not stupid. You stopped trusting me when you got head of household. Cass asks when I put the brothers up? Jared says I had to bed you not to put me up… that's pathetic! You can leave now. You can leave. Cass says okay.. well don't ask me for my tie breaker vote then.
Jared comes to the kitchen and sits beside Cassandra. Cassandra starts singing I'm pathetic!! I can't think for myself. Cass asks Jared .. you asked me to leave over there… should I leave now? Jared shrugs his shoulders. Jared heads up to where Kelsey is in the bathroom. She says I feel like sh*t. I might puke again. How's it going out there. Jared says oh not good. Jared tells her about the Cass confrontation. Kelsey says its going to be an ugly week. Its her fault.
12:35pm Joel comes out of the diary room. Nikki and Cass hug him. Cass tells him that she wants to ask Big Brother if she can take slop for the rest of the season for him. I need a diet anyway. Joel says don't do that.

2:20pm – 3:20pm Phil, Nick Tim, Jared and Nikki are out in the hot tub room chatting about random things.