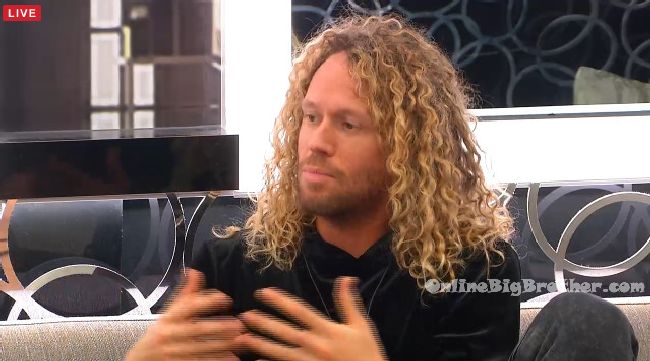 HOH room –
Tim talks to Joel. Joel says that he doesn't see any way he could finish higher than third (w/Kelsey & Kelsey). Joel says about Cassandra that the only thing that bugs me about her is she says I've got your back.. a lot. Joel says I don't need reassurance. Tim tells Joel that he respects the game of Big Brother way too much to take Nikki to the end. Tim tells Joel that Nikki wants him (Joel) to win really bad. She doesnt want Cassandra to win. Tim says that he would be happy for Joel or Cassandra to win for the loyalty they have showed him. I respect you each in different ways. Tim says that Jared is trying to tell Cassandra that their home town would be so ashamed of her. Joel says it doesn't really make any sense to not take someone like Jared out from a game. Tim says if Jared goes home because he refused to cut his pretty hair, who will be the joke of Winnipeg? Not Cass, him.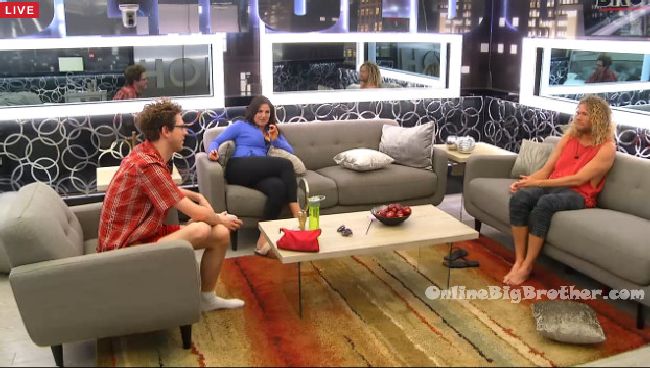 5:55pm HOH room –
Joel, Cassandra, Tim are talking. Joel says I never like to throw anything of give something away but maybe if it comes down to it … you (Tim) or I throw it to Nikki because then we can compete the next week. Cass says that's why I hope it comes down to a tie so I can vote to keep her and she'll see that. Cass says I'd love to call a house meeting to call those f**kers out.. but no. We will get the last laugh. Tim says some times you can win an argument not with brawn but with brain. Joel asks if Nikki is still scared? Tim says yeah, she thinks you might vote to keep Jared. Joel says I'll reassure her.
6pm – 6:45pm
Tim and Nikki talking about how Nikki should ask the brothers if they're voting for her so that she can decide to not have to talk to them any more if they say they aren't voting for her or if they haven't decided. Joel then comes in to talk to Nikki to reassure her that he is voting to keep her.
7pm Tim and Joel start working out in the backyard. Nikki asks Phil & Nick if they're voting to keep her. Phil says they'll let her know, they've let everyone know before the vote. Nikki says well let me know when you know .. I appreciate it.
Watch the Big Brother Canada 4 Live Feeds anywhere in the world with HideMyAss VPN.
Share it YO!!
Tweet