POV Holder:
brothers
Next POV
April 23rd
POV Used
?
POV Ceremony
April 25th
HOH Winner:
Cassandra's Dad
Next HOH:
April 28th
Original Nominations:
? and ?
Current Nominations:
Brothers and Niki
Last Evicted Houseguest
Paige, Sharry, Christine, Kelsey, Loveita, Dallas, Mitch, Raul, Maddy
Have Nots
Family members decided no have nots
Watch the Big Brother Canada 4 Live Feeds anywhere in the world with HideMyAss VPN.
ALLIANCES IN THE HOUSE
There will likely be a lot of alliances during the season – keep track, read our alliance help guide.
9:40am Hot Tub –
Joel, Kelsey and Cassandra are talking. Joel asks how many times did the jackpot go off yesterday? Cassandra says it went off 3 times in a row and then every hour. Phil joins them in his skunk outfit. Tim and Jared join them.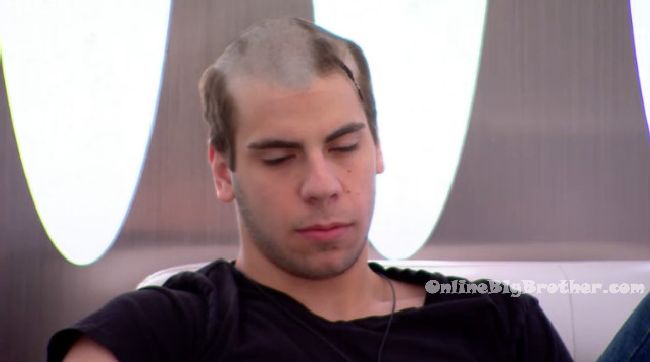 10:25am – 11am HOH room – Cass tells Kelsey its very important we set ourselves up for the next couple weeks. Me and you in the finale. Kelsey asks its Jared isn't it. Cass says I haven't made my mind up yet. Its going to be my decision. Cass says I know that if its you me and Jared in the end. Jared will take you and you will take Jared. I'm not stupid. I trust you 100%, I would never put you up. If you're on the block and I win the veto, I would take you off. If Jared is in the end everyone will vote for him. You'll see Jared in two weeks. Kelsey asks why would you get rid of someone that will fight for us to get every other single person out. Cass says this move if I do it, you will have no blood on your hands. Cass says if Jared is gone, Tim won't see you as a threat. Jared joins them and the conversation ends. He asks to talk to Cass alone. Cass says you guys didn't f**king compete in that veto! Jared says he was banking on it being a tie because the person with the most chips would win. He says the only thing he wasn't willing to do was shave his head. I didn't sit in that bath of eels for nothing. Cass says now I have the brothers coming after me. Jared says Kelsey and I will protect you. If I'm up and its a tie will you vote to keep me? Cass says against Nikki, ..ya. Cass says she knows Jared and Kelsey would choose each other over her. Jared says we all know it comes down to who wins that final competition. Cass says its between you, Kelsey, Joel and Tim. Jared says Joel is playing all of us. Cass asks do you have a deal with Joel? Jared says he has a deal with all of us. Cass asks who is best for my game to get out? Jared says Nikki. Cass says Kelsey is taking you to the final 2. Jared asks is she going to pick me over 100K? Cass says yes. Jared says well I better marry that girl because that's a nice person.
11am HOH room – Kelsey talks to Cass again. Cass says that Jared just confirmed to me that he would take you to the final 2. I wanted him to at least say there was a chance he would take me. Kelsey says we have one of the strongest competitors on out side and we know he will never put us up. Cass asks why don't I just put Jared up and then all he needs is two votes and I break the tie. Kelsey says Jared will go. Cass says I should have just put Jared up to begin with like I wanted to and then he would have tried harder in the veto and won it. The brothers would be going home right now.

11:50am The jackpot lights go off and chips fall for Cassandra to pick up (her punishment from the veto competition).


12:15pm Jared and Kelsey are arguing in the backyard. Kelsey doesn't understand why Jared didn't lie and tell Cass he would take her to the final 2 over Kelsey. She tells him she wants him to fight for his life.
1:15pm Hot Tub – Jared tells Kelsey I just couldn't ever look at her (Cass) again if I go out by her this week.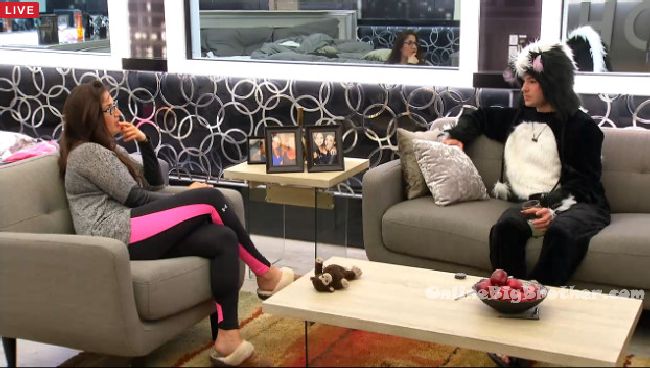 1pm HOH room – Phil comes to talk to Cassandra. Cass says I don't know if you hate me or if we can ever work together. I should have just put up Jared. Phil says I don't hate you. Cass asks what do you think should happen? Phil says I'll turn it around.. who do you trust in a final 4 situation? Cass says I've always trusted you brothers. I screwed up by putting you up this week. Phil says it was a game move. Cass says I realized I made the wrong choice in putting you up. I think there are people in the house that think they don't even have to win and didn't even try. (Jared) Phil says do what is best for your game. Cass says is Jared the biggest threat or is getting out Nikki who is a number for Tim. I'm not putting up Joel. Phil asks who would you put up next to Nikki? Cass says Jared. Phil says and then you decide who you want out. Cass says I am nervous about you and Jared teaming up and coming after me and Joel in the middle. Phil says Jared has pulled me in the last couple weeks which is good I respect that. I don't want to get involved, its your HOH. If I were you I would look into the final 4 or final 5. Cass says I've always wanted you, Joel, Tim and Me. Phil says then do that. Joel joins them. Nick joins them. Cass says I think what's best for us this week is that we get Jared out. Phil says do what's best for you. The brothers leave. Cass tells Joel they (The Brothers) cannot win HOH. She tells him he has to vote anyone else out over her. Joel tells Cass me, you and Tim are my top three. Kelsey will have no one. Cass says okay I'm going to do it. Joel says Tim and Nikki will have to keep winning. They're not as strong mentally and physically as Jared and Kelsey.
3:20pm – 3:50pm Tim tells Cass that Joel went into battle for you. He went into fight for us. The other people that are apparently in an alliance with us ..didn't. The jackpot goes off again and Cass gets up to clean up the poker chips. Cass doesn't find all the chips under the couches and so whenever she tries to leave the living room big brother tells her to go back. Jared comes out and Cass tells him about Big Brother not letting her leave the living room. Cass says I don't know why I'm doing this, I didn't need the veto.