POV Holder:
Dallas
Next POV
March 24th
POV Used
No
POV Ceremony
March 24th
HOH Winner:
JOEL
Next HOH:
March 24th
Original Nominations:
Kelsey and Raul
Current Nominations:
Kelsey and Raul
Last Evicted Houseguest
Paige, Sharry, Christine
Have Nots
Tim, Raul, Kelsey, Jared
Want to watch the Big Brother Canada 4 live feeds but live outside of Canada?
Bypass the geoblocking with HideMyAss VPN and be Canadian Anywhere: VPN Help Guide
ALLIANCES IN THE HOUSE
There will likely be a lot of alliances during the season – keep track with our alliance help guide.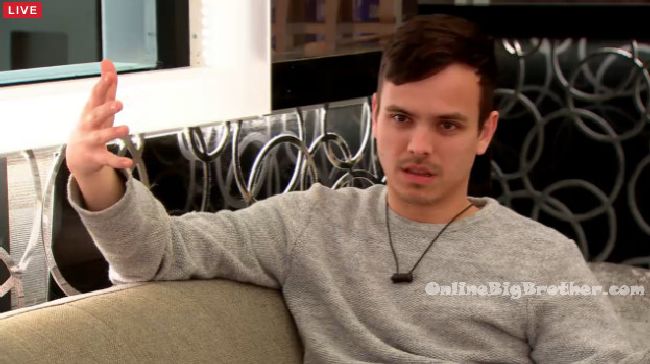 Power Of Veto: Not Used
10am – 11:50am Big Brother blocks the live feeds for the power of veto ceremony to take place. When the feeds return – HOH room – Joel says that people like Raul but people don't have the closeness like they do with Kelsey. Mitch says that's why people might keep Kelsey over Raul. They're marginally the same in terms of competitions. I think its the better decision. (To get out Kelsey) Joel says Kelsey is clearly going after Loveita. Mitch says and people want that. If we're trying to protect Loveita they're probably going to nominate her. Joel says I don't think Loveita would put us up. Mitch says in some ways Loveita made this for herself. She set it up last week to be neutral and then now this. People talk about you being with Loveita because of how much time she spends up here. Mitch says his concern is if people are after Loveita and she wins the veto ..are we the next in line to go up. Joel says that concerns him too. Mitch says no one should have an influence in decisions. Loveita joins them. Mitch tells Loveita we should be careful because the more people see you and Kelsey fight the more they will want her to stay. Mitch says its best for our group for Kelsey to go. Kelsey is never going to forget. Raul is like whatever. Mitch says we shouldn't be seen having long conversations during the say.

11:50am Storage room – Phil tells Jared if Kelsey goes you will probably form something else .. which isn't a bad think if I'm involved. Jared says he doesn't want to be involved in the decision. I would rather its just split and then let fate decide. Phil asks what do you want me to do? Jared says I want you to do what's best for you. Phil says I'm not against you. I'm not going to put you up. I'm not scared of Kelsey or Raul. Jared says he is really confused with Cassandra. She yells at Loveita and then spends an hour with her. Same with spending time with Dallas. Kelsey Nick and Raul join. Kelsey says if I leave I would be proud to see you all stick together.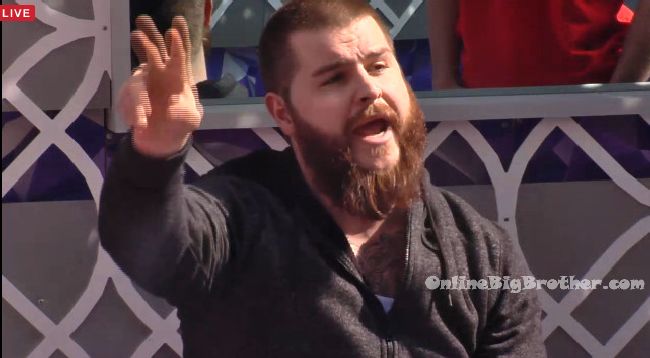 12pm – 12:25pm Hot Tub room – Dallas tells Phil your game is exposed. You're playing both sides of the house. You're not at the top of my totem pole. Phil says we're not playing both sides. I talk to everyone on a human level. Phil and Dallas start getting heated and Tim and Cassandra leave because its awkward. Dallas says that information he's told Phil has gotten back around to him. Dallas says I think Canada is mimicking the US season and by jury you will become two. Dallas comments on how there is a blank spot on the backyard wall for another house guest and he thinks its for when Phil and Nick split. Phil says well if we do spilt make sure you're on my side then. Dallas says there's going to be another twist. Phil says there might be a twist where we spilt but Dallas if I win HOH next week I'm not putting you up. Dallas says I have to get rid of Jared first. I can't go picking fights with everyone in the house. I am kind of intimidated by your game. Dallas says big brother gave us you brothers for a reason. There's a twist waiting to happen. Phil says there probably is a twist waiting to happen. Lets just let it happen. Phil is annoyed that Nikki is telling people that she thinks the brothers got a secret power of veto when they had the 24 hour solitary in the high roller room. Phil says when there isn't a twist with us everyone who said it is going to feel like a f**king ret!rd…. I mean stupid.
12:35pm – 12:50pm
Phil then goes and confronts Nikki for saying they know something about the high roller room. Phil says that it puts the seed into other peoples heads. Its make it seem like you're not with us if you're saying things like that. Phil says you said for sure they know something. So you don't trust us. Nikki says I had no idea a passing comment was going to have such an impact. I don't give a f**K what happens in this house!! I don't give a sh*t! I realize how important this is to you. Tim says your asking Nikki to take your word as gospel. Phil says I hope everyone would. Tim says on his season there were sisters that played as one and they never split. Big Brother put two people in that are one and so its supposed to happen for people to speculate about it. Phil says its all good. Nick says you can all think what you want to think we just want to be able to voice our opinion. Dallas says each and everyone of us has had our names brought up. Nick says whatever I'm over it. I love you guys all. I have respect for everyone here. Phil says sorry guys. Dallas says nothing to be sorry about, I would have done the same thing. If anything Big Brother f**ked you with this negative handicap.
Nick and Phil talk about the confrontation. Nick says good job. Phil says it felt good. I was so baller. Nikki says sorry. She speaks before she thinks. I'm only going to be here for a week or two more. I'm sorry that I don't take this as serious as everyone else does. This is a serious game and I've got to realize that. Phil says we love you it just hurt to hear you say that. Nikki says I love you too and we'll be friends after here which is more than I can say about most of the people here. Phil tells Nikki I would take you to the final 2. Nikki says oh don't say that. I just feel awful. I don't deserve that love I have to learn to keep my mouth shut. I f**k up at everything I do. Don't listen to anything I say. I know nothing. I'm going to make it clear that it was just a theory. I'm not going to make any more speculations. Please don't be suspicious of me. I'm your friend and you have my loyalty. Nikki says there's a few people I would want to be friends with outside of here. Both of you, Tim, Mitch, Ramsey also I think .. and Joel.


1:05pm – 1:15pm Dallas tells Maddy about how he confronted Phil about playing both sides of the house. Maddy says I think its Loveita manipulating Joel. Dallas says I don't know if I make a big deal about it or not. Maddy says I don't think we confront Joel, I think confront Loveita. Dallas thinks they should get them both in a room together to see which one give a facial expression. Like you didn't tell me but I know, you know. Maddy says he (Joel) seems to be defending her. Dallas says There is one snitch in that crew, man! I don't know if Jared would have gone back and told them (The brother – about Dallas's theory about there being enough space on the backyard wall for Nick/Phil when they spilt.) Dallas says it could only be 1 of 3 people. (Jared, Joel, Loveita)