POV Holder:
Dallas
Next POV
March 24th
POV Used
No
POV Ceremony
March 24th
HOH Winner:
JOEL
Next HOH:
March 24th
Original Nominations:
Kelsey and Raul
Current Nominations:
Kelsey and Raul
Last Evicted Houseguest
Paige, Sharry, Christine
Have Nots
Tim, Raul, Kelsey, Jared
Want to watch the Big Brother Canada 4 live feeds but live outside of Canada?
Bypass the geoblocking with HideMyAss VPN and be Canadian Anywhere: VPN Help Guide
ALLIANCES IN THE HOUSE
There will likely be a lot of alliances during the season – keep track with our alliance help guide.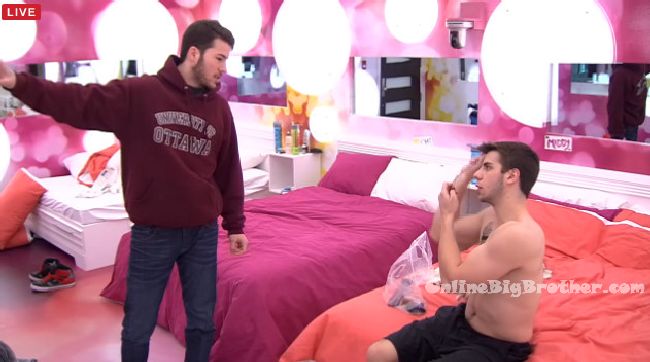 2:55pm In the bedroom – Phil tells Nick we're going to have a 4 person alliance. Raul, Jared, Mitch and us. And there's Kelsey and Tim. Nick says Dallas will die one of these days. Phil says oh yeah. Nick says this gives up the perfectly good reasoning to put him up on the block. Phil says and he said he wouldn't put us up.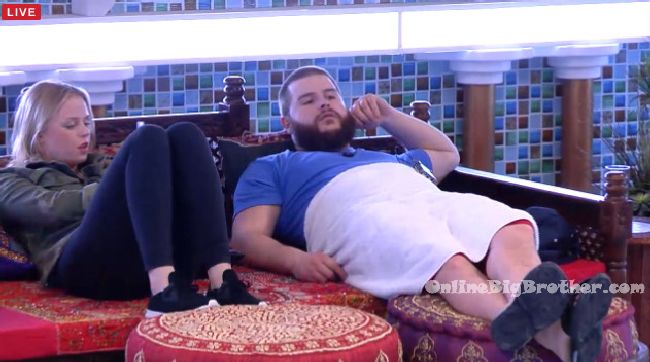 3:25pm By the pool – Dallas says I don't want to win another competition. Three competitions in one week is not a good look. Maddy says can you imagine if you and Jared had won and had to do rock/paper/scissors for who wins it. Dallas says yeah that wouldn't have been good. Dallas says he doesn't want Jared, Raul or Mitch to win the next HOH. Or Phil now. Maddy says I think if I was put up on the block with Loveita, I think I would win. Dallas says yeah. Maddy says Cassandra is so strange. Dallas says I think I'm on board with getting Kelsey out of here for sure. Maddy says yeah bye bye. Dallas says I want to get Loveita out. …I'm biting off more than I can chew at this point. Dallas says his chopping list is Jared, Raul, the Brothers and Loveita. I have a funny feeling that Ramsey is going to start stepping it up. They agree he's good in the competitions. He has no poison in his body.. no drugs, alcohol or cigarettes. That goes a long way. Dallas says that last night he saw just a different side of her (Loveita). She was talking to Joel and Mitch about how all her friends at home are seeing the real Loveita come out. They think someone else will put up Loveita. Maddy thinks Jared would. Dallas says Jared wouldn't but Kelsey would.

3:35pm Hot Tub – Ramsey tells Cassandra that when he told her he was voting her out and she took it like a champ. He says that shows him he can work with her later. Cassandra says you always say what you will do and that's commendable. Ramsey says I like what you do by coming up to me. I respect that. If I ever hear anything about you. I'll come to you. Cassandra says I will come to you. Ramsey says people like Tim and Nikki.. I never know where there head is at. Tim and Nikki join them.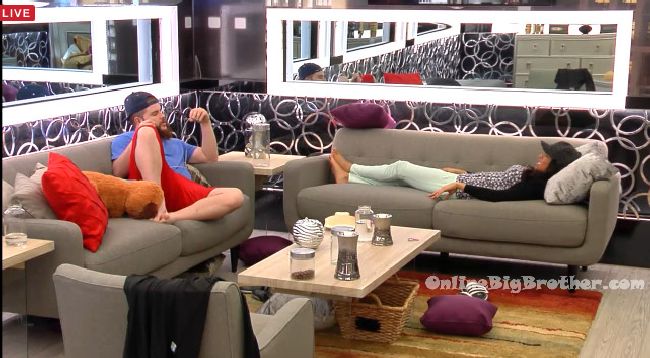 3:50pm – 4:55pm HOH room –
Loveita tells Dallas that she isn't going to fight for either side. You can vote how ever you want. Dallas says I told you two about the cards in the backyard and it got back to Phil. Loveita says I didn't tell Phil about that. Dallas says that Phil said to me I know you, Joel and Loveita were talking about the cards last night. Loveita says bring them in here and I'll tell them I didn't say anything. Loveita says I have nothing with the brothers. Dallas asks so it was Joel then? Loveita says I have nothing with the brothers. No nothing. Bring them in here. Loveita says that everyone has been talking about the cards (Backyard House Guest Photos). Why are they making a mountain out of nothing. Dallas says just so you know you can't trust them because they threw your name out pretty quick. Loveita asks did they really?! Lets all go downstairs and confront them. Dallas says its not really a big deal. Loveita says like I said to you I'm not playing the secrecy game. Its all out in the open. I've got your back. Me and Joel have made a decision where we lie. You have me and Joel locked. Our game got blown up. Dallas says if I'm the 6th vote (to vote out Kelsey) then I'll make it happen. If you guys all came to me and said you want Raul out, then I would vote him out. Loveita says Jared and Kelsey have no chance at making a deal with me. I'm not playing that game any more. Dallas says as long as I'm in the house, you'll be in the house. I'll go down swinging. Dallas asks if Jared has ever lied to her? Loveita says she thinks he's untrustworthy because everyone else trusts him. Loveita asks can't people see integrity!? Dallas tells Loveita that Jared and Kelsey told me when you were HOH that Maddy was going to to up. Loveita says that never happened. They're liars. I don't trust them. Zero trust! To make sh*t out of water! They're liars!! They're my targets! I want all of them out so the house can reset. I'm not a fake person so if this little girl Kelsey and J-rod want to go around messing with peoples heads ..literally throwing out straight lies .. sick to me! They've got to go. Now that they've tried to talk to you about lies and I know the blatant lies they just said!
5pm – 5:15pm Loveita reveals to Dallas that she might have agreed with Jared/Kelsey saying she should put up Maddy just to close off the conversation. She says that she also remembers saying to Ramsey that she doesn't know where Maddy is at because she never talks to her. Dallas catches a mosquito and runs into the house to give it to Tim/Cassandra's spider marinara. They feed the spider and he eats it. Cassandra tells Dallas she loves him. Tim says if it came up that you were on the block he would.. Cassandra says if you were on the block and I won POV I would use it on you. Tim says don't say that he might hold you to that.
5:30pm Hot Tub room – Dallas tells Kelsey and Jared that this week he is waiting to see how the house is voting. He says he would love to see a majority vote. Dallas heads inside. Kelsey and Jared talk. Kelsey thinks its better for Jared if she goes home.
Dallas tells Loveita that she needs to start being nice to people because people don't want to put up with the sh*tty attitude. .