POV Holder:
Nicole
POV Competition
Aug 27th
POV Used
NO
POV Ceremony
Aug 29th
HOH
Nicole
Next HOH
Sept 1st
Original Nominations:
Paul AND Big Meech
After POV Nominations:
Paul AND Big Meech
Have Nots
Corey and Victor
Care package
Corey
Nicole did not use the veto the nominations stayed the same…
Watch the next week of the feeds for FREE – 1 week Trial!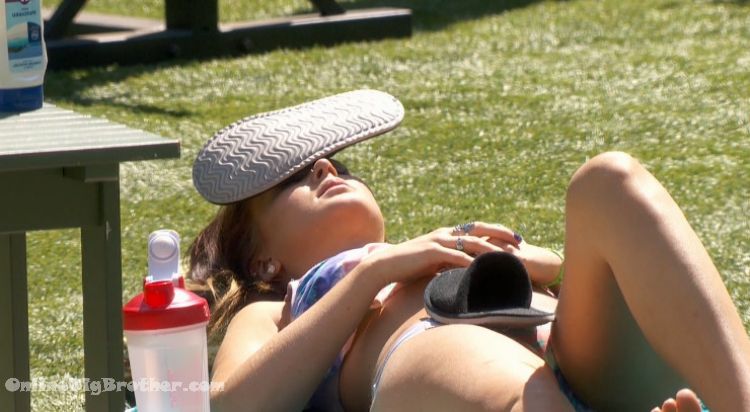 11:17am Meech doesn't have sunglasses…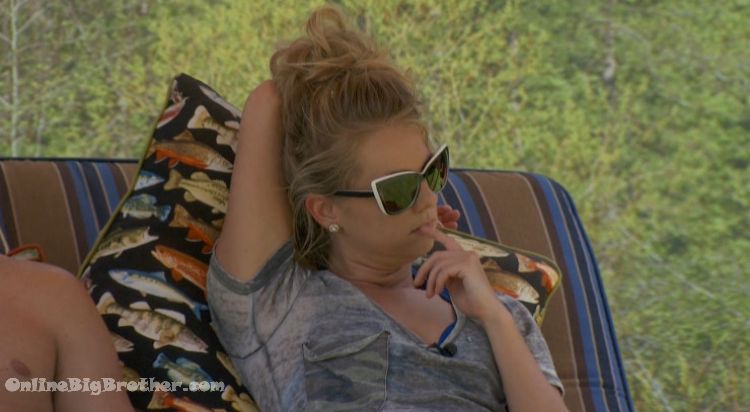 1:00pm Backyard Corey and Nicole
Corey – thoughts on the bribe do I use it on Vic… He's acting like he would never vote him out (Paul)
Nicole – he's very happy today I kept him off the block.. He said the deal is sealed..
Nicole – I'm just hoping they are really on our side
Corey – I think they are
Nicole – what if they are not
Corey – they are
Nic – James is kissing butts hard … Vic has a reason to go after James James has a reason to go after Vic..
Corey points out last 2 weeks they were doomed.
Nicole – if Paul was my target why would I want Victor after me too..
Corey – why would Victor vote Paul out.. Then it's them 4 vs us 2..
Corey – those 3 will gang up on hom.. He will literally need to win every comp
Nicole – yeah cause they have all the votes.
Corey – his bet is to have a sidekick like Paul
Corey says Victor having three chances, says his game wasn't good enough to keep him from being evicted..
Corey – he's dominated in 1 of the 3 categories.. We have done good in Social game, Competitions and really really well strategically… we're hitting on all 3 cylinders he's hitting on 1
Corey – I only need 1 time to win this game he needed 3 times to win this game.. Who are you going to pick.
They agree Victor is the most loyal person in the house.
Nicole – he's exactly how Caleb was.. I couldn't even get Caleb to see the big picture.. I wa slike they are using you to get me out.. He was like NOPE i'm ride or die..
Nicole – you and I are by far the most strategic in this house.. We have gotten out of some bad situations.. You have got us out of some bad situations..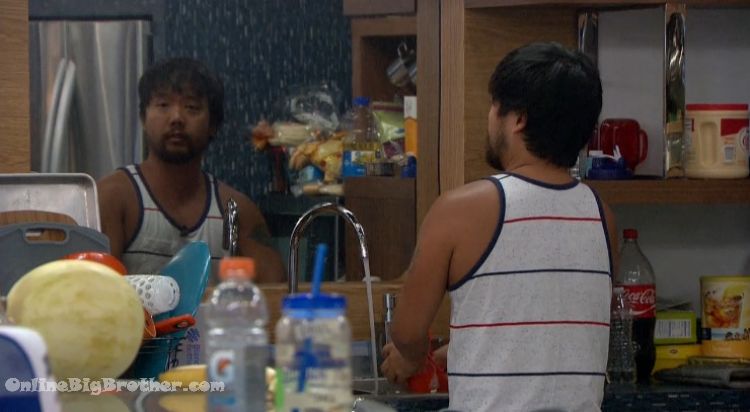 1:20pm Kitchen James, Victor and Paul
Paul asks James if the double is this weekend.
James – i'm about 99 percent sure.. 99.9999999 percent sure and in the DNA test that means you are the father.. (what a champ)
James says there's no way they are goign to do a Double eviction after 21 days left in the game.
James – by Thursday there will be 5 house guests left in this house.. all it comes down to pretty much is vetos..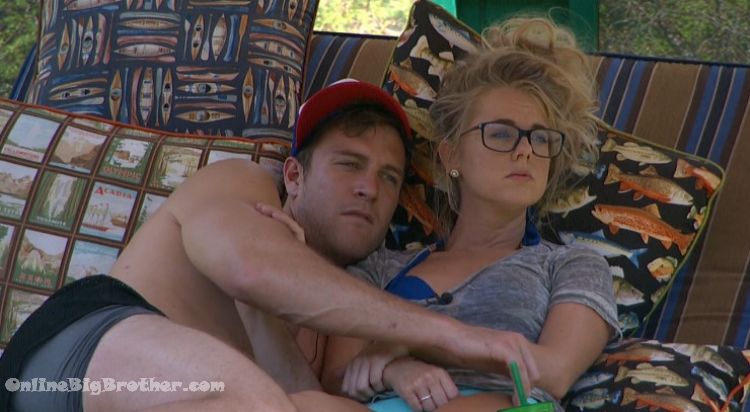 2:05pm Nicole and Corey
Nicole going on how it's not fair that one person saw what the Drone said and haven't told them what they saw.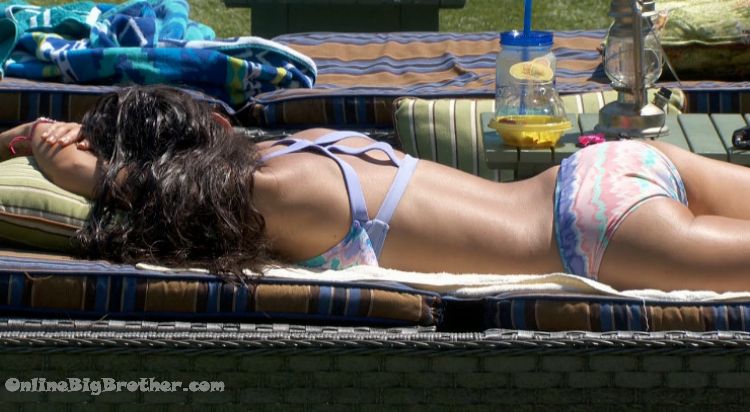 2:05pm Still Natalie fan under special circumstances :)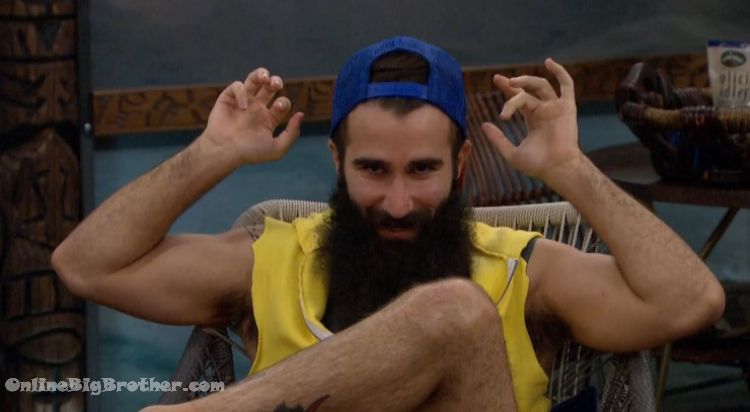 2:15pm HOH Paul and Nicole
Nicole saying James is trying to put someone in her head.
Paul – he's doing something with you and something with me
Nicole – he's trying to get me to seclude myself with Corey..
Nicole is worried that James is trying to work with Paul..
Nicole says the Jury is mad at james based on what they jury members told Victor during the COmp (get James out or don't trust James something like that)
Paul tells them that James and his girls with Michelle tried to get him out of the house. He saved himself and they all got pissed from it.
Nicole – he's trying to get super close to you
Corey comes in .. .
Paul – he's being weird dude.. (James)
Paul going on about James telling him about the doubt eviction being important and the person that wins it better make a strategic move.
Paul adds that James keeps telling him how great the Jury house will be.
Paul says he's going to turn to James before the HOH "You and Natalie better win cause I'm putting you up"
Paul – I know he's not that tough..
Paul explains that during the HOH last week James was suffering.
Nicole – I thought he was going to stay up for 5 hours..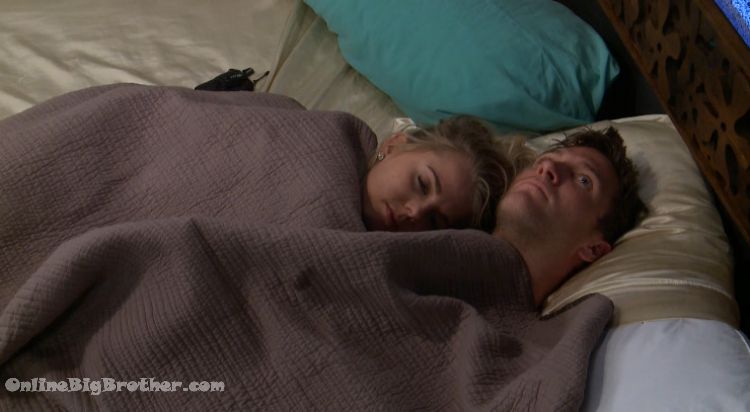 2:28pm Nicole and Corey HOH
Corey suggesting they bribe James to throw the HOH and they will let Victor take Natalie out.
Nicole – I want to do what i need to do to get to final 4..
Nicole says James will not be good with Getting Natalie out.
Nicole – he's throwing the game away for her.
Corey – so what you are saying he won't throw the comp .. .so bribing someone isn't an option
Nicole – the way you are going about it is the wrong way.. He won't be OK with Natalie goin home.. If someone approached you with 5K and said I was going home..
Corey says he wouldn't do it
Nicole – not only would you not do it you would blow it up..
Nicole – I don't want to team up with James and Natalie right now they are the weaker side.
Corey – you turned down the whole Vic thing now
Nicole – it's a good plan I didn't turn it down.. Not sure if it's needed..
Corey – f*** 5 thousand dollars it's so stupid..
Nicole – just cause I saw something once done take that crap serious…
Corey – I know Nicole… I'm just throwing ideas around..
Nicole says James has the biggest mouth in the house beside Michelle if they try to bribe James he will blow it up and it'll come back to bite them. If it goes south they will end up alone.
Nicole doesn't see James being loyal to them ever. Nicole says if Corey words it that he's going to make is look like he's working with Vic and Paul James will blow that up.
Nicole – nobody will throw that comp..
Corey asks if someone has ever votes out their best friend in the game.
Nicole says nobody in Big brother history would vote their best friend out of the game.
(Sounds like they are undecided about how to use the 5grand. Corey wishes he didn't have it. they both wish Paul and Victor had won it to make this week easier on them. LOL another failed twist CBS. why not try a season without 400 failed twists eh? )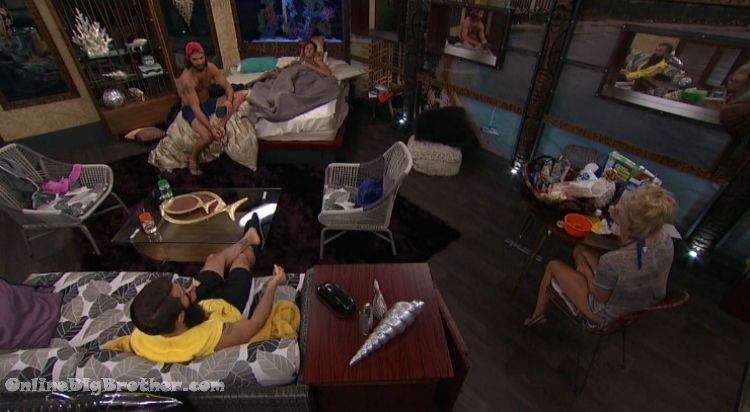 2:56pm HOH bunch studying Corey, Nicole, Paul and Victor
Talking about how Natalie has done nothing in this game James has kept her safe she was only on the block 1 and is making is sounds like she was on the block 3 times.
Corey and Victor points out she always plays the victim.
(They forget her roll in getting Paulie out)
They laugh at Natalie still denying she didn't want Paul out last week.
3:08pm "Final 4" continues to study dates while Natalie, James and BIG F&&&&G motha F***** MEECH sleep.
Nicole wants them to practice tonight for 2 hours she'll come up with questions and quiz them.
3:17pm HOH Victor and Paul leave Corey and Nicole.
Nicole tells Corey "I'm not going to help them study.. I know so much more than they do"
Nicole – don't correct them.. don't give them any have not information.. be careful
Nicole says the guys are all faster than her she needs a little bit of a edge for when they play that final 4 competition.
Corey says they want Victor/Paul to win during the double
Nicole wants them to win during the double but not during the final 4.
Nicole says she's goign to quiz Corey to make sure he wins "Before or After" during the double.
Corey – you made it pretty obvious you don't want to help them right now.. I'm like Nicole stop .. well you go them out pretty quickly
Nicole – you think they are coming after us
Corey – no.. I'm not worried about it BRAH
Nicole is worried now that Victor and Paul will come after her because she asked them to leave the HOH so she could take a nap.
Corey – you are being super paranoid
Feeds cut.. 3:27pm when they come back Nicole is sleeping..
4:12pm All 4 feeds show Meech sleeping..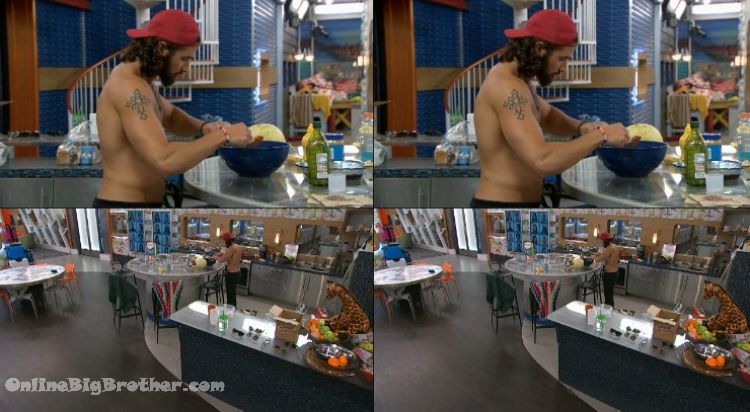 4:21pm James and Victor
Victor is baking slop muffins. James is lurking around being strategic.
James – wow america's care package.. 5 thousand dollars..
James wonders if Corey will use it or if it'll be a waste..
Victor doesn't know what Corey's plan is.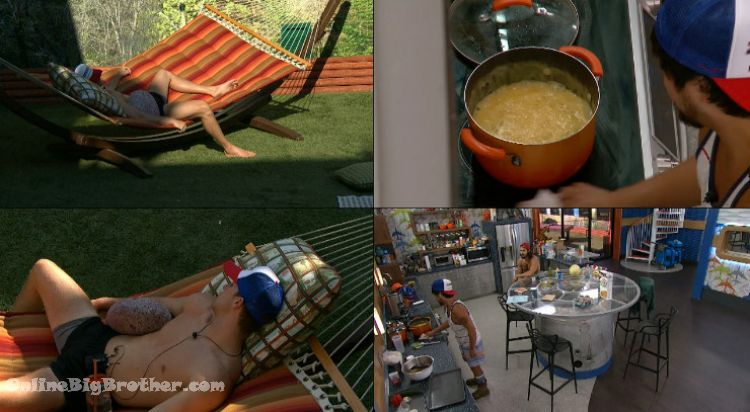 4:42pm I hope there's not rice in there James cause that'll be your head.
(really nothing going on)
Show your support by making a donation.
Donations support this site more than anything. If you dig our spoilers please find a way to support us.