POV Holder:
Nicole
POV Competition
Aug 27th
POV Used
NO
POV Ceremony
Aug 29th
HOH
Nicole
Next HOH
Sept 1st
Original Nominations:
Paul AND Big Meech
After POV Nominations:
Paul AND Big Meech
Have Nots
Corey and Victor
Care package
Corey
Watch the next week of the feeds for FREE – 1 week Trial!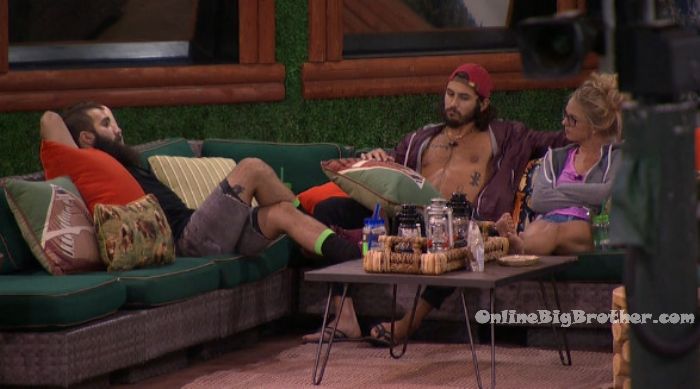 7:50pm Paul, Vic and Nicole are talking. Paul is talking about his Dead Scull apparel and how before coming in here he invested all his money into it. Nicole asks him about his best selling shirts. Nicole tells him that she will definitely post his video on her social media. Paul says he will continue doing it until people stop buying it. I do with my company what I would want others to do with theirs. It's scary being in here and no knowing what is happening with it. Nicole reassures him and says she's sure its fine.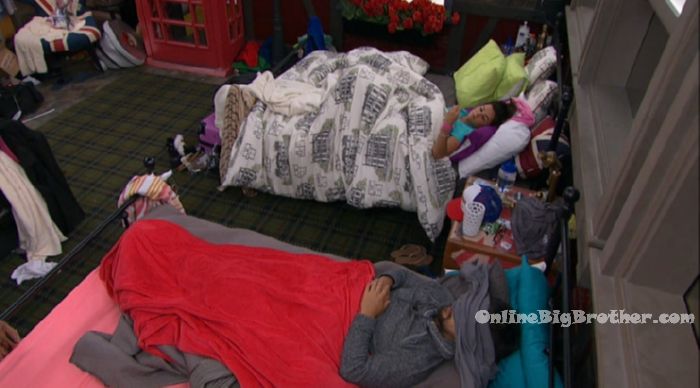 8:20pm – 9pm Nat and James are talking in the London room. Nat says that Meech studies all the time. She studies when she lays down. That's what I did today. Nat starts reciting the days they received the care packages. Nat says its very smart on their end to link up with a strongest person. James says when you have one going home on his side it won't be 3 on 3 it will be 3 on 2. Nicole knows .. she knows deep down that I won't try to take her out. Nat says Nicole knows for a fact that you're not coming after her. James says she knows that as long as there are people inside this house besides her and Corey, I'll go after them before.. that's what she thinks. If there's Victor in the house and even Michelle she thinks I would put them up. Until it gets down to the final 4 that's when we will start taking jabs at each other. If they don't have to do it .. if they can get Victor to do it. Nat says that's what they're having everyone else take jabs at everyone else. They're trying to do that with Victor.
9:10pm Hot Tub – Paul, Nat and Meech. They talk about random things and past seasons of Big Brother.

10:15pm – 10:25pm HOH room – Paul joins Nicole and Corey. Nicole asks do they think you're the target, she's the target .. what? Paul says no one is saying anything. The only thing that Michelle said in the hot tub is that if she goes this week she is so mentally clocked out that she doesn't even care. She might just be over it. Nat and Michelle were talking about how they don't feel good about themselves. She might be laying low till Wednesday/Thursday.. and then drop a bomb. Or maybe she is done. She did say that she is mentally clocked out and done. I'm not over thinking anything because I'm not trying to get myself paranoid. Nicole says for being a super fan of the show she really doesn't do much. They end their conversation and Paul leaves.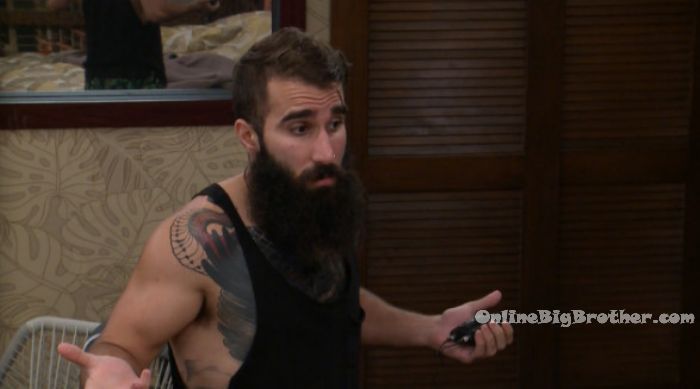 10:40pm Hot Tub Meech and Nicole are talking. Nat says I just want a girl to win. I need you to stay here this week. Paul is stronger in mental and physical comps. Meech asks have you talked game with Nicole? Nat says no. Meech says I think its a good thing that we're not because I don't want you guys to be campaigning. Nat says when the time is right. We just need you to stay cool. Meech asks am I doing good? Nat says you're doing amazing. Nicole asks was Z the one that spread the powerfuff girls? Paul says yes. Paul leaves. Nat and Meech talk about Corey and how he doe so many different things. They think he is an ex-professional baseball player. Nat and Meech start studying.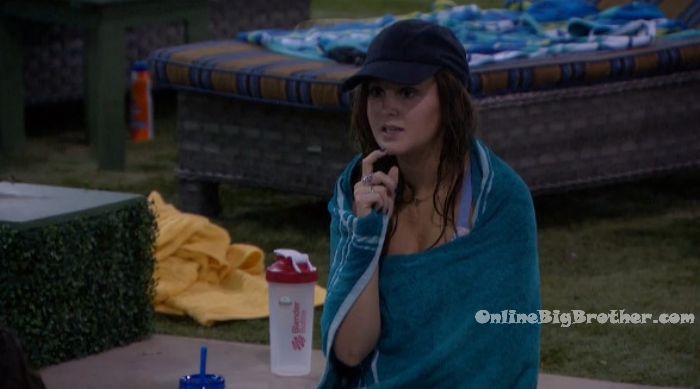 10:45pm – 11:20pm HOH room – Corey is telling Nicole and Paul stories about skiing / snowboarding.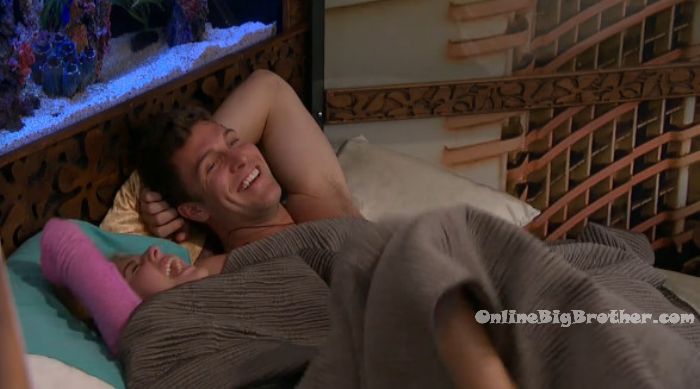 11:35am – 11:40pm Nicole is listening to her music in the dark. Corey comes back from the diary room. Nicole asks is this the right decision? Noms stay the same? Corey says yes.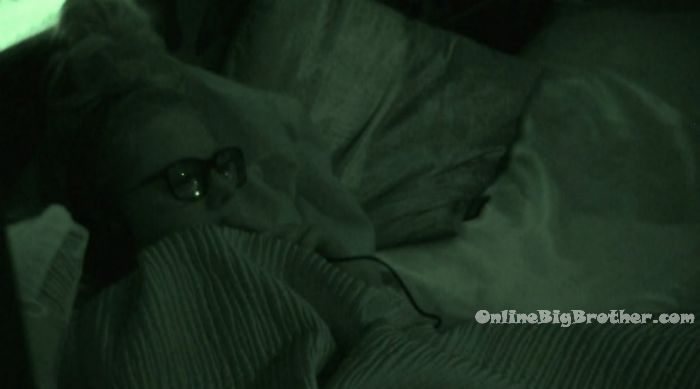 12:05pm – 2:40am
In the kitchen – James is asking Natalie and Meech questions about the season. Meech is getting most of the questions right. Natalie is a lot slower at coming up with the answer. Meech, Natalie and James head to the bedroom. Meech says I've got the mental comp in the bag because Victor has gaps and Corey doesn't know crap. James says Corey doesn't study. James says we need to study until Thursday. They start asking each other questions again. James tells Nat and Meech if they win HOH they would have to put up Corey and Victor. If one of them come down you put up Nicole and then we vote out Corey. Meech says I think Nicole. James says no because if you take Nicole out .. Corey and Victor would be like this! You have to take Corey out but if Vic can go you take him out. Meech says if Corey goes in the double .. Nicole isn't going to play well. They start talking about past events of the house. Like when Victor nominated Meech and chucked beads at her. Zingbots zings. The fights they had with Paulie. Meech says fans will diagnose us all with some kind of disorder.. they have the credentials.. they've taken Psych 101.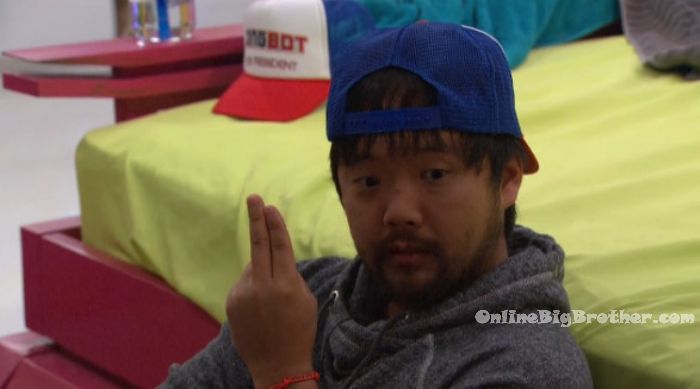 2:55am – 4am Paul, Vic and Corey playing pool in the backyard. Corey heads inside. Paul is worried that the other side is so comfortable. Vic says because they don't know what is going on. Nat and James aren't on the block and they probably don't care about Meech. Paul says I think I'll have a talk with them the day before. Like lets study. They continue to play pool and then head inside.

4am All the house guests are sleeping..
10:35am Feeds on Jeff for POV Ceremony.
There was some conversations with Nicole, Victor and Paul about why James, Meech and Nat haven't talked to her about the POV yet. they suspect after the noms are locked the campaigning will begin.
11:15am POV was not used. nominations stay the same.
Updates will be coming this afternoon..
Show your support by making a donation.
Donations support this site more than anything. If you dig our spoilers please find a way to support us.
"BB BRIBE"
WEEK 5 – August 25 to August 26th
The winner gets $5,000 to bribe one house guest. Bribes my influence voting, competitions, vetos or nominations. The bribe can only be given to one house guest, for one action, within the week leading up to the next eviction.