POV Holder:
Nicole
POV Competition
Aug 27th
POV Used
NO
POV Ceremony
Aug 29th
HOH
Nicole
Next HOH
Sept 1st
Original Nominations:
Paul AND Big Meech
After POV Nominations:
Paul AND Big Meech
Have Nots
Corey and Victor
Care package
Corey
Watch the next week of the feeds for FREE – 1 week Trial!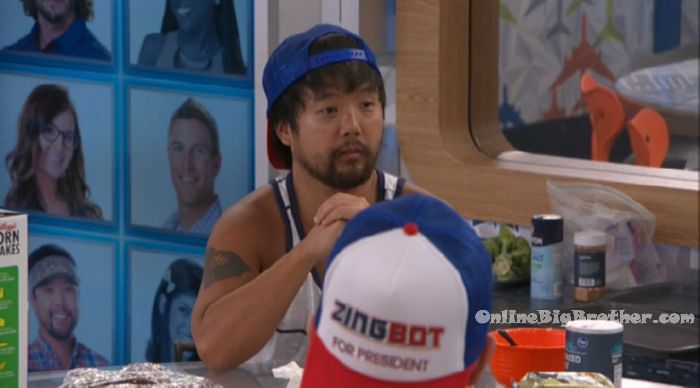 5:10pm In the kitchen – James is telling Vic and Corey all about what its like when they get out. He says its overwhelming. At the wrap party everyone is coming up to you with their phones and guess what they want. Pictures. Once you get your phone back you'll be on it till 5am. When I got back to my hotel room I was just like a girl on my phone. The conversation turns to talking about BB Bribe. James says if he hadn't won the 5G's it wouldn't temp him to drop out of the HOH for the bb Bribe 5G's. ..but 5G's plus 5G's that's 10G's plus the stipend.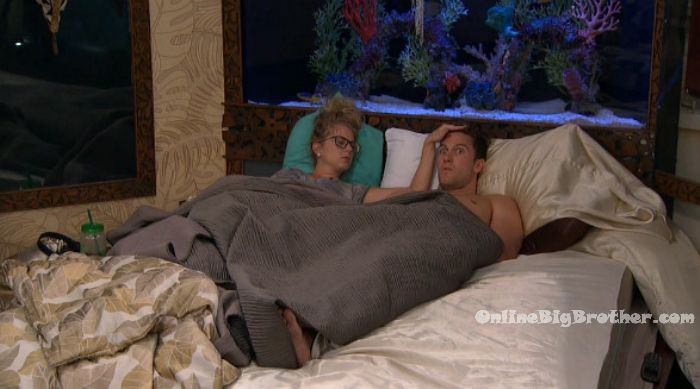 6pm HOH room – Corey and Nicole. Corey tells Nicole that he was talking to James about the 5Gs. He wants me to give it to him to throw the comp. Nicole asks seriously!? Corey says legitimately. Nicole says do it! Corey says I probably will if he's serious about it. He's like its going to be a mental comp that he's not good at and if he goes up he say he might as well go out with another $5,000. Nicole says wow! Does he know Paul is staying? Corey says he has to know. Nicole says well then its awkward, I would rather talk to him. I don't want him to think I'm being an idiot and lie to his face. It still could be a toss up at this point. If something goes really bad and I think I need Paul out I might ask you to switch your vote and vote out Paul. Things change like this. Corey says I would just hate to offer James that .. Nicole says offer it now. I can't see him taking that. Corey says he's a much smarter player than that to just lay down. Nicole says he's building this picture of weakness to you guys. Corey says I'm scared to offer it to him and then he's going to know. Nicole says why not just be like do you want to do it. Corey says I want to talk to him and say if you want this .. I have to use it. Just know that if Vic or Paul win you'll go up so I'm not going to sit here and try to get you up on the block but if you know that .. take the 5K. I'm going to try and win it. Or do I offer it to Vic and make sure we have the votes. Nicole says wait till Wednesday. Corey says we didn't put up him and Natalie this week so that should mean something to them. Nicole says if they're just trying to get through this week like we did or if they're actually committed to us. And my feelings are going to be really hurt if I could have taken out. Like who I really wanted to take … no I really want to take her (Meech) out. I just don't want to get our hope up and then you and I sitting next to each other on Thursday. If I could take one thing out of this game it would be the double eviction. Corey says I am confident that even if I didn't win it that we would still stay. I would be shocked if one of us leaves. Nicole says I would be too. We should be good. We have the votes. Corey says if I was sitting next to Nat I don't think Paul or Vic would vote me out over breaking up James and Nat.
6:45pm – 7pm James asks on the last double eviction when did they close the doors (Back door). Nicole says on Tuesday. James says they're probably going to close the door tomorrow. James heads outside and plays pool with himself. Corey is working out. Nicole lays on the hammock and tells Corey that if she could watch anyone in the world workout it would be him.
7:10pm – 7:35pm James and Meech. James says whoever wins double eviction .. who would be the best person to go home? Meech says I think Nicole. James says that leaves Corey and Vic to team up. Meech says She is the brains behind them. Corey is going to be a lost puppy with out Nicole. Vic will be lost without Paul. James asks you're trying to take out the brains. Meech says yeah. James asks don't you think Vic and Corey teaming up would be a big threat. Meech says Corey never really liked Vic. I don't think he's in it to win in. James says that;s why you take out Vic ..there's going to be another endurance comp. We can beat Corey. Meech says I am calling it now Nicole is going to be in one of the final 2 seats. Nicole is just going to keep not being seen as a threat. She just proved she can do endurance. She can do mental. James says it would be good to get Nicole out during the double. Meech says that's what I'm saying. I think we get Vic out the next HOH and then Corey. I really think we'll be kicking ourselves if we don't get Vic out. James says the only ones that will be able to beat Vic is me and Nat. I can beat Corey all day long. James says we really need to win this… if its a double and we lose.. one of us will go home. Meech says yeah but what if Paul stays… that would suck for you guys. James says he's going home. You've got block paranoia. He's (Paul) is the target. James tells Meech to study. He then heads to the London Bedroom to nap.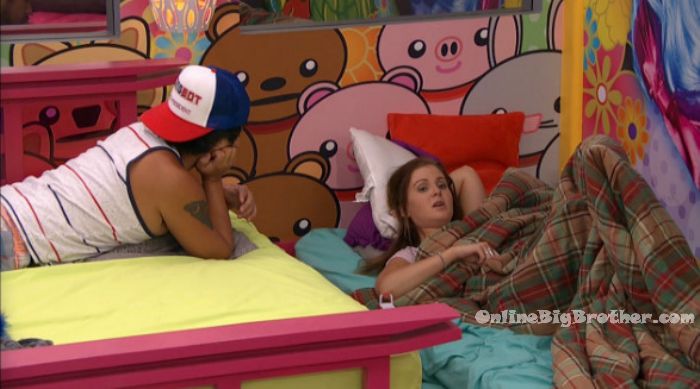 7:40pm – 7:50pm In the kitchen – Nicole keeps asking Corey what's wrong? Corey says nothing. Nicole says you're acting weird. Corey asks how? Nicole says I don't know. I just know you. Vic joins them and talks about protein. Corey heads back outside. Vic asks Nicole are you guys fighting? Nicole says no. He's just acting weird. He acts weird when he's on slop. Nicole heads outside and tells Corey she knows he acting weird. Just tell me if something is wrong. Corey says nothing's wrong. What are you thinking? Nicole says nothing. You're acting weird. I don't believe you. Corey asks what would I have to be mad at? Nicole says I don't know. Corey says then if there is nothing for me to be mad at then there's nothing wrong. If you did nothing, there's nothing I should be mad at. Nicole says AHHAHAHHHhGHGHGHGH boys suck. Corey says girls suck. Vic joins them.
Show your support by making a donation.
Donations support this site more than anything. If you dig our spoilers please find a way to support us.