7:52pm Havenots Kalia and Porsche They are sizing up Shelly's and Adam's ability in comps.. They think both will be awesome and questions but crappy at physical comps. Porsche points out how much Adam has improved.
Porsche says that Shelly is a Big Brother superfan, "notice how the first week you could ask her and Adam anything about BB… but that all seemed to stop once people started talking about her and Big BRother "
Porsche says their side made some huge mistakes, they got rid of 2 players that could of used. Porsche and Kalia start to unravel what went wrong this season. Kalia thinks the mistake started with them trying to backdoor jeff when Dom was on the block. Kalia: "Dom was safe Adam was suppose to go home" Porsche brings up Them putting Lawon up was pretty stupid. When they lost Lawon they lost a vote and when they lost Dom they lost a competitor.
Kalia is saying that the whole plan to backdoor Jeff was too early..
8:06pm Kitchen POrsche, Dani and Adam
Porsche tells them her DR zinger: "Rachel says no one comes between her and her man but if i'm second in the Jury She won't be going down the aisle"
8:17pm Dani and KAlia
Dani calls rachel a floater (Drink) says that she was offering deals to Dani when she was HOH and now that the power has shifted she's moved to JJ.
Kalia mentions that told told Rachel she was surprised she's so chummy with JJ because they voted Brendon out.. Rachel explained to kalia it was because JJ didn't want to go back on the house. Dani thinks rachel is a floater if KAlia had won the HOH rachel would be hanging out with them playing nice talking shit about JJ.
Kalia she wants to try and talk Jeff into keeping the nominations the same she thinks they can get the votes..
Dani says if she goes up she has no chance to stay.. Everyone is acting "super sketch" Dani feels they will take this opportunity to take her out.
Kalia warns dani about Shelly. Dani knows she doesn't tell Shelly anything.
8:54pm Shelly thinking up her next 50 lies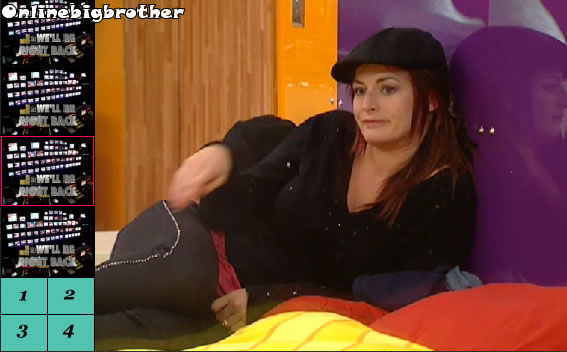 9:00pm Rachel, Porsche and Kalia chit chat
(Rachel is getting very friendly with Kalia and Porsche..)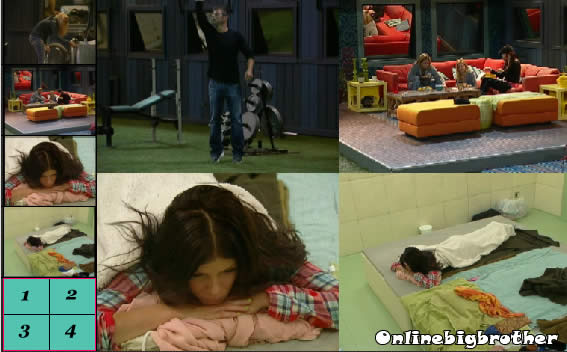 9:27pm Card games chit chat ..
9:57pm Kalia working the house yo.. mad social game ;)
10:31pm All 4 feeds poker
11:05pm Hottub Rachel, JEff, Jordan rachel and Jordan. Rachel saying how good it feels to not have to worry she's going up. Jordan: "We have to worry about next week though" rachel agrees says she's pretty sure it's true false based on the zingbot things.
11:23pm Hot tub Jordan and rachel
Rachel thinks the best option is for them to put up Dani but if they want to keep her then Rachel would like POrsche gone. Rachel says that POrsche is with Shelly and Adam.. Rachel points out that Adam wasn't even trying for the Veto because he knew if he won it he would need to choose between JJ and Porsche.
(Rachel wants Kalia safe and Dani Gone)
Rachel thinks if they can evict Dani this week and win the next HOH they can get rid of Porsche. She adds that the next HOH after that Jeff can win it. Jordan tells her she knows Rachel is excited because their winning now but she doesn't want to get too ahead with the scenarios.
Rachel is thinking that double eviction will be at the end of this week.
Rachel says that Dani has to go,
Jordan: "If Dani and Jeff were the final 2 Dani would win"
Rachel: "Oh I think so 2 100%.. i'm playing for second place.. . If he can get rid of Dani then we're set.. That will be HUGE HUGE move"
Rachel goes on and on about how they need to get rid of Dani. Rachel: "Dani is the type of player that will keep winning POV.. Like Brendon".
Rachel really works the angle that Jeff cannot beat Dani in the final 2 because Dani has Shelly and Adams vote.
(Rachel basically shit her pants about how Dani needs to go this week.. Jordan didn't add much)
11:50pm Dani and Shelly Shelly telling her nobody has a clue what Jeff is going to do. Shelly adds that Jeff won't even tell Jordan, Jordan says she wants to be surprised. Dani says if she goes up she's going up for a reason.
Shelly comments how cool Dani has been and how Kalia is freaking out. Dani: "That's how Kalia is". Shelly asks her who Dani would vote for K or P. Dani shoots straight at the straight shooter.. dodges the question says she's so close to both of them. Proceeds to explain how on her last season she really didn't like anyone but this season she's met some awesome people…. They drift into chit chat..
Check out the BB13 Polls