6:15pm Jeff and Jordan Jordan is saying she's glad Jeff has all the power. They can now make a move that will benefit their game. Jeff is glad, it's going to take some careful
Jordan says that all the girls were talking to Shelly and trying to get Shelly to convince jeff to put Rachel up. Jordan laughs "are they serious about that" Jeff laughs "Fat chance"
Jordan warns that Kalia has told them if she stays on the block she isn't going hold back and she'll call everyone out. Jordan asks Jeff permission if she can ask Shelly for the exact wording. Jeff lets her. Jordan calls Shelly over.. Shelly: "The exact wording was.. If me and Dani go on the block together then Rachel will pull the self evict button..
Shelly: "it was nothing about you Jeff… they all want Rachel out"..
(adam is doing walking back and forth in the backyard)
Jordan asks Adam if KAlia leaves who will he put up Adam: "Porsche and Dani.. I've told you guys we're rolling together"
Jeff: "yeah we're rolling but we gotta be on the same page"
Jordan to Jeff: "I really don't want to know what you are doing I want it to be a surprise but I still want to go over everyhting"
Jeff agrees, "I like our everything talks"
Adam: "I've told you the most dangerous of the 3 girls is Dani"
Jeff asks Adam what would he do if he was Jeff right now
Adam says he would take Porsche off and put Dani up because she'll do whatever it takes to win BB13.
Jeff agrees that Dani will lie to win he also knows that dani can win comps something Kalia might not be able to do.
Feeds cut .. when we come back..
Adam: "I see the logic of not changing the nomination.. if you don't then Kalia should go home"
Jeff: "the thing is Dani can win every event.. she's the biggest threat."
Jordan brings up that Shelly thinks they can get POrsche on their side more than Kalia. She thinks if they keep kalia then Kalia will do something sneaky behind their back. Jeff agrees 100%.
jordan: "Porsche is being cool about it.. and Kalia is freaking out"
Jeff has noticed that to..
Porsche comes outside.. game talk ends.
6:41pm Kalia and Rachel kitchen
Rachel says Shelly is her biggest target.. Kalia says she doesn't talk to Shelly anymore not after the blow up with Rachel. Rachel goes on and on about how much Shelly pisses her off and how she's convinced if Shelly wins HOH she'll put Rachel up.
Kalia: "I'm really surprised they (JJ) voted to evict brendon last week.. plus i'm really srurpsied you all are so chummy chummy"
Shelly walks in …. talks stops… Shelly leaves
Rachel: "They didn't want to go against the house.. I Just want you to know shelly is taking full credit for you putting Lawon up… she's saying how she played you all" Rachel adds that Shelly is trying to make Rachel grateful for "saveing" rachel the other week. Rachel thinks it's complete bullshit.
Kalia says she talked to Shelly about it.. it didn't happen the way Shelly thought.. she doesn't know what Shelly has going on anymore. Kalia adds that she doesn't talk any serious game with Shelly anymore.
Rachel: "I don't talk game to anyone, I'm all alone.. this Shelly business has be pissed.. She's up to her old tricks again" Rachel adds that Jordan has sworn that Shelly will not put her up but she's certain shelly will.
Kalia: "I can't lie if I stay on the block with Porsche i'm worried"
Rachel: "MY GOD i wish I can't get rid of Shelly"
kalia says she needs to talk to jeff and figure out what he wants. rachel isn't sure what Jeff is going to do. She's just nervous about Shelly because shelly is so close to JJ.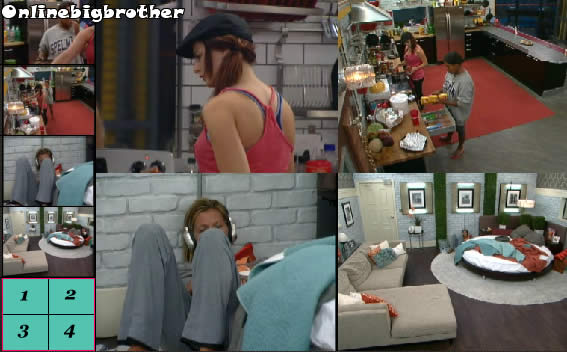 7:10pm Shelly rocking out in the HOH room (she actually is.. pretty funny) Shelly and rachel cooking and Jeff/Adam working out.
7:20pm Backyard Adam and Jeff working out
Adam says he doesn't want to influence Jeff's decision but if Jeff doesn't put Dani up does jeff think Dani will honour a deal. Jeff isn't sure.. mentions regardless of what they do he has the votes.
Jeff: "If I put Dani up will you vote her out?"
Adam: "Yes of course.. the roadblocks of those three are Dani, Kalia, Prosche in that order.."
Jeff: "Kalia is coming after me 100% dude"
Jeff asks Adam if he took Porsche off the block does Adam think Porsche will honour a 1 week deal. Adam thinks so, he mentions even if they do no deal with Porsche if she won HOH Porsche will put up Rachel and Shelly.
Feeds cut
Check out the BB13 Polls
Share it YO!!
Tweet