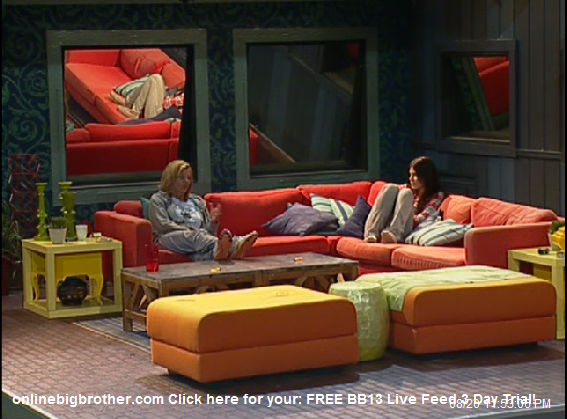 Watch the Big Brother 13 live feeds on your Android and iOS devices. Sign-up for the 3 Day Free Trial
TRY the Live Feeds for FREE!
Click here for your: SUPERPASS – 3 DAY Trial!
12am Shelly and Dani are talking. Shelly says that she would want nothing more than to have Rachel follow Brendon right out that door next. Shelly says that Rachel is the only person in the house that she can't stand …she just gets under my skin. Dani tells Shelly that she feels the same way and that she told the diary room that she wants to punch Rachel in the face … but that she's not going to. Kalia and Adam are talking out in the backyard, Kalia asks him, you say you want a newbie to win …so are you with Jeff or not? Adam tells Kalia that he isn't going to say yes or no but that his goal is to make it to the final six because once you get there you can control your own destiny. Kalia tells Adam that when she put Jeff up on the block …all she was trying to do was to get him to win the veto ..she didn't want him to go home… but that she understands how he feels now. Kalia says that the plan to back door Jeff wasn't even hers … that she knew of the plan thats all. Kalia says that it sucks to argue or campaign against people you are playing with. Kalia says that she deserves to be here … my biggest fear is that if Porsche and I stay on the block I will get voted out because I am seen as a bigger threat. Kalia says that she loves Porsche but she hasn't done anything. Kalia tell Adam that if he keeps her its good for him because she is seen as a bigger target for at least three other people. Adam says that each week the voting gets harder and harder. Adam says that he isn't sure what is going to happen and says that the POV ceremony on Monday should be interesting. Jeff joins them outside. The conversation changes to talking about gambling. After a bit, Jeff heads up to the HOH room and climbs in bed with Jordan.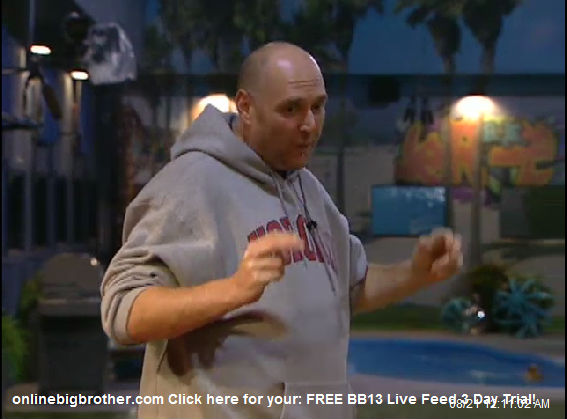 12:30am Up in the HOH room, Jeff is talking to Jordan. Jeff tells Jordan that he will tell Porsche that he will take her off the block and offer her a deal. Jordan asks Jeff what his gut is telling him to do? Jeff says his gut is telling him to get rid of Dani. Jordan agrees and says that she has told Dani that she has no idea what he will do. Jordan tells Jeff the pros to keeping Dani …she says that Dani would feel like she trusts you and if she won HOH next week she would take out Rachel .. which would leave Dani in the house as a competitor against you. If we get rid of Dani this week though.. that leaves Rachel and you with Kalia and Porsche who would be lost without Dani. Jordan says that if that happened she thinks Kalia and Porsche would try to align with Adam and Shelly. Jeff says that Adam told him that the best move is to get Dani out and that he would vote her out.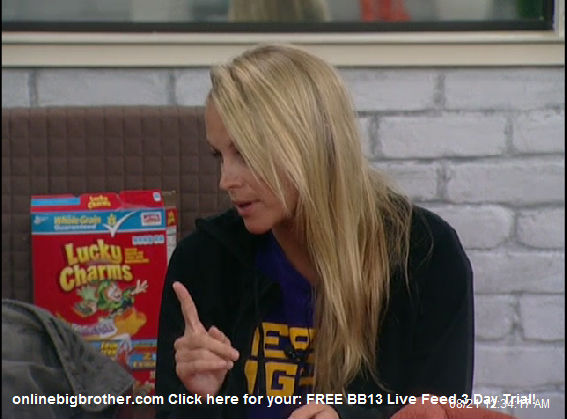 WATCH all DRAMA unfold LIVE on SuperPass! FREE 3 Day TRIAL
Jordan says that she asked Shelly if she trusts Porsche and she said that she had made a deal with Porsche earlier on in the game and she stuck to it. Jordan says that if Jeff and Dani made it to the final two ..she would win. Jeff says that Dani knows this game and I don't know it like she does. Jeff says that he has to take out the leader… he has to cut the head off the dragon. Jeff says that Kalia and Porsche have no idea whats going on without Dani.. she tells them everything she knows. Jeff says that Dani is going to be pissed but that can't affect his decision. Jeff says that Dani is going to say that she threw the veto like he asked. Jordan says that she didn't …she was made when she didn't win. Jeff says that he is going to take Porsche off the block. Jeff says that he will threaten Kalia if she wins HOH next week. Jeff says that he thinks this is the best move. Jordan explains that they might not get another chance. Jeff says that he absolutely can't keep Dani .. she wanted me out week two ..I can't forget that …she is gone! Jeff says that it is going to be awkward for a few days but after that it will be better. Jeff says that next week Kalia will be the one going if we win. Jeff says that there is nothing Dani can offer.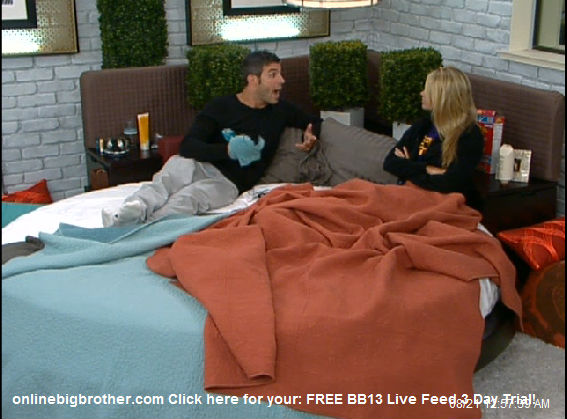 1:30am Jeff and Jordan continue to talk about getting Dani out this week. Jeff says that there are more than fifty reasons to get rid of Dani and only a couple reasons to keep her. Jeff starts talking about Rachel and how he says that she needs to be on medication to even her out… she goes from highs to lows. Jordan says that Rachel is going to be all over Dani when she goes up. Jeff says that at least Dani won't be in his face this week because Rachel will be up in her face. Jeff and Jordan talk about the POV competition.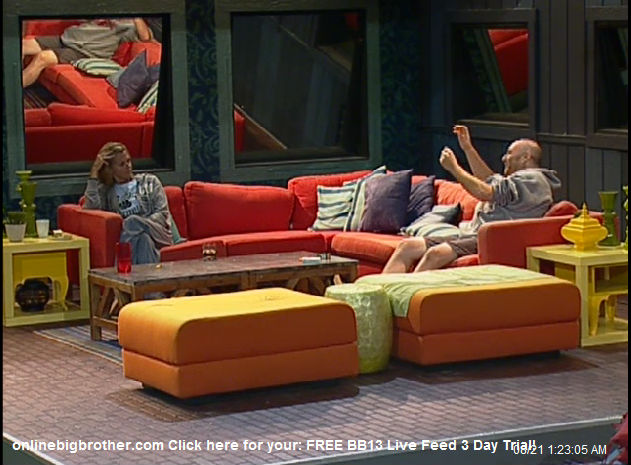 Meanwhile in the backyard, Adam and Shelly talk about how they threw the POV competition so that they wouldn't have to make the decision. Adam says that he wanted to make it look like he was really trying. Shelly says that she is annoyed at Jeff for telling them that they need to try to win ..Shelly says that we have been trying! Adam tells Shelly that he is going to bed. Adam heads to the havenot room and talk to Kalia, Dani and Porsche about how uncomfortable the bed is in there. The conversation changes to talking about and making fun of past house guests. Adam says that Cassi needs to eat a cheeseburger because she weighs like 39 pounds.. and Keith should have been on little brother.
See What They Can't Show You On TV! SUPERPASS – 3 DAY Trial!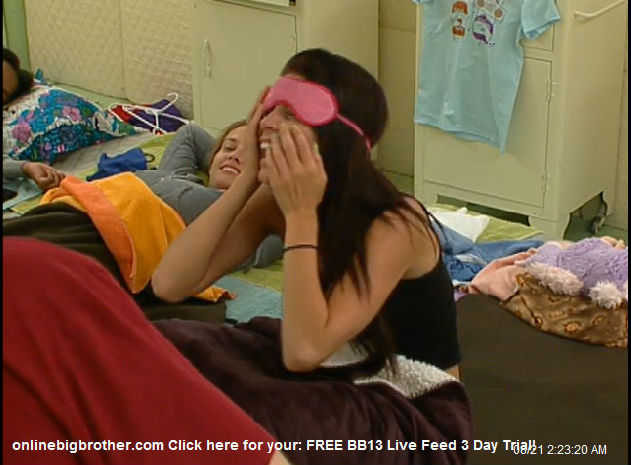 Up in the HOH room, Jeff and Jordan talk about Porsche. Jeff says that thinks she is dumb but that she is also playing the dumb card. Jeff says that she is always making dumb comments. Jordan says that she thinks Porsche is just doing that to get further in the game. Jeff says that Porsche should be in movies …she would win the academy award for being an idiot. Jeff and Jordan start talking about random stuff. They talk about getting a colonic… Jordan says that Rachel was talking about getting a colonic. Jordan says that she is unsure about the water. Jeff tells her you have to run the water through you and it comes out your butthole. Jordan tells Jeff that he should go first! Jeff says that after the colonic ..he never wants to see the person again. Jordan starts laughing and talking about a chocolate starfish. Jeff asks what am I supposed to do bleach it before I go!? They laugh. Jeff farts. Jordan tells him he definitely needs a colonic. Jeff says that there's something up there like an old sewing machine is about to come out!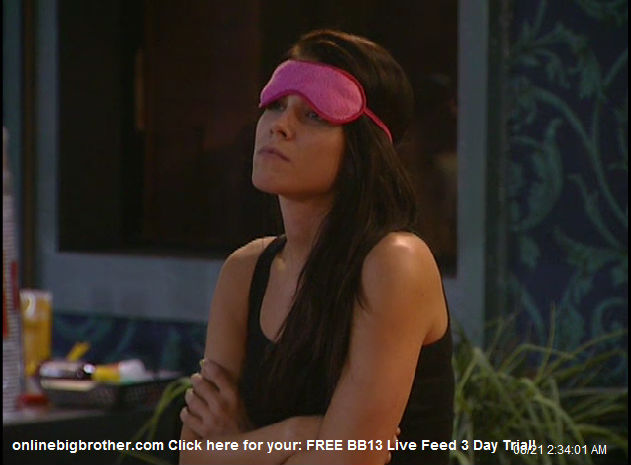 2:30am – 3:20am Adam and Dani are in the backyard talking. Dani asks Adam if Jeff has said anything yet about what he is going to do. Adam says that he hasn't said anything. Dani asks Adam what he will do if the nominations stay the same. Adam says that he is weighing the options and will look out for his best interests in the game. Adam says that he has to win HOH on Thursday so that he can get to the final six. Dani says that she fears going on the block. Adam asks her how Rachel would vote. Dani says that Rachel would vote however Jeff wanted her to. Dani tells him he has to realize that people are starting to view him as a big threat especially because he knows so much about big brother. Adam says thathe realizes that and that is why it is so important to have bigger targets in front of him in the game. Adam says he would have loved to have seen Rachel and Dick butt heads! Dani says that Rachel would have self evicted. Adam and Dani talk about past houseguests and competitons and then head to bed.
6:45am All the houseguests are still sleeping…
WATCH the houseguests LIVE on SuperPass!
Click here for your: FREE 3 Day TRIAL!
If you like this site and want to help us keep it running please consider donating, Your donations go directly to paying the server and bandwidth fees. Donate Link
Big Brother 13 Spoilers POLL CAST your VOTE!

Big Brother 13 Live Feed Image Gallery
Follow: @BigBspoilers and @Dawgsbigbrother on Twitter for recent crazed out spoilers. Theres also our Facebook page.


Share it YO!!
Tweet