Quick Big Brother Spoilers
Head of Household: Jasmine
Nominees: POOCH and Taylor
POV Players: POOCH, Jasmine, Taylor, Ameerah, Terrance, Michael (Host Daniel)
POV Winner: Michael
Veto Ceremony:
Evicted:
Havenots: Terrance, Nicole, Pooch, Daniel
Lock your ranks in before midnight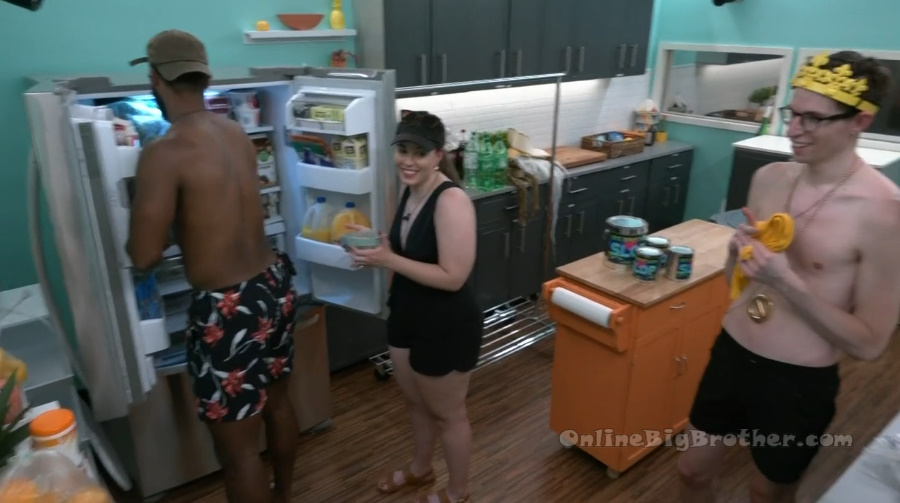 1:03pm – 3:01pm The live feeds were blocked for the power of veto competition. When the feeds return we learn that Michael won the veto!

Bathroom. Pooch, Daniel and Turner.
Pooch – all I know is that Taylor was one ball away from me being f**ked. Turner – did you talk to him (Michael). Pooch – I talked to him and I was like just keep the noms the same I am not asking you to use it on me. And I will keep you and Brittany 100% safe next week if I win. Daniel – was that before or after (the veto)? Pooch – before. Daniel – dope! Pooch – He was cool about it .. the thing is if they try to rally votes.. the only way we might get f**ked is if they want to use Taylor's vote and then they f**king .. or if Michael uses it on f**king you and I lose a vote. Turner – uses it on me? Pooch – uses it on Taylor and you go up. And then they use Taylor to help get me out .. but that would be f**ked. Turner – you mean Jasmine picks? Pooch – oh yeah Michael doesn't get to pick. Turner – I think they will just keep them the same.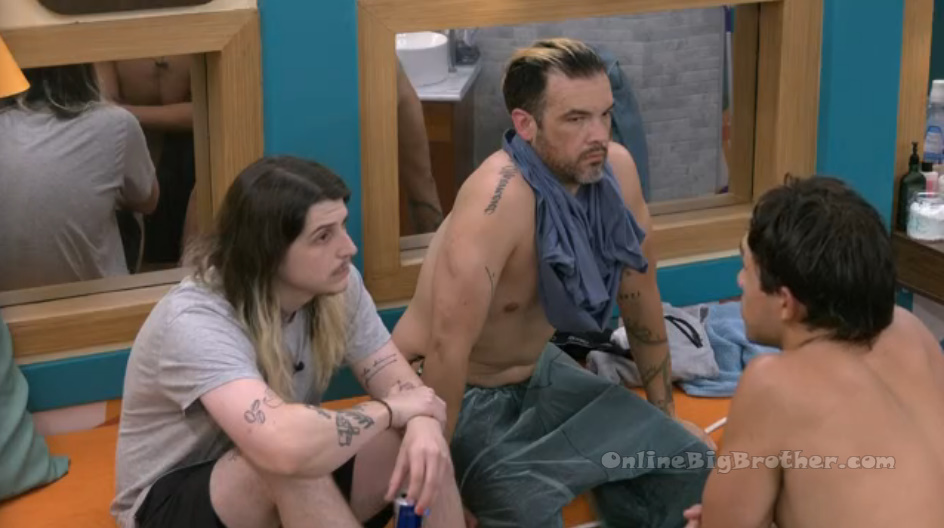 Living room. Brittany and Jasmine.
Brittany – he (Michael) is going to keep them the same? Jasmine – I think so. I hope he (Michael) wins HOH next week. Brittany nods. Jasmine – that's why you never judge people and that is a prime example. I love when people look at people and judge them .. because that is always going to be their downfall.. like the other person that is judging. Brittany – yeah, always. Jasmine – It just worked out perfectly that neither one of them won. Pooch must not be good at comps. Brittany – he made it sound like he was.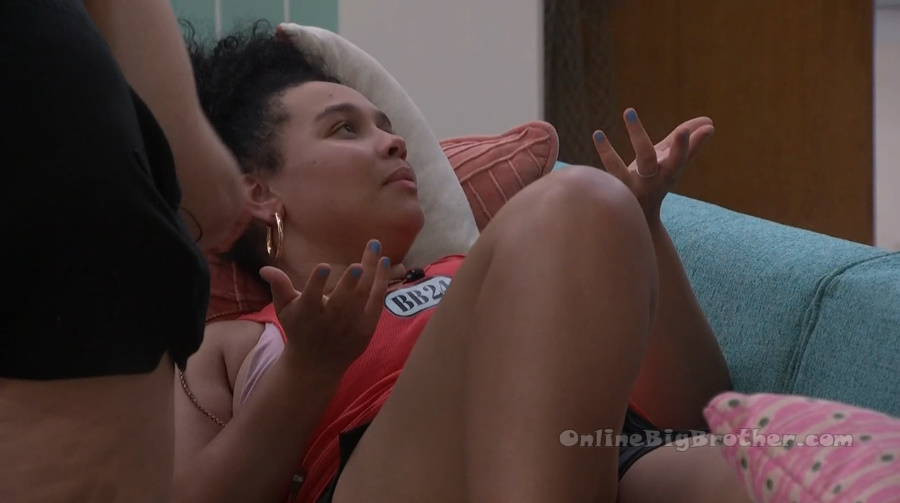 3:12pm Bedroom – Terrance and Michael
Michael – he literally took me into the storage room this morning and said if you win, don't use it. I was like this is grand, I won't use it on you. Terrance – Like I definitely wouldn't!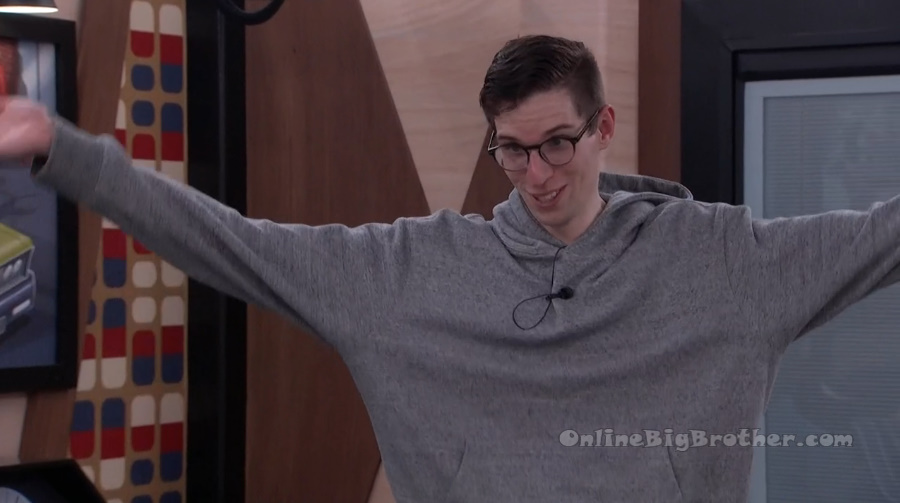 3:20pm Living room. Terrance, Brittany, Jasmine.
Jasmine to Terrance – do you think she (Taylor) thinks she knows she's not going home? Terrance – She thinks she's going home. Terrance leaves. Jasmine – okay, I'll talk to her. This is a lot you have to mentally keep track of everyone's conversations. Jasmine to Brittany – I'm going to make sure Taylor knows that she still could go home. You know what I mean? Brittany – yeah. She's not safe but she is a good one to have on standby to go home. Nicole, do you trust her? Jasmine – yes, she hasn't given me a reason not to. I feel like she is playing a good game.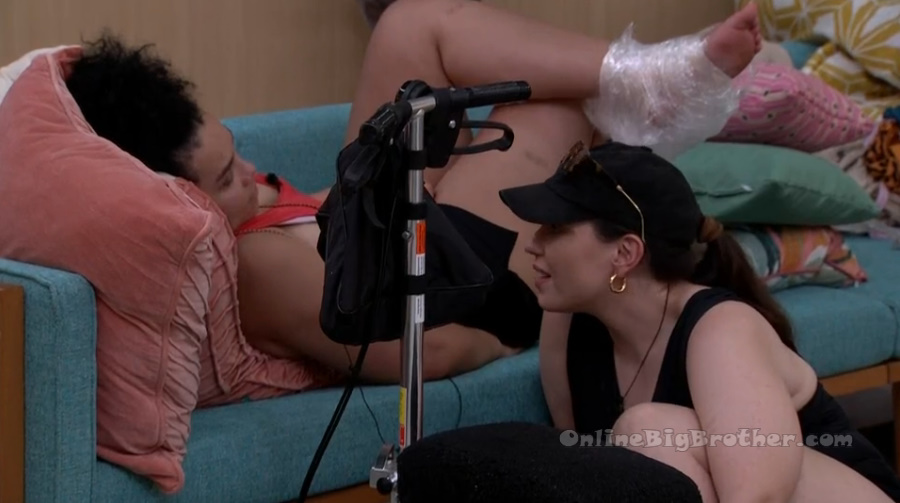 3:30pm Bathroom. Taylor and Pooch.
Pooch and Taylor talk about the comp. Pooch – Well, I'll probably see you on Thursday. F**k! Taylor – fight! Social game! Pooch – no doubt! I just feel like we'll both be sitting there. I will be shocked, weirder things have happened. Taylor – I would rather not sit next to you. Pooch – absolutely. Pooch leaves the room. Taylor to the cameras she laughs and says I am not going no where!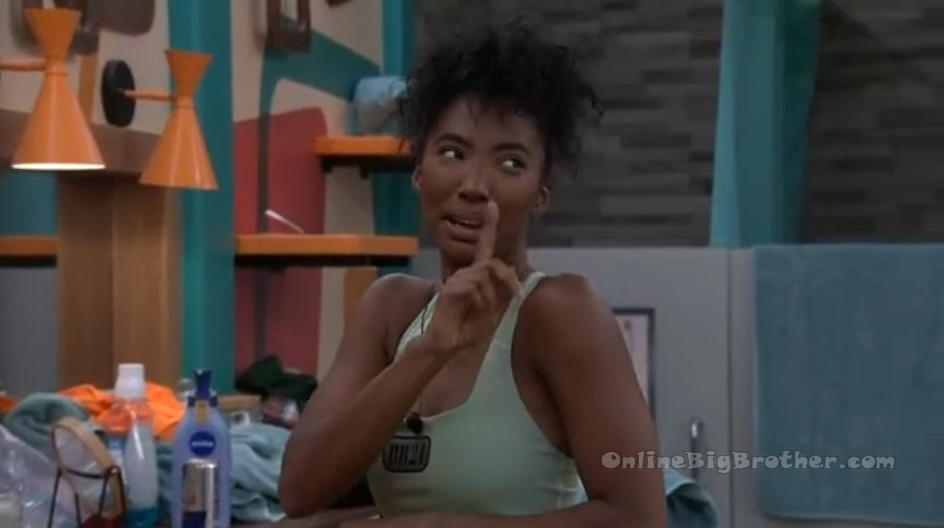 3:34pm Bathroom. Pooch and Turner.
Turner – all you need is six (votes) right? Pooch – I'm going to need f**king seven. Turner – okay, Joe, Alyssa, Monte.. Pooch – count the definite votes. Daniel, Joe, you, Monte, Kyle… Turner – that is only two more you need. Its going to be a long week.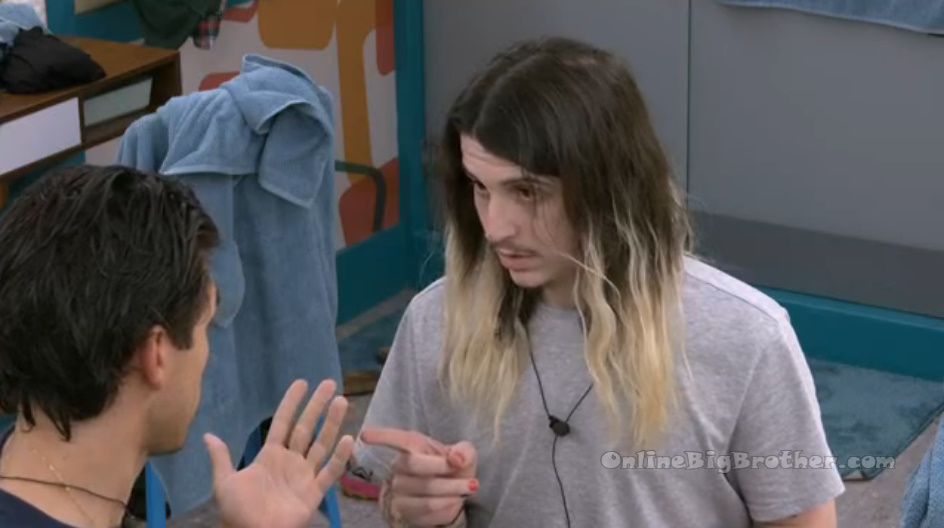 3:40pm HOH room. Ameerah and Taylor.
Ameerah – I don't want to take a shot at Kyle and Monte not even Joe… because one I think they would win the veto but two I don't know who they're aligned with and that scares me. I would rather wait until the lines are drawn so that I can actually see confidently who they are. Taylor – do you think that Monte is aligned with any girl? Ameerah – I don't think so. Taylor – neither do I. Ameerah – I think once we figure out who they're aligned with .. that's when we can make the f**king move. I think that Turner and Joe might come after us because we're backdooring.. well we're getting rid of Pooch. I feel like Joe we can smooth over but Tuner we can probably get out next week. Taylor – yeah because he will be losing his mind with Paloma and Pooch. Ameerah – right. Taylor – Turner's got to go.