Quick Big Brother Spoilers
Head of Household: Daniel
Nominees: Michael & Terrance
POV Players:
POV Winner:
Veto Ceremony:
Evicted:
Havenots: Joe, Michael, Monte and Kyle
Lock your day 2 ranks in before midnight
9:36pm – 9:50pm Bedroom. Pooch and Turner.
Pooch tells Turner about his conversation with Daniel. He tells him about how he asked Daniel if he has a target. Turner – was he for anyone specifically? Pooch – he said not really and that he respected that they both came up to him. He said obviously one of them is going to stay in the game so hopefully this helps get to know the other one better. He said if I did have a preference right now it would be Terrance. I agreed. I think it would be good if he hears it from different people. Turner – I was having a conversation with Alyssa and I was like you're close with Paloma and I'm close to Pooch. And she was talking about how she is close with some of the girls.. and she does have a whole f**king girl setup .. but I do trust her. I brought you up and she brought Paloma up and I was like this could be a four. And she was like I could funnel you stuff from the girls and I could .. well I am not going to funnel your information. I hope you don't mind that I said me, you, her and Paloma could be cool. Pooch – no, I like that. I talked to Jasmine. Indy .. ah this is so bad.. I don't know if Indy is capable of talking game. Turner – I was thinking the same thing. Pooch – I was like I am not going to waste the brain power because I am so tired. Turner – I don't know if she is talking game with anyone. Pooch – that's why I don't think I am missing anything. I love her but. I could work on Jasmine more. I will try to talk to her today or tomorrow. Turner – I am not necessarily worried about her or Indy winning a game. Pooch – what is the goals for tonight? Turner – If we can find the time to talk with Alyssa and Paloma. Pooch – yeah but that is easy. What is hard is to get everyone in Oasis with Motley Crew. That will be tough.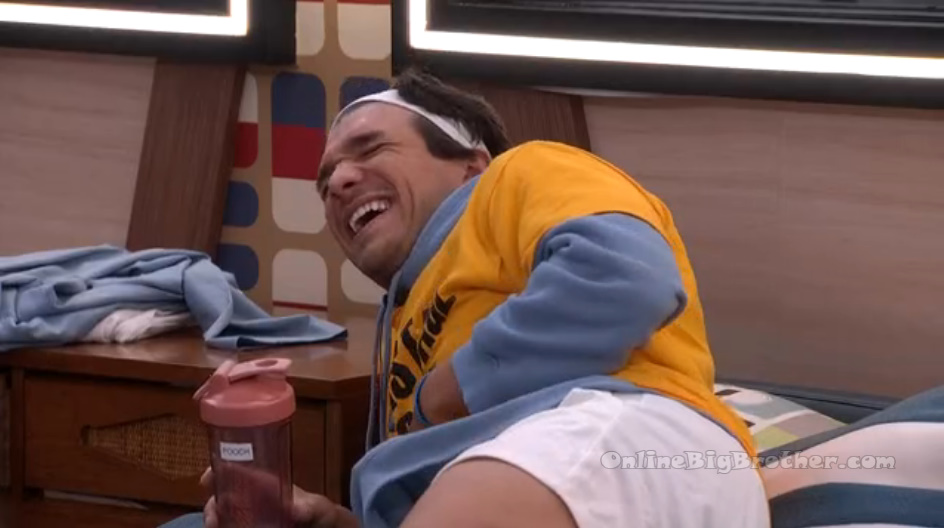 10:05pm HOH room. Daniel, Indy, Nicole, Alyssa, Tylor and Joe are chatting about random things. Brittany joins them.
10:19pm – 10:40pm Bedroom. Alyssa and Paloma.
Alyssa – so we need to talk about it. I haven't talked to Kyle about it at all. Not one word. Paloma – the way I've been talking to them about it is in code. The next thing I am going to talk to them about .. I am going to be like did you hear that song by Drake its exclusive but its called like Momba.. have you heard it? Its like super good. And then they'll be like yeah. And today I saw Michael and Kyle and I was like hey theres this dish that I love its so good. Its so consistently one of my faves .. have you heard of it? Its called like Momba. Like its our squad .. just to f**k around. But we need like a little tap in like tap in. Alyssa – we need to have like a conversation all together. When I went up to the HOH it was Daniel, Taylor and Nicole .. and I feel like they're working together because it was just the three of them in there for like an hour. And I went in there and it just got quite .. and they started talking about some random bullsh*t. Paloma – I haven't talked to Daniel all day ..I had him wrapped around my finger yesterday but 24 hours have gone by and everything could have changed. I like low key am leveraging him.. he gives me like little flirty eyes .. little puppy eyes ..like when he came into the kitchen I was like I need to talk to you. I've been waiting to talk to you all day. And whatever little alliance he tells me about, I am going to tell you guys about. Alyssa – I think its him, Nicole and Tylor. Paloma – the girls are starting to get smart. Like Jasmine is like should we get the guys involved? They're probably coming to the realization that 6 girl alliance can not make it all the way .. we would have to put up guys consecutively. Those are our pawns. Jasmine, Brittany.. Alyssa – our what? You would put them up? You can't put them up. Paloma – oh is that what that means?! Alyssa – its when you put them on the block because you want the other person to go home. Paloma – yeah you're right. Why am I calling them our pawns. You know like last season .. they're like our buddies. Like the Momba alliance is 6 and then we have another 6 that we keep close. Alyssa – but that's 12 people .. that's a lot. If you won HOH next week who would you put up? Paloma – Ah Tylor. Alyssa – you would put her up? Paloma – I'm scared but I don't know. Alyssa – I liked her. Paloma – I like all these people. Bottomline she lacks self-awareness. Alyssa – she said to me at the table that she would stab someone right in the front and look them in the eyes while she did it. Paloma – I don't trust that. And she is going to stab me in the back too. Its going to be in the front and the back .. like you're going to be a f**king pastrami sandwich! Alyssa – our only options are Taylor, Turner, Terrance, Daniel and um Nicole. I wouldn't put Pooch up but maybe like a backdoor.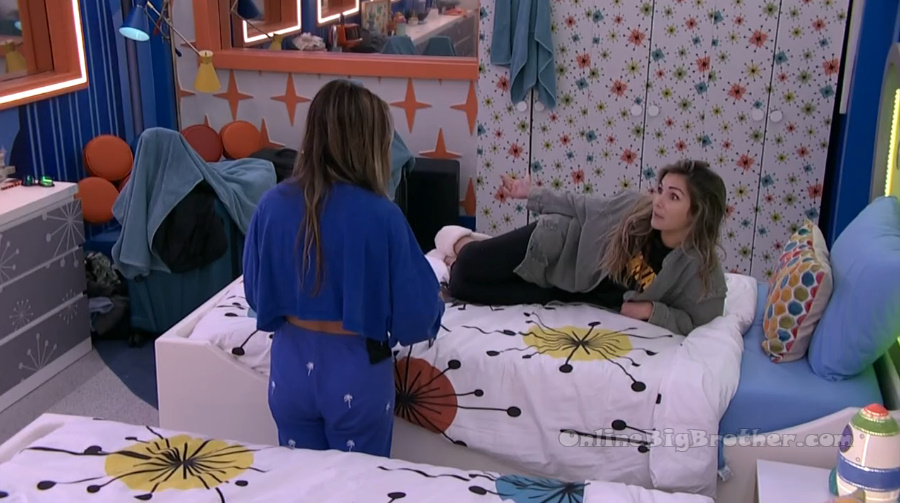 11:15pm HOH room. Kyle, Michael, Monte, Turner, Nicole, Taylor and Brittany. They're hanging out talking about podcasts.
11:23pm – 11:35pm Bathroom. Ameerah and Terrance.
Terrance – because if it was the reverse situation I couldn't see a sister walking out day one .. you know what I mean? Ameerah – have you talked to Monte? Terrance – MMmhhmm. Ameerah – what is he saying? Terrance – I sometimes get a good feeling from him and I sometimes I feel like I am not with the.. Ameerah – the macho boys? Terrance – yeah he wants to play like how can I protect you game too. He is like I don't want to ruffle any feathers. Like if someone wins the veto, who are they going to piss off. Like if you win, they're probably going up.. he is probably going up to be honest. They would put him up. Dude, lets see how this veto goes .. and this backstage thing. Terrance – I can't think of how that will play out. Ameerah – I think one might swap out… not like there will be three nominees. Terrance – better know I am going to play my heart out. I am going to fight hard as hell. I can't go out without pushing past my limits. Ameerah – I don't think it will be a physical comp. I think it will be a puzzle or something like that. Terrance – This is the first thing and I don't want people to jeopardize their game. I don't want to make waves. It is what it is.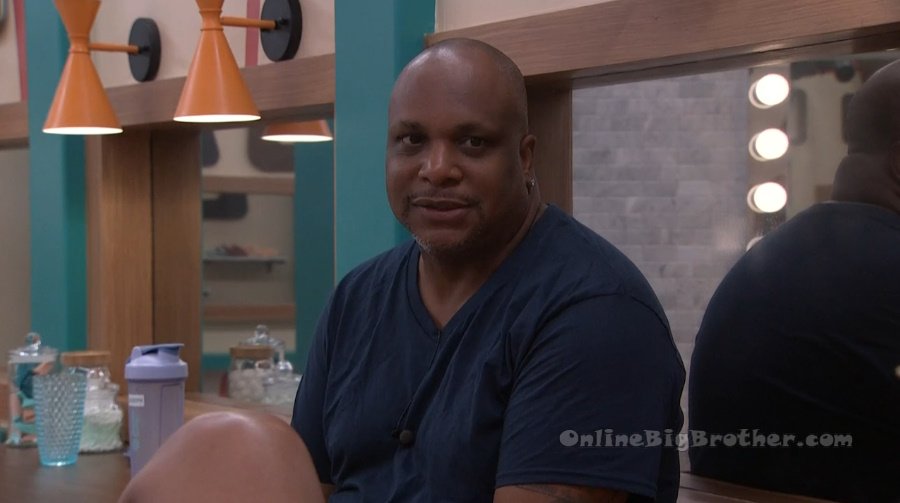 11:41pm HOH room. Kyle, Michael, Paloma and Monte.
Monte – why are we always missing two people. Michael – I don't know if we are picking veto players tomorrow but like obviously if I did get house guest choice I could pick one of you but I also don't want to f**k anyone over and expose anything. Think about it. Paloma – if you feel like you're good with someone outside of the alliance that will go up to bat and fight for you .. have you talked to Daniel? After all of that? Michael – I did talk to Daniel. He didn't give me a whole lot. Daniel joins them. Paloma – how are you feeling, I can't even imagine being in your position. And me dude .. bro! Kyle – they're giving you no information.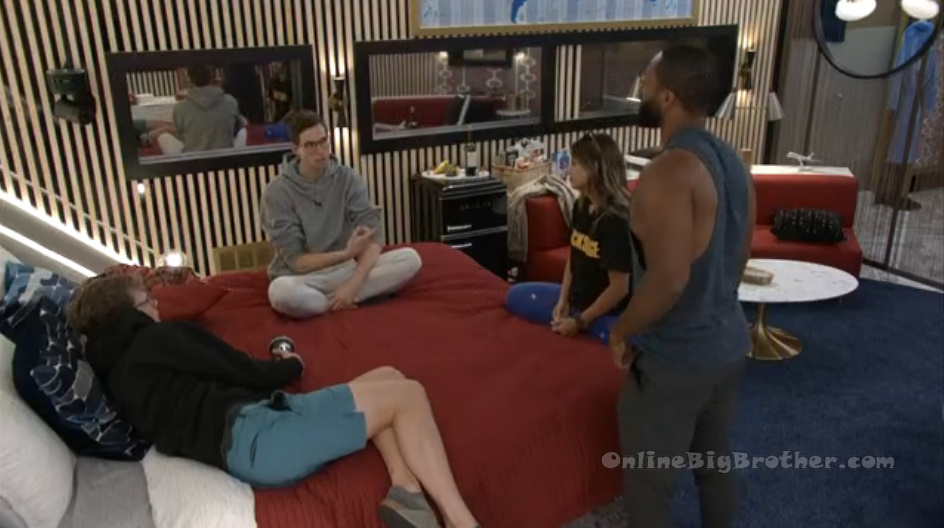 12:09am Storage room. Joe and Monte.
Joe – I think that was to solidify Terrance because .. if you didn't expect Michael .. it might be hard to get votes on Michael. I like both of them. I think you might be closer to Terrance. Monte – yeah, of course Terrance is like the homie and the funny man and genuine. Joe – he's a good guy. Monte – but history has always shown that the older competitors tend to get put up pretty quick just because of the social dynamics and its just unfortunate that .. that has to be the case. Joe – did you talk to him (Daniel) in terms of what he wants for voting and stuff? Monte – no, I don't even know if he's thought that far. He might even just be indifferent towards that. I think we should just focus on what he wants in terms of the veto. Like Terrance might even pick me for the veto.. and I don't even know if I want to.. of course I would want to ensure my safety that would be beautiful. Like physical threats .. I don't even want to push that narrative. Like even working out we probably want to chill with that. Whatever happens after this week determines what blood is on Daniel's hands.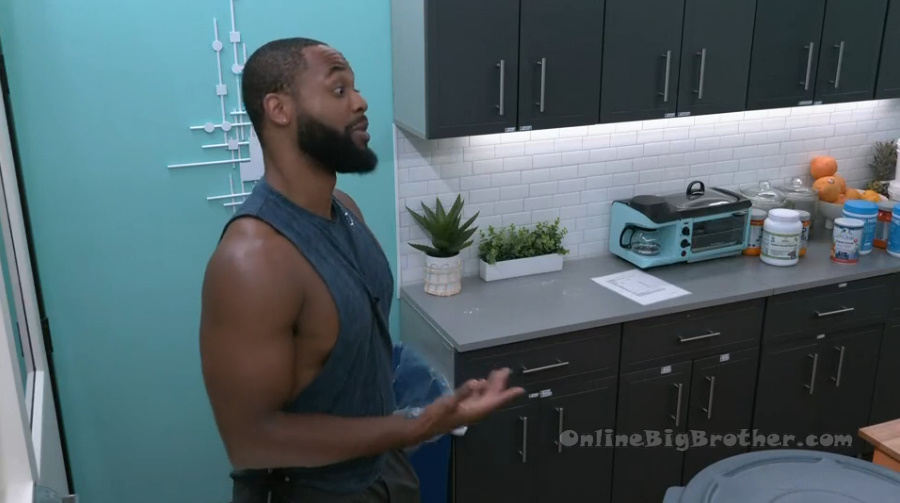 12:35am Bathroom. Alyssa, Tylor, Indy, Brittany are talking about how true loves are the friendships you have.

12:37am Storage room. Monte and Kyle.
Monte – I think it will have us show our cards. Kyle – its too early! I think he is going home to be honest. I just don't know if its smart to go ball out on a veto take him down .. and Daniel isn't going to want to put someone else up. So he is going to be against using it. Its going to be better to throw it honestly. I think Michael understands that it would put us in a bad position so he is not going to straight up ask us. Monte – and Michael is smart. He would probably do well in the physical comps too.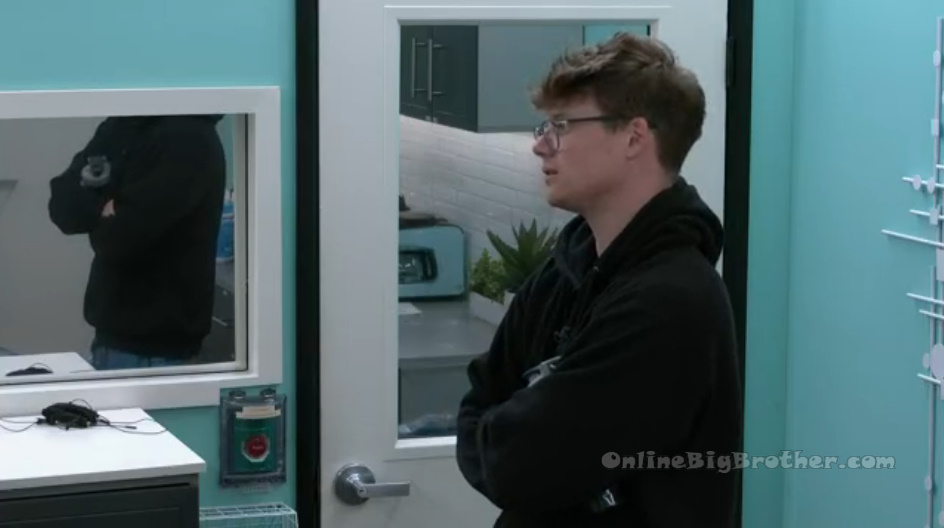 1am HOH room. Terrance, Ameerah, Joe, Turner, Pooch, Kyle and Daniel are chatting.
1:14am Kitchen – Tylor and Michael.
Tylor – are you worried about anybody? Michael – like how so .. like threat in the game or if they want to keep me? Taylor – I guess if they want to keep you or not. Michael – I guess I don't know. Its hard because I haven't had a lot of one on ones with people and no one is going to commit to .. and you don't know if there id going to be a replacement nom. I don't want to assume I have anyone's vote. Taylor – everyone is playing a conservative game.
1:40am Bedroom. Jasmine – Michael I am attached to his story to because of my sister. I am really a rock in a hard place. yeah, Ameerah – I feel the same way. We have to do what is best for our game ..but like to come out of season 23 and then to start the season 24 with evicting a black man. Jasmine – but did you remember twitter .. they were going in! They were talking about how it was a resist thing.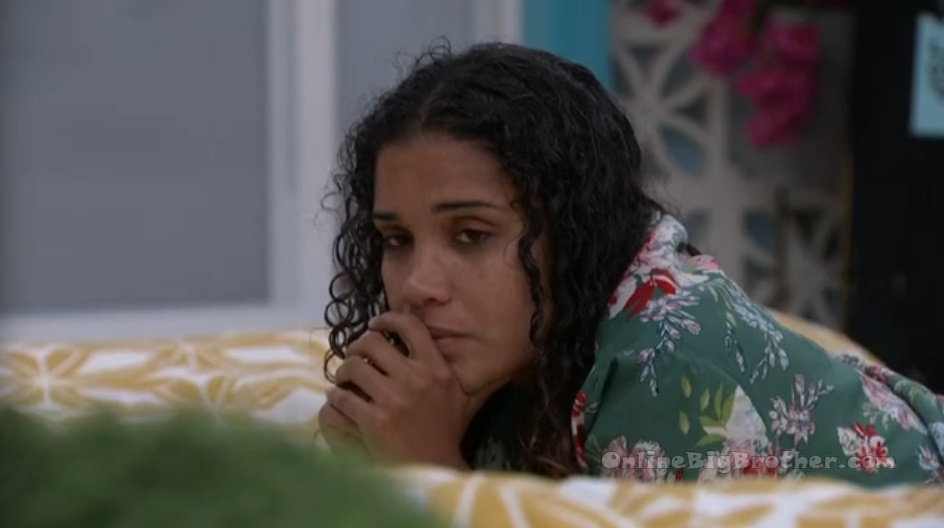 2:15am Bumper pool.

2:21am Kitchen –
Paloma, Kyle, Michael and Taylor are talking about Pride & Prejudice.