Quick Big Brother Spoilers
Head of Household:  Taylor
Nominees: Indy and Terrance
POV Players: Taylor, Indy, Alyssa, Kyle, Terrance, Jasmine (Host is Turner)
POV Winner: Kyle
Veto Ceremony:
Havenots: 
Lock your ranks in before midnight
The twist
Wording from the Thursday night show
For the first time ever the game will completely change as the house splits into two groups. These two groups will have no interaction and in a Big Brother first, two completely separate games of Big Brother will play out simultaneously all week long all of it culminating with a double eviction like no other"
Reward / Punishment Veto Results:
– Kyle won the veto
– Alyssa won $5000
– Jasmine won a trip to London, England
– Terrance – "Ink 182" 182 temp tattoos
– Indy has to wear a "Punkitard" for 1 week and perform concerts
– Taylor and Joseph will be chained together for 24 hours.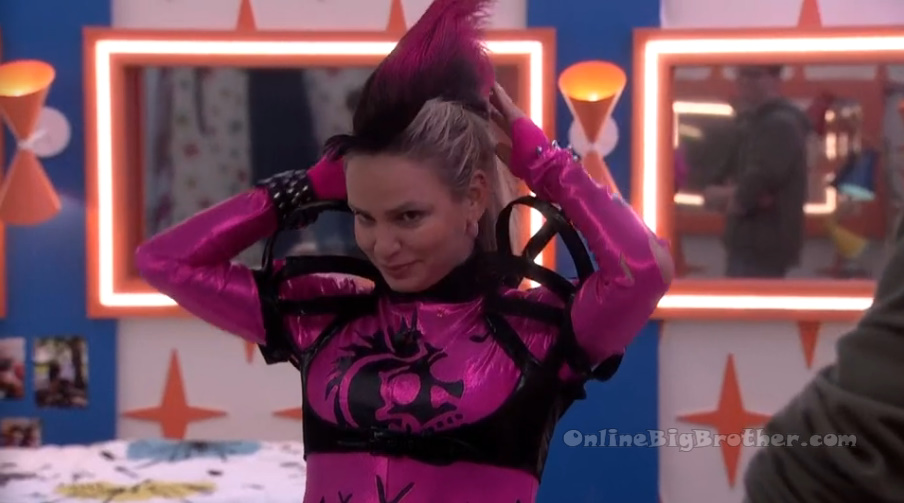 7:56pm – 8:18pm
Big Brother blocks the feeds. Indy got her "Punkitard" costume. Brittney – Usually they're made to make you look bad but this .. you're cute in it. Indy – I think it will be fun but workouts suck.. and having this for the whole week sucks! Brittany – yeah. Indy – he said he will check about the dates just because of the live show and stuff. I hope it finishes on Wednesday. Brittany – yeah hopefully. Well if you need anybody day or night to help you. Michael – you can wake me up. Brittany – yeah you can always ask us. Indy – thank you guys. Brittany – we're going to wake up anyways. Indy – do people really get more famous?! Michael – it puts you in the episode more because they talk about it and people always remember. Brittany – like I remember who got the punishments last year. Yeah people like them more. They head to the kitchen. Indy – well this week we won't be any of my food or cakes. (LOL Indy is going on strike)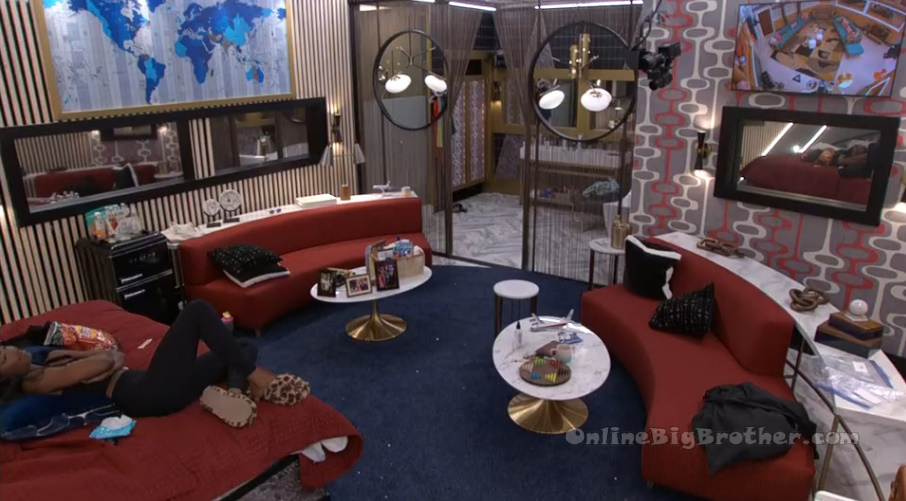 HOH room – Taylor talking to the cameras.
Taylor – Don't give me a reason to put me on the block! Poor judgement. Brittany joins Taylor. Taylor – did you see that Alyssa already came up to me. I changed my mind, I'll trade my 5K for your punishment. She is scared. Brittany – she is tweaking. Taylor – I don't know what I am going to do. I have so much time. You see from winning HOH till now .. you see how many times its changed. Just let me get my little punishment costume and see what comes. Brittany – really see. Taylor – because I feel good with any of these options. Brittany – in a way its a blessing because you have many different options.. you just now have to determine what is best for you. There is literally an argument for any way you go. You can think who would I not want competing in the HOH next week. Who do I think I could salvage the most jury vote. Who do I think would unhinge the rest of the group so you get you know more people weakened because this person is not there. It almost becomes a philosophical question, like what is most important. How important are these women to the rest of my game? Taylor – exactly. Brittany – and to be completely honest with you if I thought there was a chance to regain their trust and for them to see the value of me having to be there I would seriously consider that. Taylor – for either of us it is not there. Brittany – it is not there. Taylor – unless it is you and me sitting in the final two they're not voting for either of us. Brittany – no, no! Taylor – they want to see two women in the final two but they don't want it to be us. Brittany – I am so glad you see it that way too. Taylor – and honestly I have these decision on a silver plater right in front of me. Am I a bad woman for considering this, seriously?! Brittany – it weighs on me heavily. So that ship has sailed for us other than you and I. Taylor – how funny is it that the biggest strongest guys are the ones to offer us this opportunity. Brittany – you're really good with Joseph. Maybe we have the Appetizers and the Desserts come together.. and then there is some Take Out that we take out. Taylor – my whole battle is .. is this the week that makes me a bad woman? In spite of how the other side of the house has been consistently bad to me.. excluded me intentionally over and over.. is this the decision that I make that puts two Festie Besties (Indy & Alyssa) on the block my bad woman moment. Is this my bad feminist moment. Brittany – what does you gut tell you? Taylor – no. Brittany – my gut says no too. For me it should have been a red flag since day one when they were like all girls alliance ..but not these two girls (Brittany & Taylor). When I look at my game it makes no sense to ride Left Overs till the end.
8:51pm
The backyard is open to the house guests again…
8:59pm Hammock – Kyle, Alyssa, Turner, Joe and Michael
Michael – I think Indy's (punishment) is going to be the worst.. because she is going to get woken up. Joe – this is going to be a rough week for her because she is on the block and that.. Turner – she likes her sleep too. That is one person that I would not interrupt her sleep. Joe – I am happy I am in the HOH, I think that is going to be hard to annoy me from there. Michael – I would just really hate to be the person (Kyle) that gave her that punishment. Joe – yeah me too. Alyssa – what an a$$hole! Joe – at least whoever gave her that punishment didn't take away her like one opportunity to get off the block. Kyle – keep talking your sh*t over here… but I am safe this week. No, but I do feel bad and I do think that she is masking her true feelings for me right now. I don't think she is happy with me. Alyssa – some one was bound to take it. Turner – I would have taken the veto. Joe – If I was at the end I would have taken it too.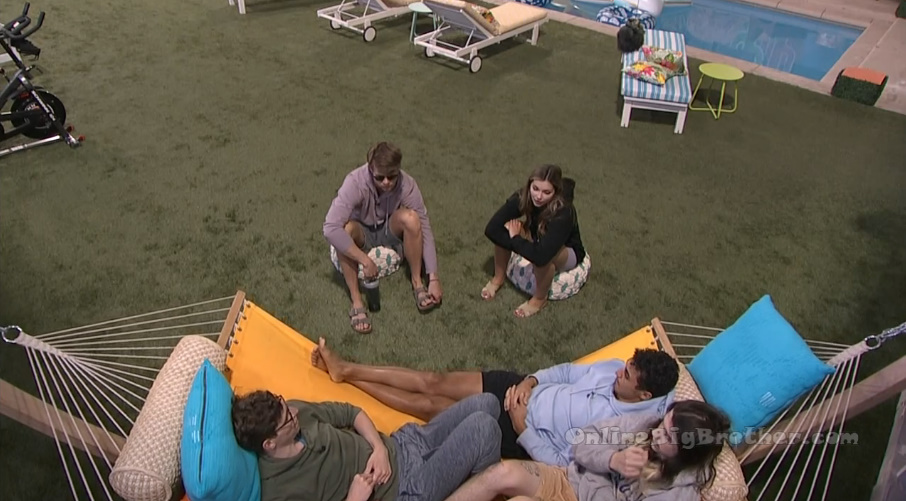 9:32pm Living room – Indy, Michael, Joe, Brittany, Alyssa and Kyle sitting around the living room couches. Joe – the amp (the amp for Indy's band setup) never turns off. Kyle – yeah that's annoying.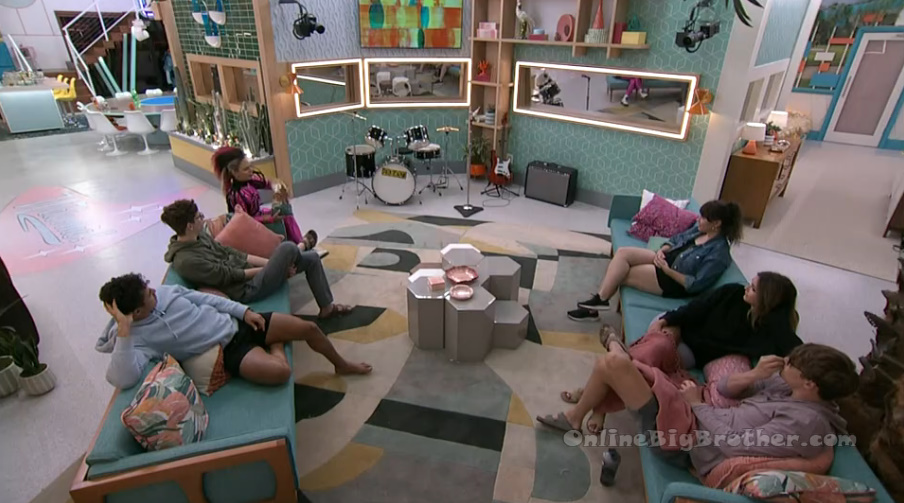 9:56pm Bedroom – Indy shows of the Punkitard bathing suit and pajamas that Big Brother gave her to wear.
9:57pm – 10:15pm Hammock – Brittany and Michael.
Michael – ..Jasmine, they can hold it together under pressure. Brittany – yup. I think Alyssa is smart. I think she is strong. Its a hit to Jasmine to lose her. Kyle to lose her. And to Turner although they've been distant the last couple days. I think that is idea for us. I think her (Alyssa) going would be idea for us. I think Indy is a good option for us. She loves you. I am making in roads with her. I don't know in a final 3 but we could beat her. I think Jasmine is going to gravitate towards Terrance more to try to get in more with Taylor. I think Jasmine without Alyssa is way weakened. Michael agrees. Brittany – will Kyle use the veto though .. that is the thing. Does he know of any of this plan yet? Michael – I don't think so. If Kyle, Alyssa and Turner have anything.. that goes away. But even then that is why she needs to go. Brittany – exactly. Michael – I am glad Kyle won though .. I think people are realizing he is a big comp threat. He has come in second in so many HOH's. He has 2 vetos now. Good, let me come down and Kyle go up (as a threat). Brittany – seriously. The only think I worry about Kyle is, does he have anything with Joseph and Monte? Michael – if he does though I don't know how loyal he would be to it. Kyle and Alyssa join them and the conversation ends. Kyle – oh my god someone is going to be the first person in jury and have the whole house to themselves. Michael – unless its a double. Kyle – oh you think?! Alyssa – Don't vote me out.. if I somehow get put up on the block.. don't vote me out. Kyle – you just got 5k. Alyssa – I got my 5k if you don't vote me out I'll give it to you. Kyle – oh my gosh! Michael – you can't do that. Alyssa – I'll give my own 5k. Michael – I think thats still not allowed. Indy and Turner joins them.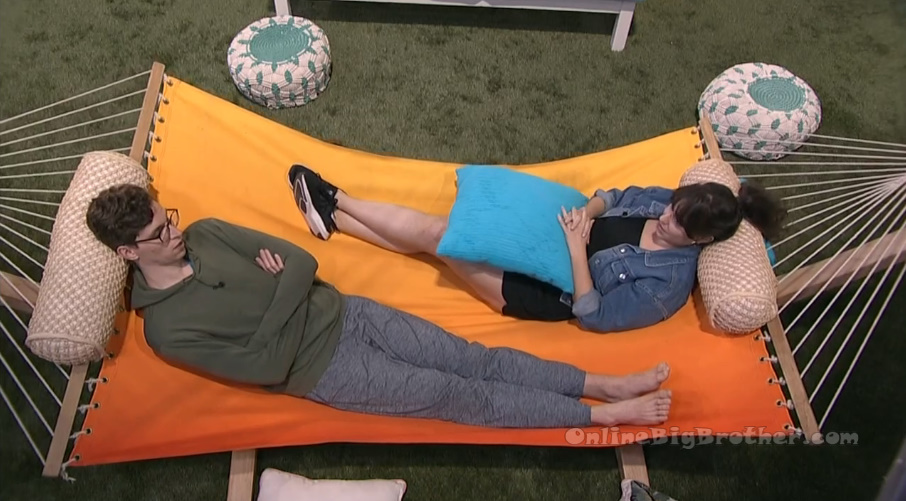 10:23pm Hammock – Brittany and Michael are alone again.
Brittany – I feels like the girls are pulling away from Indy. Michael – probably because they're feeling safe this week… but are they? Until they need something .. like with Taylor. Indy joins them again.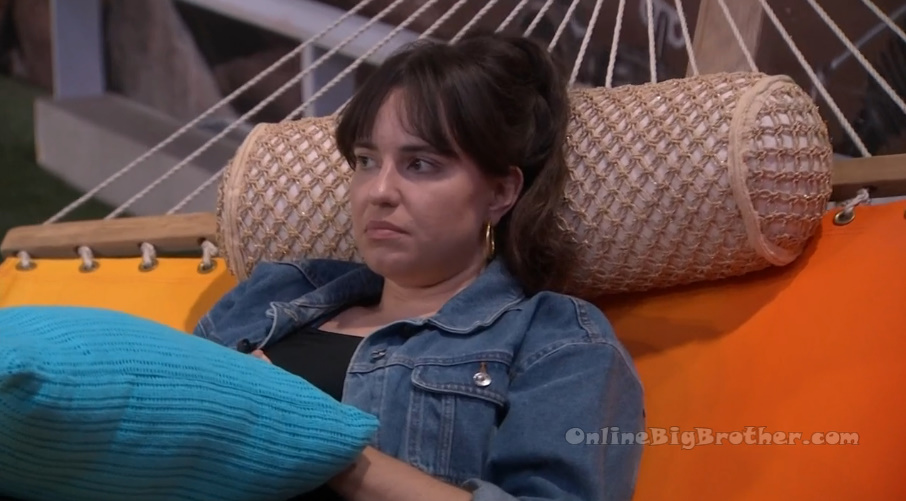 10:55pm Havenot room – Alyssa and Kyle.
Kyle – I am going to try and talk to everyone and see where their heads are at. What do you think if noms stay the same? I think Taylor is the biggest one I need to talk to. Just figure out exactly who she is going to put up if I take her down. Or if she even wants her taken down.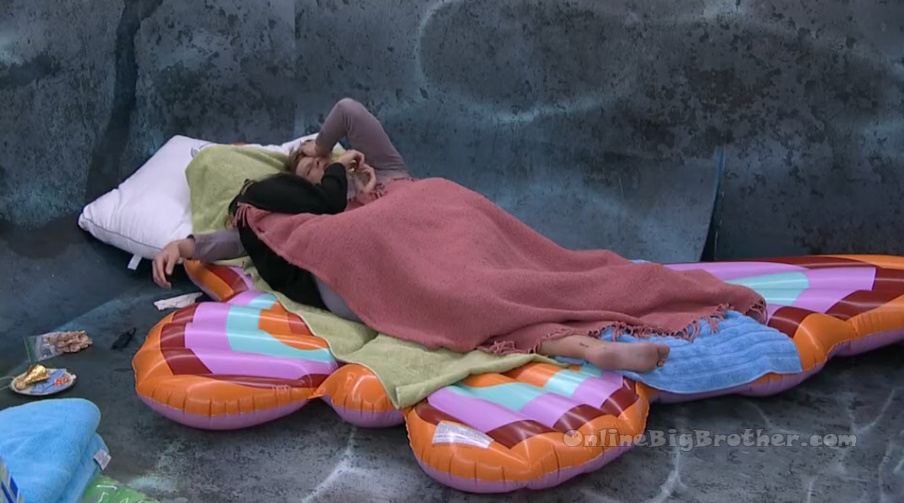 11pm – 12am Hammock – Brittany and Michael.
Michael – who would your ideal final 3 be with us? Brittany – so what do you think is the most important criteria? Michael – for me I would pick Terrance because part 1 is always endurance, part 2 is mental with some physical component. I think both of us would beat Terrance in anything. Brittany – yeah typically on the physical things I've been outlasting him. Not in Otev but that was a weird experience. Michael – who would you pick? Brittany – its not anyone from the Leftovers. They're all really strong. I don't know, Taylor like scares me .. they wishy washy. She is really smart but easily influenced. Michael – I would love it if we could go to final 3 with Taylor but its a risk. My ranking would be Terrance as my first choice, Jasmine but I think its too much of a risk to keep her in the game… So I guess Terrance, Indy, Taylor. Kyle joins them. Michael – the flashy move this week would be to send out the person that didn't take the veto and took a trip from her friend. Kyle – oh my gosh. Brittany – she is kind of pissed about that. Like legitimately kind of pissed. Kyle – oh I am sure. Brittany – think about this .. she (Taylor) promised Alyssa safety. She even picked her to play in the veto. Kyle – I know and then she took the.. Brittany – and then she said just remember who makes the replacement noms. Alyssa asked do you mean that? And she said yes. And then Alyssa still took the trip. Kyle – yeah it would just be tough for me to use the veto knowing that Alyssa would be going home. Basically to backdoor Alyssa would be a tough place but I also realize the more time I spend with Alyssa, the less time I'm building relationships with the seven. Brittany – what would be the idea situation where Alyssa eventually leaves? Kyle – I understand that she should go.. I just see her as a number for us. With Alyssa I would be fine if she left next week or whenever honestly.. it would be tough for me as HOH to put her up and have her go. I just don't know what to do with Alyssa like who is going to take the first shot.