Head of Household Winner – Christmas
Have nots – No havenots this week
Nominations – Bay & DaVonne
Power of Veto Players are –
POV Host: –
Power of Veto holder –
Power of Veto Ceremony –
Powers – Christmas and Dani. Christmas = protection from being a renom. Dani= Lets an HOH play in the following weeks HOH.
Live feeds —-> Grab your Live feeds here. Try it free.
Rank the houseguests —-> Big Brother 22 Ranking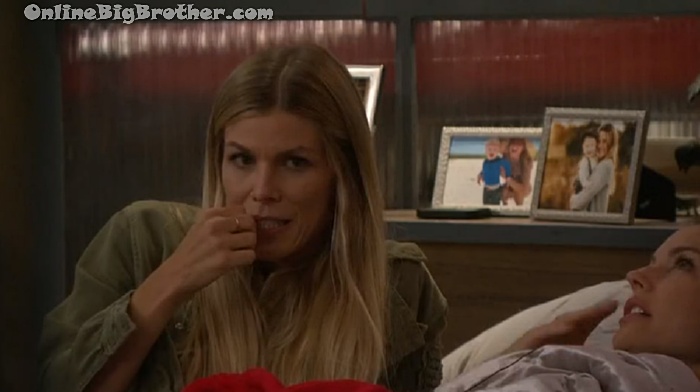 Midnight Christmas and Dani
Dani – who are you going to pick if you get houseguets choice .. I have a weird feeling Tyler will pick one of them. He was calling them his sisters and stuff
Christmas – I dunno I need to talk o Tyler
Dani – don't say I said anything
Christmas – Bayleigh told me
Dani – she did?.. don't tell Tyler anything so we can figure it out
Dani says Bayleigh is getting super emotional and throwing in a lot of personal stuff
Christmas says bay, Day and Kevin have been coming out of the have nots all day
Dani – Kevin has a power he's never acted the way he's acting. I think I know who has the other one.. I think enzo
Christmas – really
Dani – I would put money on it.
Christmas brings up Ian and how his behavior has changed.
Dani – Nicole said he hates being here..
Christmas says she doesn't trust Ian anymore "After that Nicole thing.. his behavior these last 2 days shows me he's up to something"
Dani says Ian told her he threw Nicole under the bus to Kasyar
Christmas says that Kaysar was "leveraging" something that happened outside (yeller)
12:17 am Nicole practicing her Danielle Murphee impersonations
I've seen this before.. #BB22 pic.twitter.com/7jV47MKv9p

— OnlineBigBrother.com (@bigbspoilers) September 5, 2020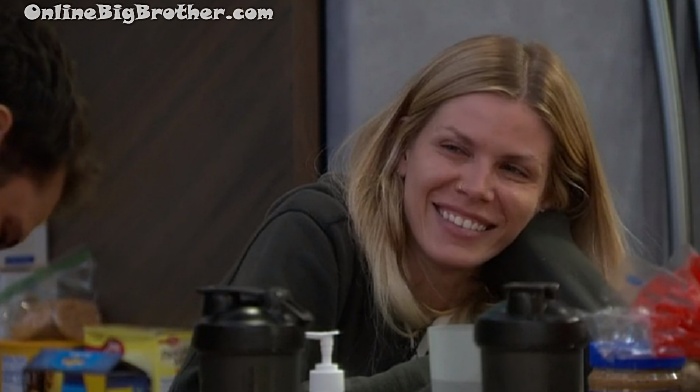 1:20 am Cody and Dani
Cody – I just can't sleep
Dani – crap on your mind
Cody – not really
Cody says he's just tossing and turning and sweating
Dani – what do you think it will be like Tomorrow
Cody – Bayleigh just said to me i'll get crazier tomorrow and she just walked away
Cody – she was saying some weird stuff.. like it's a individual game blah blah blah.. someone with the power might not use it..
Dani asks for details
Cody – I'm just speculating.. I'm just over this hole f**ing thing. I'm over being the person this season that is always the pit fall. well you're friendly with everyone
Cody – I'm the only person in this game that hasn't been yanked into a room and this is the 5th week. So why am I the one doing all the sh1t while I'm the only person that hasn't been yanked into a room
Cody – I'm the scapegoat i'm the one Cody's doing this cody's doing this. Cody's in a big group. I'm so f**Ing over it.. I'm like yo just send me home and everyone else play the game (Please can this happen)
Cody – just do it i'm over it I'm tired of tip toeing around and everyone is f**Ing whispering .
Dani – I don't think anyone is talking about you this week so you have nothing to worry about
Cody – It's so petty to me this whole week. I'm over it. What did I do why did I offend.. I guess I'm the only one that came in to play Big Brother and now I got dragged and everyone else it's personal (Pregamed big brother)
Dani – everyone is where you are but for different reasons
Cody – I would be fine if I can sleep at night.. I'm not resetting at all now we're 30 days in
Dani says she's heard a lot of crap about what Kaysar was saying "From people you wouldn't think would tell ya"
Cody – I don't know what his f**Ing deal was with you
Dani – I have no idea (none?)
Cody – After three times you don't have it..
Ian strolls in.. "I can't sleep at all". Chit chat until 1:33 then Ian leaves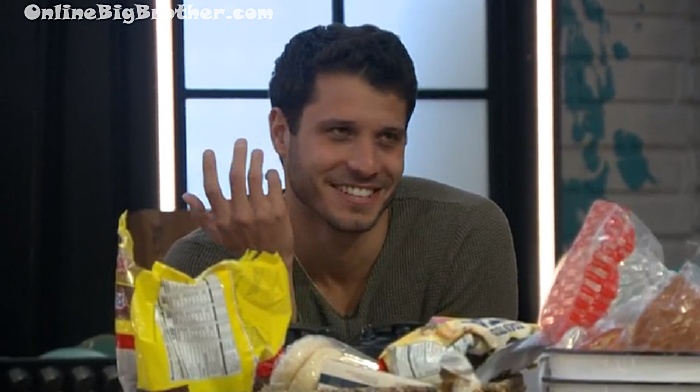 Cody – Day ever turned around today
Dani – not really it plateaued
Dani says she spent the day getting questioned and getting fact checked
Dani – and tomorrow is going to get crazy.. I'm scared
Cody – I feel bad for Christmas she was hysterical
They go on about not playing the game personal
Dani – every season it goes there.
Cody – it never did in my season. People understood this is a game and sh1t was happening.. I was on the good side of it.. Nicole was on the bad side of it but she never felt so and so doesn't like me.
Dani brings up Jordan telling her she felts personally attacked because Dani wanted Jeff out "they wanted to spend the summer together and she thought I was tearing them apart"
Dani – excuse me? it catches you off guard. I feel like I'm also caught up in something in this house it's frustrating
Cody – i'm over it.
Dani – I don't want to upset people period on a personal level
Cody – Da'Vonne was crying yesterday she came up to me asking WHY? I asked you some time the other day and you brushed it off I see you laughing with other people what did I do
Cody – Seeing her get upset sucks.. what did you do? I was just around people laughing I wasn't around her I didn't do anything.
Cody – we never had that on my season
Dani says new school big brother is you can't be friends with everybody because it means you've betrayed everybody "that's not how it use to be"
Cody – I would rather be myself and have people be like Ohh I can't trust him than be something and have them come at me for that to. They'll find a way
Cody – everybody finds an excuse in this game. No body likes to look in the mirror.. I know I'm loud, Super friendly with everybody
Cody says Zach on his season was the funniest kid ever "we needed a zach in here"
Dani – instead we got Kaysar
Cody – for a tech guy he knows a lot about body language
Dani – Tyler thought he was FBI. Like I can't with anyone
Dani says Kasyar told Christmas "these people are so stupid I can't believe i'm more intelligent and I'm leaving and they're going to win " (true)
Dani – don't repeat that it's from Christmas. Memphis made a comment about how the conversation really is dumbed down in this place.
they laugh
Dani – Ian told Memphis he wants to be the second person in Jury so he can watch Netflix
They laugh
Dani – who else do you think has the powers
Cody – I don't know. The rack my brain with that is not something I want to be doing.. not me.
Dani – I thought you would have it.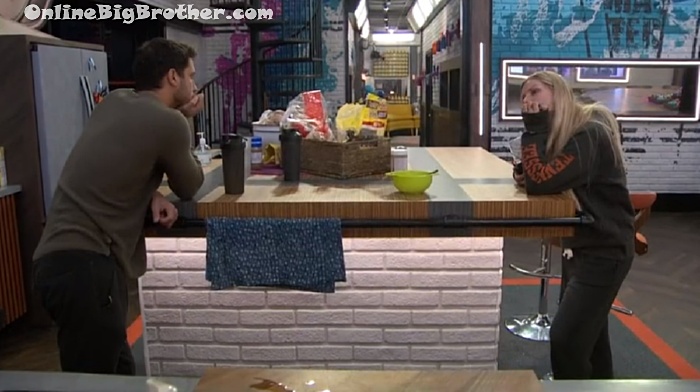 Enzo joins them
Dani – you went to sleep at 9:20
Cody – It's 1:50
Enzo makes something to eat chit chat and leaves
Cody to Dani – what are you waiting for
Dani – I was just trying to be nice and keep you company I'll leave you now with Enzo.. so rude
Dani says there's a lot of "personal crap" that involves Bayleigh
Enzo back with them.
Dani – you look wide awake.. You were eating rice while sleeping
they laugh .. chit chat..
they talk about the basement suite competition
Enzo – once they turned the lights off I started to panic yo.. I was like I don't know if I can do this yo
Dani – everyone got real quiet near the end.
Enzo – I don't think they are really game changing powers though I thin kit's to protect you yes but not change the game yo
Enzo – three people have powers yo.. whatever I don't give a f** .. at first I was like I give up I want to leave.
Enzo says he's never played with powers "Win POV, HOH old school yo f*** it" (There was a DPOV on his season but it flopped)
Enzo – power apps and sh1t now f*** it
2:15 am Cody and Dani continue their kitchen chat
Dani asks him if he ever said in the house that he would evict her
Cody – never.. why are you asking me that
Dani – cause I'm fact checking
Cody – who said that
Dani – that is what I was told
Dani – I was told there was a group meeting and it was brought up you said you would
Cody – a group meeting? between
Dani – why are you looking dumb you have no idea? it was brought up by other people and you said you wold go along with it
Cody – no, nobody talk to me me.
Dani – nobody did?
Cody – I'm sure it did not with me there
Dani – okay
Cody – that's f***Ing annoying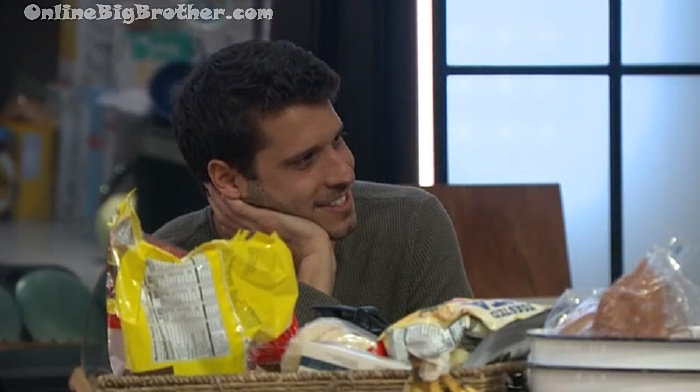 Cody keeps denying..
Dani says she heard that the there was a group meeting and in that meeting someone said they would go after Dani and Cody said he would vote to evict her.
Cody – you know how much I have your back in this game.
Dani – everything I've done in this game is to help the group
Cody says the point of the conversation was if she's coming for me are we going after her, "I wasn't even like yeah 100% go after her I was like yeah find out what's going on"
Cody says that pisses me off because conversations that didn't happen are getting spun
Cody – I'm f**ing pissed
Dani – please don't repeat it
Dani – the conversation had nothing to do with you that was a excerpt i took out that bothered me
Cody – what you are to me in this game it makes me more mad
They tease each other about he other one having a power.
Dani says she's certain Enzo has a power
Dani – I know for a fact. don't say anything
Dani – so it's me him and Kevin.
Cody – I can't believe you lied to me all day because you were mad at me..
Dani – it's not exciting I literally started crying.. that's it and then I started crying.. I couldn't stop crying I was so upset it's horrible the good thing from that means they're all trash.. maybe one of them is actually good it cold be Kevin and that would be bad.
Dani – do you not want to know what this trash thing is?
Cody – alright what is it
Dani – it's horrible. Nicole thought I was lying
Dani explains her power.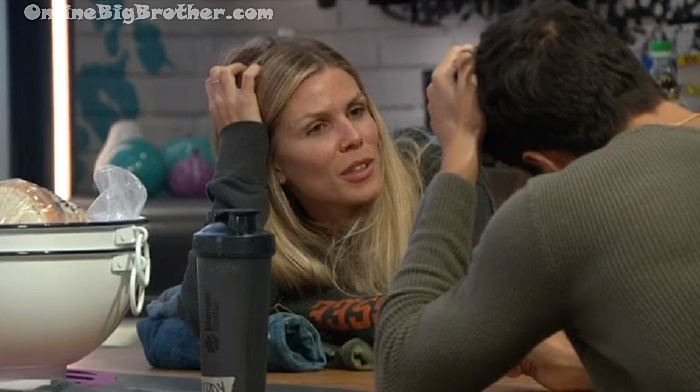 2:40 am
Dani – Kaysar was coming up with a whole thing for people to nominated me after he gets out which were conversations I wasn't privy to
Cody – Christmas told me Kasyar said and I'm really scared of her so please don't say anything she was like don't tell anyone..
Cody – Kasyar was trying to spin the girls them two (Day/Bay) this week coming up that you and Tyler need to go up
Dani – she told me that ..
Cody – and I needed to be backdoored.
Dani – I think bayleigh is going to go off on Tyler
Cody – yeah
Dani – don't say anything or I'll kill you. If she says anything about me will you have my back
Cody – yeah, what do you mean
Dani – mmmmmhmmm tyler has been saying a lot of stuff to me about them and basically taking all the information I've been saying like.. hes been saying and flipping it around on me to them.
Dani – please don't say anything to him for real.. for real..
Dani – it's turning into a lot of personal stuff about her. he said a lot of personal stuff about her. and she's taking it to a whole new level that I don't think has anything to do with it. (Bay)
Dani – it's kinda a mess, I don't want to get caught in the middle of any of this I don't freaking do that I don't say personal stuff. that's not who I am .
They tease about Cody going on the block. Dani says she can get him on the block "easy"
Cody – it's not about getting me up it's getting me out
Dani – easy .. Challenge?
Dani – you would suck at this game if I wasn't here..
they giggle
Dani – what did Tyler say to you today when he pulled you into the back room
Cody – he didn't pull me into the back room today \
Dani – yes he did.. you lying again
Cody – no i'm trying to think
Dani – after Baylegih talked to me
Cody – ohh he was nervous I told him to go talk to her… he was freaking out
Dani – he came to me did she throw me under the bus (bayleigh)
Dani says Tyler has been throwing her under the bus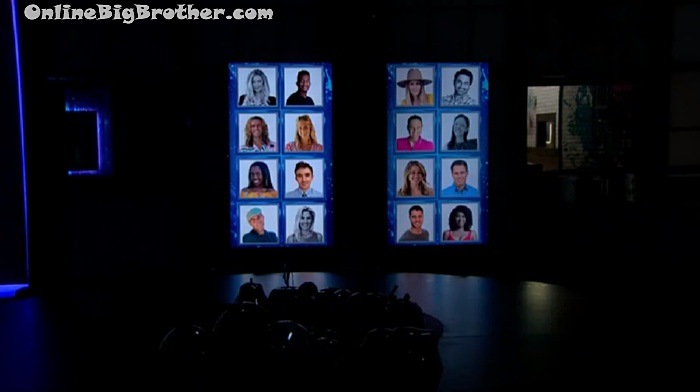 3:41 am Sleeping yo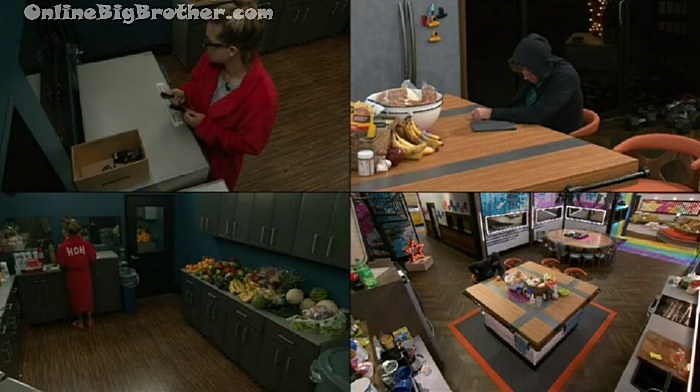 7:00 am Wake up!
8:00 am Feeds on Puppies
9:19 am Feeds on puppies