POV Holder:
Jon
Next POV
?
POV Used
?
POV Ceremony
March 31
HOH Winner:
Canada
Next HOH:
Apr 3
Original Nominations:
Andrew and Sabrina
Current Nominations:
?
Have Nots
Jon and Adel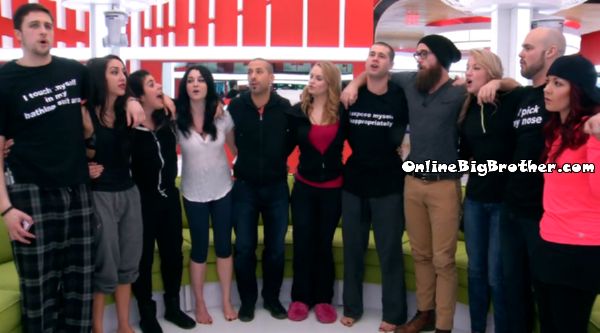 10:44pm Feeds back
House Guests milling around the living room Jon, Arlie and Andrew are wearing shirts given to them by Big Brother.
Andrew wears a shirt that says "I pick my nose"
Jon's shirt says I touch myself in my bathing suit area"
Arlie's says I expose myself inappropriately.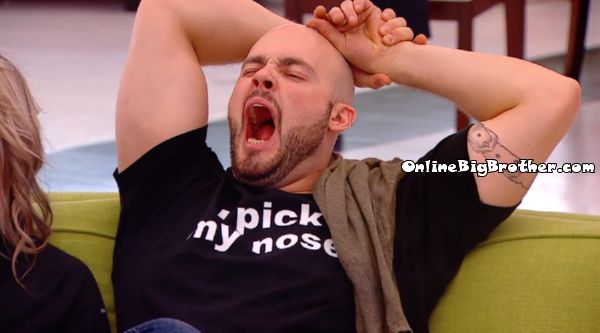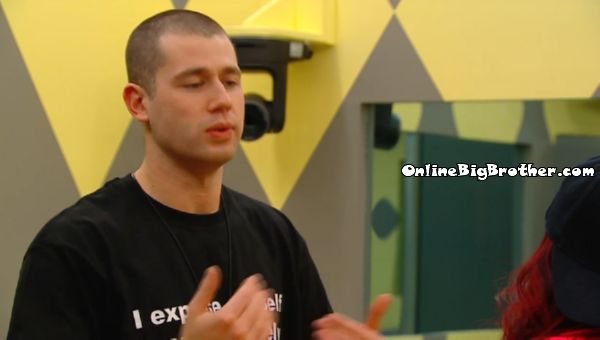 10:50 Storage room Arlie and Sarah
Arlie says Sabrina is making lies out of the air with nothing behind them..
10:55pm Storage room Arlie and Kenny
Kenny comes in and Sarah leaves . Arlie saying he trusts Sabrian but they know she is lying to them both. Kenny agrees. Kenny says he sees Arlie talking to Adel and not being fully forthcoming in their conversations. Kenny wants to know where his head is at. Arlie says first 5 all the way. Andrew adds that the outcasts are banding together but if he wins he's sticking with the first 5. Kenny is getting wise to Arlie playing both sides. He continues to grill Arlie about his allegiances.
Arlei tells him Sabrina is doing thing to turn they against each other. They both agree Sabrina is lying up a storm, kenny – "She never tells the truth and when she does it's a stretch .. I take what she says with a grain of salt.." Lenny saying that thing were said and seen beforehand and now they are starting to resurface from Rachelle, Neda and Sabrina.
Kenny says Sabrina is an important role in their alliance and she trusts her as much as he can trust her..
Kenny wants Arlie to talk more game with him.
Adel and Jon walk in "What's up T1ts"
Kenny – "Jon is very intelligent"
Arlie – "He won the tricky.. POV"
11:00am Hot Tub Andrew, Sarah and Heather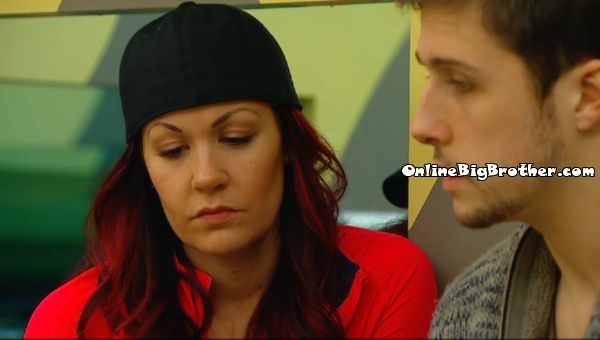 11:20pm Storage room Jon and Sarah
Sarah is saying she trusts Arlie and Jon but Adel scares her. Jon only trusts Sarah, Arlie and Neda in this game he wants them to be safe. Jon says right now him and Kenny are the furthest apart and he knows Kenny and Sarah are very close. Jon wonders if Kenny will put him up. Sarah says he's never mentioned it. Jon says he's not going to be the one putting Kenny one the block. Sarah says when it was brought up it was Andrew who started mentioning putting Jon up. Jon says he guarantees he'll never play her in this game.
Jon – "I put a lot of trust into what Arlie is doing.. If we stick to it we'll be really OK"
Sarah warns them about Sabrina and Rachelle she says Sabrina can come up with the craziest stories.. Jon – "She's such a liar"
Sarah starts to retell some of the Sabrina lies.. says she comes up with things to pull information out of people.
Sarah claims to have confronted Sabrina about her lies and calling it Bullshit.
Jon Says he's not targeting Kenny if he wins HOH this coming week. Sarah is worreid that Adel will do it. (Sounds like Sabrina told Jon about Kenny targeting him in the hopes Jon would save Sabrian and Kenny goes up)
(Video is coming.. It's long)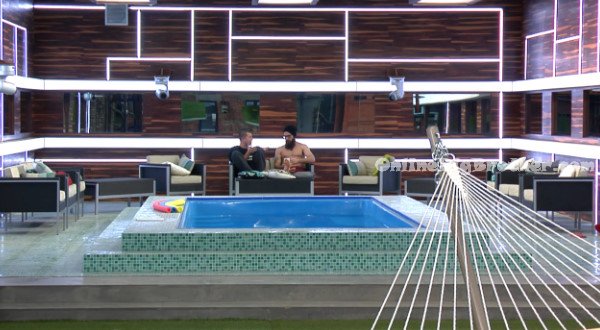 10:50pm – 11:25pm Out in the hot tub room – Andrew, Sarah and Heather are talking. Andrew is talking about how he was told Canada doesn't like him swearing and picking his nose. Andrew says that he's sorry he picks his nose. Sarah says the thing is that everyone does it. She says that Andrew said he claimed he was touching his nose ring and not picking his nose.. Sarah says but your nose ring is in the other nostril. The cams switch to the HOH room with Sabrina, Allison, Rachelle Jon and Neda. Jon says so touching my junk on national television, hey!? Brutal! Sabrina says so picking my nose, that's embarrassing! DO you think they're going to show that?! Neda says yeah. They'll probably show the whole montage that they showed us. Neda says at least they didn't get you to apologize.

Out in the backyard by the pool – Arlie and Kenny are talking game. They talk about how Jon has the veto and how they wonder if Adel and him will band together to use their vetos. Kenny says that Jon and Neda are a powerful couple right now. Andrew joins them.