POV Holder:
Dallas
Next POV
March 19th
POV Used
No
POV Ceremony
March 21th
HOH Winner:
Loveita
Next HOH:
March 17th
Original Nominations:
Cassandra and Christine
Current Nominations:
Cassandra and Christine
Last Evicted Houseguest
Paige, Sharry
Have Nots
Joel & Cassandra
Want to watch the Big Brother Canada 4 live feeds but live outside of Canada?
Bypass the geoblocking with HideMyAss VPN and be Canadian Anywhere: VPN Help Guide
ALLIANCES IN THE HOUSE
There will likely be a lot of alliances during the season – keep track with our alliance help guide.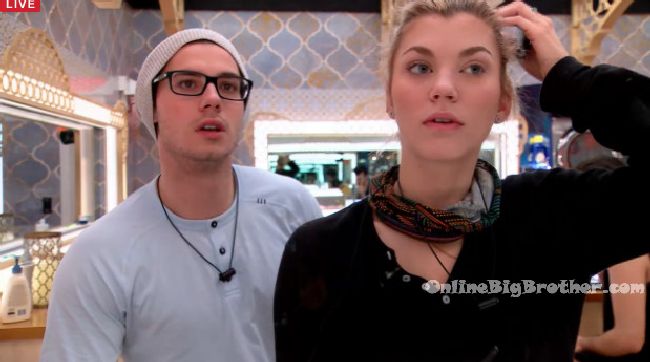 9:40am Tim is cleaning up in the kitchen. He says I love how some people just put dirty dishes in the sink.. Like Raul! I wish we could just put in his bed.
In the bathroom – Cassandra tells Jared and Kelsey that she talked to the brothers last night and they said they would vote to keep me. Phil told me 100% I'm voting to keep you. Jared says that's great! Cassandra says amazing. Jared says I want to talk to Nick today too.
9:55am Hot Tub room – Jared and Kelsey head out to the hot tub. Kelsey says we need to really decide whether we keep Cassandra. Jared says I know. I'm leaning more towards yes. Kelsey says its just some of the stuff Loveita told me. Jared says we have a couple days to decide. Kelsey says I do love Christine and Cassandra. I could see myself being friends with her outside of here. Jared says I am really annoyed with Cass asking everyone to do everything for her. She doesn't even clean up after herself. Kelsey says she's having a rough couple weeks. Jared says she was babied to much at home. Kelsey says so was I. Jared says I was too but she takes advantage of people. Jared says Tim is getting pretty frustrated with people. Kelsey says we're going on 20 days. Jared says I want to win HOH so I don't have to sleep next to Ramsey.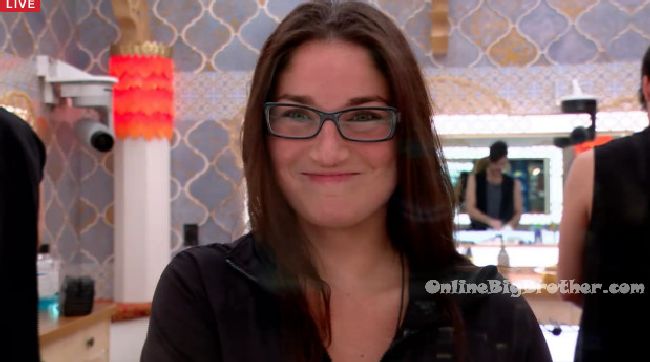 10am In the bathroom – Cassandra is talking about how she washed her hair with the shampoo full of BBQ sauce. She says at first she thought they got new shampoo for brunettes, then she noticed it smelled like BBQ sauce. Why am I getting all the pranks!? Tim says yeah you're having a bad week. Cassandra and Tim head to the bedroom. Cassandra says I think Loveita's done some voodoo on me. Sprained my ankle, Slop, Sitting on Vaseline, BBQ sauce in my hair. Tim says I think I'm related to all of those events as well. Tim, Cassandra and Christine agree that they wouldn't be in this position if Sharry had stayed. Tim thinks the HOH this season will gamble away part of the prize. He doesn't think the nominations were their first choice and that Jared and Loveita might have already won money from the grand prize. Maddy says if that's the case I don't want to be here any more.


11am By the pool – Tim and Cassandra are talking. Tim says essentially she pulled one from each (Side) but the bottom rung from each. I think she came after you this week because she thinks she can persuade people against you. I don't know how you're not scratching her eyes out. Cassandra says I'm good at hiding it.
11:15am Inside the house – Dallas holds the duck ransom until Christine gives his slippers back. He threatens to f**k up the duck if he doesn't get them back. Christine runs to get them. Kelsey pleads with Dallas not to do anything to the duck. Its the only thing that makes Maddy happy in this house. In the bathroom – Kelsey tells Phil that she wants Cassandra to stay. Phil says I do too. Kelsey says it doesn't make any sense that Loveita wants to work with us but then say she wants to vote out the people we're working with. And Christine already won 10K.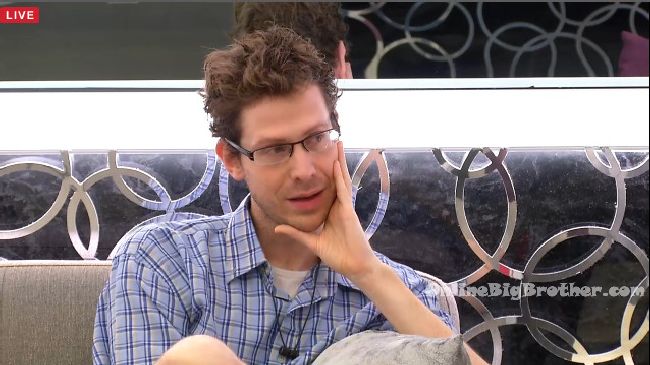 11:20am HOH room –
Loveita says I am confused how we can be in an alliance together and then voting the opposite way. Tim is stirring the pot. He says one thing and then does the other. He even told Christine we need to get rid of Cassandra and now he wants to keep Cassandra. Joel says now I feel like I screwed up because when Cassandra asked if she had my vote I said yes. Loveita says you can't say that because you don't know what everyone else is doing. She isn't trustworthy. She isn't helping your game and if she stays and tries to take me out then you're one down. Joel says everyone is probably going to see me as untrustworthy. Is Mitch 100% voting out Cassandra? Loveita says pretty sure yeah. If you said it to her and she goes out of the house she won't be in jury. She deserves to go. I can't ready through her faces, she is so fake. Tim told me to put her up. Dallas joins them. Dallas tells Loveita and Joel that he wants Cassandra out in the worst way. Dallas says me, Maddy, Ramsey. The brothers are on the fence. Nikki and then we still need the brothers Joel and Mitch to jump on board. Dallas says the more he thinks about it he thinks Cassandra is staying. Loveita tells him not to flip. Loveita says that this is her game, who's ever empire crumbles she's going to say oh I'm over here. Nick joins them. Whoever has strength she is going to gravitate to. So keep a snake. I don't have a vote. Dallas tells Loveita to tell others.. if this is the rat you want to keep, maybe expose it. Nikki joins them. Nikki says I'm worried that Cassandra is very unpredictable. She's very convincing. I don't know how much I trust her. She's very manipulative. Loveita says she wants to snake her way through this game. Nick says there's a rumour going around that you two (Loveita & Dallas) are working together. Phil joins them and says I was dead set on getting Cassandra out until I heard things that make you two look very suspicious. Phil says honestly Dal, your name is coming up in every discussion and I'm the only one that isn't going to put you up. Dallas says lets take a part this 5 headed monster. Or else we might as well pass the check to Jared and the gang. Christine has nobody. Loveita is annoyed and leaves frustrated. Are we blind or are we dumb!? Dallas leaves.
12pm – 12:30pm By the Pool – Nick, Phil and Joel are talking. Phil says I want to trust Dallas and Loveita but I genuinely trust Jared more. If Cassandra is here she is with Jared and Kelsey but when it comes down to it she would keep us over them. Phil says Christine is sketch. If I win HOH I won't put up Dallas and Loveita. Joel says I really like Loveita and respect her. At the same time I know she wouldn't come after me. Phil says Dallas lied to everyone. Week one he said we were the vote. I see positive in keeping Cassandra. Phil asks Joel you want to keep Cassandra right? Joel says I do. Phil says and If we both do it then its done and we can just say its best for our game. Cassandra is useful, she's best friends with Kelsey. They'll never go after us. Phil says people are doing whatever is best for their game and I want to keep Cassandra. I want to support Loveita but she said do what's best for your game. Keeping Cass is pretty much guaranteeing a week of security. Nick says every time I feel like I go in that room I feel like I am being strong armed but when you talk to Jared and Kelsey respect what you have to say. Phil says there's a floating ship and a sinking ship. I would rather stay on the floating ship. Phil says it will be a 7-4 vote this week. Phil tells Joel if you keep Cass you're good with her and Tim and part of a strong group. Why would you go with a group that is strong arming you and forcing you. And they're probably going down next week. They high five and end the conversation.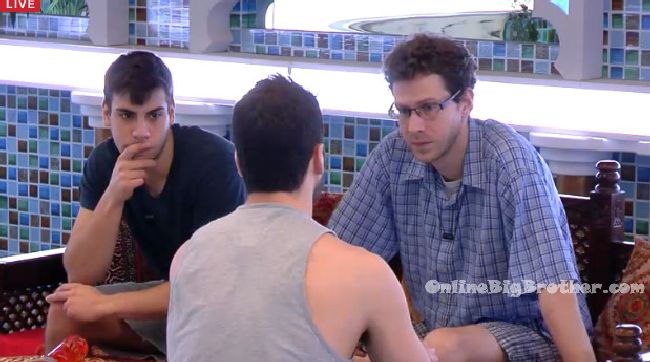 12:45pm Storage room – Phil talks to Mitch about how he is voting for Cassandra to stay. He says that he doesn't like how Loveita tries to strong arm people. Mitch says so Dallas, Maddy, Ramsey and Nikki are definitely voting Cassandra out? Phil says yes. Mitch asks so the question is are Loveita and Dallas together now? Phil says they have to be. Phil says it will be 7-4 if you vote to keep Cassandra as well. Nick says if we get out Christine with 7-4 they'll be like okay we lost the battle. Phil says this is the week that you can't play scared, you have to pick a side.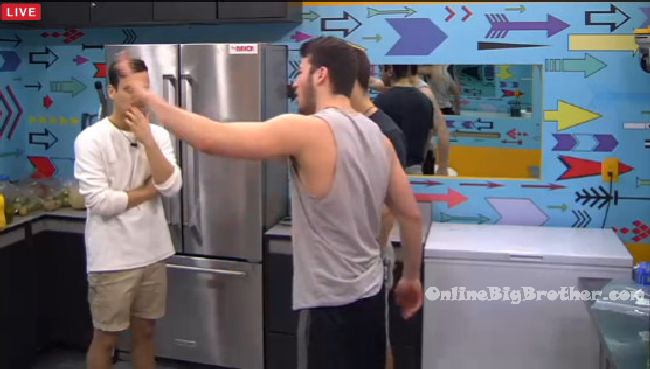 1:45pm Big Brother puts the house guests on an outdoor lock down and then blocks the feeds.
Help Support Online Big Brother
Show your support and appreciation to help keep the updates coming: Support OnlineBigBrother.com
HELP keep the spoilers coming. Show your support by making a donation.
[polldaddy poll=9341582]
Share it YO!!
Tweet