POV Holder:
Andrew
Next POV
April 20th
POV Used
Yes
POV Ceremony
April 15th
HOH Winner:
JILLIAN
Next HOH:
April 18th
Original Nominations:
Andrew and Peter
Current Nominations:
Peter & Talla
Last Evicted Houseguest
ALEC & TOPAZ
Have Nots
Talla & Andrew (Servants for haves)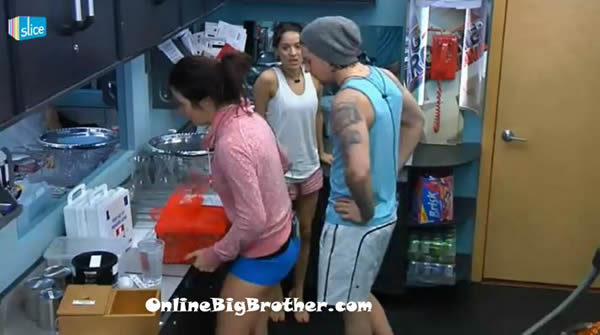 9am Big Brother wakes up the house guests. Andrew asks Peter if he noticed the luxury item yet. Peter says yes, I think Emmett and I are really going to enjoy this one. Talla comes out morning drunk, morning slop! Jillian and Talla go to the storage room when it opens and Jillian carries out the luxury item for her. She opens it up in the living room. It's a red dress, shoes, clutch, and earrings. Andrew tells them that he told Peter that he is voting to keep Talla. Talla says awe thank you. Andrew tells Talla to get nice or he will change is vote. Andrew asks Jillian if she is okay. Jillian says yeah, I just have to figure out what to say. Jillian starts talking to Talla about how stressed Emmett is because he thinks 100% they both go to final 3 with Peter. Talla asks if Emmett is going to vote her out today. Jillian tells Talla no, Emmett said he would do whatever I wanted and I want you here. I want to stay strong to our alliance and I want another girl here.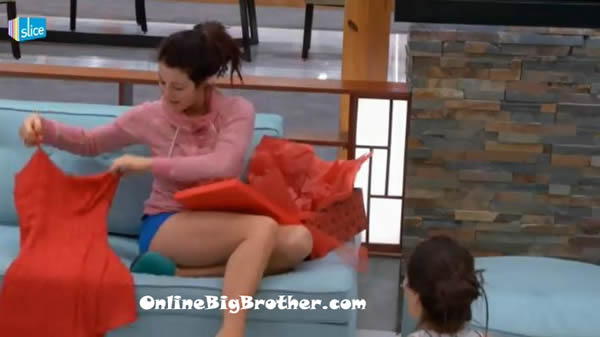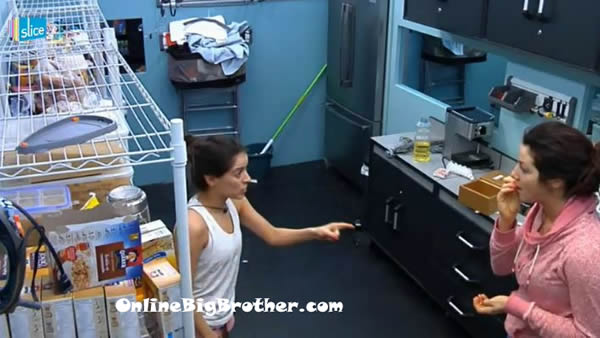 Jillian and Talla head out to the hot tub room. Jillian says that Emmett doesn't understand. She says that I want to secure my final 3 and I want to go to the final 3 with a girl not two guys. She says that she hopes she doesn't regret this, like if he doesn't win the veto and ends up going home. Jillian says that she feels like she is turning her back on him a bit. She says that he understands it and says that its my HOH. Talla says that Emmett could win HOH and veto. Jillian says yeah and then we are screwed! Jillian says that Andrew scares her a bit. Talla says I know that! Jillian says that she told Emmett that Peter was snaky, he lied to me I would rather go with someone who it honest. Jillian says that she is going to tell Peter some time today that he lied to her so that he doesn't think she blind sided him like everyone else in the jury. Jillian reiterates that this guarantees that you and I go final 3! Jillian laughs and says unless there is a twist and I am left here with two smelly guys. Jillian and Talla head back inside.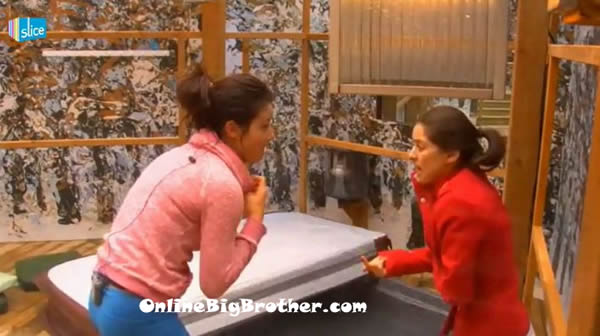 10:10am Andrew, Talla and Jillian sit and talk on the kitchen couch. Andrew tells them again what he told Peter this morning about voting him out. Talla says thank you. Jillian says that everyone in the jury hates me.
10:20am Jillian is worried and stressing out because all the blood is on her hands. Andrew tries to calm her down and tells her lets just get through today.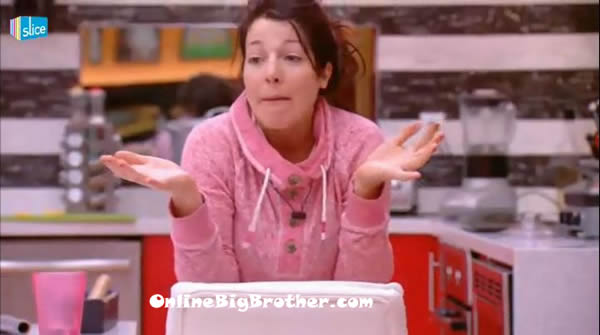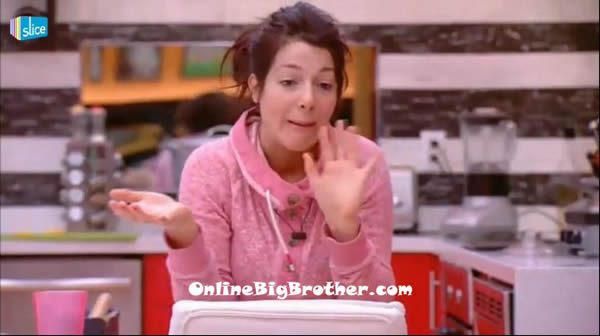 10:35am – 10:45am Jillian goes out to the hammock to talk to Emmett. Emmett says that the only way that you me and Talla go to the final three is if Andrew doesn't win HOH tonight. Jillian says well we just need to make sure that doesn't happen. Jillian says that she wants to get her first Veto. They talk about how Emmett talked Talla into throwing tonights HOH. Emmett says that he talked her into throwing it last night. Jillian says she but would you rather her win it or Andrew. Emmett says well maybe we need to make sure she doesn't throw it if Andrew is going to win it. Emmett talks about how he can't stand these people and can't wait to get out of this house. I can't stand loud obnoxious people. Jillian asks so no matter what are we going to go out with no regrets? Emmett says yes. Jillian says we can only blame ourselves for not winning the veto. okay? Emmett says yeah. Jillian heads back inside. Andrew asks if he is alright. Jillian says yes.

10:45am – 11:05am Andrew and Emmett head out to the hot tub room to talk.

11:05am – 11:30am Big Brother switches the live feeds to the hush hush screen.. When the feeds come back: Andrew, Emmett and Peter are out in the hot tub room talking. Emmett is talking about farming. Emmett describes how hay is put into the silos. He says that its just hay that's wet and if you put your hand in it, it's hot and we probably cut it 6 months ago. Andrew asks did you ever put anything else in it?! Andrew laughs. Emmett says no. The live feeds keep cutting in and out. When they return: Emmett and Peter are alone talking about what day the finale will be on. Peter tells Emmett that if he is up there in the end make sure you explain everything. Week 1 I started to control people to do what I wanted, you didn't need to win competitions. You only need to win competitions to save yourself. Peter says based on the body language of Jillian, Andrew and Talla it suggests trust is the issue. Jillian will look back on this and be embarrassed when she sees I have been loyal. Peter says that Talla has no clue about this game. Peter says that they have a 66% chance to win the HOH tonight. Emmett tells Peter that he pretty much talked Talla into throwing the HOH. Peter and Emmett talk about being sick of Andrew. Emmett wonders if Talla has been acting and isn't as dumb as she acts. He says remember how her family said she was so funny. Peter thinks Talla is being herself. They continue to talk and then head inside.

12pm – 12:20pm Andrew is in the shower with his head down. Emmett sneaks up to the shower door and scares him. Andrew laugh. Talla and Peter come into the bathroom. Emmett leaves and Peter follows him. Talla gets mad and asks why Peter is following Emmett around. She keeps talking about how Peter is campaigning when he said he wouldn't. Andrew tells her numerous times to stop talking about it, be quiet. They head to the bedroom. Emmett tells Andrew and Talla … I have an idea, we put Talla in Peter's bag and then we get rid of both of them at the same time. Andrew and Talla continue to laugh and joke around. Big Brother switches the live feeds to the hush hush screen.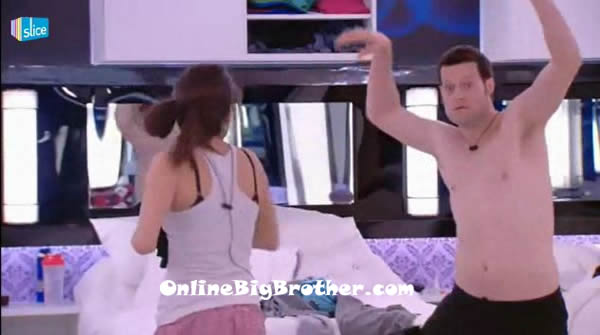 Please consider donating. Simon and I work 24/7 all season long to bring you all the live feed updates and spoilers. ANY amount is greatly appreciated, your donations go directly to paying the server and bandwidth fees needed to run this site.
OnlineBigBrother.com
Stay connected and interact with other Big Brother Fans on our Facebook page.
And Follow: @BigBspoilers and @Dawgsbigbrother on Twitter for the most up to date spoilers.