POV Holder:
Peter
Next POV
April 13th
POV Used
Yes
POV Ceremony
April 8th
HOH Winner:
JILLIAN
Next HOH:
April 11th
Original Nominations:
ALEC & PETER
Current Nominations:
Alec & Topaz
Last Evicted Houseguest
GARY
Have Nots
No havenots this week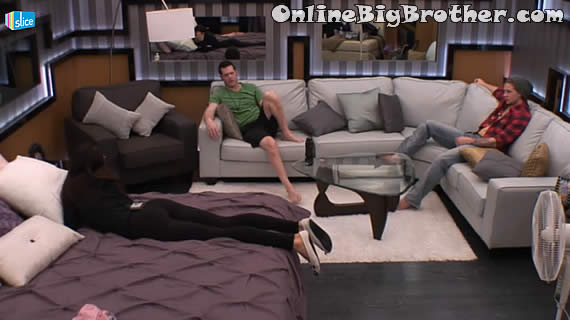 12:14PM HOH Andrew and Jillian
Andrew saying he's going to be
Jillian: "If it's a physical one they want us to win if it's mental they want them to win"..
Jillian: "Why would they be against us.. look at peter and topaz.. topaz just sleeps"
Andrew says if there is a twist he should go up against Topaz/Alec. They need to bring Talla up to talk to tonight and tell her the plan. Andrew thinks if they put Talla up she'll get pissed. Jillian agrees but is still nervous about having Andrew up against Topaz.
Andrew: "The guy threw the Veto they shouldn't give him one. " (Alec threw the POV?)
Jillian: "You think he already had it " (Alec has a POV power?)
Andrew: "He quit the Veto comp after 10 minutes.."
Emmett walks in
Andrew jokes : "Shh.. OK we'll get him out next"
Andrew brings up again how unfair it is if Canada gives Alec the Veto on thursday because Alec quit the Veto Competition after 10 minutes. They agree if Canada votes Alec to have a veto and he's in the final 2 they will not vote for him to win.
Andrew tells Emmett: "I hope the HOH is a crazy physical one and we can look at each other and be like let the best man win.. Its a knife fight"
Andrew is really worried about the prospect of the twist it's pretty much all he's been talking about all morning.
(Side chatter with Jillian and Emmett off of camera)
Emmett: 'You calling me fat.. "
Jillian: 'No i'm calling you horny"
Andrew: "I hate these people that don't win Competitions and think they can cruise through on mind control"
Jillian: "Peter was going on about how he understands this game more than anyone"
Andrew: "I hate it when people play that type of game.. you get no blood on your hands because you never win"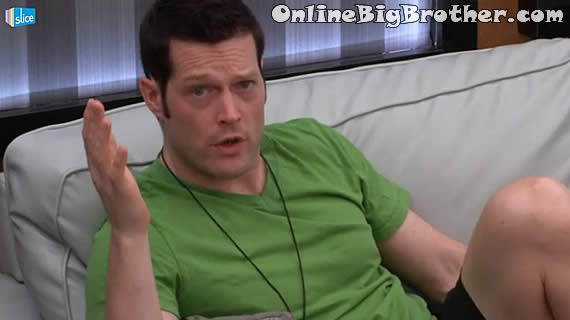 Andrew brings up Alec saying he's going to throw the final HOH if Andrew votes for him to stay this week. Andrew is going to give Alec a counter proposal he'll give Alec the vote if Peter and Alec throw the final HOH and guarantee Andrew final 2.
They all have a chuckle about this, Jillian thinks its a good idea just to hear Alec agree to it.
Andrew says Peter is only on the show for fame, he's got his "Internet thing" and wants to do wrestling, "He's one of those people"
They notice Peter on the spy screen, Jillian: "Oh my god is he coming up i'm going to hide under the covers"
Emmett: "The only way to be safe in this game is to win"
Emmett leaves
Andrew mentions how Alec and Peter were saying they want to be like Dan in the game. Andrew calls Dan a horrible backstabbing player, he never won competitions but still came in first one season and then second during his 1/2 season (1/2 season because Dan was safe for the first 1/2 of BB14)
Andrew: "Why emulate another player.. be yourself" (do your thing.. leave the rest to us .. stay at a Ramada Inn today)
Jillian says they need to really starts studying the weeks in case that is the next HOH.. Andrew hasn't done that yet. Andrew mentions that Talla has done very well in the quiz comps.
Andrew: "Either me or Emmett will win the HOH and one of the four of use will win the veto.. it'll probably be me"
Jillian: "I'm going to win the veto"
They laugh..
Andrew says Emmett and JIllian need to win the second to last HOH so they can put Talla and Andrew up and get out Talla.
Jillian says she would be really upset if Talla won Big Brother Canada Season 1.
Andrew agrees.
(Andrew and Jillian really do not like Peter and Alec. Sounds like JIllian dislikes Peter the most)
Andrew: "I really hate when Alec comes to me and says – hey man this is the only thing I can think of"
Andrew: "How about thinking about pissing off"
Jillian and Andrew both are annoyed about how Peter is a totally different person in the DR. Jillian impersonates Peter's Voice in the DR. (I think they can hear him sometimes.. dunno it's pretty funny though it's in the video clip)
(Always want to add that Alec is at this moment going home 100% unless a twist saves him)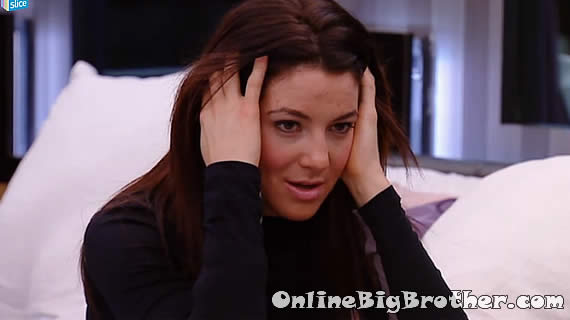 Video of Emmett, Jillian and Andrew in the HOH

Video of Jillian and Andrew in the HOH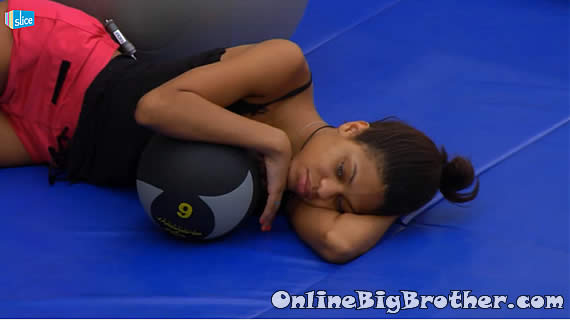 12:53pm Alec still working out.. Topaz watching.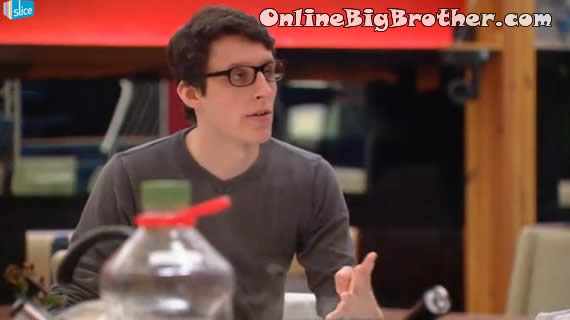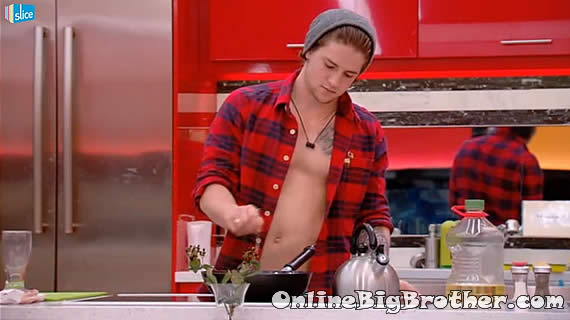 12:50pm Emmett and PEter While Andrew and Jillian are up in the HOH Emmett and Peter talk a bit of game downstairs.
Peter says that Jillian told him if Alec can get a second vote she will break the tie in their favour, "That was the deal so if you vote for him he's safe"
Peter brings up that their original final 4 deal is still good, he mentions if they stick to the plan it'll be the 3 of them against Andrew in the HOH. Peter discounts Talla's ability to win the HOH comp on Thursday. Peter says Topaz still thinks she's staying, 'Right now she thinks I am Alec's only vote"
Emmett: "hmmm "
Peter: "I have no reason not to trust her" (Jillian)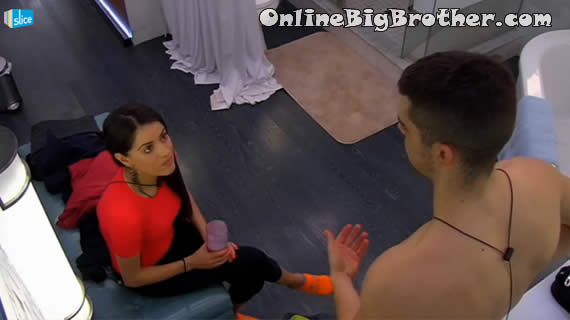 1:20PM HOH Talla and Alec
Alec asks her if she is voting out Topaz. Talla says she's voting to keep Topaz.
Alec admits he's most likely going home this week. He explains yesterday's "Play" to Jillian and Emmett where he said he would put Talla and Andrew up but this was just a lie.
Alec: "My only play now is an all out assault on Emmett and Jillian.. the 4 of us against them"
Alec tells her Talla needs to go to talk to Andrew and find out if They want Topaz to take out Emmett and Jillian or if they want Alec to go after E/J.
Alec: "This is my last shot.. my other pitches didn't work"
Alec: "Jillian has already promised me she will keep me if it's a 2-2 tie.. and if she breaks that promise that is 5 promises she's broken this week"
Alec doesn't expect her to keep to her word so he's fighting to get the 3 votes. Alec: "At teh very least i'll have exposed Jillian as a liar"
Alec tells her that Emmett and JIllian are not going after Talla next week they will target Peter.
Alec adds that he's been lying straight to Jillian and Emmett's faces all along he didn't want Talla to be put up he wants to go after Jillian and Emmett.
Alec also brings up the east coast alliance that is suspects Andrew, Emmett and Jillian having. Talla calls herself a tourist.

(Video uploading)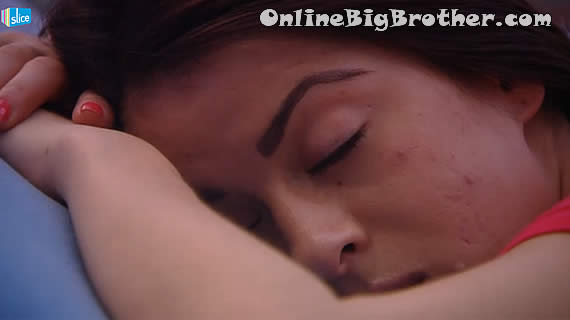 2:00pm outdoor lockdown silence
2:11PM Andrew and Emmett Hot Tub Lockdown over nothing much going one.
Andrew still worried about a twists. He mentions that Talla was talking with Alec in the HOH.
(Hmm looks like some people on twitter think this may be real.. just a OBB joke)
#BBCAN DPOV spotted in the backyard twitter.com/bigbspoilers/s…

— OnlineBigBrother.com (@bigbspoilers) April 10, 2013