POV Holder:
Peter
Next POV
April 13th
POV Used
Yes
POV Ceremony
April 8th
HOH Winner:
JILLIAN
Next HOH:
April 11th
Original Nominations:
ALEC & PETER
Current Nominations:
Alec & Topaz
Last Evicted Houseguest
GARY
Have Nots
No havenots this week
Please consider donating. Simon and I work 24/7 all season long to bring you all the live feed updates and spoilers. ANY amount is greatly appreciated, your donations go directly to paying the server and bandwidth fees needed to run this site. Donation Link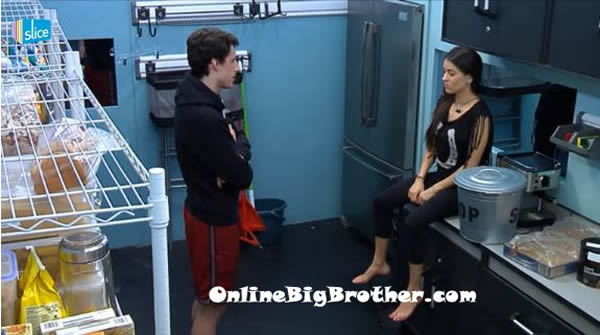 9:10pm Peter is in the storage room with talking with Talla trying to save Alec. He pitches the idea of saving Alec so that they can all work together with hopefully Andrew to get Emmett and Jillian out. Peter tells Talla that he has trusted her for a long time in this game and I trust Andrew. Peter tells Talla that there is an east coast alliance. Talla asks well how many votes does he have? Peter says well he has me and Alec is working on Andrew … if we can get you then Andrew would be much more inclined to work with us if you are wanting to.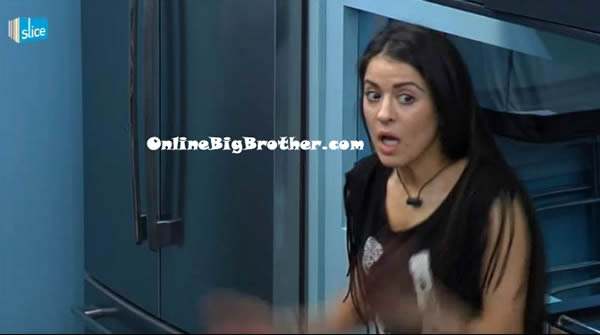 Jillian opens the door and Talla gets startled and screams. Peter comments we were just about to make out. Peter leaves. Talla tells Jillian her conversation with Peter. Talla says that she should just tell them she will vote to keep him ..but won't really. Emmett joins them. They tell him the conversation. Emmett leaves. Jillian and Talla laugh about Peter trying to recruit her. Jillian says they know there's an east coast alliance but they'll never suspect you're a part of it.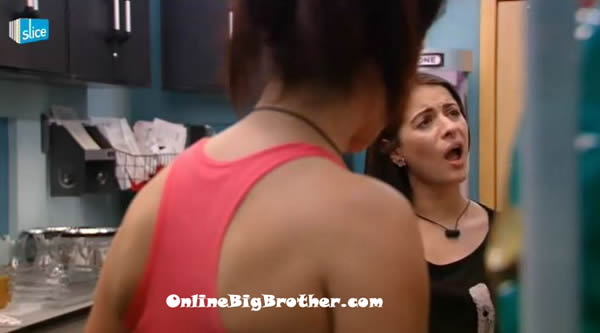 9:35pm Jillian continues cooking in the kitchen while Topaz watches. Peter stares at them from the kitchen couch. Emmett and Alec are playing the puck ball game at the kitchen table. Emmett leaves and Talla takes his spot playing Alec.

Jillian heads up to the HOH room and talks to Andrew. They share their conversations that they have had with Alec and Topaz. Emmett joins them. Andrew says how long have I said that he doesn't want blood on his hands… I love blood, I want it on my face on my hands.. They talk about how everyone knows about the east coast alliance. Jillian tells Andrew about how Peter cornered Talla in the storage room. Jillian says Alec got Peter to talk to Talla because he didn't want to look like he was campaigning against Topaz. Andrew says yeah I know what a cock knocker! Andrew heads downstairs. Emmett talks to Jillian about his conversation with Topaz. He says that she has no idea how close we are with Andrew. Jillian says that she already told Topaz that she is close with Andrew and that's why I didn't put him up.
Peter and Alec game talk in the backyard:

10:10pm – 10:25pm The house guests sit down to their rib dinner. Talla does the "Big Brother Grace" Thank you Topaz for making this lovely meal, and to big brother for giving us this food. The other house guests try to convince Talla to date Aj after the show. Topaz asks her what if he gives you two Ferrari's? Topaz says she likes Toyotas.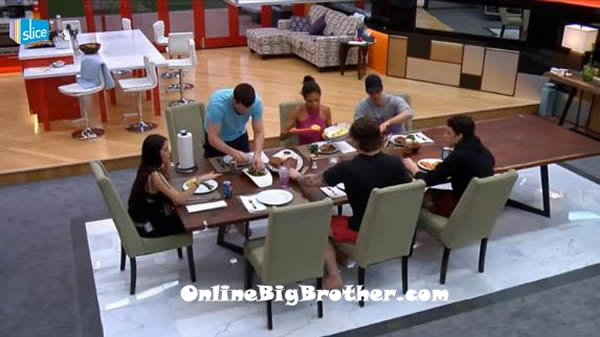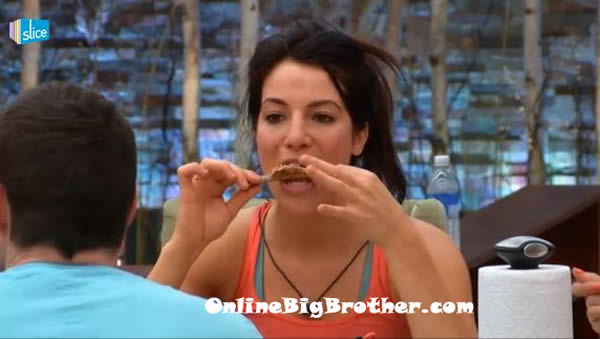 10:50pm – 11:15pm Talla is out in the hot tub room with Andrew. Talla tells Peter the conversation she had with Peter in the storage room where he tried to campaign for her to keep Alec.
10:50pm – 11:30pm Meanwhile up in the HOH Peter is campaigning to Emmett and Jillian to keep Alec. Jillian explains the reason why Alec is up is because I didn't think I could trust him. Peter says and now this is the perfect way for Alec to show you that you can trust him. Peter says we want to be with you to the final four. Jillian asks well what is he telling Andrew? Peter says that he thinks Alec is trying to be as honest as possible. Jillian says that Andrew has been HOH twice and never once mentioned putting you two up. Emmett comments on how Andrew is doing his own thing.. he is a lone wolf soldier. Peter tells them that he is not voting against Alec. Peter says that if Alec goes against what he says he will do he will look eternally stupid. Emmett says well looks don't really matter. Talla joins them. Jillian tells Peter that she thinks they have good arguments .. and I trust him more than her. I didn't want to put her up because I didn't want to make another enemy. Peter tells Jillian Topaz is coming after you no matter what she says she is doing .. and Alec and I are not coming after you ..that would be a poor move on our part. I respect the game and the integrity of the game and I don't want to go against that. Jillian asks is today Wednesday. Peter says yes and that is why I am talking to you today.. I consider Alec my brother and I don't want to campaign on my last day with him. Jillian says that she will not campaign for votes, I would just rather let the votes go the way they go and I will break the tie. If you can get the vote to be two to two ..then I am game. Peter says if you do that and I win next week I will do whatever you want. I will play on your behalf. Jillian says if you get the votes to be two to two then you have my vote. Peter gets Jillian to shake on it. They head downstairs. Jillian and Peter continue to talk in the kitchen. Jillian says that she doesn't trust Alec like she trusts Peter. She says that Alec talks to me like I am dumb. Peter asks if you are with keeping him do you want him to sit out the HOH? Jillian says no, if I trust him I want him to fight for it. Peter says yeah some people need act over just words. They talk about not wanting a floater to win. Peter says that he would rather vote for the coffee maker to win. I am not a floater .. I understand this game and know that you don't need to be in power to have power. They end their conversation. Jillian heads to the bathroom. Peter is heard saying can someone please call Dan Gheesling for me and …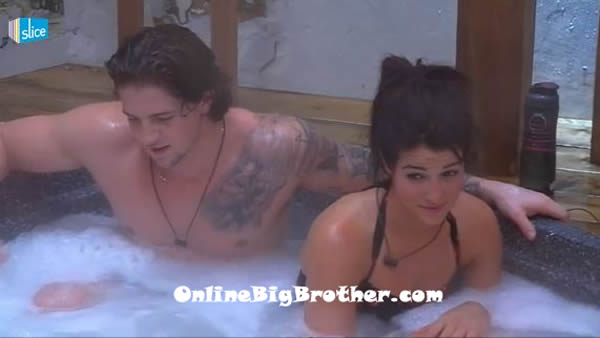 11:40pm – 12:15am In the bathroom Alec, Topaz and Peter talk about random things, tv shows and watching Big Brother. Topaz says that she wishes she had been more prepared for this game like watch more live feeds and seasons of big brother. Peter says that what he really hopes to get out of this is a larger youtube audience that I can eventually live off of and travel. Meanwhile: Andrew, Emmett, Jillian and Talla are in the hot tub talking. Emmett and Andrew are talking about random things. Jillian tells Talla that Alec isn't going to ask for your vote. Emmett gets after Jillian for talking to much with Peter and says that she should listen but not give information. Jillian makes a face and says she is always getting in trouble. Talla bring up how Thursday might be a double eviction. If it is who do you want gone first Peter or Topaz. Andrew says that he doesn't care. Andrew talks about how he wants out of the house so bad .. that when he finally gets out he is going to lay butt naked on his bed and take photos of his genitals. They continue to talk about random things. They start talking about cows. Andrew says its a derogatory term to call a girl a heffer. Talla asks why? Andrew says because you're calling her a cow! Andrew tells Talla that he doesn't find her attractive at all .. you have a nice body, you have a nice face, you have a nice personality ..I am just not attracted to you sexually. Talla climbs on Andrew. Andrew yells at her to get off him. He says that her skin is scaly.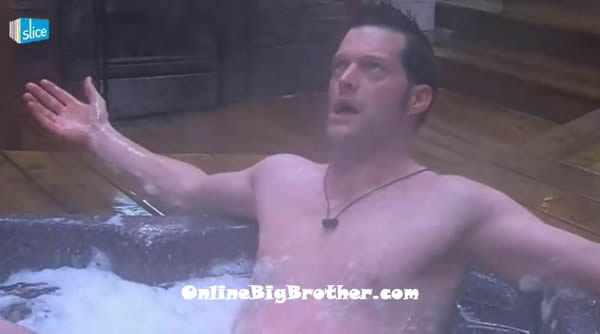 12:17am Talla and Andrew head inside the house and Emmett and Jillian start making out..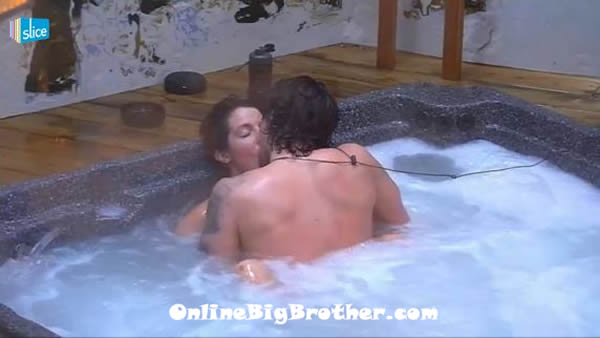 OnlineBigBrother.com
Stay connected and interact with other Big Brother Fans on our Facebook page.
And Follow: @BigBspoilers and @Dawgsbigbrother on Twitter for the most up to date spoilers.