POV Holder:
Paulie
POV Competition
Aug 6th
POV Used
NO!
POV Ceremony
Aug 8th
HOH
Victor
Next HOH
Aug 11th
Original Nominations:
Michelle AND Zakiyah
After POV Nominations:
Michelle AND Zakiyah
Have Nots
Bridgette, James, Corey
POV was not used nominations stay the same
Watch the next week of the feeds for FREE – 1 week Trial!
2:20pm Corey and Paulie kitchen
Paulie says he talked to James about Natalie and said the sh1t she's doing is typical Jersey Girl moves. He's warned him about Jersey girls.
Paulie says James was telling him he really cares about the girl.
Corey – we played 21 games of pool yesterday .. ya ..ya
Corey – People are scheming in this house bro.. People are scheming
Corey doesn't know why everyone stayed up so late.. Paulie – They always f***G scheme I don't get it
Paulie brings up when they were playing hide and seek with Natalie and they were up in the bedroom. This is when he said "Jokingly" it would be a really good time for them to make out. Natalie told James that
Paulie – Piss me off.. I've seen that so many freaking times I hate it when girls do that..
Paulie – I'm a certain way with everybody.. I would never cross that line and try and do that.. That's your girl.
Corey – You can do whatever you want with Nicole I would never care
Paulie – you can do whatever the f** to Z I would never care
Corey – that's ridiculous
Paulie- me and my brother have a code we don't f*** do that
Paulie – When he said he was going to talk to me about it she got pissed at him.. Then last night when she knew he was talking to me about it she kept cutting in and out of the room
Paulie – I know Michelle made up the fatal 5
Corey – I don't know who to put up
Paulie – I got a bunch to tell you but it's just for me you and James to know..
Paulie – Paul has reason to put up natalie now and I'll pull up Bridgette..
Corey says he would really want it to be the 5 guys to the end but he's not sure it's going that way. (OMFG of course Corey would say this)
Paulie – I think paul is panicking a little bit.. I'm not sure if it was Bridgette..
Corey – Final 5 let's just do it stop dicking around
Paulie – i'm 100% down for that..
Paulie brings up Paul telling him that Michelle, Corey, Nicole and Zakiyah had an alliance
Corey – oh my gosh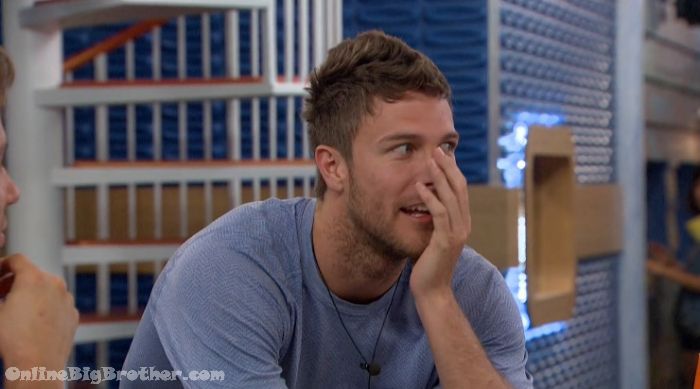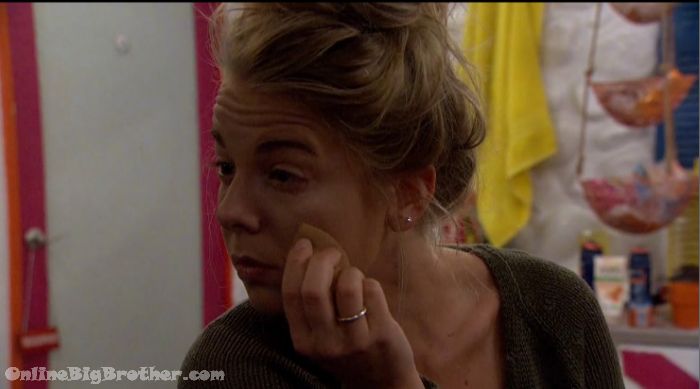 2:20pm Nicole putting on makeup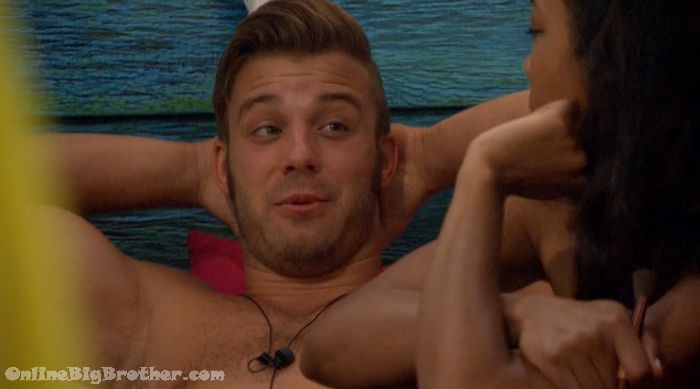 2:50pm Zakiyah and PAulie
Paulie is warning Zakiyah that Natalie is going to come to her and tell her something "Girl to girl" she'll tell her that PAulie was hitting on her
Paulie about Natalie – I'm not the first guy she tried to hit on in here..
Paulie says the only reason he hasn't put Natalie up was his respect for James.
Zakiyah – wow.. wow.. little NAT NAT.. i didn't know she was like that
Paulie – she's a New Jersey New York pageant girl..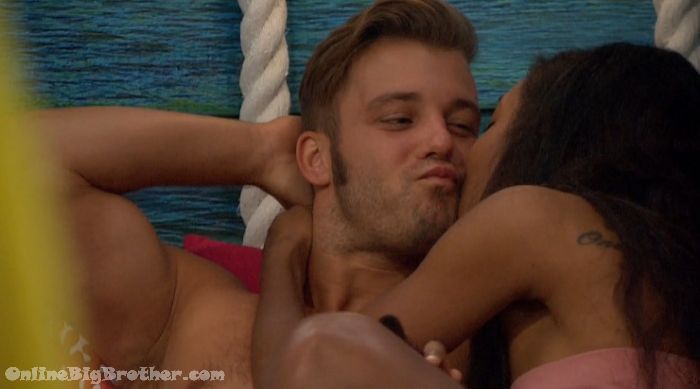 Someone walking into he bathroom says "Give him a kiss"
Paulie – I haven't brushed my teeth yet
Zakiyah doesn't care kisses him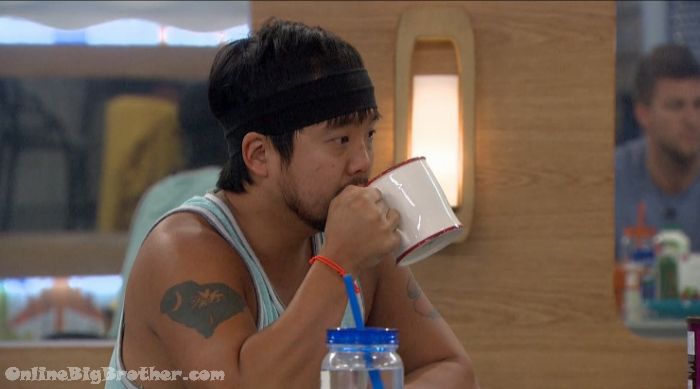 3:00pm James, Nicole and Corey
James- I was so grumpy this morning.. somebody woke me up
James – man that's a good cup of joe
Nicole – going to make you poop
Jame s- I think so I feel one coming..
(Michelle talking in the bathroom about makeup to Zakiyah)
Nicole – I'm happy she's leaving
James – huh
Nicole – I'm happy she's leaving
Silence..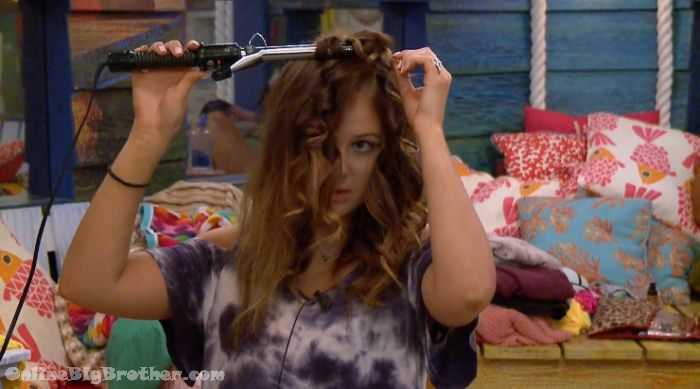 3:04pm Getting ready to f*ck sh!t up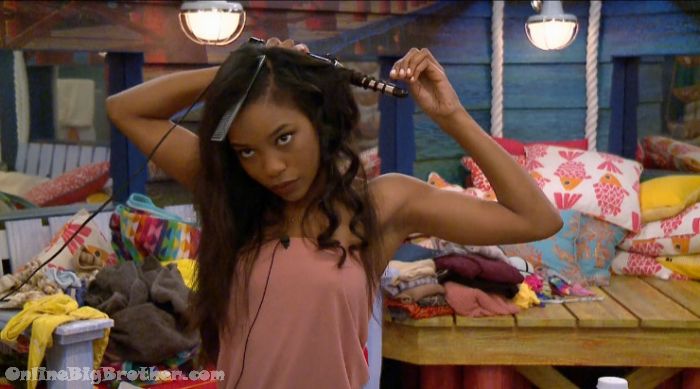 3:22pm Zakiyah and Nicole Bathroom
Zak – hey lady
Nicole – are you hanging out with Natalie
Zakiyah – ya
Nicole doesn't know why she would want to hang out, "what the frick does she want to hang out for"
Zakiyah – I don't know .. yesterday she was like Hey sweetie.. I was like HEY
Nic – What is she going to try and do
Zak – I don't know.. she's like you want to hang out tomorrow. .. i'm like OK… OK that's fine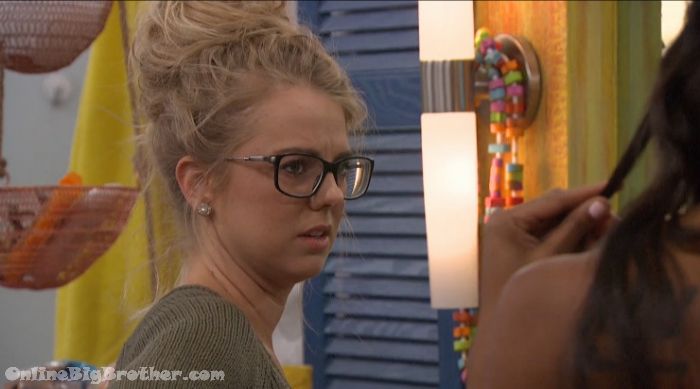 Nicole looks on her face when Zakiyah told her (see image above)
Nicole – probably about Paulie
Zakiyah – what about him though.. Girl I'm loyal to my man sorry if you're not (Delicious)
Nicole – Maybe she's going to apologize for like stuff.. let me know if anything sketch happens..
Zakiyah – this is the pettiest damn season
Nicole – everyone is tattle tails.. that's hurts my feelings I would never do that..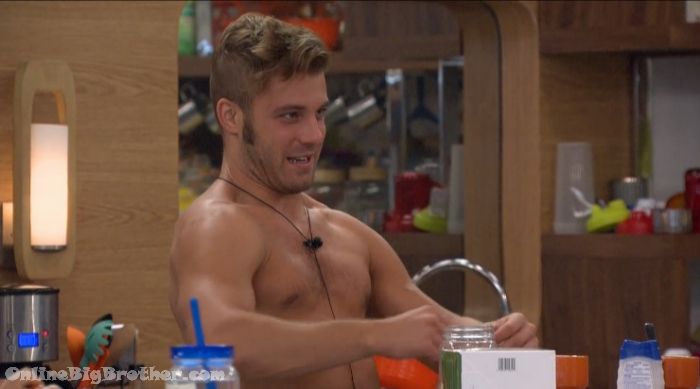 3:32pm Paulie tells everyone a story about a time he did a body building competition.. everyone cares.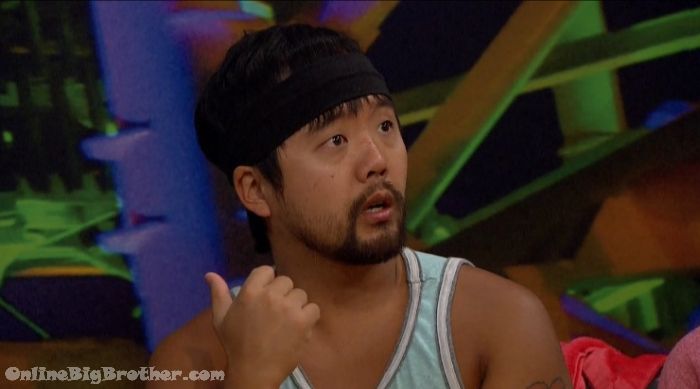 3:42pm HAve nots Natalie, Michelle and James
Talking about Zakiyah being in love with Paulie.
Natalie – she needs to know
Michelle – she'll be pissed at Paulie
Natalie – she's going to jury it'll eat her yup that she's in Jury and Paulie is flirting with you
Michelle – if he [Paulie] flirts with me I'll cut off his dick .. I'm not attracted to him
Michelle tells them she's going to fight to keep them off the block. Everything she can do.
James – If Paulie doesn't get a care package that will tell us a lot.. that will tell us what America see and likes.. whose the mose liked in the ouse they won't vote for peopel they like.. they just won't.
Jame sis mad at Zakiyah for throwing his clothes he's going to ask her about that, "She threw Bridgette's cookies away.. "
Adds that Nicole has been telling him this.
They start to chit chat about the POV competition.
3:57pm talking about Paulie being a douchebag. They mention him saying it'll be funny when they evict Natalie and Michelle.
James says he trusts Paulie he's never been put on a block
James – the only reason I'm doing this.. honestly I'm pissed. he does a lot of shit (Paulie)
James is pissed because Paulie was flirting with Natalie
Michelle – he thinks he's the hottest guy ever like hot sh1t..
Corey comes in says he's board.. "PAulie is showering.. Z is watching him shower"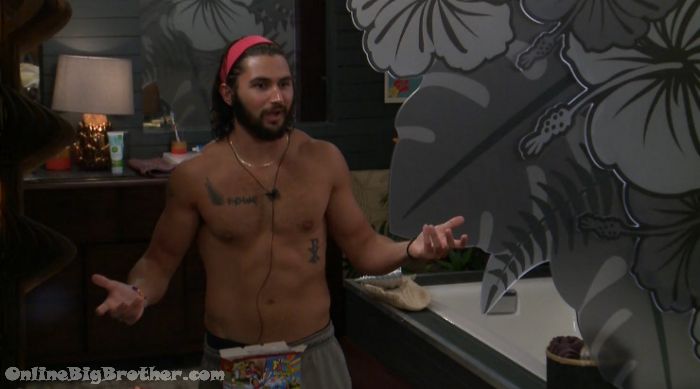 3:59pm HOH Victor and Bridgette
Just know I have your back and Paul does.. Paul will tell you
Victor – Is Paulie is pissed or does he know … he doesn't know OHHH
Bridgette says they have to keep quiet and the less Victor knows ther better.
Victor demands to know who is on on the flip
Bridgette – Me Paul Nat Paul Meech
Bridgette – you need to have a conversation with Paul today.. he'll tell you everything
Victor – does James know…. is James going to block Paulie
Bridgette – he's blocking Paul and Corey..
Vic – why
Bridgette – Paul will explain
Victor is glad it's better for him to have Zakiyah go out.
Victor – I feel like Corey is outta the loop
Bridgette – nope.. he's in some loop.. A lot of puzzle pieces were put together I was up until 7.. .
Victor says once Zakiyah goes they have to separate the other couple.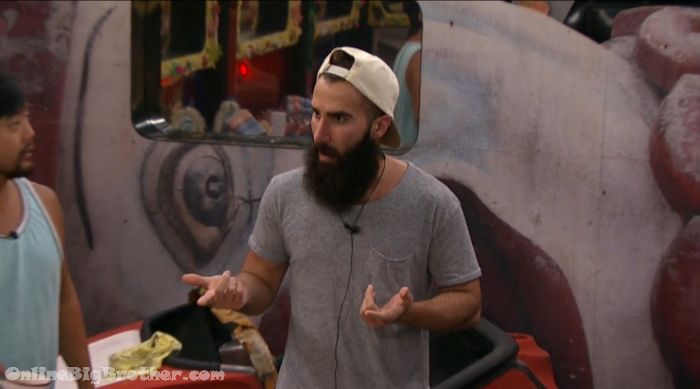 4:20pm Have nots James, Natalie and Michelle
Natalie is saying that Zakiyah is avoiding her. they are supposed to hang out today, "Go on a date"
Paulie comes in "Hey did you drop the bomb"
Natalie says she's been trying to, "they are both paranoid right now"
James and Paule leave..
Michelle and Natalie start planning what they will say to Zakiyah.
Natalie adds along with all the flirting stuff she's going to say that Everything she told to Paulie about Da'vonne went back to Da'vonne.
4:30pm Natalie says Corey and Nicole make fun of her a lot
Michelle is going to love if Nicole does worse this season than last season, "cause that's not good"
Natalie – me and Bridgette have been secretly working since day one.. and playing dumb
Natalie brings up Corey saying that she's stupid that's the way she's been playing
Michelle says Corey has no substance when he talks it just about bar tending and hooking up
Natalie – if Nicole thinks he's going to hook up with her.. he's going to party that's all he talks about
Natalie thinks the final 3 is Nicole, Corey and Paulie
Natalie mentions walking in on a conversation last night where a final 4 was made. Paulie is going to use Zakiyah as the pawn and do what he did this week for the next couple weeks until the girls are gone.
4:45pm I can't wait to see their faces "By a vote of 3 to 2 Zakiyah you are evicted"
Natalie – i'm going to twirl my hair.
They spend a good 30 minutes going over what to say to Zakiyah to blow Paulie up.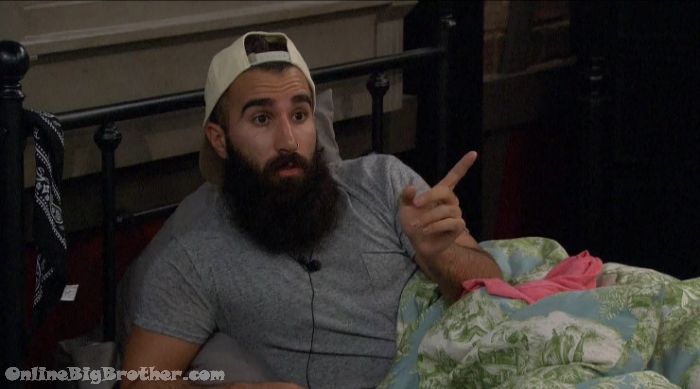 4:23pm Paul and Bridgette
talking about the showmances trying to get them to go after each other.
Paul saying they will take out Paulie after Zakiyah then "N , C Following week rinse and repeat.. they are really sketch.."
Bridgette – So Sketch
Paul e- Nate is going to blow up shit with Z.. she is going to tell Z things Paulie does behind her back sketch like.
Paul – Nicole and Corey are really nervous right now.. Natalie is going to blow sh1t up paulie already wants to talk to me.. what I think is awesome I won't be able to vote I can easily be like Bro I don't know what is going on.. he'll shit his pants and want to go after the girls..
Paul says he can't act clueless to Paulie otherwise Paulie will know so he's going to play the middle.
Bridgette wants to rally the girls and lock them in the safari room to sketch them all out
Paul – I figure out a name for use BRAWL
Bridgette – whats that
Paul – Bridgette and Paul cause we BRAWL..
Bridgette – you got BRAWLED
Paul – Corey keeps walking back and forth it's hilarious.. Nicole is freaking out wheres James..
They talk about plans during double after Paulie leaves they'll nominate Corey and Nicole is the POV is used they'll put Michelle up as a pawn. they will control the votes she will be safe.
They agree one of the girls on their side should win the HOH next week. Bridgette wants Paul to throw it to them.
Bridgette about Nicole and Corey's behavior "It's f****g sketch dude"