POV Holder:
Paulie
POV Competition
Aug 6th
POV Used
NO!
POV Ceremony
Aug 8th
HOH
Victor
Next HOH
Aug 11th
Original Nominations:
Michelle AND Zakiyah
After POV Nominations:
Michelle AND Zakiyah
Have Nots
Bridgette, James, Corey
POV was not used nominations stay the same
Watch the next week of the feeds for FREE – 1 week Trial!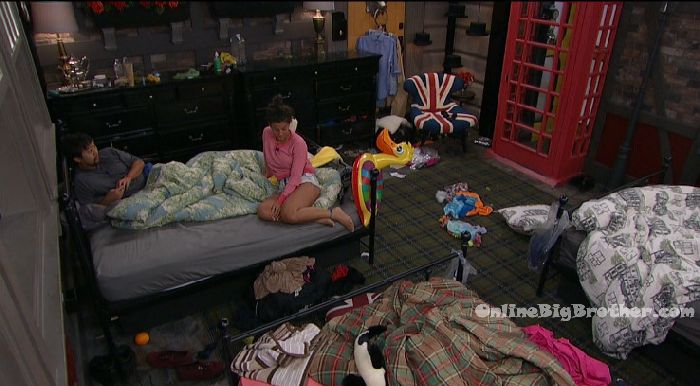 12am London Bedroom – Natalie says I don't trust him (Paulie). James says you don't trust him but you didn't give me any reason not to trust him. Natalie says well that's the reason why. James says now after how many days later when you find out he was talking crap about you. Natalie says I don't want you to do anything about it. I'm so over it. What if someone was making fun of you. James says I don't know what I would do. Natalie asks so you wouldn't care? James says but I would care if someone was talking crap about a girl I like. Natalie says I just had to play it all off. James says you should have put him in his place. That we're (her and Paulie) are just friends. Natalie says I did and even you said it was harsh. James says because once again I was in the dark. Natalie says I would rather be with my friends and family than be with people that make fun of me. Natalie says no one is making fun of you. James says yeah, Paulie is out there saying he wants to bite your butt and all …it makes me look like a fool. James says no every time I look at him I'm going to be like. Natalie says well just go out there and fake it. Bridgette joins and asks what James wants? What's best for your game. James says neither one is targeting me. Bridgette says I'm not going to lie I kind of want her (Meech) to stay. Natalie says me too. James says whoa!? IF Paulie, Nicole, or Corey win HOH then I'm in big trouble for blindsiding them. James says the only way I could make that right is if I told everyone I want Z out. James says I didn't know so many people were on board with keeping Michelle.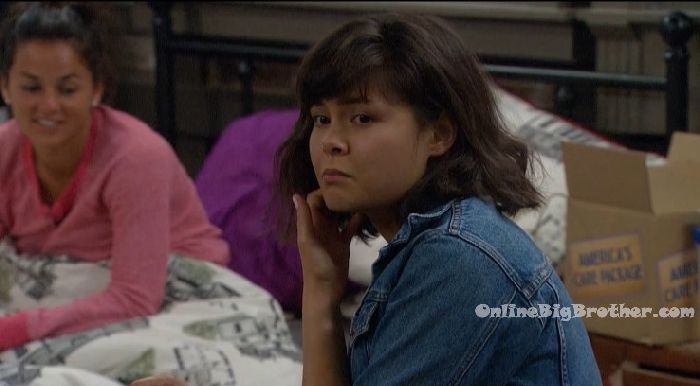 Bridgette says me, Nat and Victor want to keep her for sure. James says I want people in the house to stand up for their opinions. This is a sticky situation, you're going up against a tyrant right now. If he wins HOH, I am f**ked if I blindside him. Bridgette says if we can convince Paulie that Z is bad for his game, then it would be a house decision. Bridgette asks how do we get Paulie to vote Z out.. if we make her super jealous. Natalie says you're bad. James asks how about one of you girls flirt with him and take him. And you (Nat) need to do it. Natalie says you're sick. You guys are sick. James says follow him around and climb in bed with him. Natalie says you're sick. Are you guys pranking me?! James says the only way I will stick my neck out is if someone else does too. Bridgette says if Paulie wins he says he is putting up Z and Nicole but I don't think he going to try and win it. Bridgette says If I won I wouldn't put you two up, Meech or Victor. James says Paulie has to be okay with it. Pretty much we're taking shots a couples. Bridgette says he is going to win if we don't stop him. Its Derricks game.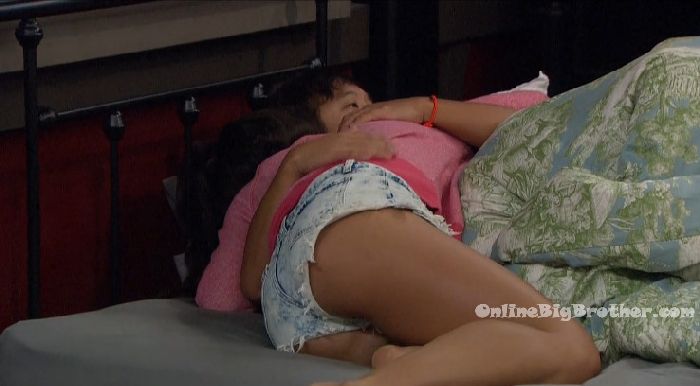 1am Hot Tub – James says the only problem is that he (Paulie) is going to be pissed because he is going to be like she (Meech) is coming after me. IF we target this couple (Paulie & Z) then it is going to be open season on couples .. like you and me. Natalie says he don't care about her (Z). Natalie says she is his little puppet. She isn't playing her game she is playing his game.

1:10am – 2am HOH room – Paul tells Paulie lets get a PP session. What's the plan bud!? I have some concerning things to tell you. I trust you ..you keep this information to yourself. Exec (Vic) already has his eyebrow raised about the couples. And I understand where they're coming from but I trust you that its not like that. He (Vic) is like why is it the 3 couples and then you, me and Bridgette in a pool left out and are the targets. Bridgette said the same thing. Paulie says after this week Bridgette is my target in a double evic. Paul says it would be in yours and I's best interest if we stay in the middle. If we don't go after Bridgette and Vic .. then we need to take a serious shot over there. Paulie asks what are we thinking? Paul says you could put up James & Nicole or James and Nat. We need to take some serious shots. We have to split them up. If one of those girls wins, they will be like put up Vic and Paul. I'm not down to be a pawn any more. I'm down to take some serious shots. If people take shots at you, that's not good for me. PP is my end game. If PP goes down, I'm f**ked. I'm not taking shots at other people for other people. Paulie says I would love to separate those two (Nicole & Corey) to pull Corey in. Paul says Corey is getting very attached to Nicole. Paulie says if I win I would put up Z & Nicole, Bridgette and Nicole, Natalie and Nicole. Paul asks so we're going after girls in the double evic? Paulie says 100%. At the end of the day there was a fatal five. I would even be fine separating James from Natalie. Paul asks by sending who home? Paulie says James or Natalie. Paul says I don't know how confident James and Corey are with our four. Paul says I think swapping James for a weaker girl. Paulie says be we can't take that shot (at James). Paul says maybe Vic (to take a shot a James). Paulie says we need to take a shot at the girls to break them up.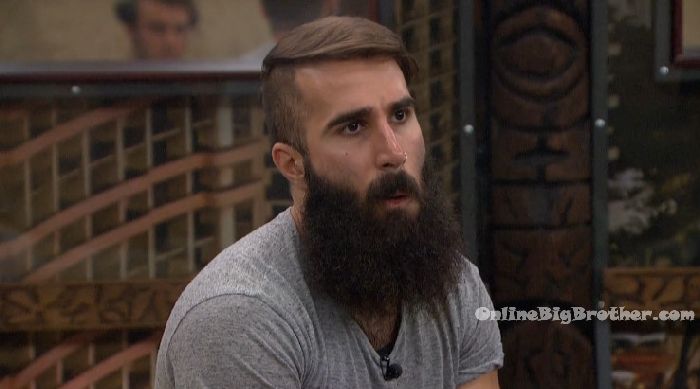 2:15am – 2:45am HOH room – Paulie says there is some slick sh*t I want to pull with Bridgette before the competition. I would have no problem sending Natalie home. I really wouldn't as much as James says she doesn't affect his game.. when she is pissed at him he f**king… Z says falls into it. Obviously I trust Nicole and Corey and don't care how much they're up each others a$$es. I just want to win Thursday so I can get rid of one of my threats. Z leaves. Vic and Paulie talk. Vic says one thing I can do with Bridgette is to call her on 1 favor about how I never put her up. Paulie says but during a double evic .. you have no time to talk. Bridgette joins them. Paulie says I have no problem getting rid of Z next. Natalie joins them.
3am
Nicole asks James would you do something because America's wants it or something that's good for your game. James says whats good for my game. If I kept Michelle I would be letting you guys down. Nicole asks do you want to keep her? James says its going to keep you and Corey or Paulie safe because she is coming after you. Nicole says she was really mad at you for that egg thing. You messing up the house. Nicole says I'm never putting up you, Corey or Paulie. I trust you guys 100%. I'm not thinking of putting up Natalie or Z. We can't keep Michelle because she's another number for him. Michelle is going to start to stir up stuff. Corey says I think if Paul wins he would put up Bridgette and one of us. James tells Corey he needs to come through with a win.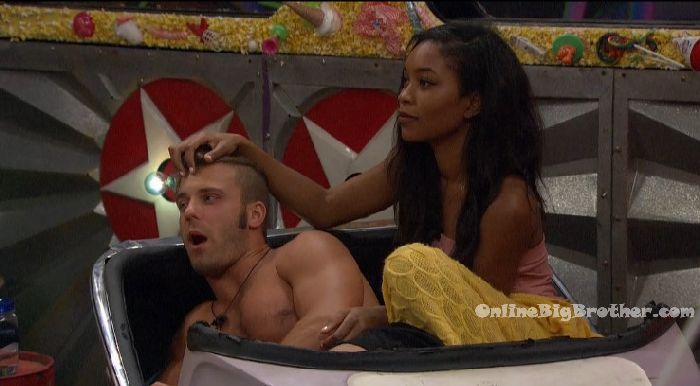 4:15am Paulie says that she (Meech) wants to go after James. She told Paul. Corey says we lost her. Nicole says I don't think we ever had her. Paulie says it would probably be you and James. Nicole says crap. What happens if its me and James? If you guys won veto would you pull me off? Paulie and Corey say yeah. I don't think you would be her target.
5am Havenot – James talks to Paulie. James says I wanted to give you a holla about something Natalie said which is why I've been pissed all day. That you have been making involuntary passes at her. Paulie says oh really!? James says I said I don't think Paulie would do that. He's my boy. Paulie says I joke around with everyone but as far as making passes that something kind of serious. James says she thought everything was going to be cool with me and her because she held it in so long. I'm not cool with that, I don't play that sh*t. Just that she held it in, makes her just as guilty. That you wanted to take her out on a date after and that you wanted to kiss her. She said that she felt uncomfortable and had to leave. Paulie says ah no, when we were hiding I said this would be the perfect kissing spot. And she's the one that always says she wants to hang out with me and her friends after this. I never said I would take her out on a f**king date. James is my boy. James says me and Cody don't play that sh*t. You're dealing with a f**king Jersey girl, I've dealt with them all my life. I can give Nat compliments but in actuality I would never go after her. James says when I started to stick up for you she said oh I see how it is. Paulie says me, Cody and my boys know .. that whenever a girl starts to do that we cut her. The only reason I am friendly with her and Nicole is because you are my boys.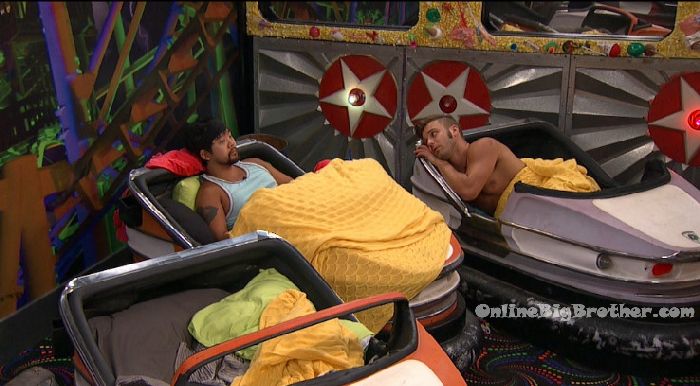 5:10am Bathroom – Bridgette says I feel like James is working with them. Nat says he is on a certain level. He told me that he's friends with them. Bridgette tells Natalie that James literally spent the who day with them and it did not go unnoticed. With Paulie and Corey. He is honestly not playing a very good game right now, honestly. I want to keep James. I don't think I could put up Paulie next week if I won. Natalie says I made a promise with him and if he breaks it, I am done. I'm not f**king scared! If he breaks a promise with me or throws you under the bus after he put you on the block. I am done! Natalie says if I win I am doing something big.