POV Holder:
?
POV Competition
July 9th
POV Used
?
POV Ceremony
July 11th
HOH
Bridgette
Next HOH
July 14th
Roadkill Competition Winner:
?
Original Nominations:
?, ?, ?
After POV Nominations:
?, ?, ?
Have Nots
Da'Vonne, Paul and Zakiyah
Big Brother 18 Alliances Help Guide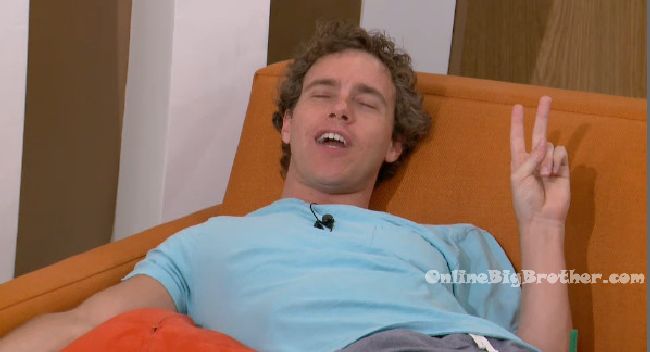 9:30pm Living room -Paul asks are they pissed about that? Frank says I'm sure they are.. its almost like a slap in the face. I don't think they would but .. they could be like alright you're not going to finale. Paul says if you're already leaving you might as well be as good as possible. They might like toss you a bone or something. Frank says let me plug my own instagram and then drop the F-Bomb on my way out the door.. you know! Let me .. ya'll gave us 3 rules and I'm going to disrespect two of them. Paul asks what was the third rule? Franks says No swearing, no shoutouts, no singing.

In the bathroom –
Paulie says if you don't think that Frank would let her not put up Tiffany.. you're crazy. He's already prep'd her and he will again tomorrow. Paulie says I'm also going to tell Frank to always be around Bridgette until nominations just to make sure Tiffany doesn't get to her. I'll talk girl talk until 4 in the morning if I have to. I just want to win the roadkill to have someone else up there. This was the only competition that those girls could have won .. a crap shoot. They won't win another one. At the end of the day you could always go Bridgette or have Z be around Bridgette. Nicole asks Frank talked to Bridgette again and she said Paul and Tiffany? Paulie says yes. He is trying to make himself look like a hero. There's no need to get paranoid .. Tiffany is going to go up and she's not going to win the veto .. and she'll go home. Zakiyah joins them. Michelle tells her I want your body.. its perfect. Nicole tells Zakiyah one of us is going to have to be with Tiffany and one with Bridgette the whole night. Zakiyah says I'm not being with Tiffany. Tiffany joins them. She says there's four people that could go up me, Paul, Nicole and Corey. ..And I think I'm at the top of the list.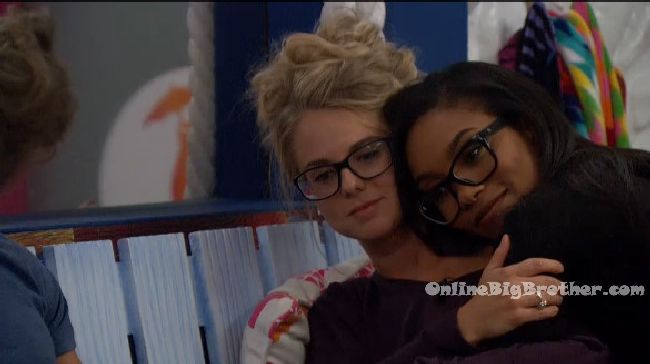 9:55pm Paulie joins Natalie and James in the havenot room. They talk about Corey trying to fit into the havenot bumper cars. Natalie asks he's (Corey) a havenot now? Paulie says its looking like it .. his team was the first one eliminated. Paulie leaves. He heads into the other bedroom with Tiffany. She asks what should I do? Paulie says you definitely have to make an HOH round. Tiffany asks Frank didn't throw out any names. Paulie says Franks been around her the whole time. Tiffany asks do you think this was Franks HOH .. what would be his optimum play if it was his HOH. Paulie says it depends on what cards he wants to show. Tiffany asks are you close to Bridgette. Paulie says we talk a bit. With this .. as close as she is to Frank she kind of feels thrown off by his comments. I think she will do what's best for her. Do you think its best to go to her and tell her if she doesn't want blood on her hands it would be best to go after solo dolo? Paulie says that wouldn't be a bad idea.. you don't want it getting back to Frank. Tiffany asks should I offer her safety? Paulie says You should be like I would be someone you could trust and work with in the future. Tiffany asks what does your gut tell you she's going to do? Paulie says with team unicorn and Category 4 off the table.. there's not many choices. Tiffany says it couldn't have been a worst person. Paulie says yeah because if Frank had won it he wouldn't have wanted to show his cards so soon. Paulie says if you're up there next to Paul .. Pauls going to go home.
James and Natalie continue their girl talk. Natalie asks are you made at me that I threw that comp? James asks why would I be mad you threw a comp?

10:30pm
Frank says she (Tiffany) threw my name out again. Corey says she's been following me around like a dang puppy. Corey says when have I ever told you anything.. she's worried now because she's going home. Frank says as soon as nominations happen and she's up there I'm going to frazzle her some more. I'm going to be like look I've heard my name come out of your mouth and its why you're on the block and why no one wants to work with you. She might start crying as soon as I say hey to her. Paulie says if Bridgette pulls her own name and picks you… she's (Tiffany) going to be like oh f**k. She's too much of a f**king wild card. Corey says Nicole didn't throw that comp did her.. because I was like you can't throw it until she (Tiff) is out. Frank says he doesn't think Nicole threw it. Its a crap shoot you can't throw it. She seemed a little embarrassed about it. Doing so bad.
CBS All Access: Live feeds are only $5.99 per month – Try it FREE for 1 WEEK!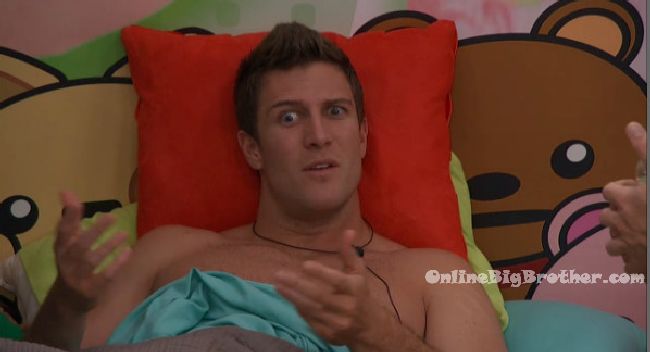 Havenot room – Frank says she just said my name out again to a room full of people an hour ago. She said I think I might be going up because I'm going after Frank. Natalie says I didn't know she was going after you. Frank says she just keeps running her mouth.. you would think she would just lay low. Now at this point she's told everyone in here except for Paul about her little secret. (Being Vanessa's sister) Bridgette says all that told me was that she could lie to my face for three weeks. I want to say something to her tomorrow just to make her extra frazzled. James asks do you think she (Bridgette) will try and backdoor her of just put her up. Frank says put her up. Frank asks next week do we try and get Corey out or just stick with Bronte. James says if we have the votes. Frank says even though Nicole might be on the fence about it, I think she would be okay. James asks do you think she would vote him out? Frank says I bet Bronte and Natalie would. James says oh I could get Natalie to and Bronte will do what Natalie does. If we win roadkill we put up Bronte and if Tiffany comes down .. we put up Corey. So would we rather send Corey or Bronte home. James says Bronte and Natalie are together. They're so easily sway-able. I really do think they just want to make it to jury. Frank says I think Corey will continue to go after the people outside out group until we're down to the final 8. James says so maybe get out Bronte.
Paul joins them and tells them that Tiffany told him about her sister Vanessa. Paul says I don't care, leave me alone. I've talked to her what twice this whole time!?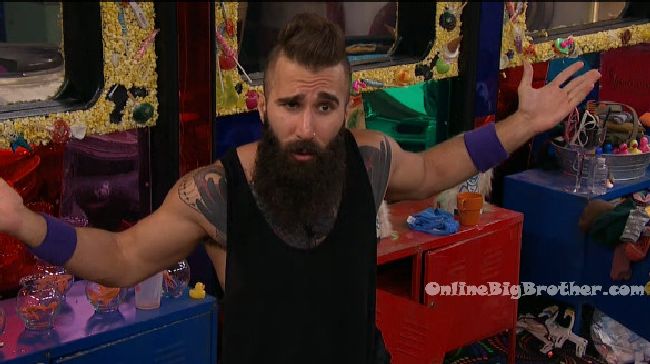 10:50pm Outside the room in the other bedroom – Tiffany holds a cup to the wall to eavesdrop on Frank, Natalie and James's conversation. Michelle tries to listen too.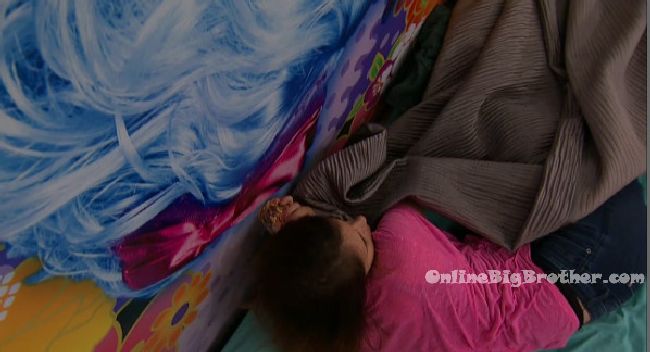 11:45am Bathroom – Bronte, Bridgette, Natalie and Paul are talking about Victor being voted out. Natalie says that she can't believe he voted Victor out. Paul says he couldn't and Vic will understand. (Paul didn't vote Vic out he voted out Bronte and is now trying to cover up.) My goodbye message said my back was up against the wall. Paul says I tried to help him but I couldn't.
James whispers to Nicole that Frank's plan is to try to get Corey nominated if Tiffany wins the veto.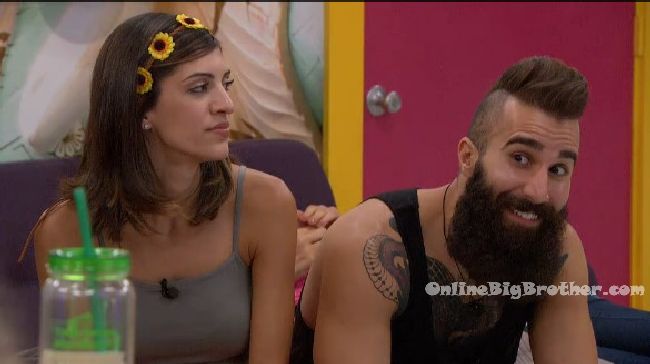 12:10am – 12:40am In the kitchen –
Paul and Bridgette are making muffins. At 12:15am Big Brother calls Bridgette to the diary room. They others yell HEY! (Because when she comes out she'll get her HOH room.) Five minutes later she comes out. She says we can't go up until everyone is up. They all head up to see her HOH room. Bridgette reads her letter.
My dearest Bridgette!
HI babe, I hope you're doing well and hanging in there. Just know you are always in my thoughts and prayers. I miss your phone calls every Sunday but want you to know that everyone is going fine. Hercules is doing great. You make me so proud knowing you're always up for doing anything and everything. I know that once you get something in your head you always accomplish it. I want you to be encouraged and remember we admire you and love you for all that you do. You are simply amazing. Me and Dad always say we don't put anything past you because we definitely know what you're capable of. We believe in you. We all know you're incredible and your future is bright. You're an amazing daughter and we couldn't be any prouder of you and always am. Just know you could never let me down and stand by everything that you do. Have a great ride. lol Have a great summer babe and know that I'm always with you. I wish I was able to give you a big hug. You go girl!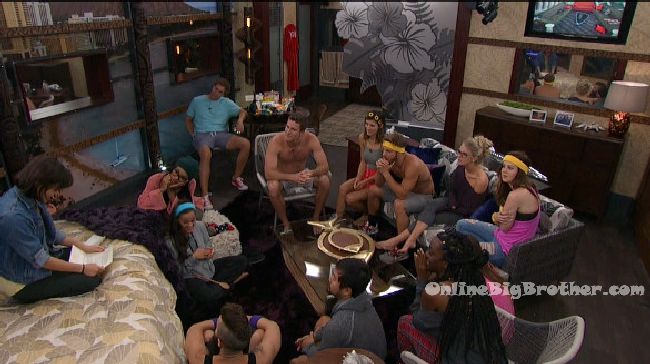 Zakiyah is so over this HOH@bigbspoilers #bb18 pic.twitter.com/NjfxkKZmhI

— Dawg (@DawgsBigBrother) July 8, 2016