POV Holder:
Paulie
POV Competition
Aug 6th
POV Used
NO!
POV Ceremony
Aug 8th
HOH
Victor
Next HOH
Aug 11th
Original Nomi1nations:
Michelle AND Zakiyah
After POV Nominations:
Michelle AND Zakiyah
Have Nots
Bridgette, James, Corey
Watch the next week of the feeds for FREE – 1 week Trial!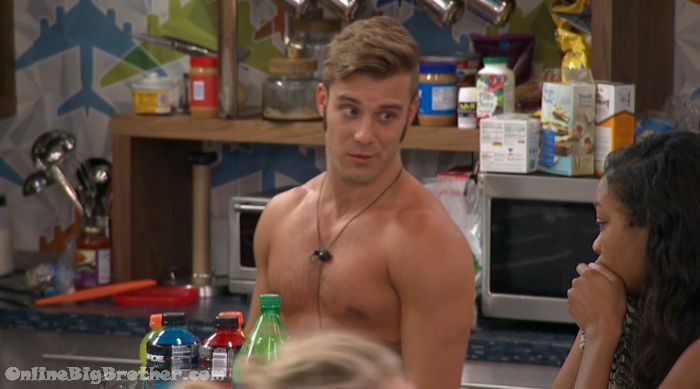 1:03pm Zakiyah and PAulie Kitchen
Zakiyah – I don't have a good feeling.. About today.. people are mad at me.. Natalie is clearly mad at me
Paulie – so what that's because she didn't get her way.. Sorry you're not following her around like like a puppy dog like James, of course she's mad at you .. Of course Bridgette is going to be mad at you she's a feminist..
Paulie says the only reason why Bridgette is supporting Natalie's argument is because she's a girl, "Which to me that's just as bad as a white person saying they support a white person argument because hey are white"
Paulie- I've never been raised that way i don't f***g like that sh1t .. if you want to be closed minded that's your prerogative
Paulie – I'm all about the empowerment of women and equal rights with all that stuff but for me to say I Support a man because they are a man support a white person because they are white or support a black person because they are black
Paulie – I'll never in a million years do that if you're points match up I agree with you
Paulie – if he wants to do that that's f***g fine he'll find himself on the f*** block next to his girl.. Zakiyah -Natalie took her skirt away from me
Paulie – she's fake she's a fake person..
PAulie tells her it's normal to be nervous before a eviction if you are on the block. Ask Paul he's been up twice. Paulie says James follows Natalie around like a little puppy dog.
Paulie tells her there is no way James is goign to turn on them.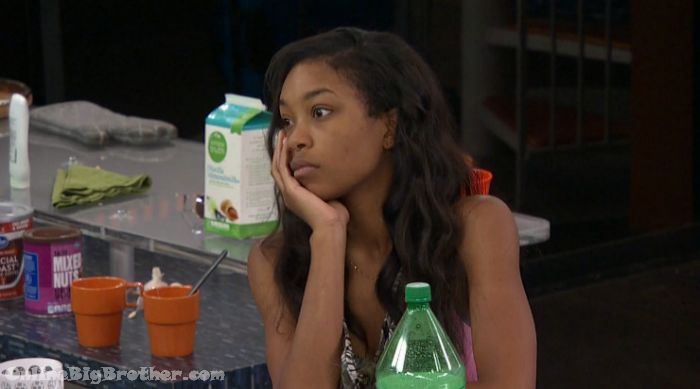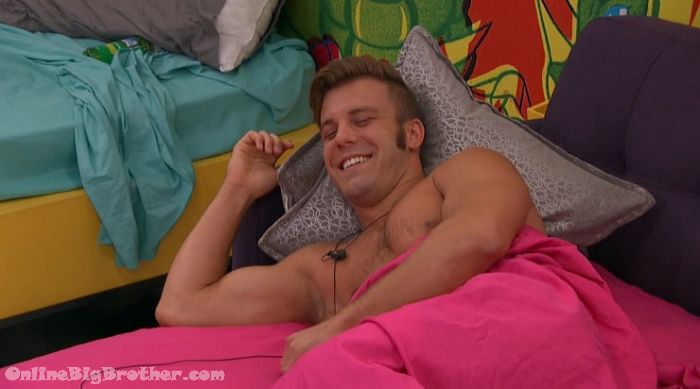 1:15pm Paulie, Victor, Nicole, James and Corey
Paulie joking around that his game is blown up now
Paulie – If you think my game is blown up you're outta your mind
Paule recounts last night fight with Michelle (Read this post is full of greatness)
1:23pm Victor and Corey laying together in the Tokyo room. Victor shares a dream he had last night where he had a laptop in the HOH room and was able to google things. he was a pro soccer player for Spain in this dream. They start talking about going to meet and greets making a thousand dollars for a couples hours. Corey says Nicole does meet and greats for free no way he's doing that. Victor agrees.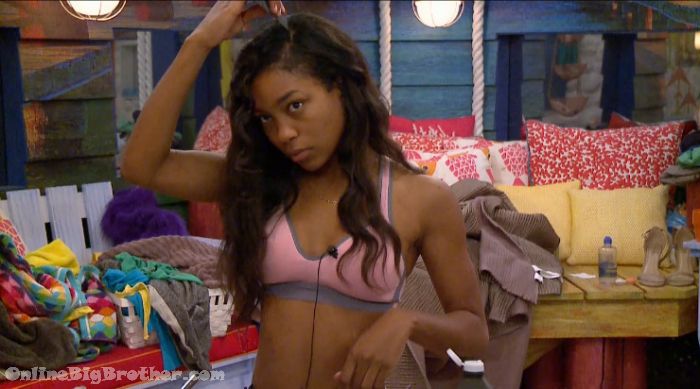 1:32pm Bathroom Zakiyah and Nicole
Zakiyah – I tried to warn Paulie I think I'm going .. right now I'm not feeling too confident about it
Nicole – it depends on who James nulls votes
Zakiyah – ya.. his lady was really upset.. he might take out someone else's lady
Nicole – I don't think he'll do that
I want to be confident but.. too much damage was done yesterday.. and last night
Zakiyah – what should I have done
Nicole says she would have done the same thing Zakiyah did told her best friend in the house
Zakiyah – maybe she's made because I slept with him last night
Zakiyah – Natalie took her skirt
Ncioel – Oh really
Zakiyah thinks Natalie is twisting James' arm, "Paulie is convinced he won't do that"
Zakiyah says Natalie is getting Petty
Zakiyah says it sucks for her with Paulie exploding last night.
Nicole – if people are trying to keep Michelle it means they are coming after Paulie and me and Corey
Zakiyah says that Natalie told her Nicole and Corey talk bad about her, "I heard it all.. when I was in here getting waxed"
Nicole – oh my gosh.. i'm dunso.. she is just something else
1:53pm Zakiyah and Nicole in the Bathroom
Nicole is pissed that Natalie is saying she talked bad about Zakiyah, Nicole claims she never did that. Nicoel wants to call Natalie out to celar up what Nicole said, "I want her to tell me to my face"
Zakiyah asks her to please do it tomorrow when Zakiyah is off the block, "My game is already f****ed"
(Zakiyah was going to wear Natalie's skirt today)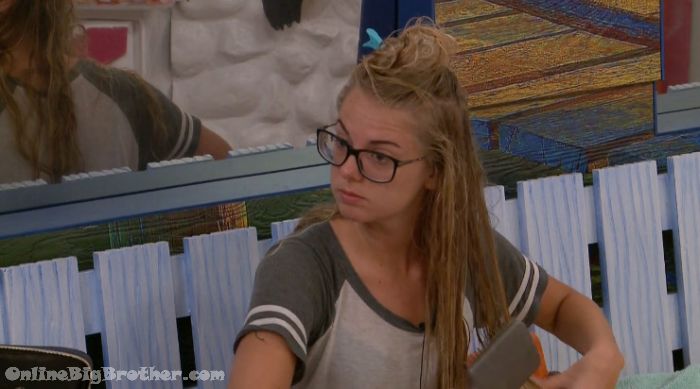 1:58pm Paulie, Nicole and Zakiyah
Nicole – I don't get it everyone has to vent sometimes..
(Nicole hung up that Natalie spilled her shit talkign about Zakiyah)
Nicole – I want to know exactly what i said
Paulie says Natalie tried to take it upon herself to bring all this up "If i'm f***g married to somebody you stay the f*** out of my business you know what I mean.. we handle our sh1t a certain way and you handle your sh1t a certain way i'm not going to f***g come to you and be like you should f***g handle it this way"
Paulie – to try and take I upon yourself to brings things to light that we've already spoken about that's what I'm, pissed about.
Paulie starts bringing up stuff Natalie has said in the past impersonating her "James cuddles me and tries to kiss me"
Paulie says his job is to be friendly and flirty with a crowd of people, "I'm the exact same way as Cody"
Paulie starts up ranting about Natalie.. "Fake fake as fake as everything on her body"
Nicole – my feelings are hurt I did not say anything mean
2:14pm Paulie, Corey and Victor
Paulie says the girls were trying to convince James to null their votes so that Michelle stays.
Corey – I don't think he will do tat
Paulie agrees.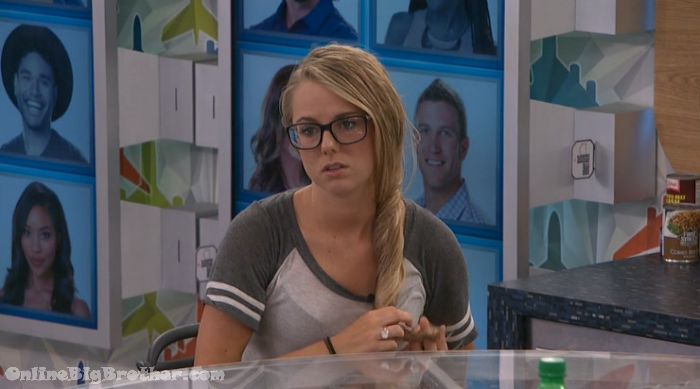 2:31pm Kitchen Nicole, Victor and Corey
Nicole – I'm not a mean person at all..
Nicole whimpering about Natalie saying she's said mean things to Zakiyah
Corey is goign to say something
Nicole wants Corey to keep quiet until after the Eviction because Z thinks she's on the fence.
Nicole – there was a lot of bad things told back and forth .. but this isn't high school.. you don't tell them. (Nicole is guilty of this herself in a big way he's having trouble coping with the sudden lost of power her side is experiencing now)
Nicole – its ridiculous
Nicole – why are people trying to make other people look like bad people
Nicole says everything she says about people is strategic.. "Someone has to go home every week.. My feelings are just hurt I feel like I don't do men thing.. am I a mean person "
Victor – no
Nicole- I didn't have to deal with this on season 16..
Victor – catty
Nicole – very catty
Nicole – I just want my mom
Victor – I can beat your mom
Nicole starts to tear up. Victor comforts her
Nicole – Paulie is not a bad person
Victor – he flipped out yesterday
Nicole – you voting out Zakiyah
Victor – I can't vote
Nicole – Is Michelle going
Victor – I don't know.. after this whole fiasco I don't know what is goign on .. at the end of the day its the Big Brother house and people go crazy in here
Victor – I can't imagine all the bad things people have said behind my back.. never cared . (HAHAHAH vic is really start to shine playing this all off very cool)
2:43pm Bathroom Nicole and Zakiyah
Nicole says it's up to James where the vote goes. Corey says Michelle is leaving but Victor isn't sure. james has to decide if he wants to play with them or with paul and Vic. Ncioel adds that
Zakiyah called into the diary room
Zakiyah – might be my last DR
2:44pm London Room James and Natalie
Nat – Are you OK I feel like you're not ok
James- I'm good i'm good ..
Nat – they were all out there.. They kept making comments.. Zakiyah, Nicole, Paulie..
Nat says Nicole was whispering in the kitchen and she knows Nicole was talking about her.
James – don't worry about it they don't see this coming
Natalie – they use to talk about me behind my back and I never did anything against them.. PAulie has been calling me fake and a pageant girl forever.. He's been talking behind my back the whole time.. Same with Nicole and corey they make fun of me all the time. . Who am I the bad person in this..
Natalie – I never talked bad about them behind their backs I've always been nice and genuine to people and they call me fake.. It's funny they all talk shit about victor and they are all acting like he's their best friend
James – he knows.. He really knows though
Natalie – he's the only one that talked to me today.. Like I'm a bad person Zakiyah was treated badly. And she stayed with him so…
James says if they make any more comments about Natalie he's calling them out.
Natalie – no.. i'm not confrontational
Jame – I'm not going to sit here while they make you feel uncomfortable in the house.. If i hear something passive aggressive I'll call them out really guys is that necessary (she could have used this last night?)
Natalie – I'm going to let Victor know all the information i know
James – I guarantee Victor already knows
James says last season wasn't so cliquey as this season, "So many fun people.. They wanted to play game and dress up.. We had a set schedule every week BB bowling tuesday.. Podcast Monday"
Natalie – I don't care I wanted to make a big move because Paulie was going to win ..
They talk about how the two other showmances cuddle under the covers. Natalie and James aren't into that on a tv show
2:55 James gives her a kiss on the forehead..
James – if anything that brought them closer (Z and Paulie)
Nat – I tried
James- doesn't matter she's going to the jury
Nat – if she has the round trip ticket
James – oh well it's a chance you gotta take
Nat – thanks for supporting me
James- don't thanks me it's got to me done
3:10pm James saying he regrets Voting day out but it would have meant Bridgette going.
Natalie points out that Bridgette can win comps.
3:30pm feeds on jeff

[polldaddy poll=9491180]
[polldaddy poll=9491957]