POV Holder:
Bridgette
POV Competition
July 9th
POV Used
NO
POV Ceremony
July 11th
HOH
Bridgette
Next HOH
July 14th
Roadkill Competition Winner:
Frank
Original Nominations:
Paul, Tiffany, Bronte
After POV Nominations:
Paul, Tiffany, Bronte
Have Nots
Nicole, Corey, TIffany
CBS All Access: Live feeds are only $5.99 per month – Try it FREE for 1 WEEK!
Big Brother 18 Alliances Help Guide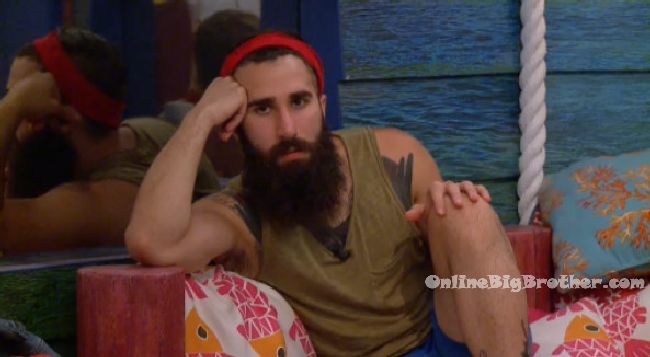 12:25am – 1am Bathroom – Paulie, Zakiyah, Paul and Tiffany are studying facts they remember about the HOH photos. Big Meech is showing. Tiffany stars asking them true / false questions to test them. They finish their study session and everyone but Paulie and Zakiyah leave the bathroom. Paulie tells Zakiyah I just wanted to talk about Day to make sure we're conscious of spending time around her so she don't feel like that because she is feeling like that. But I wouldn't say anything. Zaikyah asks how do you think she will react after see the votes switch tomorrow? Paulie says I don't know how she's going to react. Zakiyah says I don't want her to think ..they're definitely all working together. Paulie says that's why I want to talk to Corey and Nicole.. and ask if we should tell her. Zakiyah says I feel like if you tell her she will be on board. That way if you tell her and I tell her, that way she doesn't feel like I'm lying to her. Paulie says I'll have to talk to James too. So it doesn't look like it was just him and Natalie.. because Frank will use that. Paulie says I'll talk to her and feel her out. I'll be like we were thinking of making the voting 5-4, to send Bronte home. I'll say that all three of the powerpuff girls are coming after me. Zakiyah says and say that we all know Tiffany wont come after us, she'll go after him (Frank). Zakiyah says yeah and talk to Paul right before.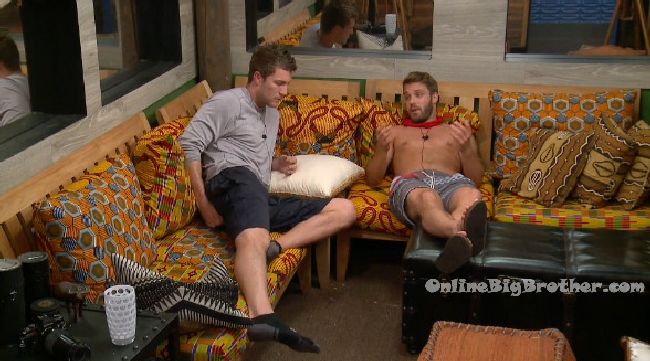 1:35am – 2:20am Corey and Paulie are in the safari room talking. Paulie says we can twist it which ever way we want to because Nicole already buys it. I was just wondering how we're going to do it because James wants something with me and you. He asked me straight up that he didn't want to be voting the opposite way. I think Day if she was left in the dark she would feel even more like the fifth wheel even more. So I was thinking either just not say anything and be like what the f**k!? Or put it to Day and James how Michelle had this idea to make it come out to 5-4 so that Frank has no idea. We want him to not be able to figure out who it is. If he doesn't win we don't want Day coming after us. Paulie says once we get Bronte out then we're basically gotten ourselves to jury. Frank joins them. They study the photos. Paulie says I'm assuming you wouldn't want to put up Bridgette. Frank says I would rather not put up Nicole either. Paulie says so that leaves Bronte, Natalie and Michelle. If Paul wins .. I feel like he would put up Michelle. They talk about Natalie. Paulie says everyone sees through her sh*t except for James.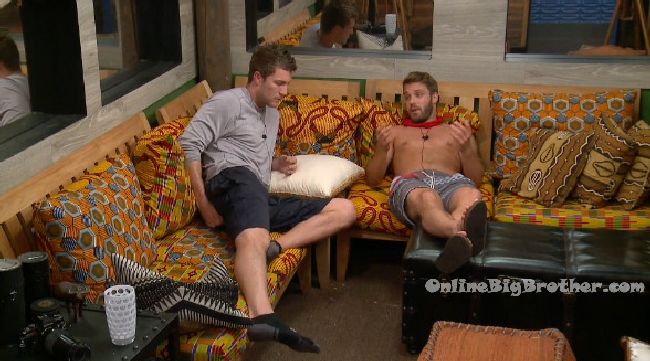 3:20am – 3:45am Paulie, Corey and Frank. Paulie says I would love to see anyone from our team winning obviously … and Corey and Nicole. Or even Paul. Frank says even Z… I don't think she will win it but its not bad if she does. Natalie and Bronte aren't winning. I doubt who it will come to a tie but if it does do you want it Corey. Corey says If I don't need it, I don't want it but the only reason I would want it is to get a letter from my family. James joins them. They start talking about random things. Frank asks James how are you at this memory sh*t? James says I don't know. It doesn't really matter because I'm not trying to win it. Its another smooth week.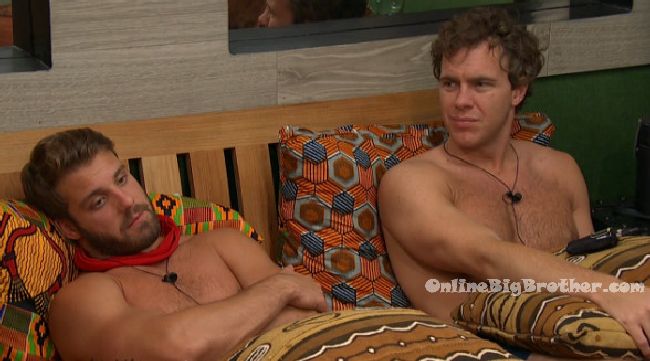 3:50am – 4:15am Frank and Corey head to bed. Paulie and James laugh about how the bathroom is like a truck stop bathroom. Paulie asks how do you feel about tomorrow? James says I feel good. James goes and puts ketchup on a tampon and puts it on top of the garbage can in the bathroom. Paulie says Michelle whispered something to me saying she needed to talk to me .. but then she never got the chance to talk to me. James says if Tiff stays Frank is going to go balls to the walls for that HOH. Paulie says I might just avoid that conversation so I'm not caught in a room with her. James says Bronte will always be easy to get out. Paulie says Natalie and Bronte migrate more to you. Nicole comes to the bathroom. Corey joins them. She finds the tampon and says ewwwww…James. James asks why do you assume I did that?! Nicole says the whole thing should be red not just the tip. James goes to get BBQ sauce.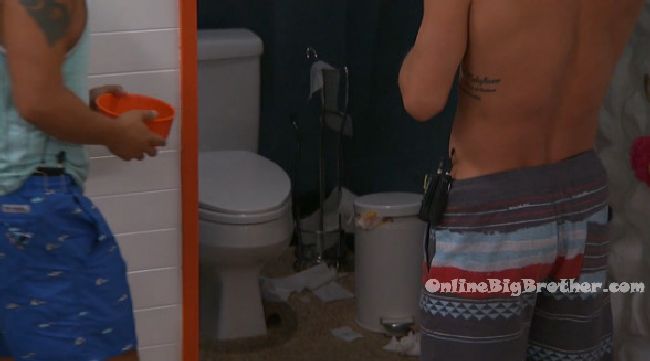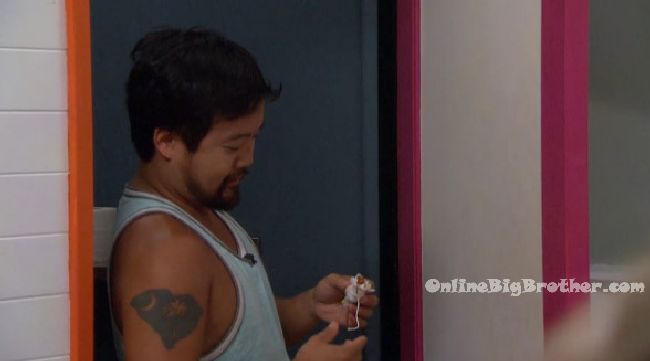 4:25am Paulie, Nicole, Corey and James. They talk about making the vote 5-4. Tiffany gets to wash her face.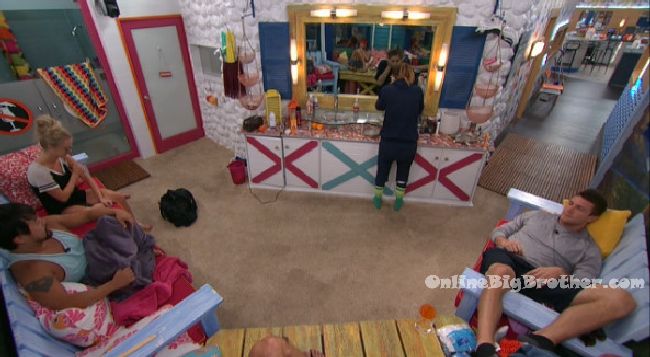 James is doing some prank.. something to do with cotton swabs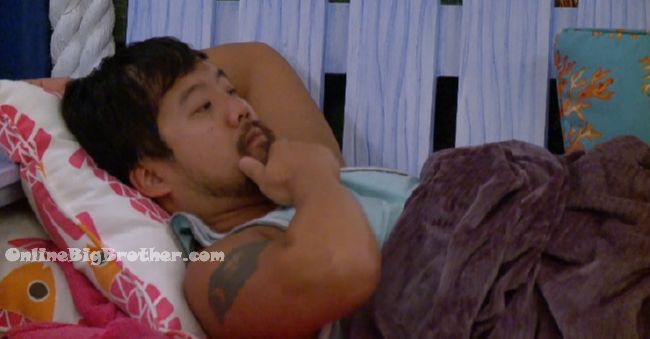 5:31am Nicole, Corey, James and Paulie… STILL UP!!!
(Simon updating now)
Chit chatting about the medical business. Nicole telling them about how some people in the 90's are doing amazingly well for their age and they thinks Nicole is still in high school.
Nicole – one time.. I was new a month in.. a stroke came in I got stuck behind the curtain
JAmes- you're good under pressure this should be nothing for you
Nicole – it's the live show
PAulie – Picture us in out underwear
James – or having heart attacks
Paulie – Heart attacks and strokes.
James says he's taken a lot of CPR courses "I'm fluent"
Nicole – have you ever done CPR on a live person
neither of the guys have
Nicole – you break a rib.. pretty much have to..
Nicole – you get tired doing CPR.. and it's hard.. it's a nuisance for me to do it I'm more the person that gets the meds..
Nicole says she's she's done it 4 times. her first time was with a 90 years hold women with both legs amputated.. After the experience Nicole had second thoughts about her career change.
Nicole says there's always complications when you do CPR.
Nicole – If they're 90 years old and you're beating on their chest it's sad..
Nicole says once there was a cute boy that came in who was 18 had to get a shot in his butt and he was "So embarrassed"
Corey – you wanted to see that butt so badly
Nicole – he turned so red.. i felt so bad .. I was like this was big deal
Nicole says she saw a little miscarriage baby in the toilet that was really hard.
Nicole talks about getting older nurses to deal with some of the younger boys.
Corey asks if she had to do anything to "The other side"
Nicole – we do a lot of catheters
Corey – shut up.. so you see a lot of pen!$es. .
Nicole – as a nurse yes
Corey – Oh my god (LOL Corey wants to be a nurse now)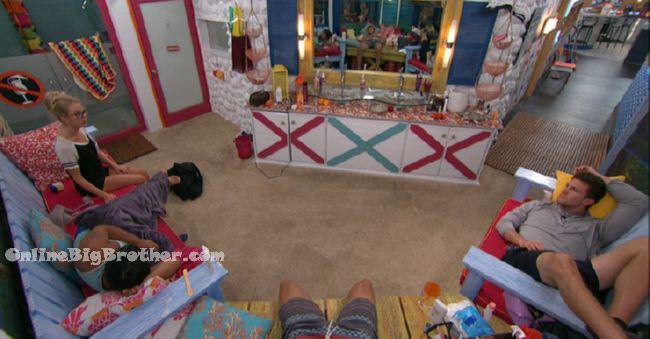 5:46am Paulie goes to bed. Corey decides to stay up until he "Passes out" (Thanks Corey)
6:02pm bathroom Corey, JAmes and Nicole
James saying he gave his "Baby's momma' 1/2 his AFP the other 1/2 he paid off his truck and 'some other things'
Nicole asks if he has a good relationship with her.
James – we have our ups and downs.
James – we built this relationship based on a 1 night stand
Nicole – ohh that's hard..
Feeds cut..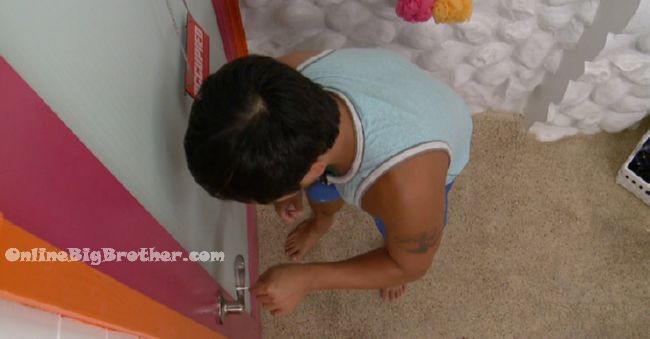 6:14pm pranks..
Corey is suggesting they put melted chocolate on the toilet door handle so people think it's poop..
Nicole brings up "Tp-ing" asks them if they've ever done that.
Both have.
Nicole – I peed my pants once I got caught I couldn't move.
James asks who did she use to T-P
Nicole – Lots of boysssssss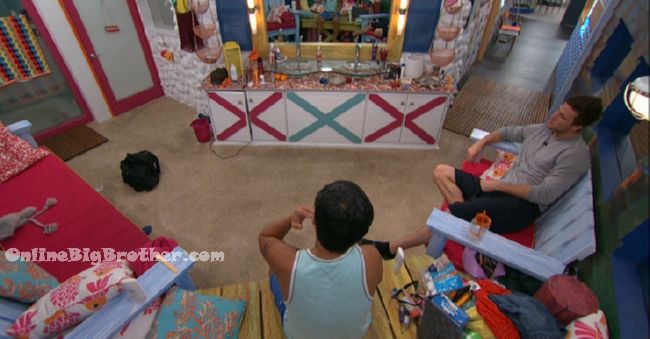 7:00am Corey and JAmes
Talking how Frank tells everyone a different story. Corey is amazed he's doing this doesn't he know they will talk.
James says if Frank wins this HOH crazy sh1t is going to go down.
James doesn't think Frank has the votes to backdoor anyone, Adds that Da'Vonne, Him, Corey and PAulie will all be safe.
James and Corey agree if they win HOH they will put up both Frank and BRidgette.
7:56am Corey and JAmes are still up…
Corey is talking sharing some baseball stories.
8:41am official wakeup from Big Brother..
Corey, Nicole and Zakiyah talking about the vote having to be 5 to 4 so they can hide from Frank who voted Bronte out.
Corey and James stayed up all night talking about "stuff" #BB18 @DawgsBigBrother pic.twitter.com/tJKuX8D6FW

— OnlineBigBrother.com (@bigbspoilers) July 14, 2016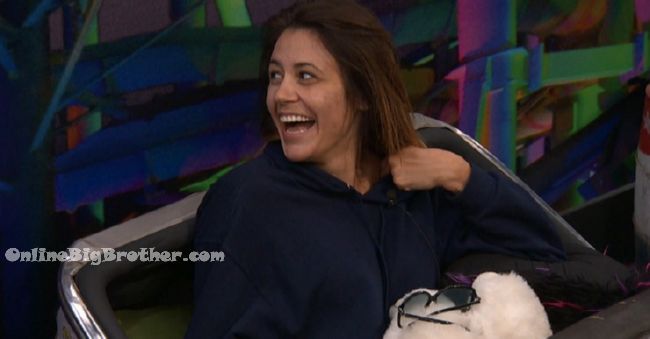 8:50am can't wait to see Franks face tonight.
FLASHBACK and watch everything you missed: CBS All Access FREE Trial!

[polldaddy poll=9465176]
[polldaddy poll=9464369]