POV Holder:
Bridgette
POV Competition
July 9th
POV Used
NO
POV Ceremony
July 11th
HOH
Bridgette
Next HOH
July 14th
Roadkill Competition Winner:
Frank
Original Nominations:
Paul, Tiffany, Bronte
After POV Nominations:
Paul, Tiffany, Bronte
Have Nots
Nicole, Corey, TIffany
CBS All Access: Live feeds are only $5.99 per month – Try it FREE for 1 WEEK!
9:07am
MEECH – Fruit loops is on pinterest .. .
9:09am Tiffany, Paul, Zakiyah, Corey and NIcole
Teasing Nicole that she wanted to listen/smell Corey's fart..
9:10am HOH Natalie, Bridgette and James
James is telling Natalie they have to at least not come in last place today during the HOH.
9:31am Bridgette, Frank and Michelle
Going over details they were shown on the screen last night. Michelle says she's sick of studying can even stand studying around Tiffany she gets so stressed on the minute details.
Frank talks about James putting a dirty tampon on top of the garbage can, Frank asks who would dig inside the garbage to pull something like that out.
Michelle thinks it's just BBQ sauce.
Frank tells them Tiffany won't even look at him..
Frank – she's just so obvious.. She wears everything on her face..
Bronte walks bye.
Frank – "Brontosaurus.. It was so hard to come up with your goodbye speech because I know i'm like she's not going to see this.."
Michelle says she put something in about Tiffany's sunglasses in her goodbye speech, "It's frickin annoying"
Michelle, Frank and Bridgette all were not fans of Vanessa last season. Bridgette says that is the one person she said pre season she didn't want to be in the game.
Frank says Jame voted Da'Vonnne out her there season.
Michelle says James must know Da is skeetchy.
Bridgete – that's because she was sketchy as f***
Michelle – ya, I'm not trusting a word that comes out of her mouth anymore
Frank says Da will be pissed off all week
Frank says Paulie was so pissed at Natalie last night, "she can't clean a dish"
Frank – PAulie's such a neat freak I love it.. He's so thorough
Bridgette – so was Vic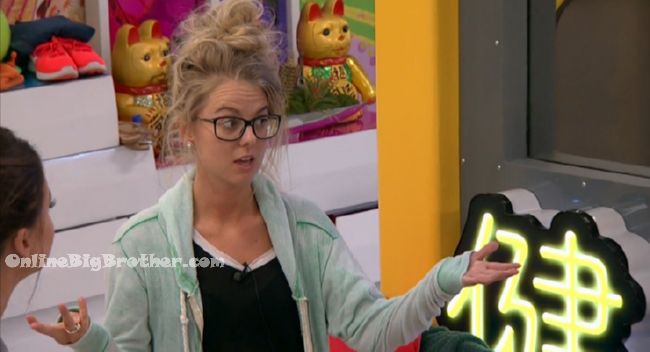 10:08am Michelle, Zakiyah and Nicole
Talking about Frank playing mind games they need to stay strong and know they have each others back.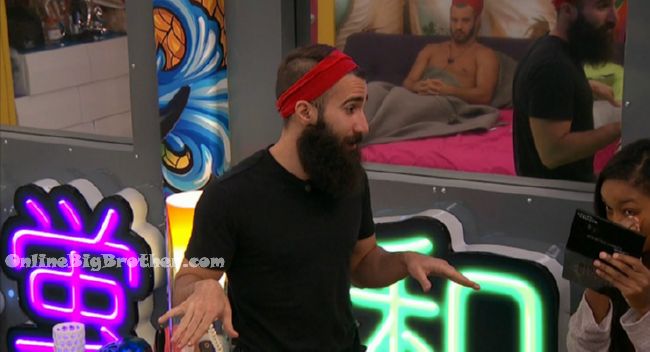 10:21am Paul, Paulkie, Zakiyah and Michelle
Paul telling them if he wins HOH he's putting Bridgette and Frank up. Right before the POV he'll wake them up in the morning banging pots and pans yelling Friendship..
Paulie brings up Frank telling him that Bridgette doesn't even like Bronte and Natalie and she wants to get them out as soon as they hit Jury
Zakiyah – That girl thinking she's all that
10:27am Corey and Tiffany have nots
COoey telling her she needs to be quick about because things are coming out.
Corey – keep your cool.. this is strategic.. I just don't want him to know whose flipping this thing.. he wants you out.. I don't want him to know we had anything to do with it..
Tiffany – ya .. I'm not going to say anything to anyone.. I have't
Corey – don't mess is up for tonight
Tiffany – what would mess it up
Corey – making any deals with Frank and Bridgette..
Tiffany – Corey, make a deal with the devil
Corey – I'm the only one sticking to the original 8 pack deal
Corey says his name is getting thrown out left and right so this is about him not her she needs to be quiet.
Tiffany promises to be quiet, they shake. .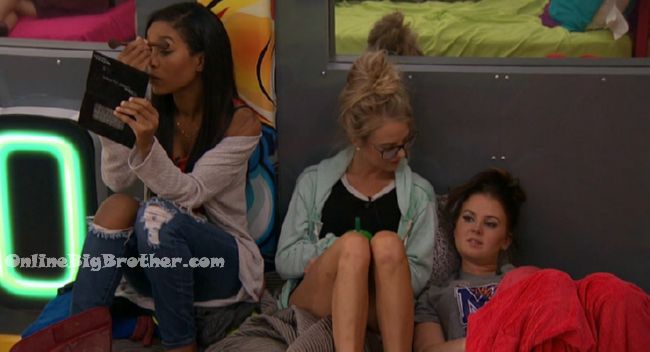 10:32pm Paulie, Nicole, Paul, Corey, Zakiyah and Michelle
Paulie tells him Frank is going around saying he's gotten Corey and Paulie on-board with backdooring Da'Vonne.
Corey is worried that Da thinks he's turning on her says she's been giving him weird looks.
Michelle, Zakiyah and Nicole whisper..
Michelle tells them about the conversation with Frank. How he has no idea what is going on.
Michelle – frank and Bridgette do mad shit talking ..
Says Frank hates everything Paul says.. Frank was saying Paulie hates Natalie in front of Bridgette.. "Bridgette is going to tell Natalie"
Bridgette – He [Frank] was also like I was really shocked that James was on-board with getting out Da
Nicoel – he's goijng to be so mad..
Paul in the room starts saying "pots and pans"
Nicole questioning getting rid of Bronte now, "I don't know whats best"
Michelle – Tiffany can definitely win .. but we can take someone out in Frank's Army today.. he's going to be frazzled.
Nicole – he [Frank] trusts us three so much we're going to be throwing that away
Michelle – I know..
Paul joins them says if they are have nots and Bridgette and Frank are on the block he apologizes for the pot and panning he'll be doing.
Michelle – I'll join in
Paul outlines his plan make sure Frank and Bridgette don't sleep before the veto, "Ding ding ding FRIENDHSIP"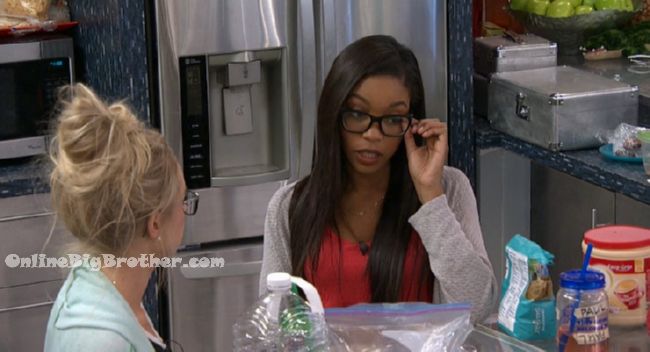 11:05am Zakiyah and Nicole
They are worried that Da'Vonne is going to look at them and think they have something going on because they voted to keep Tiffany.
Zakiyah says Da'Vonne is a bit insecure about Corey, "Everyone is getting frantic.. we got to calm our peoples down"
11:24am HOH lockdown feeds on jeff highlights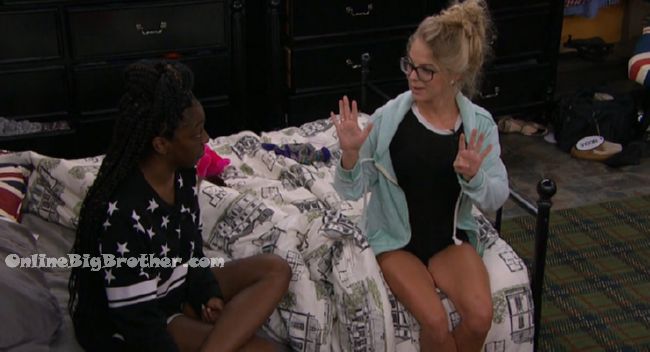 1:05pm Feeds back..
James says he caught Paul in a lie, "He's flip flopping he'll go with the side that holds the power"
Nicole and Michelle come in and bring up flipping the vote and keeping Tiffany.
James – Holy sh1t what are we doing
Nicole – it's going to be 5 to 4
Da'Vonne – we gotta solidify
James – Lets vote Paul out
Michelle – F***g Bronte
Nicole – I'm not voting Paul out..
Nicole says Bridgette told them Bronte is after Paulie so he's on board.
James is pissed he's losing another member of his team.
James brings up catching Paul in a lie. James really doesn't want Bronte to go he wants Bridgette gone.
Michelle – I don't care Bronte's Dirty I want her out
Da – When did Paulie Flip
Michelle- yesterday
James- Franks going to know 1/2 the house flipped on him..
James says Frank will really be fighting for the HOH.
They start trying to figure out a complicated voting strategy so Frank doesn't know who flipped.
Paulie joins them.
Nicole – lets do 4-3-2
Paulie says he heard it from Michelle that Bridgette said Bronte is targeting him so this is why he's voting out Bronte.
You can tell James is not happy about this he keeps coming up with excuses but the group won't have any of it.
James- OK so we all vote Bronte out everybody..
Nicole – NO
Paulie saying Tiffany is someone dangerous he still wants her to go soon.
Da says they'll use Tiffany yo take out Frank then they'll take Tiffany out during double evcition.
1:54pm nothing going on but studying, getting ready and chit chat
"Rock my shades.. Fuck it" @DawgsBigBrother #BB18 pic.twitter.com/B14eGGC5Bu

— OnlineBigBrother.com (@bigbspoilers) July 14, 2016
1:56pm Paulie and Da'Vonne
Paulie is going to tell Paul right before the vote that his girl is going home. Corey joins them says Michelle was talking about what is going down with Frank and Bridgette in the room.
2:10pm James is telling Da that he's wanting to tell Natalie before the vote goes down. He needs the last person on his team to trust him. SHe'll be pissed and not trust him anymore if he doesn't
(they have a complex plan for voting 1 person makes a mistake and it could mean Tiffany does go)
FLASHBACK and watch everything you missed: CBS All Access FREE Trial!
[polldaddy poll=9464831]
[polldaddy poll=9464369]
[polldaddy poll=9465176]