POV Holder:
Corey
POV Competition
July 16th
POV Used
YES
POV Ceremony
July 18th
HOH
Paulie
Next HOH
July 21st
Roadkill Competition Winner:
Tiffany
Original Nominations:
Tiffany, Natalie, Corey
After POV Nominations:
Tiffany, Natalie, Da'Vonne
Have Nots
James and Natalie
CBS All Access: Live feeds are only $5.99 per month – Try it FREE for 1 WEEK!
12:10am Outside the HOH room – James, Natalie and Nicole. James says I'm trying to figure out what everyone is doing for tomorrow. Nicole says that's why I wanted to talk to you. I'll do what you do. James says I'll do what you do. Nicole says I don't know. James says I'm obviously voting Nat out. We could get 5 votes against Natalie. Natalie says James, I'm going to throw up. Nicole tells Natalie she is safe, don't even worry. James says yeah no one is voting you. Nicole says you don't even need to pack. James says you and Corey, I'm doing whatever ya'll are doing. I don't want anyone coming after Paulie, Z, you, Corey, me or Nat. Nat says i don't even know what's going on. James and Nicole say you just keep eating your pickles. Nicole asks you're willing to vote either way? James says yes. James asks who is going to come after us. Nicole says Da is 100% putting targets on the couples backs. James says that can be controlled because she isn't going to win. Nicole says but Tiffany is on my team, she could try and throw the HOH comp .. and I would be pissed. James says the longer Tiff stays in here.. Nicole says But she will be grateful and go after who we want.James says Da isn't going to win sh*t. She ain't going to beat me in an HOH comp. Nicole says I think I want to get rid of Tiffany, last week she was just nuts. Okay so we're going to vote out Tiffany. I will talk to Corey and say we want to vote out Tiff. James says its going to cripple Frank. Nicole goes to talk to Corey.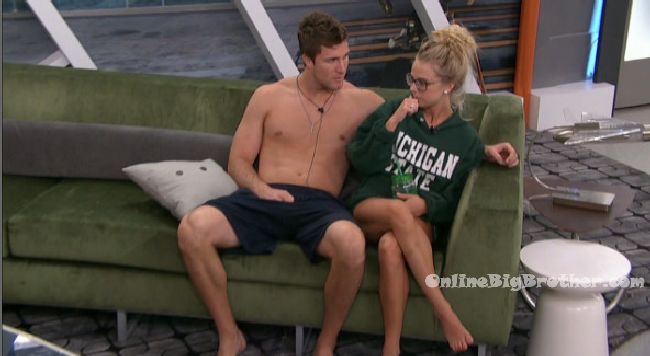 Living room –
Nicole tells Corey that Da isn't going to win in a double eviction, Tiffany could. In a double eviction comp, you're going to be able to put up whoever you want. There's not going to be any teams. Frank and Bridgette are we really going to trust them? Corey says I trust you but .. do you want Da to go to jury? Corey says you have to think of who Da is voting for.. I know it it came down to final 2, she isn't voting for me. Nicole says she wouldn't vote for Jame or me either. Cory says she (Tiff) has her back against the wall. Nicole says Michelle and Z would flip out on us. And where does Paulie stand in this situation… yes we have the votes but we cannot go against the people that we trust the most in this house and betray him. Its Paulie's HOH and we need to respect him and his HOH. He wants Tiffany out. Corey says not recently. Corey says all this stuff came out about Da and she hasn't even denied it.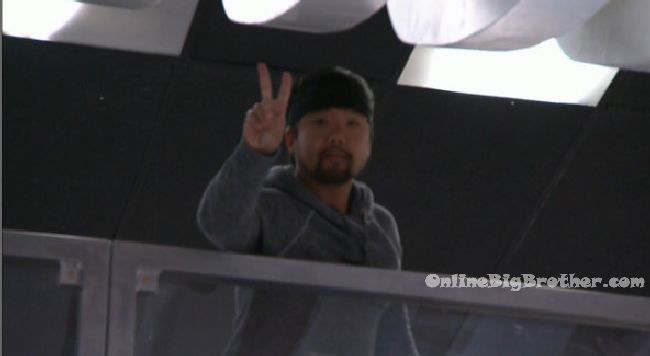 12:25am Outside the HOH room – Nicole, Corey, James and Natalie. Nicole says Da isn't going to win in a double eviction. TIffany will win because its a mental one. James says I think if we take Tiffany out we're going to cripple Franks team. If Frank wins he is going to do what the group wants. Corey asks if Da does win would she put up Frank & Bridgette. If Frank comes off who do you think is going up … you're boy (Corey) or Paulie. The thing with Da she wants the guys out. Nicole says that might not be bad to keep her. James says if Tiffany stays one more time and she goes after one of us.. then you deserve it. Corey says then lets just vote her out. James says Da has not won 1 comp in her two seasons. Corey says then lets just vote her (Tiffany) out. And get her (Da) out next week. Corey says vote Tiffany out. Nicole says me too. Corey says that would be a B***h if we kept her another week and she f**ked us. James says we're all on to Da and her sh*t. Corey asks if we're telling Tiffany? Nicole says I want to tell her because I don't want to blindside her. James says we tell her an hour before eviction. Corey and Nicole leave. Natalie says I definitely think Tiffany should go. James says she is going home. Natalie tells James Frank is a f**ker.. not a f**ker I'm sorry that was mean ..I apologize. He keeps throwing my name out. James says she (Tiff) is gone. Natalie says I think Da is easier to take out. Tiffany is a double threat. This game is about taking strong players out. James says that's why I was saying its better to take Tiffany out.. they're 3 strong players (Frank, Bridgette, Tiffany).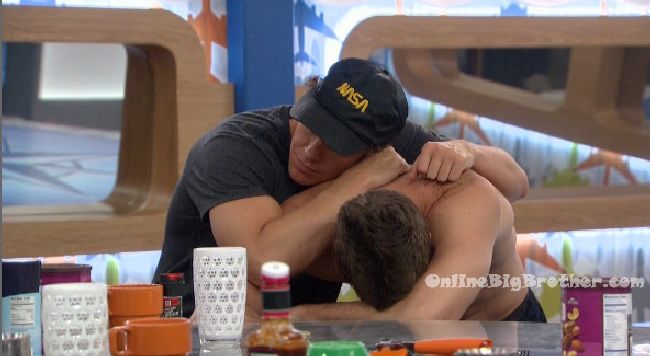 Nicole, Corey and Frank are talking. Frank says what if she (Da) wins HOH. Nicole says she has less of a chance at winning. Frank says if she wins, I'm going on the block. Corey says we're on board to do whatever. Frank asks if Paulie says yes. Nicole says even if he says yes I don't want to make people mad. Nicole says Da hasn't won a comp in her Big Brother career. Corey says we could even get Paul to throw the comps so she (Da) doesn't win. Frank says she (Da) is due for a win. Nicole says that's not how it works, if you stink, you stink! Frank says yeah just look at Corey. They laugh. Nicole tells Frank you just need to be okay if she (Tiff) goes. Frank says I'll be alright with Corey. Frank laughs. Frank says Michelle said she will vote wherever the mumbers are. Nicole says why not just get her (Da) out next week. Frank says I don't want her (Da) in jury. Frank says I said a really good goodbye message and I want her to hear it. Da in the jury would be the worst move ever. She is influential. Nicole says we're not allowed to talk game in jury. Frank says you know we did it. Nicole says everyone better have their own brain when it comes to jury. Nicole says if Da wins I will let you come after me. I will put my big brother life on the line. Frank says I don't want to come after you.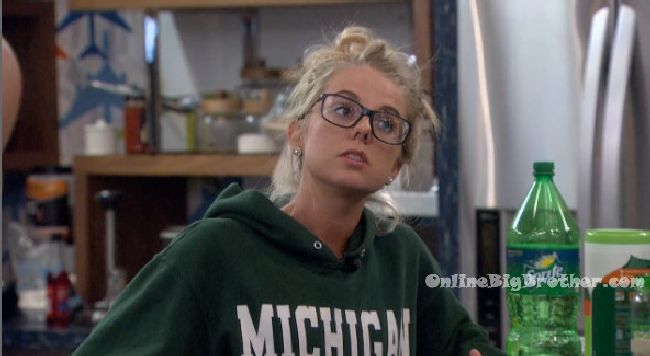 1:05am Havenot room – Tiffany and Paulie are talking. Paulie says I told Frank we should feel around and if it comes down to a tie .. then I would take into consideration the things Da's done. Tiffany tells Paulie I will tell you right now 1000% I will not put you on the block. You're an awesome player why would I go after you. I don't play dirty. I just don't. Paulie says that Frank is just more worried about her being in jury. James says whatever ya'll decide, I'll do.

Frank and James are talking. James asks why not get everyone together and decide. Frank says because Z is always around and she'll let Da know everyone wants her out. Frank says if Da wins its going to be two guys up. Da is due for a win you know that. Frank talks about how he doesn't like Z making faces at people. I just think she is fake and I don't like it.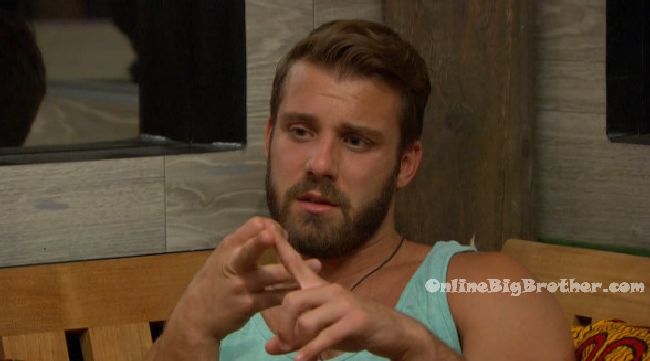 1:40am – 1:55am Paulie and James are talking in the safari room. Paulie brings up how Frank is worried about Da voting for a girl in the end. I'm not planning on taking a girl to the end. That just shows his motives. Pual joins them. Paulie says if we get Tiffany out this week. …then Frank next week and Da the week after. Paul asks if we get HOH we put up Frank and Bridgette. Then we put you, me, James or Corey as a third nom as a strong player in the POV. Paulie says at the end of the day you keep Da safe and she thinks everything is going according to plan. Paulie says Tiffany and Frank will spin whatever they wont to. Paul says my vote is going to Tiffany 1000%. Paulie says if it comes down to a tie I'm voting Tiff out. Paul says there is no way Tiff is not going home.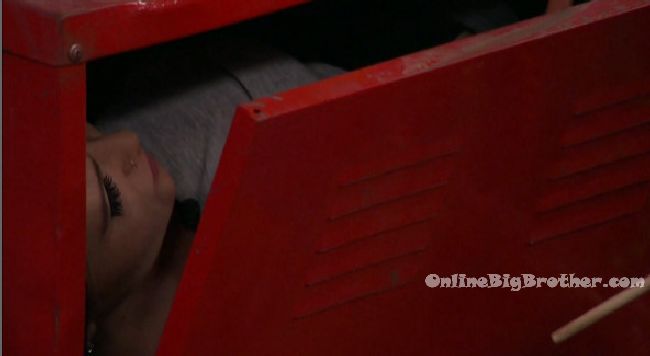 Big Meech "I got him!"
James "I went straight into fighting stance"@bigbspoilers #bb18 pic.twitter.com/epmRAOAb7p

— Dawg (@DawgsBigBrother) July 21, 2016
3:20am All the house guests are sleeping..

[polldaddy poll=9473607]
[polldaddy poll=9471428]