POV Holder:
Corey
POV Competition
July 16th
POV Used
YES
POV Ceremony
July 18th
HOH
Paulie
Next HOH
July 21st
Roadkill Competition Winner:
Tiffany
Original Nominations:
Tiffany, Natalie, Corey
After POV Nominations:
Tiffany, Natalie, Da'Vonne
Have Nots
James and Natalie
CBS All Access: Live feeds are only $5.99 per month – Try it FREE for 1 WEEK!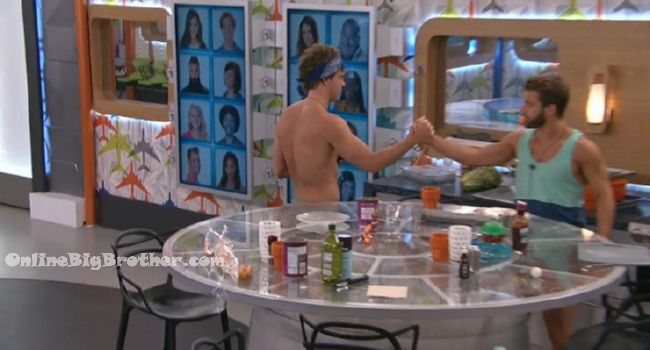 9:20am Paulie and Frank in the kitchen
Paulie – you want some breakfast Brah
Frank they let us sleep in for a Thursday
Paulie – I really don't care how the votes come out.. Either way
PAulie – people aren't being 100% on who they want out
Frank says "They" just want whatever Paulie wants.. Bro
Frank – me too… I want whatever you want.. Bro .. You don't have to say it right now I just wanted you to know..
Frank – that's a bomb a$$ tank top.. I love colour blocks.
Frank – It's early.. I know I just wanted to talk to you last night but you were busy
Frank – everybody wants them both out.. They are being honest about that. Corey might want Da out more but everyone else is on the fence
Paulie – they are on the fence
Paulie – I'm going to talk to Corey be like is this going to be the best move for us
Frank – Just let me know Bro
Frank – let James know let paul know..
9:36am
Girls before makeup
9:52am
Paulie made Zakiyah and Homeboy breakfast. (This time Homeboy = Paul)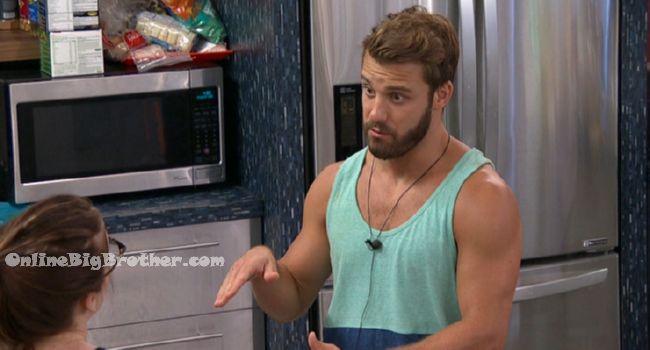 9:58am PAulie and Michelle
Paulie – You want her gone Meech
Meech – ya but if you want to change it
Paulie – I want her gone
Paulie says Corey wants Da out more and Nicole is on the fence.
Michelle says if Da'Vonne wins the HOH this week she won't put any of them up.
Paulie says if they take out TIffany Frank loses a number now that side is down to 2.
Zakiyah joins them.
Paulie says everybody is telling Frank what he wants to hear.
Michelle – If Frank wins HOH he's going after Da
Michelle is going to throw the HOH.
Michelle – Is Frank trying to work on Corey and Nicole
Paulie – Yes specifically them..
Michelle – After Da, Tiffany's coming after you
Paulie doesn't believe Frank, Bridgette and Tiffany when they say they aren't coming after him, 'They straight up said in front of Paul"
Pauli – I'll worry about Da when the time comes..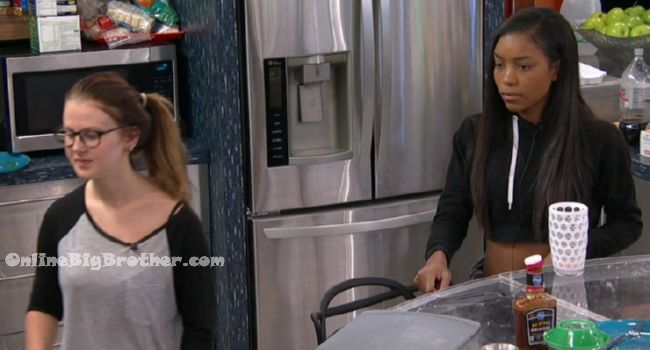 10:05pm Zakiyah and Michelle
Talking about Frank working Corey and Nicole.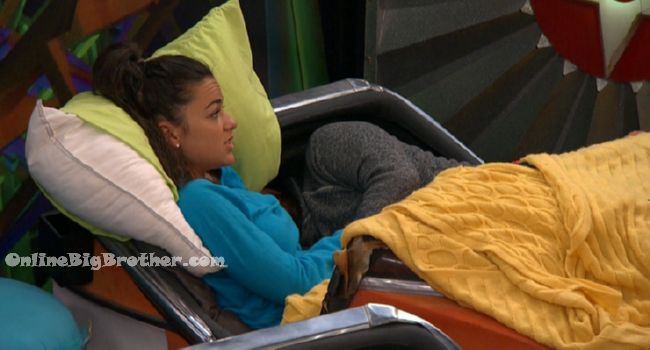 10:22am Natalie and James
James telling her about how Bronte got evicted. Says he tried to get Paul out but couldn't make it happen, "Bronte was a casualty of Frank". Natalie sounds pretty excited about the potential of a pre jury "Buy-back"
James hopes Brionte comes back says it's important to have a good friend in the house.
Natalie – you are my best friend in the house.. It's just not fun talking about cats and farts with you
James- I know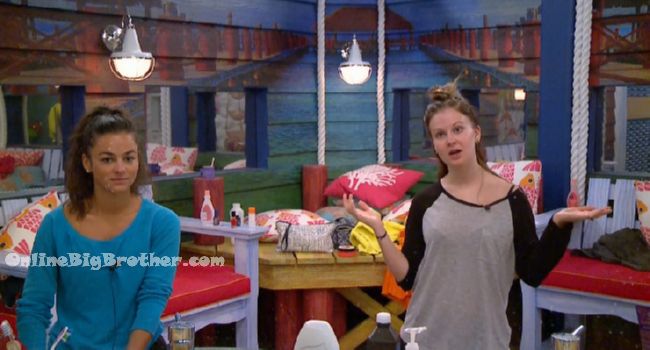 10:38pm Natalie and Michelle
Michelle says she hates most speeches they are all so boring everybody uses the same lines..
Natalie says some of her speech is boring but some of it's funny she hopes people laugh.
Michelle – Franks upstairs trying to convince them.. (he's sleeping)
Natalie – you should go up they're
Michelle – I don't care paulie's mind is set..
Michelle says it's so annoying that Tiffany can't campaign for herself.. Frank is desperate for numbers he's desperate.. He knows he's in hot water..
Michelle – you don't tell Bridgette what I say
Natalie – no
Natalie – I don't sh1t talk..
Michelle – ok that's good..
Natallie – I keep my mouth shut..
Natalie only speaks up when people talk about another person's appearance.
Michelle says she's never commented on people's appearance in the house.
Michelle heard someone called a girl fat..
Natalie hopes it wasn't directed to her she's put on a lot of weight
Michelle – I think it was Frank that said it
Michelle say her crying the other day asks if someone said something mean to her. Natalie says she was just having a bad day.
Natalie – I like Bridgette as a person I have nothing against her.. I know in my heart who I can trust and who I can't trust
Michelle – She's sneaky.. Very sneaky..
Natalie says she was cyber bullied when she was 25.
Natalie talks about her chest before she got implants, "I was flat like a board"
Says she's not comfortable telling people she has implants cause people take it differently.
Michelle- really I just thought you were gifted..
Michelle says 5 people had implants last year.
Natalie says she didn't watch last season.. only the last couple episodes.
Michelle asks if Tiffany told Natalie she was Vanessa's sister when she was on the block. Natalie says yes.
Michelle scoffs "Vanessa"
Michele says Tiffany told her about Vanessa "to gain trust probably.. that's sad… that's so desperate "
11:02am Michelle and Natalie cont..
Natalie – I hope America likes me that's one of the scary things
Michelle – Im afraid they like Bridgette… people that watch the feeds probably know
Michelle – honestly you're probably getting a Victoria edit… just like sweet and nud da nud nda da
Natalie – I was coming into this game just being myself..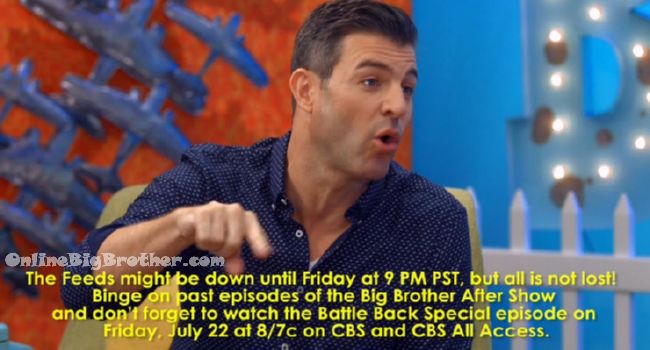 11:21am feeds cut to Jeff…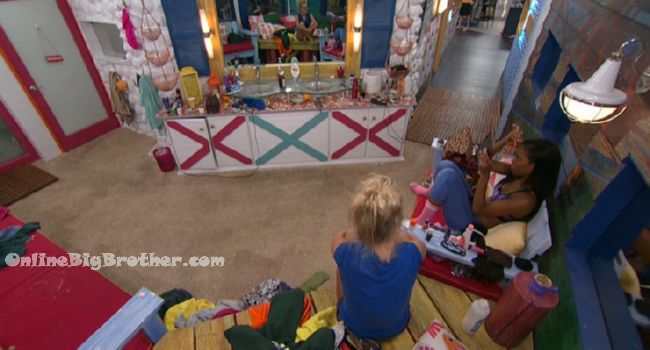 How nice feeds are back
1:25pm Bathroom Zakiyah and Nicole
Nicole – If Da wins she won't put me up
Zakiyah – no, Absolutely not
Nic – that's what he's trying to tell me (frank) .. I don't think that's true
Zakiyah – her goals are the same people we want out
Nic – ya.. Perfect.
Zakiyah goes on to complaining about Paulie not getting personal enough with her.
Zakiyah – he feeds me and he cares I geuss… but he doesn't know sh1t about me..
Paul yells from the kitchen he's making burgers tonight
Zakiyah – we're going to celebrate (Because Tiffany is leaving)
Zakiyah – we're going to feel good tonight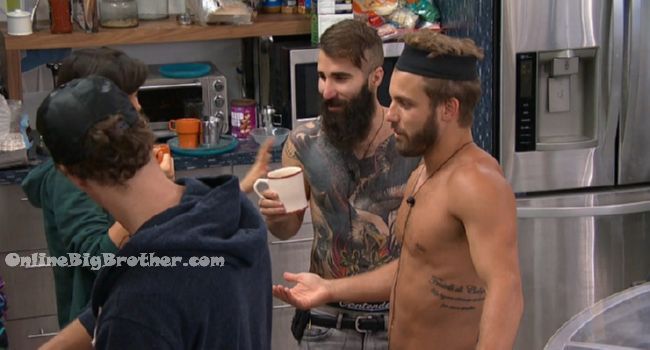 2:10pm Frank, Paulie and Bridgette
Frank doesn't want to win the HOH if Da stay in the game he wants to be open for the double eviction.
Frank – I want you me Bridgete in the next HOH in case it's double evict
Frank says Da is acting very comfortable
PAulie – I don't think she's comfortable I think she's nervous as f***
PAul joins them.
Paulie says when he talks to people they are leaning more towards sending Tiff. IT's not seeming like to him there a lot of people are on the fence.
Frank says Nicole and Corey want Da out.
Paulie – well Corey does
Paul – either or we're not making a mistake..
Frank – my thing Paul you are not in trouble, Me Bridgette and Paulie are in trouble
Paulie says if Michelle wins the HOH she'll go after Da
Bridgette and Frank don't think so, "I think those girls are really close, Da'Vonne, Zakiyah Michelle
Paulie says those girls will go after Natalie which will help them because James will be a lock on their team.
Frank – what if they try to backdoor somebody.
Frank – what if they put up me and bridgette and they win Road Kill and put you up… Tiffany is going to put two girls up
Paul going on about they're always being a risk
Frank – Homegirl isn't putting you up home girls it putting me up theres the risk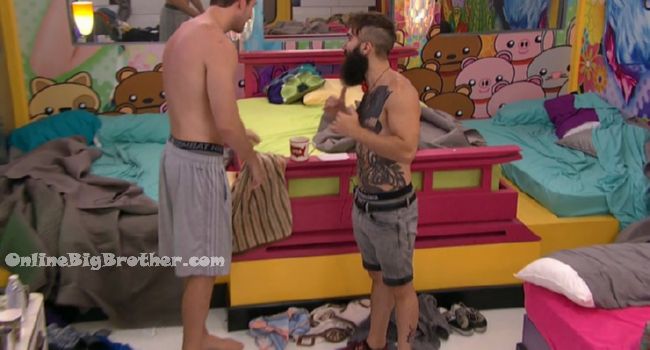 2:22pm Paul and Corey
Paul complaining about Frank. says they have to get him out, "He's such a prick" we gotta get this f***er outta here..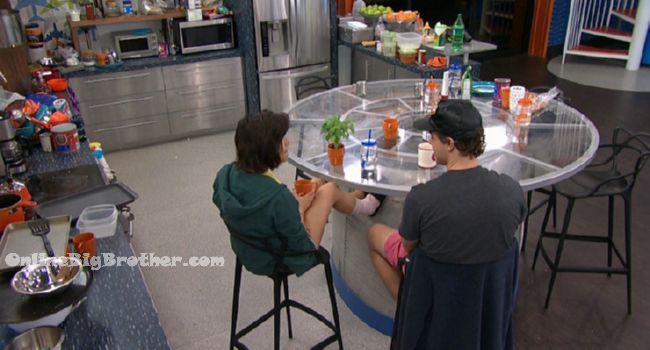 2:55pm Frank and Bridgette
Frank wants one of them to win so they can put up Da'Vonne and Zakiyah
Frank – PAulie is kinda a hot head..
Bridgette – Cody can be logical
Bridgette – If Michelle wins we're safe.. chill whatever…
Frank – what if Da'Vonne wins..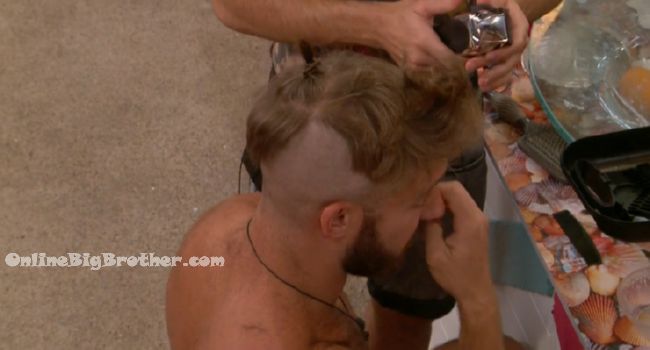 Corey's hair
Here's a gif of the process..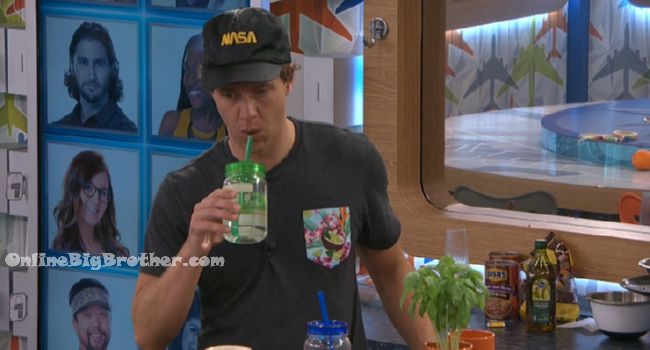 3:07pm James and Frank
Frank says he knows Tiffany is going home.
Frank wonders who Michelle will put up.
James- I really don't want o win man to be honest.. it's still too early for that
Frank – me too.. Double eviction next week That's what I want.
Frank – just know me and Bridgette have yours and Natalie's back
James – Nat told me straight up I would never put BRidgette up
Frank – alright I gotta use the bathroom it's not going to be pretty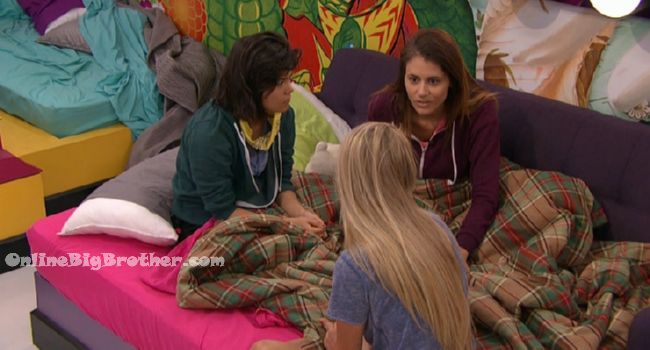 3:18pm Tiffany, Bridgette
Tiffany is starting to get worried she's leaving.
Nicole joins them.
Tiffany asks Nicoel where's it's at.
Nicole says it's back and forth.
Nicole asks who she will put up
Tiffany – I swear on my mother's life I will not put you or Corey up.
Bridgette says Da has been treating her like shit for a week and a half. Nicole feels she does the same thing to her.
Nicole instructs her to go talk to Michelle just talk on a personal level.
Nicole wants her to know she is trying.
Tiffany says this side of the house is the winners side they've all won a competition. The other side not so much.
Nicole leaves to talk to Paulie.
Tiffany looks at Bridgette says it's going to come down to the last minute.

[polldaddy poll=9473607]
[polldaddy poll=9471428]