POV Holder:
Corey
POV Competition
July 16th
POV Used
YES
POV Ceremony
July 18th
HOH
Paulie
Next HOH
July 21st
Roadkill Competition Winner:
Tiffany
Original Nominations:
Tiffany, Natalie, Corey
After POV Nominations:
Tiffany, Natalie, Da'Vonne
Have Nots
James and Natalie
CBS All Access: Live feeds are only $5.99 per month – Try it FREE for 1 WEEK!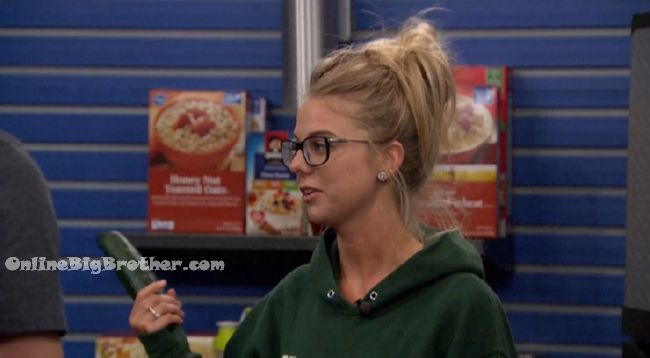 8:00pm Storage room Nicole and Frank
Nicole says she hasn't had a chance to talk to james he's been sleeping.
Frank – Corey wants to do it
Nicole – I know I was trying to talk people into it upstair
Frank – Paulie is practically onboard
Frank told Paulie if he won HOH he would put Tiffany up
Frank says he's been talking to Michelle and she was hinting that Tiffany might not go home. Michelle wants to know if the votes are flipping she'll vote with the house.
Frank – I think we can make it 7-1
Nicole – we got to work tonight..
Frank – even without james
Frank shows her that he's hidden an avocado. He'll make omelettes for them and BRidgette tomorrow morning and add an avocado to it. They high 10 .
Nicole says if Frank and Bridgette are safe HOH next week she wants her and Corey safe.. Frank says yes
Frank – I know you didn't vote my way last week and I don't care anymore..
Nicole argues that he doesn't know for sure , Frank says he does know that..
Frank argues he does.
Frank – I don't know and I don't care"
Nicole says Bridgette is so smart and she would love the 4 of them to work together
Nicole – I'm serious about this it's a good good group.. .it makes sense.. Corey and Bridgette were talking today.. I don't mind Bridgette at all ..
Frank – they're mean girls ..
Nicole – I hope I'm not seen as a mean girl
Frank – I wanted to tell you to be careful because I didn't want you to be dinged as a mean girl.. Cause I know you're not
Nicole – I know I gotta stop
Frank – it's alright
Nicole – we're good.. We're going to go far..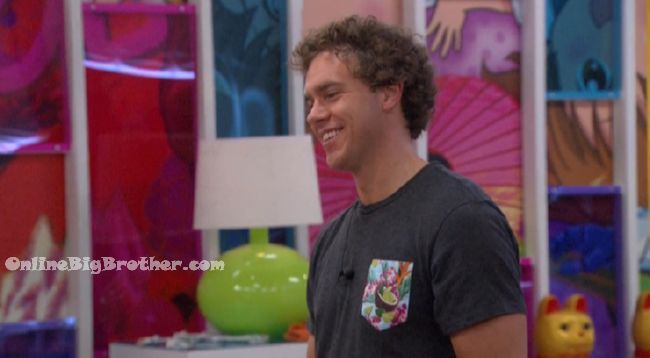 8:21pm Frank, Bridgette and Tiffany
Frank – I think it'll happen Da's going home..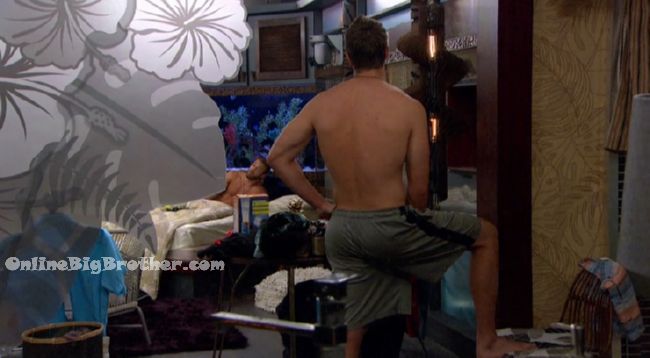 8:36pm HOH Corey and Paulie
Paulie saying that Da'Vonne is not coming after them in the short term. Paulie says
Corey – you want to get Frank out next week is that what you are saying
Paulie says Frank or Da out next week
Corey – what if James wins and puts up Frank and Da
PAulie – that would be funny..
PAulie – as much as I want to work with Frank and do that sh1t..
PAulie can't trust Frank
Corey is pissed that Frank threw their names "Out there"
Paulie says only 2 people have thrown their names "Out there" it was Da and Frank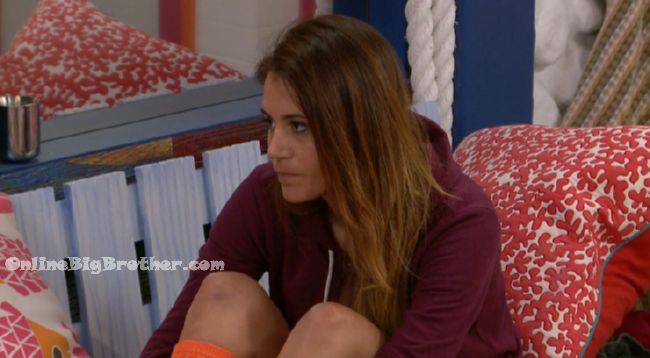 9:00pm Nicole and Tiffany
Nicole says she wants to keep Tiffany but she has to make sure Tiffany is staying. She wants her vote to count.
Nicole doesn't want the vote to me 4-3 and have her vote not count on getting Da out
Tiffany – Of course I would never want you to do that
Tiffany says she thinks they can sway JAmes. Nicole hasn't been able to talk to him he's been sleeping all "Dang daY"
Nicole asks if
Tiffany – Frank and Bridgette are on board and now that Corey and Nicole are onboard. . I only need one more.
Nicole doesn't want her to throw the next HOH if she stays
Tiffany – I would be so grateful of you guys keeping me..
Nicole says she's talked to Frank and they are on the same page.
Tiffany mentioning how Da'Vonne is coming after the showmances.
Nicole says Da was telling her that it's Tiffany that is after the showmances.
Tiffany – she's totally lying..
Tiffany says Da'Vonne told her ZAkiyah is getting too close to Paulie he's got to go next.
Nicole says that it was Da'Vonne that was making Tiffany so paranoid. Nicole feels bad that Tiffany had to go through that.
Nicole – I don't get if you two were working together why did she put a target on your back
Tiffany has no clue
Tiffany says she's very hurt by Michelle she's never said anything negatively game wise or personal.
Nicole – her feelings are hurt because you haven't talked to her
Tiffany – you know what she said .. .out there.. She's so catty
Tiffany explains that she told the kitchen she's making burgers tomorrow. Michelle said "Yeah there's going to be a major celebration tomorrow.. "
Tiffany – She thinks I'm going…Why do you have to be mean.. She really hurt me
Nicole- I know… i don't thinks she hates you
Tiffany – I heard horrible things she's said about me
Nicole- – I think she's hurt.. I would maybe try talking to her and just see..
Nicole says she has experience with girls in the big brother house
Nicole brings up Christine backdooring her..
Zakiyah is with them now.. Telling them a lot of things in this house can be mis interrupted.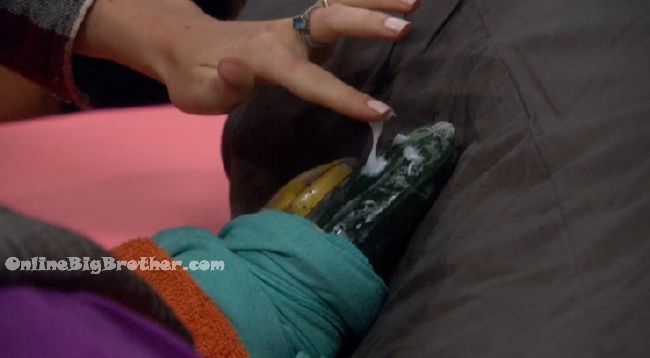 9:17pm
MIchelle and Natalie decorating Pauls bed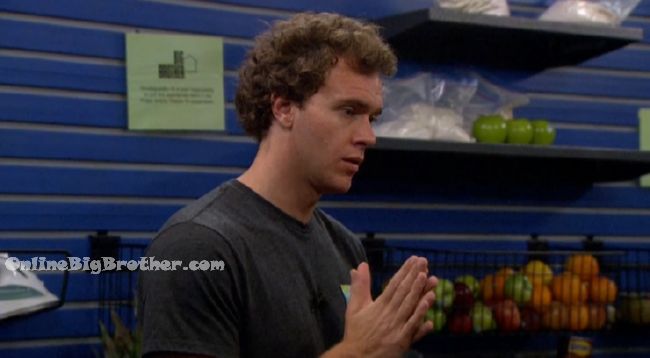 9:18pm
Storage room Bridgette and Frank
Frank is saying Nicole is going to work tonight…
Frank adds that Nicole will confirm with Paul and if they have Paul that's 5 it's a go. Nicole thinks James and Da'Vonne are tight. Frank and Bridgette don't see it.
Frank – I feel good.. We'll get it done..
Bridgette – She's just so mean.. Especially to Tiff..
Frank – she thinks Tiff hate her too .. there's something that has been said
Bridgette – it's so hard having to lift her back up
Frank – we might have to send her home next week
Bridgette – OK
Frank – I would rather not
Bridgette – I would rather not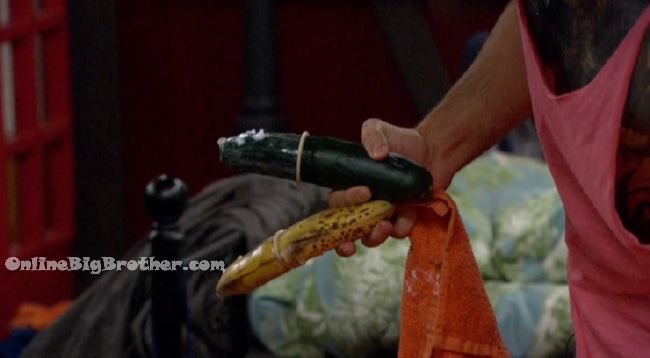 9:25pm Paul discovers the decorations
"PISSED"
Paul – thanks guys i'm going to shove all these up my a$$ tonight"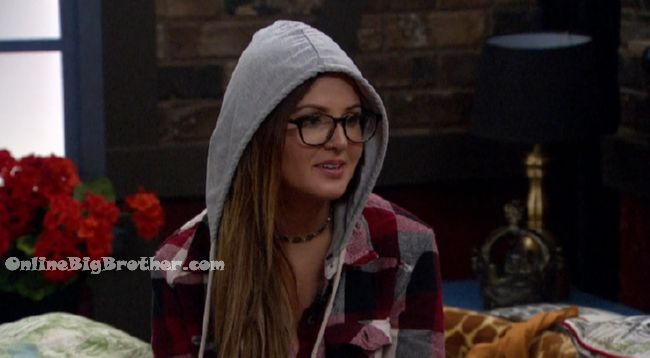 9:44pm Paul and Michelle
Michelle asks if he knows where the house is voting..
Paul is saying people are voting Tiffany out 10000 percent
Paul says Da will team up with Frank's side 10000%
Michelle asks about james
Paul never ever never ever never ever
James walks in
Paul – Say never"
Paul – Never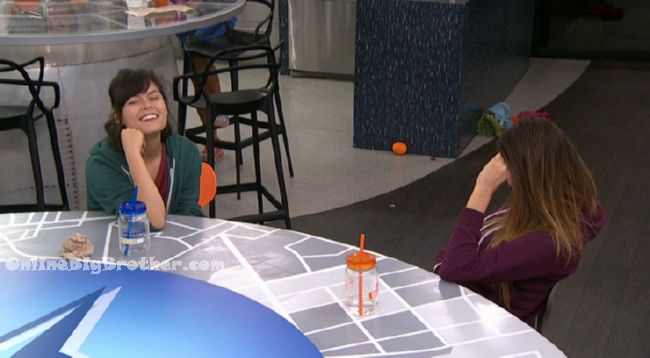 9:46pm Bridgette and Tiffany
Bridgette shares a story about how she lost alot of her weight when she was younger. Explains that she always felt sluggish and people would make fun of her. She did a detox where all she ate was veggies for 2 weeks. After that she got into being more active and eating more plants. The summer after she took care of her sick grandmother. She learnt a lot about nutrition during that ordeal that she was able to apply to her life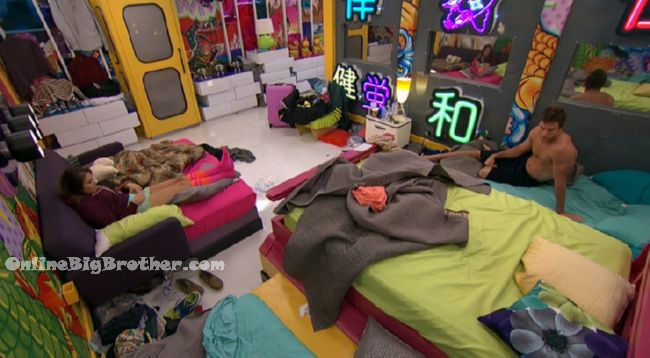 9:54pm Corey and Tiffany
Corey says Nicole is good.
Tiffany – thanks buddy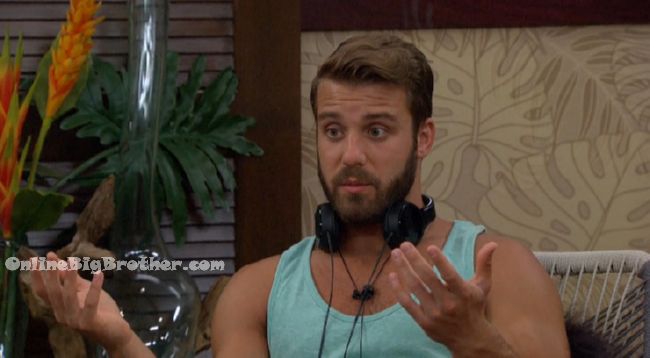 10:40pm HOH James and Paulie
Paulie is convinced Tiffany will be coming after him. Getting rid of Tiffany means Frank will be busy with Da'Vonne next week. They need to take out Frank next week if they don't he'll team up with Da'Vonne. Paulie adds he would be comfortable winning HOH and putting Da on the block
James hopes that the road kill is gone this week.
Paulie- the votes will be stacked better
James- so everybody is 150% on board with taking out Tiffany
Paulie says yes, "pauls like Tiffany has got to go"
Paulie – people definitely want Da'Vonne gone..
Jame s- just not this week
Paulie – just not this week
Paulie – my name is out there with three people that can potentially win.. The odds are low.. I don't see Da winning I see Frank and Bridgette winning
Jaems do you really think Da would take a crack at you
PAulie- they will backdoor me.. The only votes I can rely on are you and Corey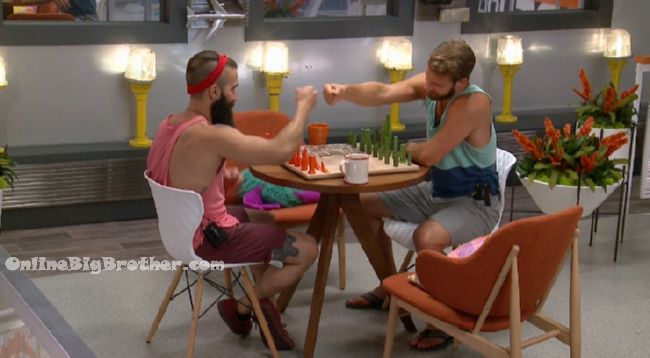 10:53pm Bros Paulie and Paul
Paulie says the only person that can do something is Da'Vonne.
Paul – but she can't do anything
They start talking about doing ting after the show… Paulie mentions stuff like rolling with a posse and his dad will roll with them. (lol) they just go on about business ideas etc..
Paulie – Sweet sixteens are cool but I would rather do bar mitzvahs
Bros #BB18 @DawgsBigBrother pic.twitter.com/tqD7uC50jb

— OnlineBigBrother.com (@bigbspoilers) July 21, 2016

10:57pm Have nots Natalie and James
Natalie is saying she's heard through Da'Vonne that Frank wants to target her, Corey or Nicole
James is saying that Frank is going home next week.
Natalie – why is he targeting me.. He's so mean
Natalie – What did I ever do to him .. did you know this.. I wasn't game talking..
James- we're not going to let that happened.. You're staying he's going..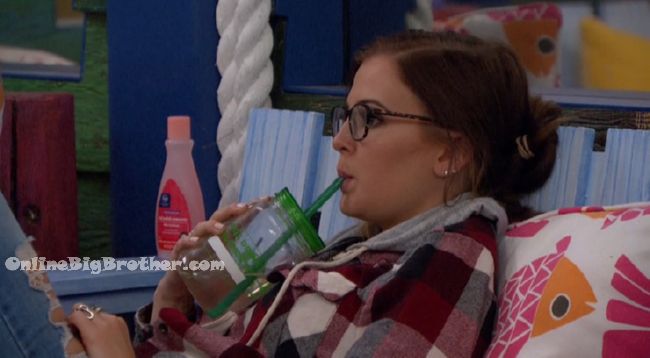 11:07pm Michelle and Da'Vonne
Michelle can't believe BRidgette wasn't even sad after BRonte went home , If her best friend went home on her HOH she would be crying.
Michelle points out how Bronte was the roadkill nomination wasn't even one of Bridgette's nominations.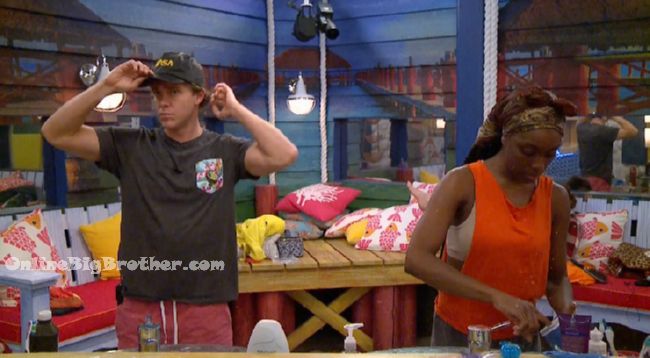 Frank comes by says he's had the Nasa hat since he was 7 years old.
11:42pm Barroom Nicole trying to talk Michelle into hanging out with Tiffany, Corey, James, Natalie
Michelle – I physically can't (BE around Tiffany)
Nicole finally talks her into it but if Michelle gets too annoyed they can leave.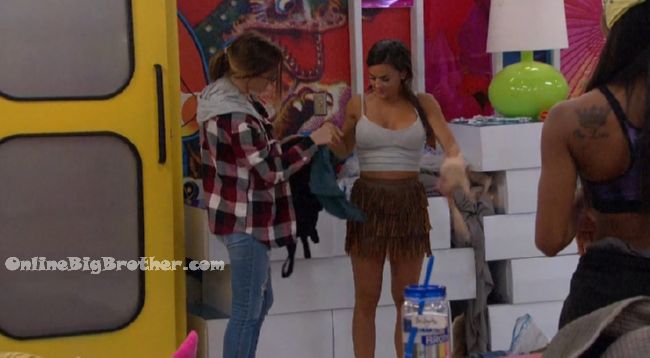 11:48pm Frank, Natalie, Corey, Michelle, Nicole, Tiffany, Frank
Chit chat… Natalie is trying on different things..
Natalie – I'm not popping out like a sausage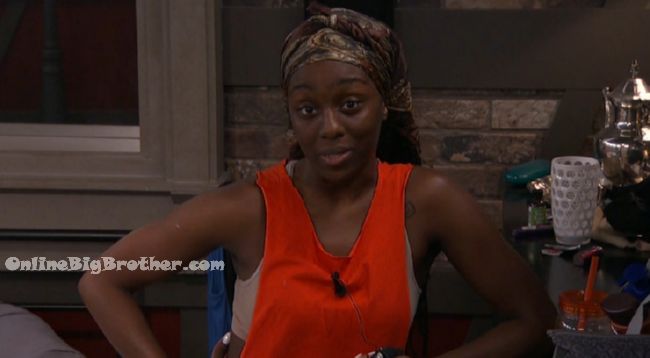 11:56pm
Da'Vonne talking to the camera.. says she came into the game wanting to play. She hopes it works out for her tomorrow. Asks her family to pray for her.
Natalie rolls in.. "What if me and James get married"
Da – It all started here
Natalie- we would be so cute.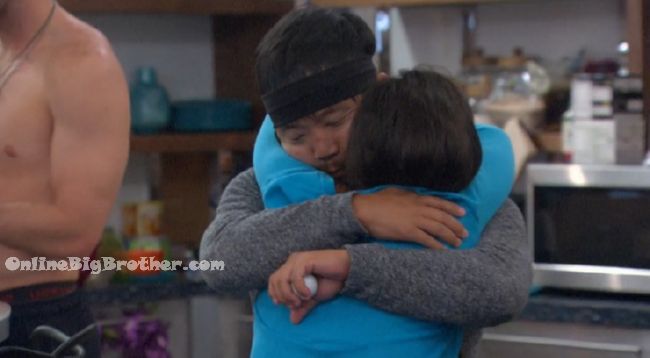 12:00pm Kitchen Corey and James
Corey saying he's not sure where the vote is hinting that it might not be Tiffany.
James – we should just have our own personal decisions see how it falls out
Natalie joins them.
Corey – Da hasn't even talked to me that's the weird thing..
Paulie comes down shakes James/Corey's hands "Strength and honor"

[polldaddy poll=9473607]
[polldaddy poll=9471428]