POV Holder:
Corey
POV Competition
July 16th
POV Used
?
POV Ceremony
July 18th
HOH
Paulie
Next HOH
July 21st
Roadkill Competition Winner:
Tiffany
Original Nominations:
Tiffany, Natalie, Corey
After POV Nominations:
?, ?, ?
Have Nots
James and Natalie
CBS All Access: Live feeds are only $5.99 per month – Try it FREE for 1 WEEK!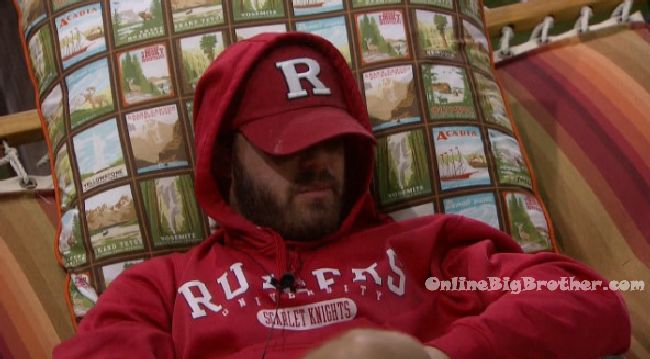 10:05om Hammock. Michelle and Paulie are talking. michelle says who knows someone might be coming back on Thursday. I hope Jozea comes back. Paulie says I would Sh*t all over that guy. Michelle says I just don't want Bronte back. Paulie says if Frank tries to intimidate you… Michelle says I play it up. Paulie says with the crew that we've got there is no way he can beat us. Michelle says It makes me sad how quick people are to turn on other people. I can't believe how quick she (Tiff) is to turn on people.
Corey tells Nicole that Day made up that Bronte was coming after me and you. Nicole asks really?! How do you know? Corey says they told me. Nicole says I want Bridgette out more (than Frank). Corey asks really, okay. Nicole says I want them all out. Corey says I was so happy when Tiffany got knocked out. Nicole says I just didn't want you mad at me. I was stressed. Zakiyah joins them. Nicole asks does she (Tiff) think she's safe. Corey says she sounded confident. Corey says team freakazoid is on point this week. Where are you Nicole? Do I have to get rid of you?
Living room – DaVonne asks Nicole are we good. Nicole says yeah. I haven't heard anything. (About who the replacement nom would be.)
10:30pm Hot Tub – Paul and Nicole. Paul says I can't wait till next week to give my speech. Nicole asks do you have one for both of them (Bridgette & Frank). Paul say oh yeah. Nicole says that's who I would put up too if I won. Paul says that's who everyone should put up. Shots will be fired! DaVonne joins them. They talk about how Tiffany thinks she's staying. Paul says they're going to try and use every bit of info to try and break us a part.. But it ain't going to work! Everyone leaves but Nicole and Corey. Corey says I want Paul to win HOH next week. Nicole asks do you trust him. Corey says not fully. Nicole says this season is way more harder than my entire season last time. Nicole says I'm happy you won today. Your friends would be happy you finally won something. Nicole tells Corey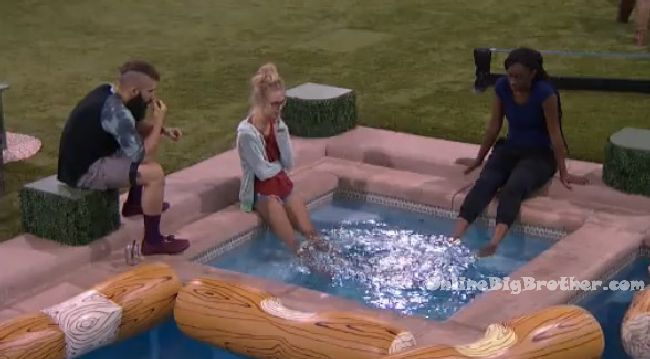 10:40pm – 12am Kitchen – Nicole, DaVonne, Michelle, Z, Corey and Paul are chatting. DaVonne says she hasn't taken a shower since she got off being a havenot. (Tiffany) Michelle says I thought I smelled something. DaVonne says Onions girl! Onions! DaVonne says that she heard in jury they get one monitored phone call. DaVonne says come Tuesday, Wednesday, Thursday, I'm going to get real reckless. I ain't getting sleep cause of ya'll, Ya'll ain't going to sleep cause of me!! Michelle asks can you please!? DaVonne wonders if Tiffany gets evicted .. Vanessa will come back in her place. Nicole says lets test that theory. Frank and Paulie join them. They're all snacking and chatting about random things.

11:05pm -12am James and Natalie are talking in the havenot room. Natalie says to the camera me and James are the perfect size for the bumper cars. Natalie says I really can't go home this week. James says you're not going to. I'm going to keep you right here. James says Paul is like a cameleon .. he changes colour with each group. Natalie says that's what I told you. He was giving Bronte all the information. Natalie says I can't wait to win HOH and start mixing things up. Right now I'm floating hard. Is that okay. James says yeah floating is a strategy. Natalie says I really hope Paul doesn't win .. his parents live next to celebrities. She notices the camera turn on. James says we gotta give them some action! James kisses her cheek. James asks what did you think of me when I popped out of the foot locker? Natalie says I thought you were cute. And when I heard you speak I loved your accent. James says when I hugged you .. I thought you were super cute. When I saw your brown eyes I knew this was going to be an issue. Natalie says I need to win something so people don't think I'm incompetent. People are calling me Victoria. James says so that's a good thing. People can call me Victoria.. I'll Victoria myself all the way to 500K! Natalie says you and Bronte will be my only friends after the show.
[polldaddy poll=9471428]