If you plan on buying anything from Amazon. Use this link Amazon home
Doesn't cost you anything and we get a small cut.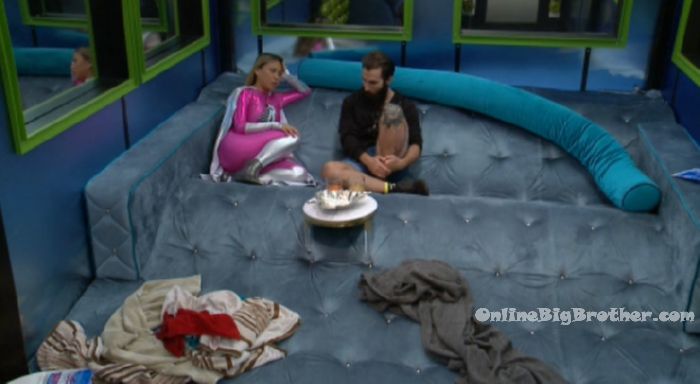 6pm Lounge room – Alex and Paul.
Alex – he wants to talk to me but I think he wants to win the veto and pull me off but then I'm worried about you. So if its BB comics, we're f**ked. Paul – worst case scenario is its you and I on the block. Alex – he says Kevin is is his target but I don't believe him. I think if he pulls me off, he will backdoor you. He says he wants to talk to me about the veto. We should both be practicing dates because it might be this next Thursday. Alex – I'm going to create some distance between me and Josh. We need to somehow convince him that he needs us for top three.. both of us. Paul – I don't think he is ever going to ever put up Christmas. Alex – no. And do you know what, now that she is here.. I think we really f**ked up. I think she is trying to win now .. and she might. Out of those three people that are left one of them is going to win if we don't do something. If you don't win that veto tomorrow, one of them is going to win. If its a split vote he might send me home. He might send Kevin out but he isn't thinking the way he used to. He is thinking game. He's learned how to focus. We're in very grave danger right now. Paul – alright. Alex – I don't think we can even phase him at this point. The last ditch effort is we make him feel bad.. and I don't even think that will work. Paul – does Kevin know the dates? Alex – I don't know. Paul leaves to start making dinner.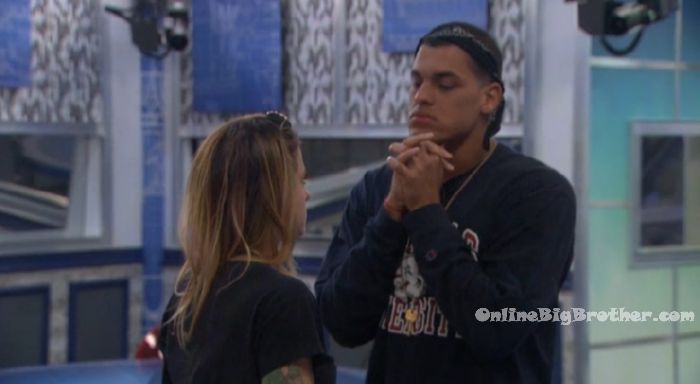 FLASHBACK and watch everything you missed: Live Feed 7 day FREE Trial!
6pm Kitchen. Christmas and Josh.
Christmas – are you okay? She slaps his arm and says I know you're okay. Its hard, its not easy. Josh – I just feel evil. Christmas – you've seen Big Brother before. You know how this game is played. Would you rather walk out of here and have gained friends.. knowing you played the best that you can or had nothing but enemies and played the best that you can. Which would you rather. Josh – friends. Christmas – I believe afterwards she will be fine but she is playing psychological warfare for Jason for gods sake. Didn't Jason tell you that. That she is playing psychological warfare. She is playing a different game. Jason was straight forward, he didn't know how to filter himself, that's why he needed her. And she never said she had your back until she was on the block. You made it to final 4. Josh asks Christmas if will promise final two. Christmas – I will be honest, I have not made that decision. That could backfire me right now. I've been thinking about it and tormenting myself about it. You have a very special place in my heart. You have been and amazing game player, you've grown and I love you so much. I truthfully, don't want that decision. I'm not going to throw it but I don't want that decision. I think it would be smartest to take Paul. Josh – no. Christmas – yes, I do. Josh – I am taking you. I would rather lose to you. I know that I would lose but I would rather looe to you. Christmas – I think you would be better to take Paul (Who says that?! Don't take me?! WTF?!) I will tell you why.. 1. I can only compete in half the stuff. It would be like a f**king joke. If I can't do that competitions, then what the f**k!? 2. I am probably in okay standing with most of the jury right now. Josh – I don't care. Christmas – at least with Paul you would have a good fighting chance. Josh – if it comes down to me, I am taking you. Christmas – its not smart for your game though. Josh – I don't care. Don't say that. Christmas – vault. I can't lie to you I don't know what my decision would be. Josh – I know that I am going to lose but I don't want to lose to him. Christmas – you've done amazing. Josh – thank you. Josh starts crying.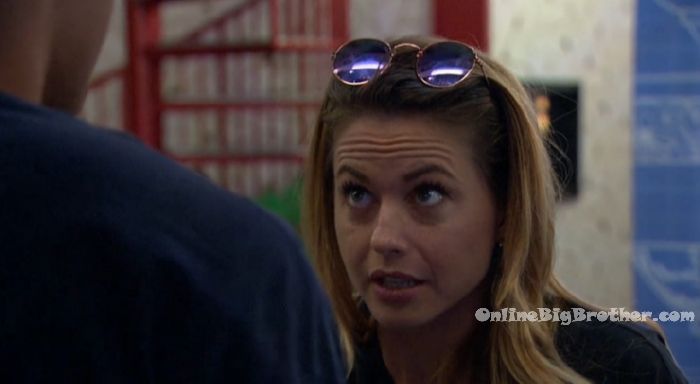 Paul comes out of the lounge room from talking to Alex and slaps Josh in the face.
Paul slapping some sense into Josh @bigbspoilers #BB19 pic.twitter.com/YEzWrJb5FS

— Dawg (@DawgsBigBrother) September 9, 2017
Paul – do you know what she just said to me? Josh – what? Paul – did I ever tell you that I can cry on demand. You f**king idiot. Paul – Verbatim quote. Lets say you're me and I'm Alex. "You and I are f**ked. One of those two are going to win this game. My last ditch effort is to cry and make Josh feel bad." I swear on everything that I stand by my life. I swear on all my bets. On my entire existence of my life. That is the conversation I just had. Paul – she said that its not even Josh anymore, he's starting to focus so my last ditch effort is to cry and make him feel bad. Josh wipes the tears from his eyes. Josh goes to the bathroom. Christmas – he's fine. He gets upset whenever he gets a family letter. Paul – and she (Alex) also doesn't like you (Christmas). She said we f**ked up by letting Christmas win that one because now you're actually trying to win the game. She was joking .. oh keep me I just want to be a shield. The way she just talked to me in there, I was like you're a f**king b***h! Like I am shocked.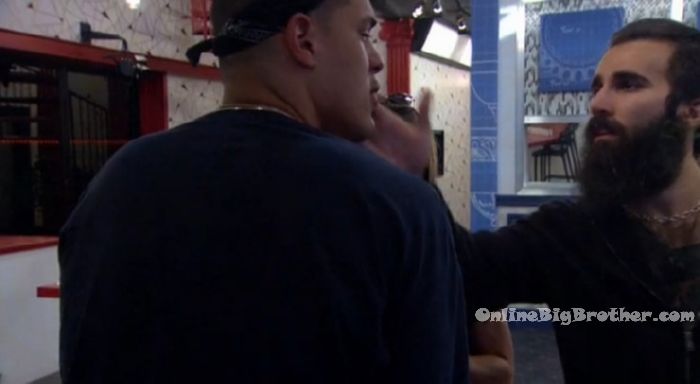 6:15pm – 6:45pm Josh, Paul, Christmas and Kevin make dinner together.
6:50pm Lounge room. Josh joins Alex.
Josh – are you okay? Alex – yeah, I'm fine. Just thinking. Josh – do you hate me? Alex – do I hate you? No. I'm just sad. Josh – I'm going to go up. You should come up. Alex – okay. Josh leaves. Christmas joins Alex. Christmas – hows it going? Alex – the game is good its just on a personal level Josh is sad. I've protected him a lot in this game. Like yesterday I had the opportunity to put him up and I didn't. And sending home Jason, that really hurt. Game I understand it but personal-wise its just too much. Everything that I've won, I've done it on my own. Being put up next to Kevin who has done nothing sucks. Christmas – but he's not going to be good in the veto. Alex – but then you or Paul would be put up and that sucks. Hopefully one of you guys win it and keep noms the same and send Kevin home. I've tried to play a fair game. Alex talks about why she doesn't like Kevin. He's mean. He makes fun of me, Josh and Paul. He got that 25K and said that he would make around 40K with the stipend. He said that if I made it to the final 2 he would make sure the jury didn't vote for me and post show he said he would rub it in my face that he made more than I did.

7pm HOH room. Paul and Josh.
Paul – you just can't f**king crack on me fool. You have to keep your head on straight so we can get there. Because that's what's dope.. I'm looking for that clip of the hand shake and then the end. Josh – I don't know if the caught that. Paul – fool, they catch everything. I know they caught it. Josh – you think so? Paul – I know they caught it. I know they caught it. Its important to me for that to come full circle. That's friendship. I don't think Christmas would be upset in that scenario. Josh – I don't think she would care. Paul – I really don't think she would care, she would hug both of us and say good luck.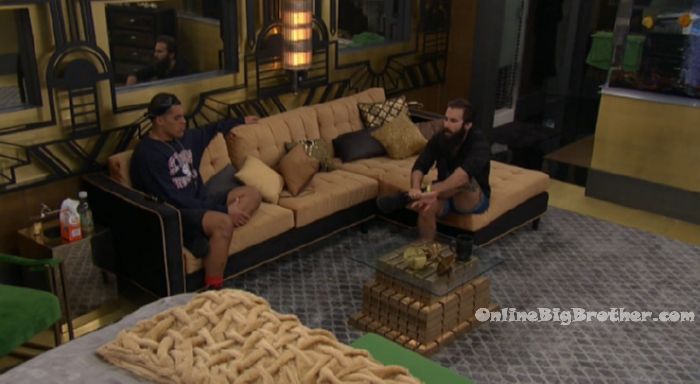 Paul – we've got to win this veto and send Alex out. If Christmas Joy is really okay with going on the block… I'm fine but I would rather not because at this point its scary. Even though it is the same scenario back and forth it just sets up differently for how the votes will lie. If Christmas is up there and Kevin is out.. Christmas doesn't vote for Alex. She doesn't have to get that blood on her hands. Kevin is not going to vote against Christmas. Alex just said down there that she thinks Christmas and Kevin have something going on. She said Josh has gone rogue. That means you've gone nuts. If you or me don't win .. the gimpy girl, Josh or Kevin. She is a f**king savage dog. She doesn't give a f**k. Paul goes through scenarios of what happens if so and so wins veto. Josh – I Kevin wins next week, I am f**Ked. Paul – it doesn't matter, there's still the veto. One person votes next week. If I win HOH and he (Kevin) wins veto .. one of us is going home. We're f**ked. Josh – come veto I am going to go HAM! And I'm going to throw him off too. Paul – for the HOH you need to throw him the f**k off. When he is agitated he is not good under pressure. Josh – I think he just sucks. Paul – She (Alex) is trying to make you feel bad. She is playing a game and you're playing with your heart. You're either going to be 50K richer or 500K richer .. unless we f**k up.

8pm – 8:30pm Dinner time. Paul – I'm bored, can POP send us a giant d!ldo?

9pm Lounge room. Kevin is talking to the cameras about being on the block and about life and other random things.
9:05pm HOH room. Alex – I have nobody in this game. Josh – I have no one in this game. Josh – we have a veto tomorrow. Focus! There is a lot that I want to tell you. But we have a veto tomorrow.. and then from the veto we'll go. We'll move forward. Alex – at this point, it just sucks. With Jason being gone, I thought it would be me, you and Paul.
9:25pm HOH room. Christmas, Josh and Paul.
Paul and Christmas try to talk Josh out of his funk. Paul – we're not upset, we're concerned. We're kicking it in the best position of the house. Josh says that he is good and will be ready for the veto tomorrow. They hang out and chat about random things.

10:15pm – 11pm Alex is in the lounge room by herself in silence.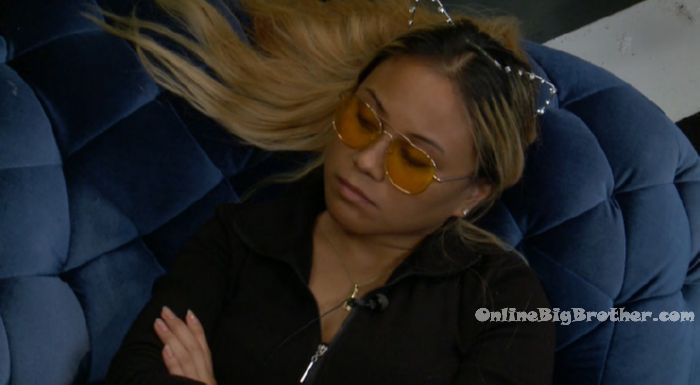 11:35pm Christmas talks to Alex about being in Iraq.

11:45pm – 12am HOH room. Josh and Paul talk about how they have 11 days and a wake up till the finale. Josh asks Paul about how the final comps work. Christmas joins them again. Paul leaves. Christmas says she just wants to make sure he (Josh) is okay. Christmas and Josh start studying the days / events of the season.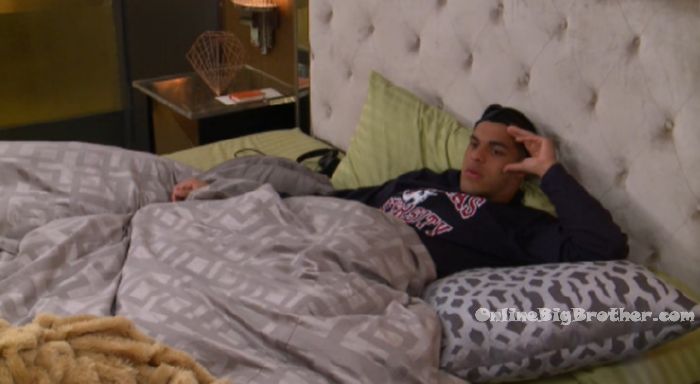 If you've enjoyed our live feed updates this season, please consider donating.
Simon and I work 24/7 all season long to keep you updated on everything that happens inside the house. Any amount is greatly appreciated! Your donations go directly to paying the fees required to run this site.
Links to the ranking system
Rank your house guests here
For those of you that like Statistics here are some expanded reports.